Best Prop Bets Tonight: MLB Division Winner Odds
by Alan Harris - 4/1/2020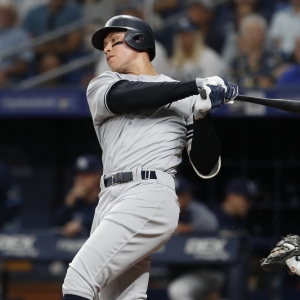 I mentioned last week that we'd be taking a look at some NFL Draft props in this week's article. I'm going to pivot off that for another week, possibly two. With the NFL Draft being one of the few things that we can currently wager on, numbers are moving quickly and books are putting up more and more props with all the extra time they have on their hands. This week, I'm going to talk about who I'd play to win each of the MLB Divisions. Team win totals have been taken off the board as it's not known how many games are going to be played, but we can still wager on the divisions, so that's where we'll go this week.
Here's a quick note on an NFL Draft wager that I've already made. If you can find "Number of QBs Taken in the First Round" with an 'over/under' listed at 4, go ahead and play the over as it's basically a free bet in my eyes, meaning it's going to push at worst. Joe Burrow, Tua Tagovailoa, and Justin Herbert are locks to go in the first-round, barring something insane going down. In fact, they all could be off the board in the first five picks. I have Jordan Love going somewhere in the mid-20s, so when that happens, we have our push. This bet wins if a team either picks late in the first round or team trades up back into the first round to take a QB late like we saw the Ravens do with Lamar Jackson a few years back. Now, let's hit the diamond. All odds courtesy of FanDuel and are current as of 3/31/20.
NL East:
Philadelphia Phillies +330
If you follow me on Twitter, it's no secret that I'm a Phillies fan. But it's also no secret that I have no problem picking against them. However, with the division being so wide open, I like the number we can get here. The additions of Zack Wheeler and Didi Gregorius took care of some holes that the team had last year, and it would be nearly impossible for the injury bug to hit them again like it did in 2019. Also, Bryce Harper and J.T. Realmuto will be more comfortable after having a year with a new team under their belts. The team was fantastic last season before Andrew McCutchen went down, and they'll have him back this season. The Braves are going to be tough as they are very talented, but they are also very young. I think that's really Philly's only competition as I expect a letdown from the Nats off their title, and the Mets are still a year or two away and now won't have Noah Syndergaard this season after his Tommy John surgery.
NL Central:
Chicago Cubs +220
I think this division is a three-team race despite the fact that there are four teams bunched together at the current odds. The Cardinals join the Cubs at +220, with the Reds checking in at +270 and the Brewers at +340. I don't like this Cardinals team at all and would bet them to finish fourth if I could. I do like what the Reds did in the offseason, upgrading their lineup by adding Mike Moustakas and Nick Castellanos, and 1-3 in their starting rotation (Castillo, Gray, Bauer) is solid. I just don't see them taking the leap and winning the division just yet. The Brewers are always a tough out, but I just like the Cubs here. They won 84 games last season with a bunch of guys that really underperformed, and we expect a big bounce back from Kris Bryant, who struggled more than anyone.
NL West:
Los Angeles Dodgers -1000
It's the Dodgers and everyone else in the NL West. They are going to win the division going away. However, I can't recommend a bet at this price. However, if your book allows parlays on these types of things, they are the surest bet on the board of the six favorites to win their division.
AL East:
New York Yankees -440
Just like the Dodgers, the Yankees are going to win their division going away. They are by far the best team, and we don't see anyone being within 10 games of them. The Rays are clearly the second-best team in the AL East, but they don't have the horses to compete with New York. This number on the Yankees was a bit higher. However, with the shortened season and the loss of Luis Severino, money has shown a bit on the Rays, who now are listed at a +380 price. Interesting here to see the Blue Jays at price of 38/1, but it's not worth a bet in my opinion. They could wind up being second in the division if everything breaks right for them, but they aren't beating the Yankees. I haven't played the Dodgers or the Yankees at these high prices, but an approach I'm going to look at is to see if either team struggles out of the gate once the season gets going and get a better price once the games start.
AL Central:
Chicago White Sox +340
Full disclosure: I love this Chicago White Sox team. They may not win the division, but their odds should be lower, and they should be the second favorite, not the Indians, who are listed at +290. I know they are the sexy team this season, and those teams normally don't live up to the hype (looking at you Cleveland Browns), but I really like the moves that they made in the offseason. Edwin Encarnacion and Yasmani Grandal give the lineup more pop, and I think Lucas Giolito is a legit Cy Young candidate at his current 10/1 or so price. Throw in youngsters Eloy Jimenez (who showed flashes last season) and Luis Robert (who is expected to start the season in CF), and we think we're getting a steal at this +340 price.
AL West
Oakland A's +250
I liked this bet a bit more when I made it than I do now. I played it early, expecting a full season to be played and was banking on a slow start for the Astros. We saw how much the fans got on Houston in spring training and thought that would carry over to the start of the regular season. Now, we may not even have fans at the games, and this delayed start is the best thing that could have happened to the Astros. That being said, many of the players had numbers that were much lower on the road, so we honestly don't know if their superstars are actually any good without having the advantage of someone letting them know what pitch was coming. As for the A's, I think they are the better team anyway. Matt Chapman, Khris Davis and Matt Olson are legit, and I think Sean Murphy, Ramon Laureano and Marcus Semien all take the next step. Their rotation is still young, but it is VERY talented and has huge upside. Oakland is one of the teams that this shortened season is going to help a ton, because both AJ Puk and Jesus Luzardo were going to be on Stephen Strasburg type pitch counts like he was early in his career, but now they are going to get a "full season" of both. If the Angels get anything from their rotation, they are going to be tough as well, but we have Oakland as the team to beat in the AL West.
Check back next week as I'll either have some NFL Draft stuff or something else that comes across the board over the next seven days.
Alan Harris was a supervisor at the Aria Race and Sportsbook in Las Vegas before joining the team here at Doc's. You can grab all his plays HERE and check out his weekly prop and futures articles at docsports.com. You can try out Harris' picks for free when you set up your complimentary $60 account here.