2020 Atlanta Braves Predictions and Odds to Win the World Series
by Robert Ferringo - 3/20/2020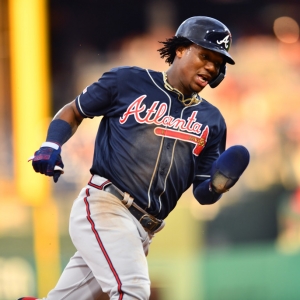 If you polled executives from all 30 Major League Baseball teams and asked them which franchise they would like to be in charge of over the next 10 years, or which franchise is best set up for success over the next decade, I'm willing to say that over 90 percent of them would point to the Atlanta Braves.
Liberty Media, the Braves parent company, took in a record $476 million in revenue in 2019 after banking $442 million in 2018. Their revenue is up over 70 percent in their first three years in SunTrust Park compared to what they were raking in at Turner Field. And now, because substantial profits generated by their real estate holdings around the stadium, Liberty Media is in a position to spend even more money on their baseball operations.
The Braves also boast a Top 5 farm system stocked with Top 70 prospects along with a core of starters age 24 or younger (Ronald Acuna, Mike Soroka, Austin Riley, Ozzie Albies, etc.). They are flush with cash and minimal long-term financial commitments and no bad contracts weighing on their payroll.
Atlanta has improved its win total for five straight seasons. And last year's 97 victories was their most since logging 101 victories back in 2003. They've played in consecutive postseasons and are looking to make it back to the playoffs for a third straight year for the first time since 2003-2005.
Add it all together, and this franchise is set up for a run of success that could end up greater than or equal to their astounding run of 14 consecutive division titles (and one World Series) from 1991-2005.
Atlanta Braves 2020 Projected Lineup (updated expert MLB picks daily)
1. Ronald Acuna - OF
2. Ozzie Albies - 2B
3. Freddie Freeman - 1B
4. Marcell Ozuna - OF
5. Ender Inciarte - OF
6. Dansby Swanson - SS
7. Johan Camargo - 3B
8. Travis d'Arnaud - C
9. Pitcher
Ronald Acuna is on the short list for the best players in baseball. He is a five-tool stud that rung up 41 home runs, 127 runs and 101 RBIs from the leadoff spot last year before hitting .444 in the playoffs. He is a foundational piece and is capable of carrying this team.
Fortunately, he doesn't have to. Freddie Freeman is a consistent fringe MVP candidate, and Marcell Ozuna has averaged 30 home runs per season the last three years. Ozuna will be called on to replace what they lost when Josh Donaldson left in free agency.
Last year the Braves got a lot of help from a lot of unlikely sources. Guys like Austin Riley, Francisco Cervelli, Adeiny Hechavarria and Matt Joyce all had their own magical moments while producing at above-average levels. I don't think the Braves will have that same touch of magic this season.
That puts the onus back on the other youngsters - Albies, Inciarte (who will likely platoon with Nick Markakis), Camargo and Swanson - to step their games up and reach their potential.
Atlanta Braves 2020 Projected Rotation And Closer
1. Mike Soroka (R)
2. Max Fried (L)
3. Mike Foltynewicz (R)
4. Sean Newcomb (L)
5. Felix Hernandez (R)
[6. Cole Hamels (L)]
CL. Mark Melancon
The 22-year-old Mike Soroka was a revelation last year, going 13-4 with a 2.68 ERA and a 1.11 WHIP. He enters the season as the clear ace of the staff and a burgeoning star. Max Fried, also just 22, went 17-6 with a 4.02 ERA and 173 strikeouts last season to provide a solid one-two punch for the Braves.
Mike Foltynewicz is the wild card in this rotation. His stuff was devastating in 2018, posting a 2.85 ERA and 202 strikeouts in 183 innings. He was injured to begin last year and then largely ineffective while posting a 4.54 ERA. He may the best pure stuff on the staff, though, and he looked like he was starting to regain his form late last year.
Finally, two scrap heap additions, Felix Hernandez and Cole Hamels, could pay dividends for Atlanta. Hamels is obviously not the player he once was, but should be a passable back end arm when he returns from injury. And his experience and playoff chops could be a boon come October.
Hernandez has been a shell of himself over the past two seasons. With a fastball topping out in the high 80s, and none of the nastiness that made him one of the league's greats, Hernandez looked like his career was over while going 1-16 in his last 17 starts in Seattle. But King Felix had a great spring and could make the roster.
Atlanta shored up its bullpen in the offseason with the addition of Will Smith. Mark Melancon was able to stabilize the closer slot near the end of last season. But this is still apparently the weakest link on a stacked roster. A full season from Darren O'Day and a bounce back year from Shane Greene would be huge from this group.
Atlanta Braves Odds To Win The World Series
Prior to the suspension of the season, the Braves had been listed at 14-to-1 odds to win the World Series. That was an improvement after being posted at 16-to-1 to win the championship back in November.
Atlanta Braves 2020 Predictions
I am basing all of my predictions on my belief in an 81-game season that starts on July 1. I have absolutely no inside information about MLB's plans for the 2020 season. However, for the sake of discussion, 81 games are what I have in mind while writing these previews.
There is nothing not to like about the Braves. They are talented, yet with playoff experience. They have the financial flexibility to support their roster with anything that they see fit. Atlanta has a rock solid lineup, young, live arms in the rotation, a set of relievers with proven track records, and top-tier prospects that they can use to support the roster at any time.
There is no real weakness.
That being said, the Braves aren't going to run away with this division. Unlike the Mets, the Braves are a team that really is more built for the long-term. And in a truncated season, we will see if their starters are good enough to handle the pressure of an every-game-means-more-than-normal situation. Also, the National League East is absolutely loaded, with any one of four teams capable of winning the division.
Also, the Braves have lost in the Divisional Round of the playoffs in their last eight postseason appearances. And last year's loss - allowing 10 runs in the top of the first inning in a 13-1 loss in Game 5 - is the type that can linger in the psyche of a team. The Atlanta franchise has built a reputation as a perennial bridesmaid. And while they have the talent to threaten a team like the Dodgers, I don't know that this group of Braves has shown the capability to raise their game to the next level.
The Braves will be fine. I don't think that they are a true championship threat this season. But the way their franchise is built, they should be in the mix for years to come.
Robert Ferringo is a professional sports bettor and handicapper for Doc's Sports and is considered one of the top MLB betting experts in the country. He has posted three consecutive winning MLB seasons and closed the 2019 season on a +$10,000 baseball run for his followers. Robert has beaten the books for six of seven profitable seasons on the diamond and is looking forward to another winning season for his clients. If you would like some help winning more bets in MLB this season the good news is that you can try out Ferringo's MLB picks for free when you set up your complimentary $60 account here.