2021 Atlanta Braves Predictions and Odds to Win the World Series
by Chris Vasile - 2/24/2021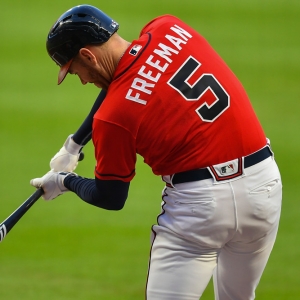 I liked the MLB when the Atlanta Braves were a relevant franchise that competed amongst the upper echelon of the league's elite teams for the World Series title. The glory days saw legends like Chipper Jones, Greg Maddux, John Smoltz, Tom Glavine, and Andruw Jones all suit up for the Braves and play their part in one of the longest streaks in pro sports history. From 1995-2005, the Atlanta Braves won 11 consecutive division titles but have only one World Series title to show for it. At that time, it was the most consecutive division titles in any sport. However, since that run ended, the Braves have been fighting tooth and nail to get back to relevancy. Well, the last three seasons, they've done just that. The Braves are the three-time defending NL East champions and were a Game 7 loss in the NLCS away from reaching their first World Series since 1999. Maybe this will be the year the Braves get over the hump and power their way to the franchise's second Pennant.
Doc's Sports offers free MLB picks for every game on our baseball predictions page.
The Braves open the regular season with a six-game road trip commencing on April 1 versus the Philadelphia Phillies and then the Washington Nationals. From there, the Braves are home for seven games, with the Phillies stopping in for three and the Marlins coming to town for a four-game series. The Braves are expected to contend this year as they are +1000 to win the World Series, which is sixth-best, +600 to win the NL (third favorite), and +135 to win the NL East. The Braves season win total is currently 90.5.
Braves 2021 Projected Lineup
The Braves' batting order is a scary one for opposing pitchers. They have guys who can hit for average, they have guys with speed who can steal bases once on, and they have power hitters that can take you deep.
This year's lineup should look something like this:
Ronald Acuna Jr.
Freddie Freeman
Marcell Ozuna
Travis d'Arnaud
Ozzie Albies
Dansby Swanson
Austin Riley
Cristian Pache
Pitchers spot.
As you can see, the top of the lineup is scary if your opposing pitchers. Acuna Jr. is one of the best up-and-coming baseball players in the game and is getting paid to put up the big numbers. It will be tough to justify any player's stats from last season as the season was just 60 games, but Acuna notched 14 home runs and had a WAR of 2.4. The year prior, he had 41 dingers, 127 runs, and 101 runs batted in. He's got power and speed to burn, which sets the table for the rest of the lineup.
Behind him, Freeman and Ozuna combined to hit 31 in the COVID shortened season. If we look back to 2019, the pair combined for 67 dingers, with Ozuna doing his damage playing in St. Louis.
Further down the lineup, you'll find Albies, Swanson, and Riley. Swanson is the most recognizable name out of this trio, but he has failed to live up to the hype of the first overall draft pick. Swanson has hit just 27 homers over the last two seasons, but he's not getting paid to provide power – he's needed for his defensive play.
Braves 2021 Projected Rotation & Closer
The Braves' rotation this year looks relatively similar to what we saw last season with them. Max Fried will be the ace of the pitching staff as he had a stellar 2020 season that saw him post a 2.25 ERA in 11 games started. Fried didn't pick up a loss as he won seven of those starts with four no-decisions.
Behind him, you have the newly acquired Charlie Morton, who is fresh off a World Series appearance for the Tampa Bay Rays just last year. Morton had a season to remember as he started four games in the postseason and notched a 3-1 record with a 2.70 ERA. During the regular season, Morton was still solid, starting nine games, winning two, losing two with five no-decisions. The year prior, Morton notched a 16-6 record as a starter, so the one-year $15-million deal is justified for a pitcher like Morton who can give you consistent innings.
Behind Fried and Morton is where the going gets tough for the Braves. Ian Anderson, Drew Smyly, and Kyle Wright don't exactly strike fear into the eyes of batters. Both Anderson and Wright were first-round picks by the Braves, and it has taken them some time to develop into big-league pitchers. Anderson is coming off a stellar season in which he started six games and posted a 3-2 record with a 1.95 ERA. In the postseason, Anderson was reliable to the point where he started four games, posted a 2-0 record, and held his ERA under 1.00 (0.96). Is that level of success sustainable over a much longer season? It's TBD, but the Braves are sure hoping it is. As for Smyly and Wright, they both had ERAs over 3.5 last season, with Wright reaching 5.21 on the year. It's tough to see these guys doing anything worth mentioning this season, thus leaving the back end of the rotation a weak point for the Braves.
Furthermore, the Braves' bullpen is one big question mark. In their bullpen, they have a grand total of one pitcher with one save to his name from last year. If I was a betting man, which I am, I'd say that Will Smith will get the closer role to start the season as he managed 34 saves as a Giant in 2019.
Braves' 2021 Predictions
FanGraphs projects Atlanta to finish with a record of 89-73 this year, but surprisingly that will not be enough to repeat as NL East Champions. As I mentioned already, the backend of the rotation leaves a lot to be desired. And if the batting order can't produce like it's known to, then the Braves could be in for a very disappointing season. If you look at the rest of the teams in the division, they have all gotten better, while I believe Atlanta has taken a small step backward. Take the "under" 90.5 wins and win yourself some money.
Get free MLB picks on every single game, or if you want our very best bet premium picks by the experts, sign up for your free $60 account with a guarantee.