2020 New York Yankees Predictions and Odds to Win the World Series
by Robert Ferringo - 3/25/2020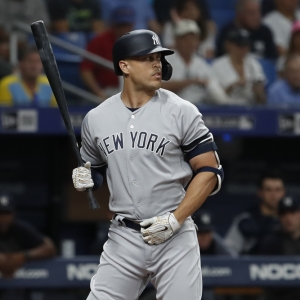 Naturally, the New York Yankees will find a way to benefit from the apocalypse.
Obviously, I'm joking, and attempting to add some levity to a terrible situation. (After all, this is an article about baseball.) But the reality is that the Yankees had several players rehabbing injuries that were slated to miss Opening Day. If the season opener gets pushed back into May (or later), then that should lead to New York getting James Paxton, Aaron Judge and Giancarlo Stanton back at full strength. That completely changes the makeup of their team.
Injuries have really been THE storyline for the Yankees since the start of 2019. Last season they set a Major League record by sending 30 different players to the disabled list. They used the D.L. 39 times and lost an astounding 2,776 games to ailments last year. Yet somehow the Yankees still won 103 games and went to the American League Championship Series.
The core of last year's team has returned. Most of last year's injured stars are set to contribute this year, and New York survived the offseason without having to purge one of the best farm systems in the game. They brought in pitching reinforcements in the form of Gerrit Cole and start the season as one of the favorites to win the World Series.
The trick for New York, which is 11 years removed from winning its 27th championship, will be avoiding the injury bug again. They will also have to navigate the distractions that come from this bizarre, coronavirus-impacted season, both on and off the field.
New York Yankees 2020 Projected Lineup (updated expert MLB picks daily)
1. D.J. LeMahieu - 2B
2. Brett Gardner - OF
3. Aaron Judge - OF
4. Giancarlo Stanton - OF
5. Gleyber Torres - SS
6. Luke Voit - 1B
7. Gary Sanchez - C
8. Miguel Andujar - DH
9. Gio Ushela - 3B
This lineup is terrifying to opposing pitchers. New York scored 943 runs last season, No. 1 in baseball, while bombing 306 home runs. They outscored their opponents by over 200 runs and should be even better this year if they get more than 120 combined games out of Judge and Stanton.
New York had 14 players hit at least 10 home runs last year and seven guys hit at least 20 last season. At certain points it felt as if the Yankees were just picking guys off the street, plugging them into the lineup, and watching them go 2-for-4 with a home run and a double.
This year's lineup is stacked. There is power throughout, even after bidding adieu to Edwin Encarnacion and Didi Gregorius. And they will be even more potent if they get more than 18 games and three homers out of Stanton.
Last year's stabilizing force was D.J. LeMahieu, who finished fourth in the A.L. MVP race. He hit .327 and added 26 home runs and 102 RBI while playing in a team-high 145 games. He has been an elite hitter for several years - including winning a batting title while hitting .348 in 2016 - and LeMahieu should be the team's sparkplug again this season.
One thing to watch or is the development of Gary Sanchez. He hit 34 home runs last year but batted just .232 while posting a meager .316 on-base percentage. It will also be interesting to see if Gio Urshela, Mike Tauchman, and Mike Ford will regress from their stellar combined production last season.
Regardless, runs won't be a problem.
New York Yankees 2020 Projected Rotation And Closer
1. Gerrit Cole (R)
2. James Paxton (L)
3. Masahiro Tanaka (R)
4. J.A. Happ (L)
5. Jordan Montgomery (L)
Closer: Aroldis Chapman
Gerrit Cole was the crown jewel of the free agent class this winter. He cashed in for $324 million, and New York is hoping Cole is the missing piece to get them back to the promised land. The 29-year-old has finished in the Top 5 in Cy Young voting each of the past two seasons and is easily one of the best, and most reliable, arms in the game.
Things get a little dicey after Cole, though. Luis Severino was supposed to be the team's up-and-coming ace. Tommy John surgery has felled him for the season, though. That puts the pressure squarely on James Paxton and Masahiro Tanaka.
Paxton had an uneven start to his time in New York but won 15 games and struck out 186 in 29 starts. Paxton has gone 38-17 over the last three seasons and showed last October that he has big game chops. Tanaka is a postseason star and has just a 1.76 ERA in his eight career playoff starts. But he has posted a regular season ERA over 4.4 twice in the last three seasons and is nowhere near the dominator he was when he burst onto the scene in 2014.
J.A. Happ is a replacement-level lefty, and Jordan Montgomery is a question mark. Depending on how short the season is, don't be surprised to see New York use "openers" and go with bullpen games more and more to fill in for the shaky back end of the rotation. Their No. 3-5 starters are the only real weakness on the roster.
The bullpen, led by stud closer Aroldis Chapman, is definitely a strength. Their relievers were in the Top 10 in innings, strikeouts, ERA and saves last season. They brought their top five relievers back, and that quartet combined to averaged 65 appearances and a 2.48 ERA apiece.
New York Yankees Odds To Win The World Series
Depending on which sportsbook you use, the Yankees are either the favorite to win the World Series, tied with the Dodgers as the favorite, or just a tick behind Los Angeles as the second favorite to win it all. Their odds to win the World Series are in the realm of 3.5-to-1.
New York is the clear-cut favorite to win the American League at 5-to-4 (or +125), and they are an overwhelming 1-to-5 to win the American League East.
New York Yankees 2020 Predictions
I am basing all of my predictions on my belief in an 81-game season that starts on July 1. I have absolutely no inside information about MLB's plans for the 2020 season. However, for the sake of discussion, 81 games are what I have in mind while writing these previews.
The Dodgers have the best roster in baseball. The Yankees are second. And New York has one massive advantage over Los Angeles this year. The American League is a joke. Not even a good joke. A really, really bad joke. The A.L. Central is a dumpster fire. Houston and Boston, New York's primary competition the last several years, are both reeling. The rest of the league tops out somewhere around "mediocre".
I'm consciously choosing to ignore the horrible reality that New York City is the epicenter for the American coronavirus epidemic. It seems petty and callous to even talk about baseball in the light of a real tragedy. And as such, for right now all I can do is ignore the impact that the outbreak may have on this team and this season in New York.
Instead I will just say this: the Yankees are the best team in the American League by a country mile. Their lineup is the best in baseball and has the chance to be one of the all-time greats. I think that they have enough pitching, bolstered by a top tier bullpen, to win another title. After all, it's a lot easier to pitch with a five-run lead.
As long as the Yankees can dodge the injury issues that hampered them last year (and, again, they still won 103 games), then there is little to stop this team from hanging banner No. 28 this fall.
Robert Ferringo is a professional sports bettor and handicapper for Doc's Sports and is considered one of the top MLB betting experts in the country. He has posted three consecutive winning MLB seasons and closed the 2019 season on a +$10,000 baseball run for his followers. Robert has beaten the books for six of seven profitable seasons on the diamond and is looking forward to another winning season for his clients. If you would like some help winning more bets in MLB this season the good news is that you can try out Ferringo's MLB picks for free when you set up your complimentary $60 account here.