2012 New York Yankees Predictions and MLB Futures Odds
by Robert Ferringo - 2/22/2012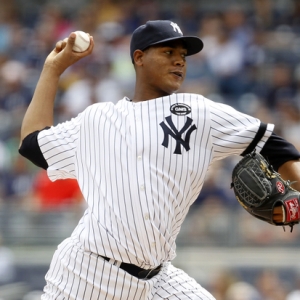 The New York Yankees won the most games in the American League last year, they scored the second-most runs in baseball, and they made their 16th playoff appearance in the last 17 years.
But they were failures.
The bar is set at the absolute highest level in the Bronx: it is a championship or nothing. And the Yankees have been able to achieve that goal just one time in the last eight years. Slowly but surely the legends of the late 90s and early 00s are fading into baseball history – Jorge Posada was the latest to go, retiring this offseason – and New York is handling the transition from one dynasty to what they can only hope will be the next.
Get a FREE 50% Signup Bonus at Bookmaker Sportsbook - Click Here
But you can't feel sorry for the Yankees. Not when they have a payroll that tops $200 million annually and when they utilize those resources in the most ruthless ways possible. No, these are still the Yankees. They are still villains. And for me success is every year that they don't win another World Series.
Here is to another great year for one of us.
Here is Doc's Sports 2012 New York Yankees Predictions and MLB Futures Odds:
2011 Record: 97-65
2012 Wins Over/Under: 93.5
Odds To Win 2012 AL East: 1/1.25
Odds To Win 2012 AL Pennant: 3.5/1
2012 Yankees Odds To Win World Series: 7/1
Pitching: This continues to be an odd weakness for the marquee franchise in baseball. I state, "odd" because with all of the money that the Yankees spend and all the savvy they display you would think that they would have put more into crafting one of the best staffs in baseball. Instead they have spent the last two summers trying to convince themselves that some better-than-expected regular season stats would translate into postseason success. To the surprise of few – including most Yankee fans - it did not.
New York tried to address their thin starting pitching this offseason by acquiring Hiroki Kuroda and Michael Pineda. Those pickups will help define their season. Both have a lot of positives – Kuroda has averaged 10 wins and a 3.45 ERA in his four big league seasons and the 23-year-old Pineda was dominating at times last year for Seattle – but I am not 100 percent sold. C.C. Sabathia is still the hefty anchor of this staff. But it remains to be seen how the two new pickups, as well as surprising Ivan Nova (16-4, 3.70), will fit in behind him.
The bullpen is still solid and as long as 42-year-old Mo Rivera is taking the hill the Yankees will have the confidence that comes from having the greatest reliever in baseball history at their disposal.
Hitting: For all of the doom-and-gloom we heard about the aging Yankees roster, they still hit the most home runs in the Majors and were second only to Boston in total offense. And that came despite the fact that Derek Jeter was awful for the first half of the season and that Alex Rodriguez and Mark Teixeira both had down years by their standards. (I know Tex had 39 homers and 111 RBI, but the guy was hitting in the .230s most of the year.) Those key Yanks are all a year older. But there is still reason to think that all three could come back with even better seasons this time around.
Curtis Granderson and Robinson Cano were the two most consistent hitters in the New York lineup. At ages 31 and 29, respectively, they are both still in their primes. A key will be 37-year-old A-Rod bouncing back after a couple injury-plagued seasons. The rest of the role players – Brett Gardner (speed), Nick Swisher (moxie), and Russ Martin (savvy) – provide a great core for this team.
The main X-Factor for this team is health. The Yankees have one of the oldest rosters in the game and they have a bevy of guys with recent injury histories.
2012 New York Yankees Predictions: What's not to like about the Yankees? They are loaded with experience and talent and if anything goes haywire they have the money to go out and find another all-star to plug in. I think that they enter the year with better starting pitching and more stability than their primary rival, Boston, and this is a group that just knows how to win (a lot) together.
I think the Yankees are going to claim yet another A.L. East title. But I still don't think that they have enough quality starting pitching for another title run in October. Pineda and Kuroda have to prove that they can hold up in the brutal American League East, which is a whole lot different from working in the A.L. West and N.L. West, respectively.
2012 New York Yankees MLB Season Win Totals Predictions: 'Over' 93.5. It has been five years since the Yankees have failed to reach 94 wins. I think that they improved their pitching in the offseason (although probably not enough to get over the postseason hump) and I have a feeling that things will be less of a circus this year without all of the Jeter drama (contract, poor play, chase for 3,000 hits, etc.). This is still probably the best regular season team in the game. And with an average of 96.8 wins per season over the last five years I think that this line is short.
Robert Ferringo is a professional sports handicapper for Doc's Sports. He is considered one of the top MLB cappers in the country and has turned a profit in four of the last six years on the diamond with his baseball picks. He closed 2010 with $6,000 in earnings over the last four months and is looking forward to a great upcoming season against the MLB odds. Click here for more information on his MLB picks.