2022 New York Yankees Predictions and Odds to Win the World Series
by Sean Barnard - 3/30/2022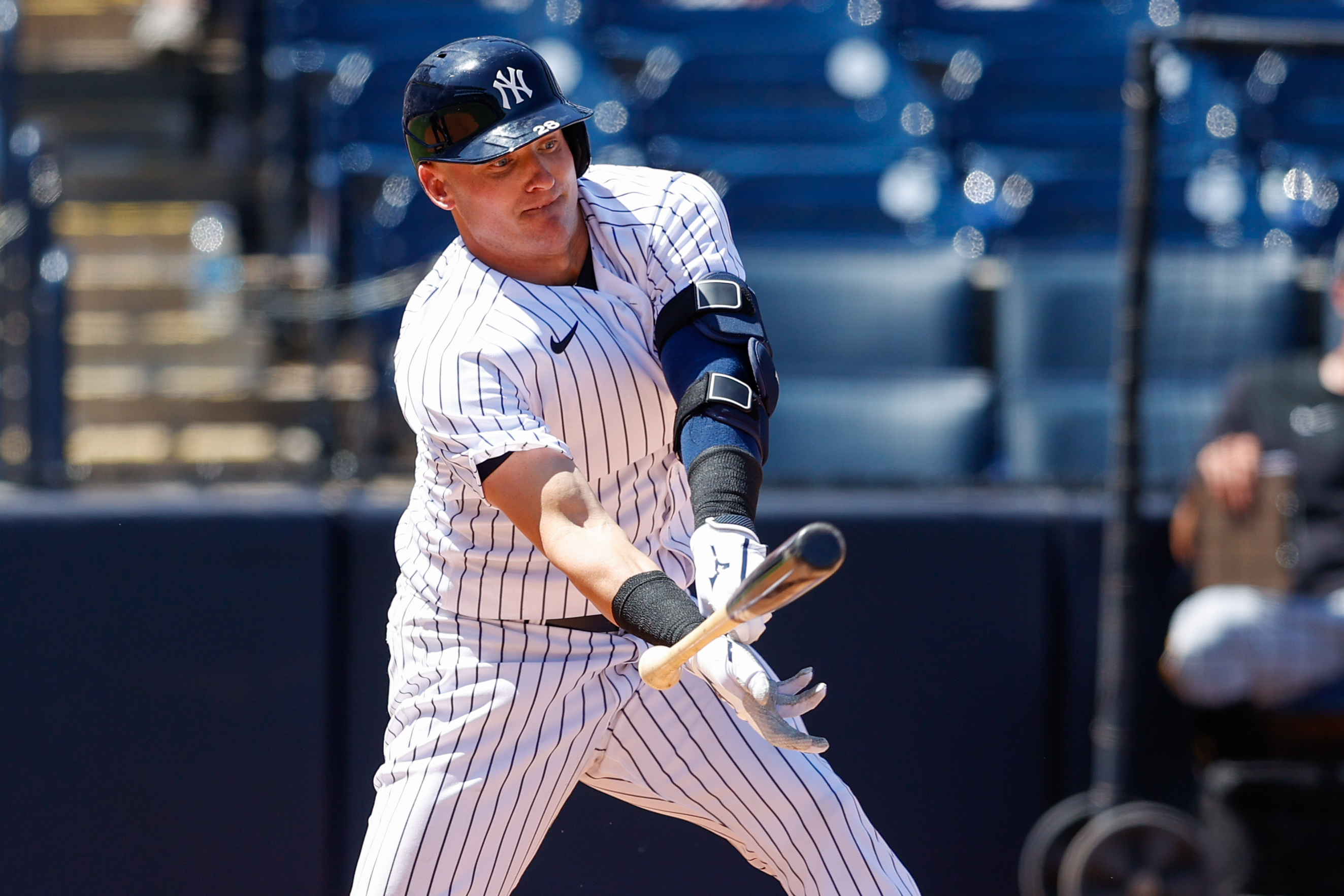 It is tough to deny that the Yankees' 2021 season was a disappointment. They showed some impressive flashes from the pitching staff, but the offense never developed into the powerhouse it was expected to become. The Yankees still won 92 games and once went on a 13-game winning streak, but the flurry of injuries and Covid outbreaks prevented the team from reaching its peak.
Doc's Sports offers MLB expert picks for every game on our baseball predictions page.
Notable Additions:
While the Yankees are typically known for their willingness to spend money, this tune has been a bit different in recent years. The most notable move of the offseason was a trade with the Minnesota Twins that sent away Gary Sanchez (Catcher) and Gio Urshela (3B) in favor of Josh Donaldson (3B), Isiah Kiner-Falefa (3B), and Ben Rortvedt (Catcher).
The headliner of the trade is Donaldson, who will provide some more pop to the Yankees lineup despite battling multiple calf injuries over the past few seasons. He is a versatile hitter, and putting him in the lineup alongside Aaron Judge and Giancarlo Stanton will provide balance to the lineup. There are some defensive concerns with the third basemen, but he is certainly in New York for his bat.
One of the hottest bats in spring training has been Isiah Kiner-Falefa, who started out 8 for 19 (.421) with his new squad. The 27-year-old credits his work with a new hitting coach this offseason for his renovated swing, and the production is there in his early time with the Yankees. The biggest wild card for the Yankees this season will be 24-year-old catcher Rortvedt, who is known for his impressive defense. He has faced only 89 at-bats so far in his MLB career, and it still isn't clear if he will win the starting role, but his history with Yankees' catching coordinator Tanner Swanson seems to give him the inside edge.
The Yankees also brought back first-baseman Anthony Rizzo on a two-year, $32 million deal after trading for him last season. Rizzo got off to a hot start with the Yankees but was interrupted by his bout with Covid last season. They also added depth at a few other rostered places, including OF Tim Locastro, SS Roderick Arias, OF Eder Inciarte, and a few bullpen arms.
Notable Subtractions:
The Yankees began the offseason by cutting Clint Frazier, Chris Gittens, and Rougned Odor as all three underwhelmed and did not fit the long-term plan. New York also allowed Andrew Heaney and Corey Kluber to walk in free agency, which seems like the right decision after disappointing stints with the team.
Projected Lineup (2021 stats):
Anthony Rizzo- .204 BA and 23 HR
Aaron Judge- .287 and 39 HR
Joey Gallo- .160 BA and 13 HR
Giancarlo Stanton- .273 BA and 35 HR
Josh Donaldson- .247 and 26 HR
Gleyber Torres- .259 BA and 9 HR
Aaron Hicks- .194 BA and 4 HR
Isiah Kiner-Falefa- .271 BA and 8 HR
Ben Rortvedt- .224 BA and 3 HR
Projected Pitching Rotation:
Gerrit Cole- 3.14 ERA
Jordan Montgomery- 4.02 ERA
Luis Severino- 3.76 ERA
Nestor Cortes- 4.46 ERA
Jameson Taillon- 4.37 ERA
Betting Lines:
The Yankees' odds to win the World Series are set at +900, which is tied with the Blue Jays for the second-highest odds around the league. Last season, they were defeated by the Red Sox in a single-elimination thriller that carried Boston to the ALDS and ended the Yankees' season quicker than expected. This was a disappointing result based on their expectations, but the Yankees have as good a chance as anyone to bounce back this season.
There does seem to be value in the season over/under, which is currently set at 91.5 games. The Yankees hit this total last season without fully hitting their stride, and the bats seem to have given an additional injection of life moving forward. Expect the Yankees to comfortably surpass this total this year.
When looking at the season-long player props, there also are a couple of intriguing lines involving the Yankees. Judge, Gallo, and Stanton are all in the top-10 odds to lead the league in home runs, which is a major indicator of what this offense could become. At +1500, I believe Stanton is worth a flyer for leading the league, which he has done twice before in his career. Stanton has the largest odds of the three Yankees in the running and finished 17th in the MLB last season, but seeing him get back to form would be beneficial for the Yankees and there is reason to believe the 32-year-old can do it. New York Ace Cole also has the shortest odds to lead the MLB in strikeouts at +450, which also seems like a good bet considering the impressive level he is playing at and how he fell just 5 K's short last season.
Get MLB picks on every single game, or if you want our very best bet premium picks by the experts, sign up for your free $60 account with a guarantee.