2021 New York Yankees Predictions and Odds to Win the World Series
by Chris Vasile - 3/8/2021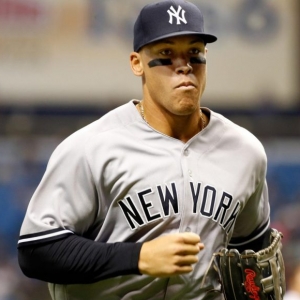 It's been 11 long years since the New York Yankees last won a World Series title, and for most Yankee fans it may feel like it's been 100 years despite the team's constant foray into the postseason. The Yankees have made the playoffs in each of the last four seasons and have won a playoff round before eventually being ousted. For some teams, the consistent playoff appearances would be more than enough to satisfy the fan base, but the Yankees are always thinking championship or bust.
Doc's Sports offers free MLB picks for every game on our baseball predictions page.
Last season was a bust for them as they finished the regular season with a record of 33-27 which was good enough to get them second place in the AL East and a wild-card spot. They swept the Indians in the NLWC before losing to the Tampa Bay Rays 3-2 in the American League Division series. On to this year, where once again, it's championship or bust for the pinstripes.
The Yankees will open the regular season on April 1 with a six-game homestand that will see the Toronto Blue Jays and Baltimore Orioles roll through Yankee Stadium for three games apiece. From there, the Yankees will travel to Tampa Bay for a three-game set before playing the Blue Jays in Dunedin, Florida. The Yankees are once again one of the favorites to win the World Series as they check in as second favorites at +600. They are +250 to win the American League and -180 to win the AL East. Their season win total is set at 95.5
Yankees 2021 Projected Lineup
One quick look at the Cardinals' batting order and you'll figure out why they are the favorite to dominate the AL East and contend for another World Series banner. Their projected lineup for opening day looks like this:
DJ LeMahieu
Aaron Judge
Aaron Hicks
Giancarlo Stanton
Luke Voit
Gleyber Torres
Gary Sanchez
Clint Frazier
Gio Urshela
The problem I find with trusting the Yankees to go deep into the playoffs is the injury issues they always seem to come across. Both Judge and Stanton have missed extended periods since the duo was paired together back in 2018. And until we believe they have a little bit of good fortune on their side, it's hard to trust either of them to stay healthy and produce like we are used to seeing them produce.
Stanton and Judge had a combined 208 plate appearances in last year's COVID-shortened season. They managed to combine for 13 home runs and bat around .255. To put that into perspective, that was 26 plate appearances and nine homeruns less than Luke Voit had on his own. To say that the Yankees will go as far Judge and Stanton take them would be a disrespectful thing to say to the rest of the lineup that features solid players, but the Yankees need Judge and Stanton to play 140-plus games and put up 30 homeruns apiece. Luckily for Yankee fans, the projections have Judge and Stanton hitting 36 and 41 long balls, respectively, and getting in close to a full season's worth of plate appearances.
Beyond the two sluggers, the rest of the team is projected to mash this year. Every single player is projected for at least 20 home runs, with Voit and Torres leading the charge with 36. LeMahieu is projected to hit around .300, which sets the table well for the guys behind him in the lineup to produce.
Yankees 2021 Projected Rotation & Closer
The Yankees starting rotation has talent and then some. It features Gerrit Cole as the 'ace' of the staff, with Corey Kluber slotting in right behind him.
Cole had a tremendous year last season as he started 12 games for the Yankees and posted a record of 7-3 with an ERA of 2.84. If we look back at the last few full seasons, Cole has been nothing short of stellar, posting records of 15-5 with a 2.88 ERA and 20-5 with a 2.84 ERA. If we see anything like that this season, the Yankees are going to be extremely dangerous.
Kluber is a bit of a wildcard as he pitched just one inning last year before being taken out of the game with "shoulder tightness" only to never throw another pitch for the Texas Rangers again. He signed in the offseason with the Yankees on a one-year deal worth $11 million. The Yankees are hopeful that Kluber can rediscover some of the form he had between 2016-18 when he pitched to records of 18-9 with a 3.14 ERA, 18-4 with a 2.25 ERA and 20-7 with a 2.89 ERA. If he does, he solidifies the rotation. If he's more like the 2019 Kluber that started just seven games and had an ERA of 5.80 and dealt with injuries throughout, the Yankees may be in trouble.
Behind those two guys, James Taillon, Jordan Montgomery and Domingo German round out the starting pitching, and we just aren't quite sure what to expect. Taillon will benefit from a change of scenery as he comes over from the lowly Pirates. However, is he good enough to pitch in the shoebox that is Yankee Stadium? I'm not sure about that.
Montgomery and German are pitchers you don't want to trust but have no real choice but to do so. German didn't pitch at all last season but had a stellar 2019 campaign where he started 24 games and posted an 18-4 record with a 4.03 ERA.
As for the bullpen, it's the same crew of closers for the Yankees, with Aroldis Chapman leading the way out of the pen. The Yankees did add some depth this offseason by acquiring Darren O'Day from the Braves and Justin Wilson from the Mets.
Yankees 2021 Predictions
FanGraphs projects New York to finish this season with a record of 96-66, which would be good enough to win the AL East and finish with the second-best record in the Majors. On paper, this team is stacked. They have power and speed to burn up and down the lineup, and the pitching rotation has the chance to be really good. Like with every team, though, the Yankees are at the mercy of the injury bug. And if it hits, (when it hits) will they have enough in reserve to get to 95-plus wins? I say no. Give me the under on their team total.
Get free MLB picks on every single game, or if you want our very best bet premium picks by the experts, sign up for your free $60 account with a guarantee.