2020 Tampa Bay Rays Predictions and Odds to Win the World Series
by Robert Ferringo - 3/27/2020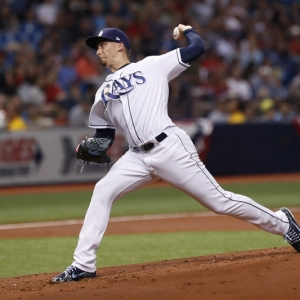 Doc Moseman, the namesake of this company, used to have a thing about betting against Air Force football. He wouldn't do it. "I don't like messing with option teams," he said to me. "I just never seem to win betting on them or against them."
I have teams like that in every sport. For whatever reason, I never seem to win when I bet against these teams and I never seem to cash in betting on them, either. So the best thing to do is simply to stay away from them.
In baseball, that team is the Tampa Bay Rays.
The Rays won 96 games last year, far surpassing even the rosiest projections for them prior to the season. They were massive overachievers yet finished just No. 13 in the Majors in profit for their $100-per-game bettors. They were No. 2 in MLB profit in 2018, so a regression could be expected. But if you can't turn a healthy profit while winning nearly 100 games, you have to wonder how much value there is on this team.
Tampa Bay is a habitual overachiever. However, if you track their franchise history, you know that they have a nasty habit of either massively overachieving or massively underachieving; it was just four years ago that they were a 68-win team and one of the biggest disappointments in the American League.
Just when you think you have your arms wrapped around this team, their performance is generally the opposite of what you expect.
Tampa Bay Rays 2020 Projected Lineup (updated expert MLB picks daily)
1. Austin Meadows - OF
2. Yandy Diaz - 3B
3. Brandon Lowe - 2B
4. Hunter Renfroe - OF
5. Ji-Man Choi - 1B
6. Yoshi Tsutsugo - DH
7. Willy Adames - SS
8. Kevin Kiermaier - OF
9. Mike Zunino - C
Tampa Bay was surprisingly aggressive in upgrading the offense this offseason. They signed 28-year-old Japanese slugger Yoshi Tsutsugo and dealt for two other heavy hitters in Hunter Renfroe and Jose Martinez. The goal is clear: improve a lineup that finished No. 21 in the Majors in home runs with just 217.
Two other fun-named hitters from the middle of last year's lineup are also looking to take another step forward. Yandy Diaz was in the midst of a breakout season, slamming 14 home runs in 307 at-bats, before injuries derailed him. Ji-Man Choi also chipped in 19 home runs in just 127 games last season and will look to top that.
The Rays are really a mediocre offensive team. They are able to mask that with their phenomenal pitching last season and won games by grinding them out. Tampa Bay sees the writing on the wall, though. And they know if they want to surpass the Yankees , they will have to be able to match at least some of their power. That could lead in more boom-or-bust outputs from Tampa Bay, and I wouldn't be surprised if they turned out to be a stellar 'over' bet against the total this season.
Tampa Bay Rays 2020 Projected Rotation And Closer
1. Blake Snell (L)
2. Tyler Glasnow (R)
3. Charlie Morton (R)
4. Yonny Chirinos (R)
5. Ryan Yarbrough (L)
Closer: Nick Anderson
It's not an exaggeration to say that the Rays have revolutionized Major League Baseball. Their acceptance of using "openers" has put them at the forefront of the newest trend. Tampa Bay used openers - relievers that start games and pitch an inning or two - over 60 times last season. And now the trend has caught on with teams all over the Majors.
Former Cy Young winner Blake Snell came back to earth last season after his epic 2018. It will be interesting to see which Snell shows up in 2020: the Cy Young ace of 2018, or the banged-up and unreliable guy that went 6-8 with a 4.29 ERA last season.
Charlie Morton, who is now 36-years-old, is coming off the two best years of his career. He has gone 31-9 with a 3.08 ERA and 441 over the past two years and has won an average of 15 games per year in his three seasons since joining the American League.
Tampa Bay had the best bullpen in the Majors last year, and it wasn't even close. They were No. 1 in bullpen ERA (3.66) while also logging by far the most bullpen innings in their league (772). To put that in perspective, of the 14 teams with 600 or more bullpen innings only one other team (San Francisco) had an ERA below 4.00 and only one other (New York Yankees) had a bullpen ERA below 4.40.
As with everything having to with the Rays, they take a closer-by-committee approach at the end of their bullpen.
Tampa Bay Rays Odds To Win The World Series
Tampa Bay is stalking the favorites to win the World Series this year, hiding in the second tier around 20-to-1 to win it all. I still think that's optimistic for a team that hasn't won a postseason series since 2008. The Rays are 9-to-1 to win the American League and 4-to-1 to win the A.L. East.
Tampa Bay Rays 2020 Predictions
I am basing all of my predictions on my belief in an 81-game season that starts on July 1. I have absolutely no inside information about MLB's plans for the 2020 season. However, for the sake of discussion, 81 games are what I have in mind while writing these previews.
Tampa Bay is hunting for a third straight 90-win season for the first time since they did it in four straight years from 2010-2013. But beware: they have increased their win total four straight seasons. They've never increased it five years in a row. And the last four times that they increased (or matched) their win total in three straight seasons, they flopped with 62, 67, 84 and 77 wins the following season. Those win totals were an average of 9.5 wins fewer than the previous season.
The best thing that the Rays have going for them is that they aren't overreliant on any one or two players. It truly is a team effort with this group. They don't generate runs via the long ball. They don't utilize their pitching staff in any traditional sense. And they have no fear of any opponent.
New York is clearly the cream of the A.L. East crop. I have Boston taking a step back . Baltimore is still terrible. Toronto is better, but still probably not ready to compete for the division title. So almost by default, the Rays are the second-best team in this division.
That said, my expectations are low for this group. I don't think they are as good as they played last season. And the bottom usually drops out on these guys when you least expect it. So I'll just keep doing what I normally do and stay far away from this group.
Robert Ferringo is a professional sports bettor and handicapper for Doc's Sports and is considered one of the top MLB betting experts in the country. He has posted three consecutive winning MLB seasons and closed the 2019 season on a +$10,000 baseball run for his followers. Robert has beaten the books for six of seven profitable seasons on the diamond and is looking forward to another winning season for his clients. If you would like some help winning more bets in MLB this season the good news is that you can try out Ferringo's MLB picks for free when you set up your complimentary $60 account here.