2021 Tampa Bay Rays Predictions and Odds to Win the World Series
by Chris Vasile - 3/8/2021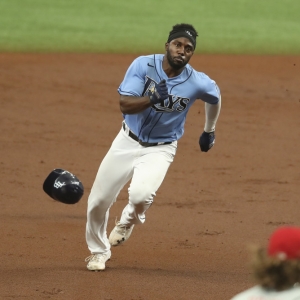 From 1998 to 2007, the Tampa Bay Devil Rays were atrocious. They finished below .500 and lost 90+ in every single season. So, what did they do? They said, "to hell with the Devil" and changed their name to the Tampa Bay Rays, and the results were vastly different. From 2008 to the present day, the Rays have three AL East titles and two trips to the World Series. They've yet to win the ultimate prize. However, for a team with the attendance numbers of a movie theater, and a budget that's on par with an Indie Film, the Rays have done alright for themselves.
Doc's Sports offers free MLB picks for every game on our baseball predictions page.
Last season, the Rays took the AL East by virtue of a 40-20 record. They were nearly unbeatable thanks to stellar pitching and a batting order that just produced numbers way above their paygrade. They made it all the way to Game 7 of the World Series before a very questionable managerial decision might have been their demise. This year, the Rays look to continue their momentum, but I believe it will be tough to do so.
The Rays will open the regular season on April 1 with a three-game series at Marlins Park against the Miami Marlins. From there, the Rays will travel to Boston for a three-game set against the Red Sox before hosting their home opener on April 8 against the New York Yankees. The Rays come into this season as possible World Series contenders as they check in at +2800. They are +1000 to win the AL Pennant and +450 to win the AL East. Their win total has been set at 85.5.
Rays 2021 Projected Lineup
One quick look at the Rays batting order and you'll understand why I said they were batting above their pay grade last season. This is a team that is relatively young and that doesn't exactly scream terror to opposing pitchers. Their projected lineup for opening day looks like this:
Austin Meadows
Brandon Lowe
Randy Arozarena
Ji-Man Choi
Manuel Margot
Joey Wendle
Willy Adames
Kevin Kiermaier
Mike Zunino
The biggest story in last year's postseason was the play of Randy Arozarena. Arozarena literally came out of nowhere and lit up the postseason. He was nearly impossible to get out and was the catalyst for many of the Rays biggest moments en route to the World Series. Arozarena hit just seven homeruns and drove in 11 runs in the regular season but flipped the switch in the playoffs. In October, he hit 10 homeruns in 86 plate appearances while scoring 19 runs and driving in 14. He had an absurd .377 average, and it was damn near impossible to keep him off the bases. It's going to be a tough act to follow over a 162-game season, but the projections are looking positive as he's slated for 26 homeruns, 21 stolen bases and a .261 average, which is respectable.
Brandon Lowe, the No. 2 hitter, is also projected for 26 longballs, which would lead the team in that regard. He's coming off a season where he hit 14 to pace the team, so it's not too much of a stretch to see him do it again.
Further down the lineup, the Rays will desperately need production out of the likes of Adames, Kiermaier and Zunino. The projections look positive as they are expected to combine for 48 homeruns and 25 stolen bases. That kind of production at the bare minimum would help the Rays drastically.
Rays 2021 Projected Rotation & Closer
The Rays had a nearly unhittable pitching staff last season. This year? Well, it has the looks of another dominant unit, but something feels off. Maybe it's because they got rid of their "ace," Blake Snell, or maybe it's because there are two new guys that will be relied upon to win some big games. The Rays starting rotation looks like this: Tyler Glasnow, Rich Hill, Chris Archer, Ryan Yarbrough, Michael Wacha.
Glasnow has been nothing but consistent for the Rays in the two years he's been with the team. In 2019, he started 12 games and owned a 6-1 record with a 1.78 ERA. Last season, Glasnow started 11 games and had a 5-1 record with a. 4.08 ERA. While the ERA was up, he was still very solid on the mound and the run support did help a bit. He'll be relied upon to be the 'ace' of the staff, but the projections are mixed. Glasnow is expected to start 28 games and finish with a record just above .500 while pitching to a 3.70 ERA. Beyond him, Rich Hill was acquired from the Twins, and he pitched to a 2-2 record with a 3.03 ERA last season in just eight games started.
The other newly acquired pitcher, Chris Archer, is back with the team he broke into the Major Leagues with. Archer had a handful of good years in the mid 2010s but has really fallen off a cliff in the last two seasons. He will be looking to bounce-back from a 3-9 season that saw him pitch to a 5.19 ERA.
As for the bullpen, once again the Rays will likely deploy the "starter" role in the backend of the rotation and then go from there with a pitching by committee type approach to closing the game out. The Rays are a big believer in analytics, so anything is on the table late in ball games.
Rays 2021 Predictions
FanGraphs projects Tampa Bay to finish this season with a record of 83-79, which would be good enough for fourth in the AL East. The batting order is entirely the same as it was last year, but it's going to take something special for everything to fall into place the way it did for the team last year. I'm not banking on this team becoming a dynasty or powerhouse by any means, but I do think they are a better than .500 team, which is why I'll take the over on their win total.
Get free MLB picks on every single game, or if you want our very best bet premium picks by the experts, sign up for your free $60 account with a guarantee.