This Week in Betting, A-Z
by Trevor Whenham - 11/16/2009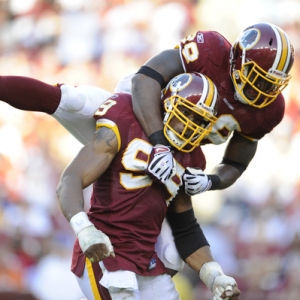 A - Atlanta. The Falcons' woes continued on Sunday. After losing by nine at Carolina they have now lost three of their last four, and four of their five road games. The concern again has to be the comparatively poor play of Matt Ryan. He barely completed half of his passes, and had two interceptions including a late, costly one. He's just not the player he was last year. Michael Turner got off to a red hot start with 111 yards on his first nine carries, but then a sprained ankle forced him to leave the game, and could be a lingering issue.

B - Bengals. Okay, okay, okay, I admit it - the Bengals are good. It has taken me a long time to accept that, but now that they have not only swept the Steelers and won five divisional games, but also won in the tough environs of Heinz Field then I can't deny it anymore. The win came at a price that could prove to be high, though - Cedric Benson, who is enjoying a renaissance in Cincinnati, left the game with a hip injury.

C - Cincinnati. The Bearcats are still undefeated, and they cleared a big hurdle by beating West Virginia, but it wasn't pretty. They only won 24-21, though it wasn't quite that close - West Virginia scored their third TD in the final minute. There was talk of a budding QB controversy in Cincy, but coach Brian Kelly didn't shy away from it - Zach Collaros started and played the bulk of the game, but Tony Pike twice went in when the team was in the red zone to throw TD passes.

D - Denver Broncos. So much for the fairytale season. The 6-0 start has been badly derailed thanks to three straight losses. The latest was also the worst - no real team should be losing to the Redskins. Denver looked solid in the first half and seemed like they would be fine, but then the worst possible thing happened - Kyle Orton was hurt. That opened the door for Chris Simms, and that's not good. Simms completed just three of 13 passes in a terrible performance.

E - Explosion. Look out Kareem Abdul-Jabbar, Brandon Jennings is, in one sense at least, the new king of the Bucks. After being shut out in the first quarter against Golden State on Saturday, Jennings bounced back to break Abdul-Jabbar's rookie scoring record with 55 points. 29 of the points came in the third quarter. Only three rookies have ever scored more in a game, and none since 1968. The other three were Wilt Chamberlain, Rick Barry, and Earl Monroe, so this bodes well for Jennings' future.

F - Fired. The NBA fires coaches at an epic pace, and the Hornets became the first to start what could become a parade of departures this year when they dumped Byron Scott. Scott was on a hot seat after a poor season and a humiliating playoff departure last year, and he was ultimately doomed by a lousy start to this season. Though I can understand the decision to make a change, I think the choice of a replacement is ridiculous. GM Jeff Bower is taking over despite never having been a head coach and only previously having been an assistant at Marist and Penn State, and the vile Tim Floyd has resurfaced again as an assistant. The transition got off to a rough start - Chris Paul was injured right after Scott left and will miss a couple of weeks.

G - Gradkowski, Bruce. The Raiders finally came to their senses and benched JaMarcus Russell. Unfortunately, it did them no good. After Russell completed just nine of 24 passes, Gradkowski took over, but he threw two interceptions in just eight attempts. Apparently that level of incompetence is just what Kansas City needs to get a win. The Chiefs have now won just five of their last 35 games, but they have won their last three in Oakland. They have the longest streak ever by a visiting team at the Coliseum.

H - Harris, Manny. Michigan is set for a pretty good year on the hardwood this year, and they are led by one of the better players in the country - Manny Harris. The junior opened his season with an easy game against Northern Michigan, and he put on an exhibition. Despite leaving the game for good after just 29 minutes, Harris recorded the second triple double in Michigan history. He almost single-handedly could have won the game, but he had lots of help, including true freshman Matt Vogrich who made a splash in his debut by shooting 5-for-5 from beyond the three point arc.

I - Irish. So long, Charlie Weis, it's been good to know you. Or not that good, really. Weis and Notre Dame lost to Pitt to drop to 6-4, and are likely to lose at least one more. That means that 7-5 is likely, 6-6 is possible, and 8-4 is the best-case scenario. None of those should be good enough to keep Weis in his oversized seat in South Bend. The program needs a fresh start as badly as any one in the country right now. Notre Dame's issues shouldn't take anything away from Pitt - they are a legitimate team that deserved the win, and could still win the surprisingly tough Big East.

J - Jayhawks. Kansas comes into this college basketball season with massive expectations - they are favored to win it all. Their opening contest against Hofstra didn't prove that they will, but it was nonetheless impressive. They scored 101 points - they only broke the 100 point barrier once last year. Most impressive in the win was super-frosh Xavier Henry. He didn't look even slightly uncomfortable as he set the Kansas freshman record with 27 points.

K - King LeBron. James had a big week this week, playing his typically strong games, and piling up three important wins over good teams. He totally outclassed Dwight Howard to beat the inconsistent Magic, then beat the Heat in a game in which both he and Dwyane Wade put on a basketball clinic. The third win was over Utah, but there was only a star on one side as Deron Williams missed his second game because of his daughter's medical issues.

L - LeFevour, Dan. Senior QB LeFevour and Central Michigan aren't getting the credit they deserve this year. They are 8-2, have a win over a BCS conference team, and are heading to another MAC Championship Game,but they didn't even get a single vote in the latest AP poll. On Wednesday, LeFevour went about his business as impressively as ever - he completed 81 percent of his passes for 341 yards and two TDs, and then ran for four more touchdowns just for good measure.

M - Manny Pacquiao. There is absolutely no doubt who the best pound-for-pound boxer in the world is. Pacquiao pummeled Miguel Cotto on Saturday to win a world title in his seventh different weight class. Cotto showed an amazing amount of heart in holding on into the 12th round, but he had been knocked down twice, his face was bloodied, and he was badly outclassed. The beating was so bad that Cotto's wife and son left their ringside seats after nine rounds. Next up for Pacquiao is, hopefully, Floyd Mayweather Jr. That one could be the fight of the century.

N - New Orleans. The Saints are still undefeated, but they certainly didn't make it easy for themselves. You would have expected the Rams to be overwhelmed by the New Orleans machine, but they summoned pride that we didn't know they had to keep it close. The Rams were tied at the half, and wound up losing by just five. Shockingly, St. Louis gave Drew Brees enough problems that Marc Bulger had the better numbers on the day.

O - Ouch. Josh Freeman and the Bucs had to feel like they were going to win their second game in a row - the second start of Freeman's career. They scored with 75 seconds left to take the lead after Miami QB Chad Henne threw a bad interception. Henne redeemed himself in the closing seconds, though. He showed real maturity as he led his team 77 yards down the field to set up a 25-yard field goal for the win. Henne seems to be most comfortable in the closing seconds - the Dolphins scored 10 points in the last 85 seconds of the first half.

P - Patriots. This one is going to sting for a long, long time. The Patriots blew a 17-point lead to let the Colts win a crucial game and remain undefeated. It's hard to believe it happened - the Pats were up by 10 at the half and were rolling. The final blunder that let it happen was when the Pats took a ridiculous fourth down gamble with two yards to go on their own 28 with two minutes to go. They failed, and Manning was left with a short field for the win. Indy has now won 18 straight regular season games - tying with New England for the longest streak ever.

Q - Quit. For three quarters the Bills looked pretty solid in their road game at Tennessee. They were tied and it looked like they could even win. But then they decided to totally quit. Tennessee scored 24 fourth quarter points, including two TDs from interception returns. Tennessee has a really good thing going with the pairing of Vince Young and Chris Johnson. In his latest massive outing, Johnson became the first NFLer since 2006 to have at least 130 yards rushing and 100 yards receiving.

R - Rotnei Clarke. It has been a while since Arkansas has been truly relevant in college basketball. Maybe things will be different this year. They will if Rotnei Clarke has anything to say about it. The sophomore exploded for 51 points in the season opener against Alcorn State, including an incredible SEC record of 13 three pointers. The performance was surprisingly strong for the Razorbacks even though t came against a lousy opponent - they won just two conference games last year and have five suspended players right now.

S - Stanford. Jim Harbaugh said before this season that his Cardinal were ready to take a big step forward. On Saturday he proved it. Stanford moved to 14th in the AP poll after absolutely crushing the life out of USC. They won, 55-21, and Harbaugh made Pete Carroll furious in the process by trying a two point conversion on the seventh TD. Stanford now has two huge wins in a row, but would still need a lot of help to make the BCS. USC dropped to 22nd with the loss. They haven't been below 13th since 2002. USC's struggles could open a BCS door for Boise State.

T - TCU. The Horned Frogs know what they need to do - keep winning to maintain their spot in the BCS, and keep doing it impressively to try to sneak into the championship game. They followed the plan perfectly on Saturday as they thoroughly dismantled the 16th-ranked Utah Utes. It was 55-28, and that was with Utah scoring the last TD. TCU has two very easy games left, so they will be able to score some style points. Now they just need a pile of help ahead of them.

U - UFC 105. Randy Couture earned a unanimous decision against Brandon Vera on Saturday on UFC 105. I'm just not sure how. It looked to many observers, and Vera himself, like the underdog had dominated the contest, but Couture came out on top. It will be interesting to see where "the Natural" goes next. The plan seemed to be to keep him at light heavyweight, but Brock Lesnar is reportedly in the hospital and seriously ill, so he'll be out of action for a long time. That means that the UFC needs heavyweight star power, and Couture may be their best option for an interim title holder.

V - Vikings. Minnesota just keeps rolling along. They don't get much credit for beating the Lions in the Metrodome, but they certainly did it while earning some style points. Brett Favre continued his incomprehensibly strong year by completing 69 percent of his passes for 344 yards and a TD, and Adrian Peterson added 133 yards and two scores. Sidney Rice remains the biggest beneficiary of the addition of Favre - he had 201 yards on seven receptions.

W - Wins. Texas kept winning and kept looking very good doing it, and along the way Colt McCoy claimed a share of a very impressive piece of history. McCoy tied Georgia's David Greene when he secured the 42nd win of his college career - a record he is all but guaranteed to beat. The Longhorns rolled all over a frustrated Baylor squad - it was 47-0 before Texas let the waterboys take some snaps and Baylor scored two meaningless late TDs. Texas looked lousy in September, but now I'm not sure there is anyone better.

X - Xavier. It's college basketball season, so that means that it is time to get the mascots of this column back in place. Xavier originally earned their near-permanent spot because so little starts with X, but they've stayed here because they are just so good to watch. Expectations are a bit lower this year than they have been in the last couple of years, but the team got off to a good start. They shot well, owned the boards, and played very solid defense en route to an easy win over Youngstown State.

Y - Yellow Jackets. Georgia Tech certainly isn't getting the most attention in college football right now, but they just keep rolling along in impressive fashion. They are now the top-ranked one-loss team after they dismantled Duke on Saturday, 49-10. As we expect from them they thrived on a punishing running game, and used that to set up occasional passing success - they netted 213 yards and two passing TDs on just 11 attempts. It's hard to believe that at the start of last season there were doubts about whether Paul Johnson's quirky system would work at a BCS school.

Z - Zoom. Ole Miss running back Dexter McCluster may be tiny, but he sure is fast. He had a day for the ages on Saturday as his Rebels overwhelmed Tennessee. McCluster carried the ball 25 times for 282 yards and four TDs, and added four catches for 42 yards as well. Both the rushing yards and the all-purpose yardage were Ole Miss records, with the latter breaking a mark set by Deuce McAllister. It was also the fourth highest rushing total in the SEC in the last 20 years.