This Week in Betting, A-Z
by Trevor Whenham - 9/14/2009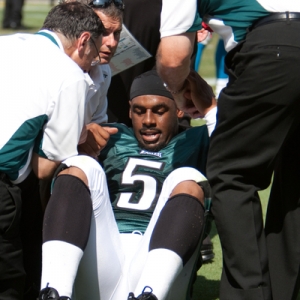 A - Atlanta. The Falcons won the battle of last year's biggest surprises when they won their mostly dull opener against the visiting Miami Dolphins. Despite all the hype and the addition of Pat White Miami was mostly quiet on the wildcat offense front this week. Neither running game ever got any real traction, and neither quarterback really shone, though Matt Ryan did clearly enjoy the offseason gift his team gave him - Tony Gonzalez was the leading Atlanta receiver with 73 yards and a touchdown.

B - Broncos. It was a long way from pretty, but in the end a win is a win, and that's what Josh McDaniels really needed. After falling down 7-6 in the last minute of a snoozefest at Cincinnati, Brandon Stokely won it with a bizarre and unlikely touchdown. A deflected pass essentially landed in his arms, and when he looked at the endzone there was absolutely nothing in his way for 87 yards. Those numbers obviously inflated Kyle Orton's numbers, but he was passable in his debut - certainly better than the established vet, Carson Palmer - he had two interceptions.

C - Circus. The NHL badly needs their season to start so that they can have something in the news that doesn't make them look ridiculous. It was another bad week. The Phoenix Coyotes don't yet have an owner, and don't technically know where they will be playing. Their coach, Wayne Gretzky, who also happens to be the greatest player the league has ever had, is AWOL because he doesn't know his contract status, or if he will see any of the money he is owed by the bankrupt team. Dany Heatley borrowed a page from Brandon Marshall, but did it better - he pouted so much for so long that he finally got traded.

D - Dominant. There were a lot of big, one-sided wins this weekend in college football as teams played cream puffs, but no team scored more points or won by more than the Cincinnati Bearcats. They beat up on lowly Southeast Missouri State by a ridiculous 70-3 score. Two QBs threw for five combined touchdowns, they ran for three more, and added a punt return TD and a 100-yard kickoff return for a touchdown. The Bearcats, or any team from the Big East, were a notable absence from the first AP poll, but this shows that the now-ranked team has some game.

E - Eagles. Philadelphia beat Carolina in a total runaway, but it came with a price - Donovan McNabb broke a rib late in the game and his prognosis is uncertain. With the team up 38-10, Carolina looking incompetent, and McNabb especially crucial to that team and especially fragile, you have to wonder what he was still doing in the game. The game could be significant for another reason as well - it could be the last time we see Jake Delhomme as a starter - he followed up his terrible playoff game last year with an equally bad game Sunday - four interceptions and a lost fumble. It will be all but impossible for John Fox to keep backing him.

F - Flacco, Joe. Year 2 of the Flacco era started with a bang in Baltimore. The QB looked to have taken a step forward from an already impressive debut season. Flacco threw for 307 yards and three touchdowns against a surprisingly resilient Kansas City team. The Todd Haley era for the Chiefs started with a loss, but it was in many ways more promising than things have been for the team in a long time - they played with intensity, and the offense, led by Brodie Croyle, was reasonably effective. The virtual absence of a running game was a concern, but it was a promising start.

G - Green Bay. It was a flashback to olden times at Lambeau Sunday night when their QB led a late charge to come from behind and win the season opener. This time it was Aaron Rodgers. He made up for a largely lackluster performance by throwing a textbook 50-yard TD pass to Brandon Jennings when everyone expected run with just over a minute left. The game was the Chicago debut for the much-celebrated Jay Cutler, and it was ugly - he threw four interceptions, including one in the final minute as he tried to mount a comeback of his own.

H - Houston. It took until just Week 2 of the college football season for us to see our first truly surprising upset. Fresh off a big season-opening win over Georgia, Oklahoma State underestimated the potent Houston offense and wound up with a devastating loss. The Cougars, led by senior QB Case Keenum, showed no fear - they blew a big lead, but twice fought back from deficits in the last 20 minutes to ultimately win by 10. The Cowboys will want to figure out how to deal with explosive offenses before the Big 12 season starts.

I - Iverson, Allen. The Answer has a new address, and it could be a good fit for him. Iverson has signed a one-year deal with Memphis for just $3.1 million. The Grizzlies aren't exactly a dynamic team coming off a great year, so they could certainly use what Iverson can offer. If, that is, he can still offer it. The guard had a lousy year last season, but it wasn't a great situation for him to excel. New surroundings and a bit of humility might be just what the doctor ordered for AI. It's hard to remember because he has been around forever, but the guy is just 34 so he could have some life left in him.

J - Jets. It's early, but it seems like the Jets may finally have an answer to their QB woes. Though he had an interception and just one touchdown, Mark Sanchez was surprisingly solid for a rookie making his debut, throwing for 272 yards. He's apparently only the fourth rookie QB ever to win his debut game on the road. One of the others to do so was some guy named Elway, so Sanchez is in pretty good company. The surprise on the other side in the ball was how incompetent the supposedly strong Houston offense looked.

K - Kansas City. The AL Central looked like it was in for a thrilling finish, but it's turned into a dud of a non-race. The Tigers are securely in the lead and should be able to stay there, but they aren't rising to the occasion. It should be almost impossible for a playoff team to get swept by the Royals, but that is exactly what Detroit did this week. They followed that up by dropping two in a row to the pathetic Blue Jays before finally snapping their skid on Sunday. The sad part is that their futility only cost them a game in the standings.

L - LeFevour, Dan. No quarterback in MAC history has now ever had more total yards than the impressive LeFevour after the senior led Central Michigan to an upset of Michigan State. LeFevour is ahead of some impressive company, too - the top five also includes Byron Leftwich, Charlie Frye, and Ben Roethlisberger. More important than the record was the win, and it was an odd one - they scored a TD with 33 seconds left, but were down by one after missing the two point conversion. For once, though, an onside kick worked, and they kicked the winning field goal in the closing seconds.

M - Michigan. I don't even know where to begin with this one. My beloved Wolverines pulled off an impressive upset of Notre Dame thanks largely to the incredibly impressive play of true freshman QB Tate Forcier. The team played a lousy first half and was lucky to escape behind by just three points. They adjusted very well at the half, though, and played an almost flawless third quarter and then engineered a brilliant final drive for the win. The biggest loser in the game was Charlie Weis - in the fifth year of his program with a stud junior QB he couldn't beat a team in the second year of a total rebuild with freshmen all over the field. He might as well start packing now.

N - Niners. Mike Singletary got to spend the whole offseason implementing his system, and the benefits showed right from the outset. San Francisco opened the season with a huge road divisional win over the Cardinals, and they did it with a confident late drive to take the lead. Shaun Hill looked solid at QB, and the defense gave Arizona headaches all day. The biggest cause for concern for the Niners in the win was that their running game, which should be a big strength for them, did almost nothing.

O - Oklahoma. The Sooners weren't exactly challenged by Idaho State, but they had to feel a bit of relief that they looked as dominant as they did in their first game without QB Sam Bradford. Oklahoma won, 64-0, and new QB Landry Jones looked acceptably competent in the win. The big win gives no guarantee of what the team will do next week against Tulsa, a team that looked very good on both sides of the ball in a win over New Mexico.

P - Pittsburgh. The Steelers were the first NFL team to earn a win this year, but it came with a big cost - safety Troy Polamalu, the heart and soul of the defense, sprained his left MCL and could miss as much as six weeks. Offensively, the game was a mixed bag for the Steelers. Big Ben passed for 363 yards, but had two interceptions and just one touchdown, and the running game managed just 36 yards on 23 carries - a pathetic 1.6 yards per carry.

Q - Quite fine. How will Tony Romo fare without the big play potential of Terrell Owens? Just fine, it seems. Romo threw for 353 yards and three touchdowns, and all of them were long ones - 42, 66, and 80 yards. He averaged a gaudy 13.1 yards per attempt, and had a nearly perfect 140.6 QB rating. It seems fitting that Romo had the best passing day of his career in his first game after losing the best receiver he has had.

R - Rays. It's hard to believe, but less than two weeks ago Tampa Bay had a legitimate, though admittedly difficult, shot at a wild card berth. Now, thanks to a hideous 11-game losing streak, the best that they can hope for is to end the season at .500. It can't be seen as a coincidence that this ugly skid started soon after the team unexpectedly shipped ace Scott Kazmir out of town. The offense s unquestionably to blame here - since scoring six in a loss to Detroit the team has managed just 11 runs in their last eight games.

S - St. Louis. It was an extremely rough start to the Steve Spagnuolo era for the Rams. They lost, 28-0, to the Seahawks and new coach Jim Mora, and the effort was at least as ugly as the score would indicate. Marc Bulger completed less than half of his passes, and they ran for just 77 yards. One of the few bright spots was rookie linebacker James Laurinaitis. He led the way with a very impressive 14 tackles, and he recovered a fumble as well.

T - Tiger. The on again, off again brilliance of Tiger Woods this year was decidedly on this week in the BMW Championship, the third round of the FedEx Cup playoff. Woods won the event by a laughable eight-stroke margin, and the outcome was never really in doubt - especially after he broke the course record with a 62 on Saturday. Woods now leads the field into the Tour Championship, which is only open to the Top 30 players in the standings. Whoever tops the standings after that event gets a fat $10 million.

U - USC. The Trojans earned a huge win, and Ohio State stretched their string of futility against Top 5 opponents to six games. The game was a defensive battle - USC won 18-15, and despite leaning heavily on the run, neither team averaged better than three yards per carry. Ohio State led for much of the second half, but Matt Barkley made his first statement as USC starter when he led his team marching down the field to score the wining TD with just over a minute left.

V - Vikings. The Favre era started with a win, but it happened in a distinctly non-Favre manner. Favre only passed for 110 yards, and relied on his running game to do most of the heavy lifting. Favre has rarely done that, but then he has never had a back anything like Peterson, either. Peterson ran for 180 yards and three touchdowns, and Percy Harvin was impressive in his debut. We can't know how well this approach would work for the Vikings against a real opponent - they only beat Cleveland. Still, it was interesting to see Favre put his ego aside like this.

W - World Cup. It's not certain yet, but it definitely looks like the U.S. is going to be heading to South Africa next year for the World Cup. That was rarely in real doubt, but a surprisingly tough win over Trinidad and Tobago on Wednesday now means that they need just one more win to clinch their ticket to the big show. They have two chances to get that win - at Honduras on Oct. 14, and at home against Costa Rica on the 18th. Not winning at least one of those games would be a massive upset.

X - eXplosion. Serena Williams has a dark side, and it definitely came out on Saturday. After showing frustration with the officials all day in her U.S. Open semifinal against Kim Clijsters she snapped when she was called for a foot fault, and was given a penalty that resulted in her loss after suggesting that the line judge put the ball somewhere it really isn't meant to go. The unseeded Clijsters went on to win her second grand slam title. The men's final was delayed a day due to rain. Roger Federer will be favored against Juan Martin del Potro when that game is played.

Y - Yankees. For the first time in a long time, a new man sits atop the Yankees' list of hitters. With his 2,722 hit on Friday, Derek Jeter passed Lou Gehrig to become the all-time Yankees hits leader. Jeter will again eclipse 200 hits this season, so it's almost a certainty that he will pass 3,000 hits. He's only 35 and just 80 hits behind Pete Rose's record-setting pace, so if he stays healthy and motivated he could really accomplish something.

Z - Zoom. Denny Hamlin picked a good time to get hot. He secured his second win of the season at Richmond on Saturday to enter the Chase with momentum. One guy he won't have to worry about in the Chase is, shockingly, teammate Kyle Busch. Busch could only manage a fifth place finish at Richmond, and despite winning four races on the season that wasn't enough to get him into the playoff. Brian Vickers instead grabbed the last of the 12 spots in the Chase with his performance in the race.