This Week in Betting, A to Z
by Trevor Whenham - 11/23/2009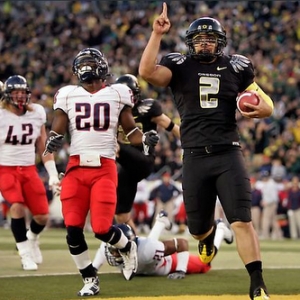 A - Ageless. Brett Favre just keeps getting it done. I fully expected him to be disappointing this year - last season with the Jets all over again. Instead, you don't even have to exaggerate to say that he is probably playing the best football of his career. He was virtually flawless on Sunday, completing 22 of 25 passes and connecting on four touchdowns as his Vikings steamrolled the lackluster Seahawks. Clearly Seattle was struggling against the pass - Tarvaris Jackson was also pretty impressive in late mop-up duty.
B - Benched. The Raiders finally came to their senses and benched JaMarcus Russell, and the move paid immediate dividends. Bruce Gradkowski wasn't stellar in relief, but he was more competent than Russell typically is, and the team played with a swagger beyond what we have seen for much of the year. Oakland got an unlikely win against the Bengals, and it ultimately happened in bizarre fashion - a tying touchdown with 33 seconds remaining, a fumbled kickoff, and the winning field goal with 15 seconds left.
C - Cy Young. The voters sent a message with this year's AL Cy Young Award - you don't have to play for a good team to be a great pitcher. Zach Greinke was the winner, and it wasn't close. Greinke was amazing with the Royals and their total lack of run support, so it's scary to think what he could have done with a real team. Tim Lincecum won the NL award for the second straight year. There is no disputing his brilliance, but he unquestionably benefited from a split vote since Cardinals' pitchers finished second and third.
D - Ducks. Oregon put themselves in the driver's seat for the Pac-10 title, but it certainly wasn't easy. The Ducks beat Arizona in one of the best games of the entire college football season. Oregon won 44-41 in double overtime, and they needed a superhuman effort from QB Jeremiah Masoli to do it. Masoli dropped from the Heisman discussion with a poor start to the season, but if he'd played all year like he did on Saturday then they would be renaming the trophy for him. Masoli ran for three touchdowns including the winner, and added three more in the air to crush the dreams' of the Wildcats and the stadium full of their fans.
E - Evan Turner. Turner is arguably the best player in the talented and deep Big Ten right now, but he really needs to protect the ball. Ohio State lost a close game to North Carolina in the semifinals of the 2K Sports Classic on Thursday, and Turner has to shoulder much of the blame. Turner had 23 points and 11 rebounds, but much of that impact was negated by a stunning number of turnovers - 10 in all. Turner had a tough shadow all game in Marcus Ginyard, but that's no excuse for being that sloppy - especially when he normally limits turnovers nicely.
F - Four. Jimmie Johnson is a machine - the Michael Jordan of his sport. Johnson won his fourth consecutive NASCAR championship on Sunday by finishing fifth at Homestead-Miami Speedway. Johnson doesn't win any personality contests, but winning four years in a row, especially considering the Chase format, is absolutely incredible. The scary thing is that he probably isn't finished. He's only 34, he has a new five-year contract to stay with Hendricks, and his crew isn't going anywhere, so he has to be considered the favorite for next year as well.
G - Griffin, Forrest. Griffin got a win over Ortiz in a rematch of a fight he should have won last time around. In the process, Ortiz made it almost impossible for a serious bettor to ever trust him again. Ortiz was coming back from back surgery, but throughout his training he said that he was 100 percent. In his post-fight news conference Ortiz made a million pathetic excuses for the fight, but the one that stuck out is that he had a dislodged vertebrae that kept him form doing his best. In other words, he lied in every interview, and odds were set accordingly. Classy.
H - Hand. France is going to the World Cup, but they shouldn't be too proud of it. They won their two game cumulative score match against Ireland to get in, but they did it in the midst of a major controversy. With the score tied well into extra time, France's Thierry Henry blatantly used his hand on the ball - not once, but twice - and directed the ball to the foot he used to score the winning goal. The refs somehow didn't see it, and soccer doesn't use replays, so France won. Soccer is supposed to be a gentleman's sport, so Henry should have owned up to the foul at the time, but he waited to do so until well after the game. Ireland protested in an attempt to get a replay of the game, but they were unsuccessful.
I - Irish. We know one thing with virtual certainty - Notre Dame is going to have a new football coach next year. This is one heck of a fall from grace for the soon-to-be-fired Charlie Weis. Coming into this season it looked like he had a soft schedule - one that would be good for at least 10 wins. Some people were even talking about a perfect season. Somehow, though, they have managed to lose five games, and there is still one more potential loss to come. This may be the worst job of coaching this decade. Strike that - this is the worst job of coaching this decade.
J - Jauron, Dick. You had to know that Jauron's time as the head coach of the Buffalo Bills was limited, but it was still a bit surprising that he was fired this week. The horrific collapse in the final quarter of last week's game against Tennessee was the final straw. Defensive coordinator Perry Fewell took over despite being in charge of a defense that is indescribably awful against the run, and he made his mark quickly by changing quarterbacks. That wasn't enough to get a win, but there was one promising sign for the new regime - Terrell Owens was brilliant for the first time in Buffalo, piling up 197 yards and a touchdown.
K - Kansas City. Just when I was ready to completely write the Chiefs off this year they pulled off an incomprehensible miracle by beating the Steelers in overtime. Matt Cassel had a very poor first half, but he came back with a vengeance after the break, and, helped by the loss of Ben Roethlisberger to a possible concussion, was able to lead his team back from a 10 point deficit to secure the improbable win. The Chiefs have now won two in a row and are finally showing faint glimmers of hope after years of futility.
L - LeFevour, Dan. I could watch Central Michigan's quarterback play all day. The guy deserves way more credit than he gets, and he showed why yet again on Wednesday. He was about as good as a QB can be; completing 25 of 28 passes for 344 yards and four touchdowns. As if that wasn't enough, LeFevour also led his team in rushing with 59 yards and a touchdown. LeFevour only has two more college games left, but I think a lucky team will get a steal when they pick him in the third or fourth round on draft day.
M - Mississippi. Ole Miss managed a nice home win over 8th ranked LSU on Saturday. More correctly, Mississippi benefited from incomprehensibly bad game management by Les Miles to get a win against LSU. Despite mismanaging the clock badly, LSU found themselves on the six-yard line with one second remaining. Instead of trying to kick a winning field goal, QB Jordan Jefferson spiked the ball, running the remaining time off the clock and giving the win to Ole Miss.
N - New Jersey Nets. You have to give the Nets credit for one thing - they are consistent. They just keep losing and losing and losing - 13 straight now after falling to the Knicks on Saturday. Despite the near-record futility there are reasons to feel somewhat positive - Chris Douglas-Roberts has been a revelation with his spectacular play, and Devin Harris is back from injury after missing three weeks to a groin injury. This is not a good team, but I don't think it will turn out to be a historically bad one, either.
O - Oklahoma State. The Cowboys can't win their division now, but on Thursday night they knew they would still have a slim chance to do so as long as they won. They narrowly beat Colorado, and they did it despite having terrible QB struggles. Starter Zac Robinson was hurt, so backup Alex Cate had to start. He was terrible - the only pass he completed in nine tries was to Colorado. In desperation, they went to Brandon Weeden, the third stringer who was a former Yankees' second round draft pick, in the second half. He did the job, completing two-thirds of his passes and scoring two touchdowns.
P - Pau Gasol. After missing the first 13 games of the season with a hamstring injury, Gasol returned to the starting lineup for the Lakers on Thursday, and he immediately reminded his teammates of how much they missed him. Gasol had 24 points and 13 rebounds to help his team to an easy win over the Bulls. Gasol and Andrew Bynum are both healthy and in the lineup at the same time - that's a rare sight, and one that is sure to not last.
Q - Quinn, Brady. Quinn showed that he is capable of playing well. Unfortunately, his coach also showed that he is a moron. Quinn threw for 304 yards and four TDs without an interception, but an incredibly stupid timeout call at the end of the game allowed Detroit to score the winning touchdown despite Quinn's big game. Matthew Stafford was as good as Quinn for Detroit - he had two interceptions, but he threw for five TDs and 422 yards, and the winning TD was likely thrown with a dislocated shoulder.
R - Ricky Williams. The loss of Ronnie Brown was bad news for the Dolphins but, for one game at least, Williams made sure that no one missed him. Williams ran for 119 yards and two touchdowns, and caught two passes and a third TD to help lift his Dolphins past Carolina in an impressive road win that kept their slim playoff hopes alive. This was Williams' most productive running game since 2005, but it was his second straight 100-yard game so he's in a good place right now.
S - Syracuse. The Orange lost the top point guard in the country this year, and a preseason loss to Le Moyne amplified any concerns that people had about them, but this week showed that you certainly shouldn't underestimate Jim Boeheim's team this year. They won the 2K Sports Classic, and they beat Cal and UNC to do so. Both wins came at Madison Square Gardens, so the tradition of the Orange making unexpected magic on that court continues.
T - Tate Forcier. There is a reason why teams don't start true freshmen quarterbacks if they can possibly avoid it. Michigan's Forcier started the season with a bang - he was perhaps the best quarterback in the Big Ten through the first month of the season. Then the wheels started falling off. On Saturday, in The Game, Forcier hit rock bottom. He started the game by fumbling in his own end zone to give Ohio State a free touchdown, then followed that up with four interceptions, each one more brutal than the one before. It was a terrible end to another terrible Michigan season.
U - Undefeated. NFL teams have played 10 games now, and we still have two teams that have yet to lose. New Orleans maintained their winning ways in overwhelming fashion; dominating the Bucs on both sides of the ball en route to a 31 point win. Indianapolis' win counts too, but they certainly don't get as many style points for it. They scored the final field goal to beat Baltimore 17-15 in a rare game in which Peyton Manning threw more interceptions (2) than touchdowns (1).
V - Very ugly. After four straight losses, the Broncos' start that showed so much promise seems like an impossible dream. This latest start was easily the worst. Tied with the Chargers atop their division going into the game, Denver didn't even show up as San Diego won 32-3. Chris Simms got the start for Denver, but he was so lousy that Kyle Orton was forced back in action despite having a sore ankle that kept him out of practice all week. Denver needs to find a way to stop the bleeding fast.
W - Wall, John. We got to see the superfrosh make his college basketball debut for Kentucky this week, and it took no time at all to see what all the hype was about. He averaged 20.3 points n three games, hit the game-winning basket at the buzzer in his first game, and capped the week with a tour de force - 21 points, 11 assists, and six rebounds. Freshmen Demarcus Cousins and Eric Bledsoe have been impressive as well, so it seems likely that Kentucky is going to be at least as good as people thought they would.
X - Xavier. It was an explosive week for the mascots of our column. They played twice, and they eclipsed the 100-point barrier both times. Sophomore guard Jordan Crawford led the way offensively in both games, scoring 24 in the first win and 26 in the second. As you would expect given the high point totals, Xavier was unstoppable from behind the three-point line - they connected on a total of 23 of 39 treys in the two games. That's a 59 percent clip.
Y - Yikes. The Mark Sanchez we are seeing now bears absolutely no resemblance to the one we saw early in the season. Back then he looked like a seasoned veteran as he led his squad to a 3-0 start. Now he looks like he belongs in the NFL only slightly more than I do. Sanchez completed 12 of his 21 pass attempts in an important divisional game against the Pats on Sunday, but the problem was that four of them were completed to New England defenders. Sanchez looks confused, frustrated and out of place.
Z - Zzzzz. Dallas maintained their one game lead in the NFC East with a win over the Redskins, but it certainly wasn't pretty. In fact, it was probably the most boring game of the week - as the 7-6 final score would indicate. Tony Romo was held back by a first quarter back injury suffered when he was forced to make an awkward tackle, and Washington's offense was handicapped by their general incompetence and disorganization.