This Week in Betting, A-Z
by Trevor Whenham - 10/26/2009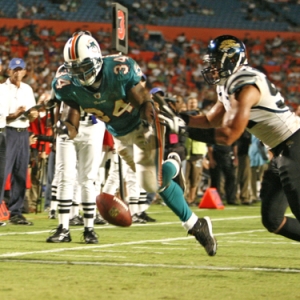 A - Alabama. Up until this week it seemed like Alabama was clearly the best team in the country. They remained undefeated, but some chinks in their armor were exposed by Tennessee. Alabama's lack of a dynamic offense almost came back to haunt them as they managed only four field goals against a stout Monte Kiffin-led Tennessee defense. The Tide have the gigantic Terrence Cody to thank for avoiding humiliation. The enormous nose tackle blocked two field goals in the fourth quarter, including one as time expired, to maintain his team's narrow margin of victory.

B - Buckeyes. After a humiliating loss to Purdue last week that caused the faithful to question every aspect of the program, Ohio State bounced back strong this week to silence some critics. Terrelle Pryor was far from perfect, but he was a heck of a lot better than he has been lately, throwing for two TDs and adding another on the ground. The offense was the most competent it has been in weeks, and the defense completely stifled Minnesota.

C - Connecticut. It was almost, but not quite, a fitting ending to a tragic week for UConn. The Huskies took the lead with less than four minutes left and looked like they would win one to honor slain teammate Jasper Howard. But then Noel Devine broke a 56-yard run for a TD less than two minutes later to put West Virginia up for good. Though the result was frustrating, the reception the West Virginia fans gave the Huskies players when they took the field at the start of the game was truly moving.

D - Dolphins. Memo to Miami players: NFL games are four quarters long, not three. Through three quarters the Dolphins were engineering an impressive upset, leading the Saints by 10 and frustrating Drew Brees. Then the Saints scored 22 unanswered fourth quarter points to take a convincing lead of their own to stay undefeated. Ouch. Despite the loss, the Dolphins had a star turn from an interesting place - Ricky Williams scored three touchdowns despite only carrying the ball nine times.

E - Extension. It seems very strange to contemplate a world in which Tony La Russa isn't a major league manager. Thankfully, we don't have to come to terms with that reality just yet. After letting the playoff frustration simmer for a few days, La Russa has reportedly decided to return for one more year at the helm of the Cardinals. If La Russa sticks to the idea of retiring next year, then 2011 could be a very strange year - one without lifers La Russa, Bobby Cox, and perhaps even Joe Torre.

F - Familiar face. I couldn't be happier for Alex Smith. After injuries and personal problems sidelined his career, the former No. 1 overall pick was back in action for the Niners on Sunday. He replaced Shaun Hill after the Texans got off to a huge lead, and almost pulled off a miraculous road comeback. He connected three times with Vernon Davis and gave the team a visible spark. It was certainly enough to earn another shot. Beyond Smith, the game was notable because it saw the debut of holdout diva Michael Crabtree. Crabtree wasn't spectacular, but he had five catches for 56 yards and looked surprisingly comfortable.

G - Golf. It may be a mostly meaningless tournament, but the Frys.com PGA event this week was just crazy. Troy Matteson won in a playoff after scoring back-to-back 61s on Friday and Saturday - the lowest two-day score in PGA history. Rickie Fowler, who has only been a pro for a month, had an ace on Sunday to make the playoff. On Saturday, Nicholas Thompson had a double eagle on the par 5 11th, and then followed it up two holes later with a hole-in-one. Crazy.

H - Horned Frogs. I respect Boise State a lot, but it's getting harder and harder not to think that if there is only going to be one BCS Buster this year it should be TCU. The Horned Frogs ripped BYU, the 16th-ranked team in the country, to shreds, in a battle of religious mid-majors. BYU QB Max Hall had thrown for at least 300 yards in five of his seven previous games, but he grew increasingly frustrated as he was limited to just 162 against the potent TCU defense. There aren't that many ranked teams that would beat TCU right now.

I - Iowa State. Is Bill Callahan coaching Nebraska again? The Huskers got off to such a promising start this year, but the last two weeks have been disastrous. They really hit rock bottom this week when they lost at home to Iowa State, a rival that was missing it's two best offensive players, and which hadn't won in Lincoln since 1977. Nebraska clearly didn't want to win this one - they turned the ball over an incredible eight times, including four inside Iowa State's five-yard line. Not many teams will win when they lose five fumbles and throw three interceptions.

J - John Wall. There is a little tension these days in the revitalized basketball heartland of Kentucky. Superfrosh John Wall, the key piece of the team that fans already can picture cutting down the nets in March, is having his eligibility investigated by the NCAA. Wall's AAU coach was a registered international agent for a year, so there are quite likely some issues with improper contact that will have to be dealt with. Though this could be a problem, the worst case is likely that he would have to sit out two or three games. This isn't likely to be the only bump in the road John Calipari faces this year.

K - Kicked on. This was not a good weekend for close, interesting football. There were 12 games played on Sunday. Six were decided by 28 points or more. The losers averaged just 5.5 points, so it didn't make for good football. The Jets enjoyed the widest margin of victory when they beat up on the Raiders, 38-0. The difference in that game was, not surprisingly, the quarterbacks. Mark Sanchez bounced back with a solid game after a couple of disappointments to earn a 114 QB rating, while JaMarcus Russell turned it over three times in the first half before finally and mercifully being benched - hopefully for good.

L - London. There were 84,254 fans at Wembley Stadium to watch the Patriots play the Bucs. I'm guessing that about 11 of them were thrilled with the game they saw. Tom Brady threw two uncharacteristic interceptions, but was still way, way too much for the Bucs to handle. He threw three TDs to lead his team to a 35-7 win. Tampa's Josh Johnson responded by completing just 35 percent of his passes with three interceptions. It was not a pretty affair.

M - Miami. The Hurricanes showed that they aren't ready for prime time just yet. After coming through mostly unscathed against an incredibly tough early schedule, Miami appeared to relax a bit too much this week and they paid for it with an overtime loss to Clemson. The Tigers were a one-man wrecking crew - C.J. Spiller finally lived up to his reputation. He ran for 81 yards, had 104 yards receiving and a touchdown, and scored again on a 90-yard kick return. Those 310 yards -- plus three interceptions from Maimi QB Jacory Harris -- were enough to sink the Hurricanes.

N - Navy. It's been clear for a long time that the Midshipmen don't believe in offensive balance, but this is just ridiculous. Navy beat Wake Forest on Saturday, and they did it without attempting a single pass. Instead, they ran it 64 times for 338 yards a healthy 5.3 yard average. QB Kriss Proctor won't have a sore arm after that game, but he still did his share of work - he carried 23 times for 89 yards, and he scored the sole TD.

O - Oregon. Washington has been a good story this season, but the Ducks emphatically showed them that they still aren't among the elite of the Pac-10 just yet. Oregon was completely dominant on both sides of the ball as they won by 24 in Seattle on Saturday. Freshman running back LaMichael James was the star for the Ducks with 154 yards and two TDs. Oregon just keeps getting stronger after the mess in Boise that started the season. Now we can look forward to a Halloween night clash with the Trojans that should determine the kings of the conference.

P - Pitt. The Panthers clearly aren't ready to concede the Big East to Cincinnati just yet. Pitt thoroughly destroyed South Florida on Saturday, scoring on all five first half possessions to open up a 24-point lead that they widened in the second half. They are now 7-1 for the first time since Dan Marino was a senior. Dave Wannstedt and Pitt have the chance to do something special this year, but they will have to earn it - after a reasonably easy game against Syracuse they finish with Notre Dame, West Virginia, and Cincinnati.

Q - Question. Is it to early to ask if the Bears did the right thing this offseason? Denver sits on their bye week with Kyle Orton as one of three unbeaten teams (incidentally, this is the first time there has ever been three unbeaten teams after week 7), while the Bears and Jay Cutler are 3-3 after getting humiliated by the Bengals. Cutler completed 70 percent of his passes, but he threw three costly interceptions. That wasn't good enough when Carson Palmer threw for five TDs, and Cedric Benson ripped his former team for 189 yards and a TD in a 45-10 win. Even worse, Cutler's only TD pass came in the fourth quarter when the game was over and the Bengals had their water boys playing linebacker.

R - Refs. Is it just me, or do you get the sense that this was all just an elaborate ploy so that the NBA refs didn't have to deal with the dreary monotony of the preseason? After spending the whole preseason on the sidelines at an impasse in contract negotiations, the group unanimously accepted a new deal on Friday night - just in time for the start of the regular season. Both David Stern and the refs' lead negotiator had stepped away form the tables as talks slowed down, but they stepped back in to get the deal done.

S - Spartans. That sound you heard late Saturday afternoon was the collective hearts of the Michigan State faithful breaking. After a slow start the Spartans have really turned their season around, and they were just one play away form pulling off the upset of Iowa and planting themselves in the middle of the Big Ten race. But then Iowa QB Ricky Stanzi threw a seven-yard TD pass as time expired to give Iowa the two-point win. The pass not only earned the win, but it covered the spread, so there were likely a bunch of happy bettors out there, and almost as many frustrated ones.

T - Tim Tebow. I, for one, am ready to officially declare Tebow's hopes for a second Heisman Trophy officially dead. Or at least they should be if the award wants to even pretend to mean anything. Tebow again had a substandard day - he threw for just 127 yards, and had two passes intercepted and returned for touchdowns as Florida beat Mississippi State in a surprisingly tough game. The only real highlight for the struggling pivot was that by scoring one rushing TD he tied Herschel Walker for the most rushing TDs in SEC history. There is an asterisk, though - it only took Walker three seasons.

U - UFC 104. How do you win the world title and still damage your reputation? Ask Lyoto Machida. The light heavyweight is still champ and still undefeated, but not a lot of people think he deserved to be. He looked like he lost about four rounds, yet he won a unanimous decision that was almost unanimously booed by the crowd. Mauricio Rua lost the decision, but gained the respect of many. Elsewhere on the card, Cain Velasquez proved that he is perhaps the only guy in the UFC right now who Brock Lesnar should be afraid of with an overwhelming though prematurely ended win over Ben Rothwell.

V - Vikings. So much for the perfect season, and for Brett Favre's infallibility. Their contest with the Steelers was tightly fought for much of the game, but the bizarre fourth quarter saw things get out of hand. LaMarr Woodley picked up a Favre fumble and rumbled 77 yards down the field for a score, and then Keyaron Fox trumped that by returning a Favre interception 82 yards for a TD. In between, Percy Harvin returned a kickoff 88 yards to keep things close, but it wasn't enough. Now the defending champs are at 5-2 and really don't look like they are struggling anymore, so the league should take note.

W - World Series. The Phillies have earned their shot at proving that last year was no fluke, and based on how they have played in the playoffs you have to believe that they stand a good chance of proving it. Philadelphia was clearly the class of the National League as they dismantled the Dodgers this week. The games were sometimes close, but the Phillies seemed to want it more, and their combination of talent and toughness was far too much for the pretty boys form L.A. to deal with. Now the Phillies will have the luxury of being as rested as a team can be heading into the Series.

X - eXtremes. It would be hard to find anything that contrasts more than the weather in the two host cities of this year's ALCS. Anaheim has been Southern California in all it's glory, while New York has been as miserable as autumn New York can be at it's worst. The weather cause Game 6 to be postponed on Saturday night, and it has clearly affected the Angels' players who aren't used to adverse climates. The way the East Coast weather has been lately this could be a far-less-than-pleasant World Series.

Y - Yellow Jackets. The Wreck just keeps Ramblin' along. Georgia Tech could easily have experienced a letdown this week after upsetting Virginia Tech last week. Instead, the emphatically pounded the life out of Virginia. The Jackets just wore Virginia down, rushing for 362 yards and keeping the Cavaliers' defense on the field for 42 minutes, including a mind-numbing 10 minute and 47 second drive to start the second quarter - the longest for Georgia Tech since they started counting.

Z - Zorn. The Washington Redskins have announced that beleaguered coach Jim Zorn won't be fired during the season this year. You really have to wonder why not. The team is in total chaos, the coach has seen his credibility totally trashed because the play calling was taken away from him and given to someone he didn't hire, and even Zorn's own mother can't possibly believe that he will be back next year. In San Francisco last year we saw that a replacement coach can do some good work during the rest of the season to get a head start on the next season.