This Week in Betting, A-Z
by Trevor Whenham - 11/9/2009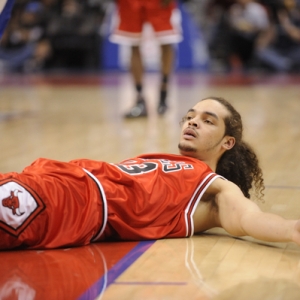 A - AI. I have been a big fan of Allen Iverson for his whole career, and I have defended him a lot as a result. I'm not sure I'll bother now, though. After just three games with Memphis and a whole lot of complaining because he wasn't starting, Iverson has taken an indefinite leave from the team. There is allegedly a family issue of some sort, but you have to be skeptical, and you have to wonder if we'll see him play there, or anywhere, again.

B - Bulls. Chicago has had an inconsistent start to its season, but the team has won three in a row, and the second of those three wins was particularly impressive - they beat the Cavs in Cleveland. It looked like LeBron James was going to pull out the win with last-second heroics, but the young Bulls were having nothing to do with it - Luol Deng and Joakim Noah doubled teamed him and managed to shut him down without fouling him. Derrick Rose led the way with 14 points and a season-high 11 assists.

C - Cincinnati. The Bearcats won to stay undefeated, but it wasn't the impressive effort they needed, and it was costly. Though they never trailed UConn, they won by just two points, and they allowed 45 points. Voters and the computers took note, and that combined with a dominating win by TCU was enough to drop Cincinnati behind the Horned Frogs. Cincinnati's chances of playing for the national championship were slim to begin with, but this certainly won't help.

D - Da Bears. Despite all the promise of the Jay Cutler signing it is quickly becoming a lost season in Chicago. The Bears dropped to 4-4 on Sunday, and they did it by letting their defense take the first half off against Arizona. The Cards scored four touchdowns and a field goal on their five first half drives, and they made it look ridiculously easy. It's not just that the Bears are playing badly, but that they look miserable doing it. This is not a happy squad, and I wouldn't be surprised if Lovie Smith needs to look for a new job next year as a result.

E - Emelianenko, Fedor. Fedor proved again that he is the best heavyweight fighter in the world of MMA, but it didn't come as easy as he is used to. Facing the previously unbeaten Brett Rogers, Fedor found himself in the unfamiliar position of having to fight into the second round. Not only that, but Fedor also paid a far higher physical toll than he usually has to - his nose was broken, and his hand could be as well. Rogers was about the best Strikeforce could through at Fedor, so the frustration of Fedor not choosing the UFC isn't going to ease any time soon.

F - Falcons. Atlanta returned home this weekend, and that was enough to help them end their two-game losing streak. It wasn't just the location, though - the opponent helped as well. The Redskins have not been a good team all year, and Sunday was no exception. Michael Turner was the offensive star for the Falcons with 166 yards on the ground and two touchdowns. Despite the easy win, Atlanta fans are still probably concerned about Matt Ryan - the QB averaged just 5.6 yards per attempt and had one interception to go with his one TD.

G - Giants. The woes continue for Eli Manning and New York. The Giants let the Chargers march 80 yards down the field in the closing minutes of the game to score the winning touchdown in the 21-20 game. Manning largely avoided errors, but he wasn't sharp enough in the end. The Giants have now dropped four straight after their strong 5-0 start to the season. Thankfully for them they are now in their bye week - no team has ever needed one more.

H - Haye, David. There is a new heavyweight boxing world champion. Is there anyone out there who cares? Nikolai Valuev was the tallest and heaviest champion in history, but he was no match for David Haye, a Brit who is a foot shorter and 100 pounds lighter than the now-former champ. In just his third fight as a heavyweight since moving up from cruiserweight Haye won a decision, and he knocked down Valuev for the first time in his career. Haye won one judges' card, and the other two were a draw.

I - Iowa. So much for their dream season. QB Ricky Stanzi sprained his ankle when he fumbled in his own end zone and didn't come back. The Hawkeyes have no depth at QB, so that was enough for Northwestern to come back and earn an important win for a rebuilding program. Instead of having the Big Ten in a headlock, Iowa now has to play Ohio State next week in what is essentially a one-game playoff for the Rose Bowl berth. Iowa likely has to face the challenge without Stanzi, so it doesn't look good for them.

J - Josh Freeman. We have seen the future in Tampa Bay. The third quarterback drafted last year wasn't perfect in his first career start, but there was a whole lot to like. He settled in as the game progressed, threw three touchdowns against just one pick, and capped it with an impressive drive to take the lead for good against Green Bay in which he threw a TD on fourth down and then threw for a two point conversion for a three-point lead. The guy has the swagger of a guy who is going to be good in this league.

K - King LeBron. LeBron James made his only visit to New York of the season, and he looked comfortable enough there that he might just decide to stay for longer - much longer - on his next visit. James had 33 points, including an impressive 19 in the first quarter, and added nine assists and eight rebounds to lead his team to an easy win. New York worked hard to make LeBron feel welcome in advance of his free agency - Jay-Z and several Yankees were in attendance and rubbed shoulders with the star.

L - Longshots. As seems to usually be the case with the Breeders' Cup, this year's version was not an easy one to pick out the winners. There were a few favorites that won - Goldikova, Conduit, and Zenyatta - but there were just as many big longshots. Need a sense of how unpredictable the day was? If you had bet on every single horse that ran on Sunday to win - all 88 of them - then you'd have made a return on investment of more than nine percent. That just shouldn't happen.

M - Mickelson, Phil. The biggest stars of the golf world were in Shanghai this week. Unlike we have become used to it was Mickelson who stared down Tiger Woods and came out on top. Woods was uncharacteristically bad on Sunday - he fell six strokes off the pace on the front nine, and he found the water on 18. It was the third time in the last four tries that Woods has been in the final group without winning. Mickelson had to hold off another big name - Ernie Els - to win by a stroke.

N - Navy. The Midshipmen did the football world a favor on Saturday - by beating the Irish for the second time in a row at Notre Dame they have all but assured that Notre Dame won't be able to sneak into an undeserved spot in the BCS. They also may have done Notre Dame a favor by getting Charlie Weis fired so a real coach can come in and turn around the program. How Notre Dame managed to lose this one is a mystery - they passed for 452 yards. It didn't help that they allowed 348 yards of rushing.

O - Oregon. I was finally convinced that the Ducks were for real - perhaps one of the small handful of best teams in the country - so it seems fitting that they lost this week. Their defense had been potent this year, but Stanford and their freshman QB Andrew Luck were able to move at will. Luck passed for 251 yards and the Cardinal ran for 254 as Stanford beat Oregon, 51-42, in a wild shootout. The biggest mistake here would be to assume that Stanford's win was a fluke - this is definitely a team on the rise.

P - Phoenix. There were lots of reasons to be skeptical about the Suns coming into this season, but through their first seven games they are playing as well as any team in the league. They are out to a 6-1 start, and they bounced back from their only loss to get their most impressive win of the season - a road win at Boston. Jason Richardson bounced back from his worst game as a Sun to post his among his best against the Celtics - 34 points and 10 rebounds.

Q - Quite ugly. Ten minutes into his game at Atlanta Matthew Stafford had thrown two TD passes. A few minutes later a field goal put his team up 17-0. Then the wheels fell off like they can only in Detroit. Stafford threw five interceptions and the Seahawks scored 25 unanswered points en route to a surprisingly easy 32-20 win. From time to time this year the Lions have shown progress, but every time they do they take two steps backwards.

R - Ravens. I'm probably not the only one who thought that Baltimore's overwhelming win over the Broncos last week would be the jumpstart they needed to get their season back on track. Not so much, as it turns out. Joe Flacco struggled, the team couldn't gain any traction on the ground, and the Ravens fell 17-7 to Cincinnati. The Bengals are now 4-0 against the AFC North - an enviable place to be at this point in the season. At this rate I may actually have to start believing in the Bengals.

S - Syracuse. Exhibition college basketball is totally meaningless. Or at least that's what Syracuse is trying to tell themselves. They had a game against Le Moyne, a Division II team from across town in Syracuse, and the upstarts knocked off the giants 82-79. The biggest concern for the Orange is that Le Moyne was able to pick apart their man-to-man defense by dribbling aggressively. If they can do that then what will top Big East squads be able to do? Jim Boeheim has his work cut out for him.

T - Ty Law. In an attempt to keep his new team winning, Denver coach Josh McDaniels has looked to his old team for leadership in the secondary. The team has signed Ty Law, the 14-year veteran who was on the sideline up to this point this year after playing the last half of the season last year with the Jets. The move wasn't entirely expected, but the need was there - Joe Flacco picked on the secondary relentlessly in their game last week.

U - Undefeated. There were two undefeated NFL teams at the start of Sunday's NFL action. There still are, but neither one made it easy for themselves. Indianapolis won by three when Houston missed a field goal in the closing seconds. At first glance New Orleans' 10-point win was more convincing, but it wasn't pretty - they spotted Carolina a two touchdown lead before storming back for the win. The Saints are like a race horse that settles well off the pace and only makes their charge at the top of the stretch. That only works sometimes, and sooner or later you have to think that the Saints aren't going to be able to come back.

V - Vince Young. For the second week in a row Young was more of a game manager than a game changer. For the second straight week, though, it turned into a win - something that was a foreign concept to the Kerry Collins-led Titans. Chris Johnson was again the star, running for 135 yards and two TDs. He covered more yards, but and 82 yard TD run was cut short when it was ruled that he had stepped out of bounds. The win is big for the Titans, and crushing for San Francisco. They now drop to 3-5 and are rapidly falling out of consideration in the NFC West.

W - WSOP. The November Nine is now down to just two - 21 year old poker pro Joe Cada, and logger Darvin Moon, a guy who had never even been on a plane before playing in the World Series of Poker. These two guys survived 18 hours of poker that saw nine players widdled down to two, and on Monday night they will finish the match with the winner taking home more than $8 million. Phil Ivey, the best player in the world, was at the final table, but he was unable to ever gain any traction, and he was eliminated in seventh place.

X - eXplosion. Hideki Matsui is fighting injuries and was reduced to only playing DH in the World Series, but he certainly made the most of it, and he was named MVP for his efforts. He played well throughout the playoffs when asked, but it was Game 6 of the Series when he really made his mark. The Yankees clinched the title with a 7-3 win over Philadelphia, and they couldn't have done it without Matsui and his six RBI. Now it remains to be seen if Matsui returns to the Yankees next year. My guess is no, but I also think he'll find a place to contribute for a couple more years.

Y - Yankees. New York won their 27th World Series title, and in doing so they proved that with unlimited money and a little patience you really can buy almost anything. Unlike past years the team really spent their money wisely last year. Pitching had been their biggest problem in recent years, so they bought two high-profile starters, and those starters are a big part of the reason that there was a ticker tape parade in Manhattan on Friday.

Z - Zenyatta. Zenyatta's win in the Breeders' Cup Classic on Saturday at Santa Anita was, without exaggeration, one of the single most impressive feats in horse racing this decade and beyond. The five year old mare became the first female horse ever to win North America's richest race, and with that she moved her career record to a perfect 14-for-14. She's one of the all-time greats. As she likes to do she settled well off the pace in the Classic. As they rounded the final turn she still hadn't started to move and I didn't think she had a chance, but then she flicked a switch, moved outside, and blew the competition away.