Soccer Betting: Gold Cup Semis and Final Predictions
by Trevor Whenham - 7/22/2009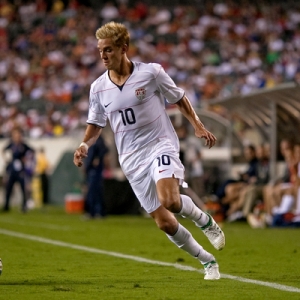 Between the Confederations Cup in South Africa and now the Gold Cup on American soil it seems like the U.S soccer team has been in action for months in a row. Those in charge of the national team infrastructure are probably growing tired of the endless competition, but they'll certainly be hoping that they have two more games left to play. They play Honduras in the Gold Cup semifinals at Soldier Field on Thursday. Costa Rica and Mexico clash later the same day on the same field. The winners of those matches will meet on Sunday afternoon at Giants Stadium. Here's a look at the two semifinals, along with a brief look at the finals (odds are from Bodog):

U.S. (-160) vs. Honduras (+400) - On paper the Americans should be the dominant team in this tournament. It hasn't necessarily been that way, though. They needed a penalty kick 105 minutes into their quarterfinal game against Panama to make it this far. Honduras is a far better team than Panama, so the Americans can't afford to play to that same level here.
These teams met in the preliminary round, with the Americans winning 2-0. Those results are basically meaningless for these purposes, though, as the American roster has been overhauled since then. Freddy Adu and Steve Cherundolo both started that first game, and both played well. Neither are around for the rematch, as they have both been called back to their European club teams. Substitutes Benny Feilhaber and Charlie Davies have also had to go back to work. That means that the team that Honduras faces this time isn't as good as the one they saw in the first game.
It is, however, the same basic squad that played Panama. That means that they have had time to get used to each other. Hopefully that also means that they can get over the problem that has plagued them throughout the tournament - communication. Good teams are constantly talking to each other on the field so they know what is going on.
The Americans have largely been playing for themselves, and that has shown up in the form of confusion and disarray. It's been especially obvious on defense, where they have given up more goals than they should, and have allowed teams far better scoring chances than they deserve. They haven't lost yet, but they haven't been nearly as good as they should be, either.

I've been hard on the Americans, but it's not like Honduras has been a powerhouse, either. They were beaten soundly in their only meaningful group stage game, and they needed some very controversial help from the referees to get past what should have been a badly outmatched Canadian team. A good team in top form could beat this American squad, but I'm not convinced that Honduras is that team right now. It hasn't helped their focus that their country is mired in a political mess right now and the players don't know what is going on with their friends and families at home.

Mexico (Even) vs. Costa Rica (+250) - These two teams played back-to-back quarterfinal games in the new Cowboys Stadium. It may have been the most lopsided afternoon of soccer ever played in one place. Costa Rica crushed Guadeloupe, 5-1, in the first game, then Mexico completed the double-header by rolling over Haiti, 4-0.
Both teams will obviously be well rested and ready to play this one, but I have to give the edge to the favored Mexicans for four reasons. First, they are just plain more talented. Costa Rica has nice top-end talent, but they can't even begin to match the Mexican depth and experience. Mexico also has the best player in the tournament right now in striker Miguel Sabah. He scored his first international goal early in this tournament, and the youngster liked it so much that he did it three more times.
Sabah is probably playing over his head, but right now he's the most confident player on the field, and having a striker on a roll is huge for a team. Third, I'm more impressed by what Mexico has done so far. They were stronger in the preliminary round than Costa Rica, and they beat a stronger opponent in the quarterfinals. Finally, the Mexicans have a much stronger history of performance at this tournament and overall in international play.

The finals - I expect the finals to be the U.S. and Mexico. I lean towards the Mexicans because their squad is more intact, but it's hard to know for sure until we see the semis. There is one thing I am confident about, though - this is going to be a terribly boring game.
The two squads play a very important World Cup qualifying game in Mexico City on August 12. Mexico badly needs a win to improve their chances of making the field in South Africa. The Americans are reasonably secure in their position, but they have never beaten the Mexicans in Mexico so a win here would be a big boost for a squad that is building some much needed confidence this summer. Both teams will be focused far more on that game than the comparatively insignificant Gold Cup, so neither team is likely to give away any secrets or do anything that will give their opponents any insight into how to prepare for that game. This game would be the soccer equivalent of watching that last painful exhibition game before the NFL season starts.