MLB Handicapping: How To Handle Increased Run Totals at Yankee Stadium
by Robert Ferringo - 04/21/2009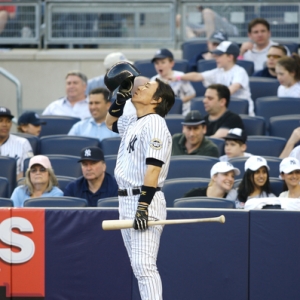 Forget Baghdad, this summer there is going to be bombs over the Bronx.
In case you have been in Bali for the last week and hadn't heard, the Yankees opened up their shiny new multi-billion dollar stadium this weekend and found out that the place was an absolute launching pad. The Yankees and Indians combined to slug 20 home runs through a four-game set, establishing a new record for most home runs hit in a ballpark's first four games, and they managed to tally 59 combined runs in those contests, good for an average of about 15 runs per game.
Everyone from sports bobbleheads to engineers and physicists to weathermen have posited theories as to why the new Yankees Stadium looked like a bear league softball field all weekend and whether or not the trend will continue. It was the hot topic around baseball all weekend, and considering that the Yankees games were lasting around four hours apiece because of all of the offense it gave folks closest to the issue plenty of time to opine.
If you thought that the overall numbers - runs, ERA, hits, etc. - that came out of this series were ugly that means you weren't watching the games themselves. It actually looked a lot worse. In Friday's afternoon game there were bombs that were hit out of the stadium even before Michael Kay had a chance to fill up his own windbag. I mean, these things were rockets and the balls flying out to right-centerfield seemed like they were caught in the jet stream. But what was worse than that is several of the home runs that looked as if they were hit off the end of the bat or with a player being jammed and not even squaring the ball up.
Clearly the new ballpark was playing small. But I also think that there are plenty of explanations behind the offensive eruption that we saw over the weekend. They range from the scientific to the simple, but the bottom line is that a confluence of factors - basically the stars aligned - led to eye-popping performances that we saw over the weekend. I also think that all of this has caused an overreaction and, from a betting perspective, this is going to create some interesting situations moving forward.
As I mentioned, the right-centerfield area of the park seemed like it was just a wind tunnel that was just sucking the baseball into the stands. Accuweather meteorologist Bernie Rayno actually discussed his theory as to why this will be an ongoing issue in the new stadium on his stations website. Here is the video explanation:
As I mentioned, the right-centerfield area of the park seemed like it was just a wind tunnel that was just sucking the baseball into the stands. Accuweather meteorologist Bernie Rayno actually discussed his theory as to why this will be an ongoing issue in the new stadium on his stations website. He believes that because the stands on the third base side are not as high and at a difference angle from old Yankee Stadium they do more to create a wind tunnel effect out to right field. In the old Stadium the high wall on that side drove the wind up and when it entered the stadium it would swirl. But the new "streamlined" stadium doesn't do enough to block the wind and instead creates a jet stream out to that area of the park.
I think that's as good of an explanation as any. And just watching how the ball travels in this stadium I do think that it's going to be an issue throughout the season.
However, I don't think that it's the only reason why we saw so many runs in the Bronx this weekend. Three of the four games went 'over' the posted total and the fourth, on Sunday, should have gone 'over' but came up a half-run short thanks to four double plays and a litany of runners left on base. People wanted to blame all of that on the stadium. But the bottom line is that's not the case and there were several contributing factors.
Here are five factors that contributed to the scoring issue in Yankees stadium:
1. The Yankees defense is pathetic.
If you watched Friday's game I can honestly and truly say that just having Johnny Damon in left field cost the Yankees at least three runs. I was laughing hysterically watching the guy try to throw the ball into the infield and the Indians took full advantage of his limp-wristed style. Cleveland was tagging up and moving from second to third on ROUTINE FLY BALLS TO LEFT! It was absurd, and was the result of a terrible decision by Joe Girardi to put Nick Swisher at the DH and leave Damon in left that day.
This is going to be a problem for the Yankees all year. Besides Mark Teixeira, the Yankees have a bunch of minus-fielders on their roster. Derek Jeter is a mess. The outfield with Damon and or Hideki Matsui in it is a mess. The infield, even when Alex Rodriquez comes back, is in poor shape with Jeter, A-Rod and Robby Cano in it. And the lack of range and lack of fielding is, naturally, going to lead to more runs.
2. The pitching on both sides was terrible.
Even before their trip to New York the Indians pitching staff had been a joke. They were 6-2 against the total before going to New York and they were second-to-last in the league in ERA, WHIP and Quality Starts. Their bullpen is poor at best and pathetic at worst. And their starting staff after Cliff Lee is a hodgepodge. Cleveland gave up 42 runs in its first four games of the season, averaging 63 runs total in those games. So the 59 runs scored over the weekend was actually a four-game improvement.
The Yankees pitching is not much better. Yes, they have some solid starters. But guys like C.C. Sabathia and A.J. Burnett have been way, way overrated coming into this year. Chien-Ming Wang is obviously a wreck and still battling some problems with his mechanics and Joba Chamberlain is too busy trying to strike everyone out to give them quality innings. What's worse, is that for all of the money that the Yankees spent on their starting rotation they practically ignored their bullpen. The result is one of the shakiest bullpens in the league and I think that's going to be a problem for them all season.
3. The umps didn't help.
We had Jerry Crawford - one of the all-time 'over' umps - Ed Hickox, Phil Cuzzi and Tom Hallion behind the plate all weekend. They all have tight, tight zones and that helped contribute to the staggering number of walks over the weekend. There were 15 walks in Game 1, 11 in Game 2, 11 in Game 3, and 10 in Game 3. Walks mean base runners and base runners mean runs.
4. These offenses are legit.
I'm not that high on the Yankees lineup right now. But there is no denying that they have a lot of professional hitters up and down their card. And when you mix in bad pitching and tight umpires you're talking about even more enhanced hitting situations for very good batters. Cleveland lineup is no joke either. I watched this team in its series against the Royals just prior to its trip to New York and that was a frustrating set for the Tribe. They caught a lot of tough breaks - the ball was just finding K.C. gloves at inopportune times - and this was a lineup that was just ready to explode.
5. There weren't as many runs scored as it seemed.
I know that if "ifs" and "buts" were candy and nuts we'd all have a Merry Christmas, but bear with me here:
In Game 1 of this series it was 2-1 Yankees entering the top of the seventh inning. Cleveland scored nine runs. In Game 3 there were 26 total runs scored, including 22 scored by the Indians total. Well, 14 of those runs were scored in one inning. So what I'm saying is that if you eliminate those two big half-innings you're talking about 23 less runs for the weekend. That would lower the number of total runs scored in the series to 36 and would lower the average to just nine runs per game. On top of that, there were three more runs scored in Sunday's game in the bottom of the eighth when the Cleveland left fielder dropped a routine pop fly with the bases loaded and two outs. That's three more that could have been ticked off right there.
So there. There are five reasons why it wasn't just the dynamics of the new stadium that contributed to an absurd amount of runs being scored in the Bronx this weekend. Do I think that we're going to see some ridiculous scores and absurd offensive numbers out of Yankee Stadium this summer? Absolutely. But I think those are going to be isolated incidents when the stars align for certain series, like this did this past weekend. The ball clearly carries better in this new stadium. But I don't think that it's enough to warrant all the hype that's being thrown on it at the moment.
And from a betting standpoint, right now you might be able to find some solid 'under' value on the Bronx Bombers because of all of the attention and inflated numbers from this past weekend. The books are going to overadjust to get in front of public perception. And when you throw in some things like bounceback pitching performances, weaker lineups, changing wind patters, and more pitching-friendly umps and I could definitely see this whole thing blowing over relatively quickly.
If not, it's going to be a long summer for the Yankees.
For more information on Ferringo's baseball picks, check out his Insider's Page here.