NFL Sunday Predictions - Week 9
by Josh Nagel - 11/5/2009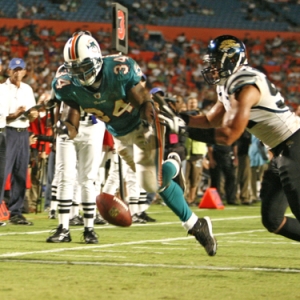 Game: Miami Dolphins (3-4, 3-4 ATS) at New England Patriots (5-2, 4-3 ATS)
Spread: Patriots -11.
Overview: Although it looks as though Tom Brady and the Patriots are about to re-open space for their growing bandwagon, you might want to wait until the end of Sunday's game against the Dolphins to get your ticket.
Sure, the Patriots have looked like their old selves of late, friendly to backers and brutal to opponents against whom they have no reservations about running up the score until coach Bill Belichick is satisfied.
New England has won its past two games by a combined score of 94-7, cashing in each game. But keep in mind these blowouts came against the woeful Tennessee Titans and Tampa Bay Buccaneers, who are among the NFL's worst teams.
So far this year, when the Patriots have faced resistance they have struggled. You can expect some resistance against the Miami Dolphins, whose awkward offensive sets and mostly solid defense has kept them close in most games.
Miami ranks fourth in rushing offense at 154 yards per game, while coming in sixth at stopping the run (92.4 ypg). The Dolphins also are a surprising 11th in scoring offense at 25.1 points per game.
New England's offensive stats were bloated by the two blowouts, but the Patriots also have quietly managed to field the league's third-best scoring defense (14 ppg). The unit will have its hands full against a clock-control offense designed to shorten the game. Because of fewer possessions, the Patriots will struggle to pull away, and the points provide a nice cushion here.
Trends: Miami is 7-0 ATS as a road underdog of 10.5 points or more. The Dolphins also are 5-0 ATS in their last five against AFC East teams, and 13-3 ATS against home teams with winning records. The Patriots are 4-1 ATS in their last five as a favorite, and 4-0 ATS against teams with losing records. Each team won on the road last season.
Pick: Dolphins +11.
Game: Tennessee Titans (1-6, 2-5 ATS) at San Francisco 49ers (3-4, 5-1-1 ATS)
Spread: 49ers -4.
Overview: The Titans went from having the NFL's best regular-season record last year to becoming one of this season's bottom-feeders. The 49ers went from a promising start to another season that looks headed toward lamenting what might have been.
Neither result should come as much of a surprise. It's not so much that the Titans transformed from a great team into an awful one, as much as it is that the odds have simply caught up with them. Coach Jeff Fisher's conservative, run-oriented style lends itself to the Titans consistently playing close games. Last year, they happened to win most of them, and this year they are coming out on the short end. Fisher's tight-gripped game plans are also suffering at the hands of opponents who run more sophisticated, higher-scoring offenses.
The 49ers aren't one of them. Although San Francisco's defense is strong enough to keep the team in most games, its lack of offense has been a factor in its three consecutive losses. The 49ers are 27th in total offense with 275 yards per game.
San Francisco's second-ranked run defense will be up against Tennessee's second-ranked rushing attack (162 ypg). The match-up favors Fisher's style, and the four points should come in handy.
Trends: The Titans are 8-1 ATS as a road underdog of 3.5-10 points, and 4-1 ATS in their last five November games. The 49ers are 4-1-1 ATS in their last six home games, and 3-0-1 ATS after a straight-up loss.
Pick: Titans +4.