Golf Betting: What's with Tiger?
by Trevor Whenham - 05/07/2009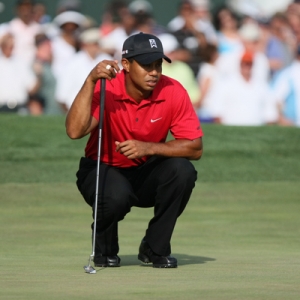 When Tiger Woods returned to action after his leg injury last year, the expectations were, as they always are with Tiger, extremely high. You certainly can't say that he has been a disappointment - he has a win in five starts, and he hasn't finished worse than ninth - but you just can't escape the feeling that something isn't quite right. He's put himself in contention to compete and win pretty much each time out, but other than in his win at Bay Hill, he hasn't quite been able to get the job done. He's still obviously among the best golfers in the field, but the Tiger we have seen so far this year is not the Tiger that has given pro golfers nightmares for years.
Panicking at this point would obviously be ridiculous - the distance between where he is and where we know he can be isn't very far, and he's still probably the best golfer in the world. The problem, though, is that Tiger is already a bit of a nightmare for sports bettors, and this version of him doesn't make it any easier. The prices for him are almost always too low to present any real value, but you leave him out of your bets at your own peril because he always has a chance to win. Now, the prices for betting on him have even less value because of his play, but you still have to be uneasy betting against him because you know that sooner or later his game is going to come around, and even as it is he is good enough to win on any given week.
What makes this struggle to return to form hard to figure out is that you can't just point at one aspect of his game. It's relatively easy to get a handle on a golfer that is struggling with his driving or his putting, just as it is easy to get comfortable with handicapping a baseball team that can't hit. Tiger seems to be struggling with something different almost each time out. We've seen every part of his game perform well at some point since he has returned, but we have rarely seen him be able to put it all together at the same time. His ability to do that in the past was precisely what made him so deadly. His driving let him down at the Masters, and has been a frequent problem, including at Bay Hill when he won. In his first round at the Player's Championship this week he drove the ball as well as he has this year, but it was his putting that was the difference between a mid-range performance and a spot at the top of the leaderboard.
If you want to point at one particular problem that has affected the game more than any other you would probably have to look at his play off the tee. His distance is off, his accuracy, which isn't always a strong suit in the first place, has been especially spotty, and he hasn't looked quite as confident teeing it up as he has in the past. Most significantly, he again seems to be toying with his swing. Tweaking with his swing, and even massive changes to it, have always been a big part of Tiger's game. However, before the injury the swing was as solid and effective as it had ever been. Now he's back to making different swings and not committing fully to his swings. Whenever that has happened in the past he just hasn't won with the same frequency as he has when the swing is working at full throttle.
If you are looking to point to a particular reason for the comparative struggles, you don't have to look too hard. Tiger practices obsessively. His offseason practice sessions are legendary. He works longer and harder than everyone else. You add that work ethic to more natural talent than anyone else, and you wind up with the best golfer on the planet. Because of the injuries, Tiger had months in which he couldn't practice at all, and months after that in which he couldn't practice fully. Normally, he would only have taken a short time off during the offseason before committing completely to the practice. This injury obviously put Tiger months behind where he would normally be. Add to that the fact that there is no way to avoid feeling some uncertainty and mistrust around a reconstructed joint, especially one as key as a knee, and you have a rehab process that is going to take patience. If the Masters weren't such an important tournament, and the pressure for Tiger to play in it therefore so high, you could easily have imagined him taking longer than he did to get ready to return.
So, what does this mean for bettors? Patience is one of the most important tools a sports bettor has to have, and this is one of those cases where it is especially important. Tiger is still Tiger, and sooner or later he is going to be right back where he was before. He's still very much in his prime as a golfer, and this minor lull in his performance is going to be nothing but a memory sooner or later. Just be patient and let Tiger come around, and enjoy these signs of fallibility while they are still there.