NASCAR: Toyota/Save Mart 350 Odds and Predictions
by Christopher Shepard - 6/18/2010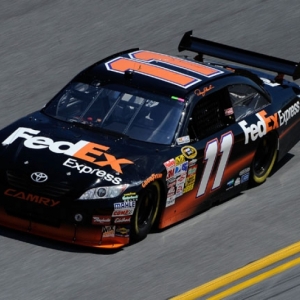 Joe Gibbs Racing's Denny Hamlin, who won his fifth Sprint Cup race this year by dominating at Michigan, last week, will attempt a three-peat at Infineon Raceway in Sonoma, California as NASCAR heads out to wine country for the first road course race of the season this Sunday.

Gamblers should note that during the last five years the trend at Infineon has been five different winners; Tony Stewart (2005), Jeff Gordon (2006), Juan Pablo Montoya (2007), Kyle Busch (2008) and Kasey Kahne (2009). Hendrick Motorsports has the most wins of any NASCAR team at Infineon with five. All five wins came from Jeff Gordon while Stewart is the only other active driver with multiple victories at Sonoma.

Who will win the Toyota/Save Mart 350?

Despite finishing 19th at Michigan, Kevin Harvick retains a tenuous 22-point lead over Kyle Busch in the NCSC standings with 15 races in the books. Harvick might lose that lead this Sunday as his recent fortunes at Sonoma have not been good. Last year, Harvick finished 29th and in 2008 finished 30th. Meanwhile, Kyle won this race in 2008 but has not been in the winners circle since. Denny Hamlin has moved to third place and is a scant 47-points behind first (and gaining).
There are a handful of drivers that have been driving really well and look tempting on Sunday. You shouldn't look too far past HMS heir-apparent Kasey Kahne. Kahne is the defending champion and comes into this race with a solid second-place finish at Michigan and is set at a tasty +3000 to win. Another driver you won't want to overlook is Jeff Gordon who has not finished out of the Top 10 at Infineon in four races and in the last seven races at Sonoma has won two races, notched four Top 5 and six Top 10 finishes. At Michigan despite an ill-handling car Gordon managed to finish fourth and he'll definitely look to build on that momentum at one his best tracks on the NASCAR circuit.
If you are thinking about investing in Jimmie Johnson at +1500 in his home state you should know that his comely wife is ready to burst at any minute (there goes the season) with their first child and he's going to hit the road if she goes into labor. Just so you know. The Johnson's upcoming birth might explain why it has been so long (for him) since Johnson actually won a race.
Thanks to a string of Top 10 finishes Stewart finds himself on the inside looking out when it comes to cracking the Chase for Stewart-Haas Racing. In fact Stewart looks like he's found his groove from last year with his second straight top-five finish at Michigan and third top-five finish in four races. When it comes to Infineon Raceway few drivers are better than "Smoke." Stewart comes to Sonoma with two wins and seven top-ten finishes in 11 starts at the tricky road course. Love him or hate him it appears that Smoke is starting to find his form which makes him my pick to win the Toyota/Save Mart 350 on Sunday.

Pick! Tony Stewart, No. 14, (+450)
Toyota/Save Mart 350 - Lucky Dog Long Odds Special

After last year's third place finish at Infineon it is not likely that Marcos Ambrose is going to sneak up on anyone this year (especially the book-makers). Ambrose will look to wipe-away the field in his No.47 Clorox/Kleenex Toyota. Ambrose rebounded from an early spinout with David Ragan last week to finish 15th at MIS. Ambrose's best finish of the season was at the Crown Royal 400 when he finished ninth for his first top-ten finish of the season. However, none of these races were on Ambrose' forte, the road course. Ambrose has a ton of experience driving right and is always dangerous when it comes to the road courses. There is no doubt that Ambrose will be running in with the lead pack for most of the 110 laps. While Ambrose has not won in two starts at Sonoma his first year at Infineon Ambrose finished 42nd after starting second and last year's he finished exactly where he started, third so it is quite likely that one day he will win it is just a matter of when rather than if.

Pick! Marcos Ambrose, (+800)
Toyota/Save Mart 350 - Finish in the Top-Three
The ex-open wheel racer loves escaping the confines of the cookie-cutter tracks and super-speedways for the freedom of the road courses and driving that comes natural to a Euro; rapid acceleration followed by maniacal breaking, and right turns; nothing better for the F1 soul. NASCAR JPM, however, is currently mired in 20th place in the NSCS standings, but has a great chance to shave off some of the 532-points from Kevin Harvick's lead and an even better chance of closing the 189-point gap between 20th and 12th place. Montoya sports a 111.3 driver rating at Infineon, good enough for second best behind Stewart who holds a 113.2 rating. JPM's 4.3 average finish at Infineon isn't bad either which makes him my pick to finish in the top-three at the Toyota/Save Mart 350.

Pick! Juan Pablo Montoya, No. 42, (+240)

Odds to finish Top-Three – Toyota/Save Mart 350
Infineon Raceway, Sonoma, CA – June 20, 2010 3:19 p.m.
Tony Stewart +130
Kyle Busch +150
Jeff Gordon +150
Marcos Ambrose +240
Juan Pablo Montoya +240
Denny Hamlin +350
Kevin Harvick +450
Jimmie Johnson +450
Kurt Busch +750
Robby Gordon +750
Jamie McMurray +750
Carl Edwards +900
Jeff Burton +900
Kasey Kahne +900
Ryan Newman +900
Clint Bowyer +900
Boris Said +900
Mattias Ekstrom +900
Greg Biffle +1200
Mark Martin +1500
Max Papis +1500
AJ Allmendinger +1500
Field (Any Other Driver) +2200
Elliott Sadler +3000
David Ragan +3000
PJ Jones +3000
Brad Keselowski +3000
Sam Hornish Jr +3000
Dale Earnhardt Jr +3000
Scott Speed +3000
Matt Kenseth +3000
Martin Truex Jr +3000
Joey Logano +3000
David Reutimann +3000

Odds to win - Toyota/Save Mart 350
Infineon Raceway, Sonoma, CA – June 20, 2010 3:19 p.m.

Tony Stewart +450
Kyle Busch +500
Jeff Gordon +500
Marcos Ambrose +800
Juan Pablo Montoya +800
Denny Hamlin +1200
Jimmie Johnson +1500
Kevin Harvick +1500
Kurt Busch +2500
Jamie McMurray +2500
Robby Gordon +2500
Mattias Ekstrom +3000
Jeff Burton +3000
Carl Edwards +3000
Boris Said +3000
Kasey Kahne +3000
Ryan Newman +3000
Clint Bowyer +3000
Greg Biffle +4000
AJ Allmendinger +5000
Max Papis +5000
Mark Martin +5000
zx Field (Any Other Driver) +7500
Martin Truex Jr +10000
Joey Logano +10000
David Reutimann +10000
Sam Hornish Jr +10000
Brad Keselowski +10000
Matt Kenseth +10000
Scott Speed +10000
Dale Earnhardt Jr +10000
PJ Jones +10000
David Ragan +10000
Elliott Sadler +10000

*Odds courtesy of sportsbook.com