This Week in Betting, A-Z
by Trevor Whenham - 4/20/2010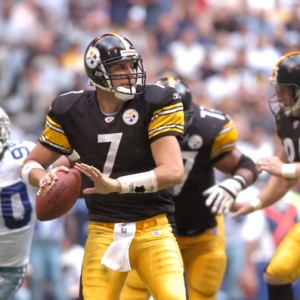 A - Astros. With the start of every new season there has to be a team that is the last to win their first game. That team was unfortunately the Astros this year. It took them nine games to finally enter the win column. Though losing in never a good thing, there's no real shame in struggling against the deadly collection of teams they were forced to face - after opening against San Francisco they played Philadelphia and then traveled to St. Louis. That's the best of the National League all in a row.

B - Brandon Roy. The Trail Blazers are where they are thanks to Roy, but now they will have to get by without him. Roy has opted to have knee surgery that will keep him out for at least the first round of the playoffs - and with a series against red-hot Phoenix in the first round there may only be one series. Roy's absence will certainly be felt - the team was 7-9 with him out of the lineup, and a much more impressive 43-23 when he played.

C - Cantu, Jorge. This Florida Marlin started the season with a pretty impressive record - he collected a hit and drove in a run in each of his first 10 games. That's the most games in a row at the start of a year since the RBI became a recorded stat in 1920. The streak came to an end when he had the misfortune of facing Roy Halladay. He got his hit, but couldn't follow up with an RBI. He bounced back well, though, with a hit and an RBI in his next outing.

D - Dana Eveland. The Blue Jays are off to a better start than many expected, and their solid pitching gets the credit for that. The biggest surprise on the roster has been Dana Eveland, a pitcher they picked up from the A's for future considerations in the offseason. After a strong spring to earn a spot in the rotation, Eveland set a team record by throwing 11 1/3 scoreless innings to start the season, breaking a 20-year-old mark held by Mike Flanagan. After toiling for four teams in six years Eveland may have finally found a home.

E - Endless. It's possible that the Saturday afternoon game between the Cardinals and the Mets isn't over yet. New York won 2-1 in the 20th in a nearly seven-hour game that was tied through 18. It was the longest game since Colorado and San Diego went 22 exactly two years earlier. The game was as much of a farce as any game this long is inevitably going to be. Center fielder Joe Mather got the loss for the Cards, and he was the second positional player to take the mound - Felipe Lopez threw the 18th. Kyle Lohse played three innings in left feld, and looked as out of place as you would expect a pitcher in the outfield to look.

F - Feisty. The opening round series between the Celtics and the Heat is probably the closest of all of the matchups. If the first game is any indication it will also be the roughest. Kevin Garnett is take a forced break in game two after trying to feed Quentin Richardson a snack of his elbow. Paul Pierce went down with a shoulder injury, and Garnett moved in to protect him, and he used his elbow to clear some room. That earned him a double technical and an ejection, but there were only 40 seconds left, so the Celtics cruised to their win.

G - Ginn, Ted. Ted Ginn Jr. has a new home thanks to a deal that should work well for both teams. Miami gave up a former first rounder for just a fifth round pick, but with Brandon Marshall in town they had no need for a guy who hadn't worked out. The Niners get a guy who has shown he probably can't be a No. 1 receiver, but he doesn't need to be with Michael Crabtree in town. Ginn should be able to produce out of the spotlight, and even if he doesn't he's a better kick returner than anyone they would have picked in the fifth round.

H - Hilton Head. Jim Furyk won his second tournament of the year on Sunday, and he did it thanks to one of the dumbest rules in sports. Furyk and Brian Davis were forced into a playoff after Davis birdied the 18th hole. On the first playoff hole Davis called a two-stroke penalty on himself after he brushed a loose reed on his backswing. The contact had no effect on the ball, and it was only visible in slow motion on the replay, but a rule's a rule, and Furyk got the least satisfying possible victory.

I - Impressive. That scrawny kid out of Texas sure can play. Kevin Durant averaged 34.6 in April and scored 31 in his final game to secure his first scoring title in just his third year in the league. He average 30.1 points compared to 29.7 for LeBron James. Durant's improvement has been remarkable, with an improvement of about five points per game each year - from 20.3 as a rookie to 25.3 last year. Now it remains to be seen if he can carry his success over to the playoffs. The first game wasn't particularly positive - he outscored Kobe, but the Lakers rolled by eight points in a defensive battle.

J - Jake Shields. Shields beat former UFC fighter Dan Henderson to defend his Strikeforce middleweight title on Saturday night in convincing fashion. After the fight ended Strikeforce did an uncomfortably accurate impersonation of the WWE. As the fight ended, Jason Miller entered the cage to demand a rematch with Shields after an earlier loss. One thing led to another, and suddenly punches were being thrown and chaos reigned. I was expecting to see Shields grab a folding chair and really go to work.

K - Kelly Pavlik. Pavlik doesn't make a habit of losing fights, but he got schooled by Sergio Martinez on Saturday night. Martinez moved up to 160 pounds - a weight that Pavlik had never lost at - to challenge Pavlik and he came out with an impressive and very convincing unanimous decision. 'Bloody' describes the fight in just one word. Pavlik was cut in the ninth of 12 rounds, and his face was a bloody mess at the end of each subsequent round.

L - Lincecum, Tim. The two-time CY Young winner made an early claim on his third straight award with a remarkable outing in a week full of remarkable National League outings. Lincecum was dominant on the mound against the Dodgers on Saturday, striking out seven in six shutout innings. He didn't leave it to his teammates to secure the win, though - he added three hits and three RBI at the plate. That lifts his batting average in this young season to .429, and his record to 3-0 with a miniscule 0.90 ERA.

M - Marshall, Brandon. All you have to do if you are a wide receiver in the NFL is whine loud enough for long enough and you'll end up getting what you want. Marshall finally got his ticket out of Denver, and now he's a member of the Dolphins. It's a great spot for him - if he can find chemistry with Chad Henne then he has the chance to help make this team very special. As for the Broncos, they did a decent job of getting value and ridding themselves of a headache at the same time.

N - No charges. Big Ben got off. That's a bad choice of words given the guy's habits, but it's true. There will be no charges laid against Ben Roethlisberger in his latest sexual assault case, so there is no potential for jail time, and the only thing that can and likely will interrupt his season is a suspension from Roger Goodell. Roethlisberger has a remarkable ability to slither out of tough spots. It will be very interesting to see if he learns from this latest close call, or if his stupidity is too powerful to overcome.

O - Ousted. Given the revolving door that is the NBA coaching fraternity, it's not surprising that there were coaches fired as the season ended. What is surprising is that there have only been two so far. Eddie Jordan was dismissed from the Sixers after just one year, leaving Philadelphia to look for their fourth coach in three years. The Clippers also made a change, cutting loose interim coach Kim Hughes after just 2.5 months. Hughes had almost no chance of surviving, so the move comes as no surprise.

P - Pletcher, Todd. One of the world's most successful racehorse trainers has tried many times to win the Kentucky Derby, but he just hasn't managed to pull it off. It seems like this might just be the year, because every time you turn around Pletcher's arsenal gets stronger. On Saturday in the Lexington Stakes, the last of the Derby prep races, Pletcher's Exhi wired the field at 19/1. Pletcher ended up winning seven of the 21 graded Derby preps - a stunning accomplishment - and is likely to have five or six horses in the Derby including heavy favorite Eskendereya. If he doesn't win it this year then he may never do so.

Q - Quite predictable. The first games in the NBA playoff series has mostly been notable in it's predictability. Only one road team - Portland - won their first game, and favorites covered six of the eight games. Unless Portland can keep it up despite playing without Brandon Roy it is quite possible that there won't be a single upset in the first round, and it's not beyond the realm of imagination that there won't be a single upset on the path to the Finals.

R - Roy Halladay. I write about Halladay a lot, and I'll keep doing it until he starts to show he isn't worthy of the attention anymore. The highest profile acquisition of the year continued to prove that it was money well spent by Philadelphia when he moved to 3-0 with another stellar outing. He allowed just two runs through eight innings. He got lucky to escape with the win, though - his bullpen did him no favors, giving up four runs n the ninth. Lucky for him, Florida's pitching had been even worse.

S - Spartans. The story recently has been of all the players who are leaving college early to declare for the NBA Draft. It's worth celebrating, then, when good players from a good team decide to stick around. Michigan State announced this week that both Kalin Lucas and Durrell Summers will return for another year. That means that the Spartans will again be loaded - only senior Raymar Morgan leaves, and the recruiting class is strong. With Purdue again strong and Ohio State sporting the best recruiting class in the country the Big Ten is going to be an epic war this year.

T - Tide. It has been great the last couple of weeks to see some spring games played in college football. They aren't anything close to real football, but they are a great snack for starved college football fans. The story that stuck out from this week's spring game action was the display of running back power in Alabama. Mark Ingram and Trent Richardson are both back, and both were truly dominant in front of more than 91,000 fans. They combined for 206 yards of offense on the ground and through the air - a sight that isn't likely to be rare this year.

U - Ubaldo Jimenez. Jimenez will go down forever as the first member of the Rockies to record a no-hitter. He has been impressive all year, but it was one of the stranger no-nos you'll see. Jimenez struggled badly with his control early on - he walked six in the first five innings and pitched the second half of the game out of the stretch because it was the only way he could find the strike zone. Despite that he stayed hitless, and was helped by an impossible catch from center fielder Dexter Fowler.

V - Vanek, Thomas. This is not how the Buffalo Sabres sketched it out. They lost their home ice advantage against the Bruins with a loss in the second game, superstar goalie Ryan Miller looked very mortal in the loss, and now Vanek, their leading scorer and best offensive player by a lot, has been injured and is likely to miss at least the third game of the series. It's an unspecified lower body injury suffered in an altercation along the boards, and there is a possibility that it could be more than one game that he misses.

W - Wrong net. The series between the San Jose Sharks and the Colorado Avalanche has been bizarre, so it's only fitting that the third game ended in bizarre fashion. It was a scoreless tie after three periods despite San Jose's ridiculous 50-16 shot advantage. Less than a minute into overtime, Sharks' defenseman and Canadian Olympian Dan Boyle blew a pass and sent the puck into his own net. That meant that the Sharks, the top team in the West, are behind 2-1 to the Avs, a team that slumped badly in April. San Jose has a tradition of playoff underachievement, and this certainly isn't helping to change the widely-held perception of them.

X - eXplosive. The Brewers were able to take most of Sunday off - a 10-run first inning removed most of the urgency from their game at Washington. Jason Marquis allowed seven runs without recording a single out, and Miguel Batista was only slightly better in relief in the ugly inning. The half-inning took 28 minutes to play. It was almost as if the Brewers were working out their frustration from the previous day when they were shutout by Livan Hernandez.

Y - Yankees. This is a stat that seems impossible, but it's true. The Yankees have won each of their first four series this year, and that's the first time since 1926 that they have accomplished that feat. The 1926 squad, which featured Lou Gehrig and Babe Ruth, lost to the Cardinals in the World Series. These Yankees will be looking to go one step further, and they are off to a good start. The fourth series-clinching win against Texas on Saturday featured another milestone - A-Rod hit his 584th home run to pass Mark McGwire for eighth in the all time rankings.

Z - Zany. There is very little about the first round of the NHL playoffs that have made sense so far. All eight of the series were tied at one after the opening two games. Three of the four series that have played three games are led by the lower seeded team. Number one seeds Washington and San Jose have both looked decidedly mortal. Some goalies have been unexpectedly brilliant, and others have been unexpectedly poor. If this continues then there is no way of knowing who might win.