This Week in Betting, A-Z
by Trevor Whenham - 5/10/2010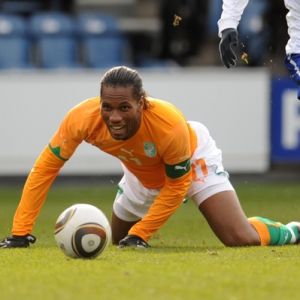 A - Ainge, Danny. Boston's GM learned a lesson he should already have known this week - you can't get away with anything in an era when everyone is watching everything you do. On Monday Ainge was having some fun at his team's game against the Cavs, and he threw a towel in the air to distract J.J. Hickson on a free throw attempt. It turned into a much bigger deal than it deserved to be, and the GM got to write a check for $25,000 to the league to repent for his sins.

B - Byfuglien, Dustin. The Blackhawks star is one of the more unique players in the NHL. In Game 3 of his team's contest with the Canucks he scored a hat trick that made all of the difference in the game. It was the first time in the series that he had played on Chicago's first line. He'd already spent time during the series on the fourth line and, remarkably, as a defenseman. He's pretty much the definition of versatility, and a big reason why his team is on the verge of moving on to the third round of the playoffs.

C - Chelsea. Chelsea needed a win in their weekend contest against Wigan to clinch the Premier League title. They certainly got it. Chelsea won 8-0 in a ridiculously lopsided contest. Wigan lost a player to a red card in the first half, but that wasn't the deciding factor in this one. Didier Drogba, who will be starring for the Ivory Coast in the World Cup, scored three goals during the game to bring his season total to 29 and clinch the golden boot for the league's highest scorer.

D - Dallas Braden. It was a crazy week for the Oakland pitcher who was 17-23 for his career when the week started. First, he escalated his fight with Alex Rodriguez to the point that the sport's highest-paid star may need armed protection when he next faces Braden. Then, when his 15 minutes of fame appeared to be fading, Braden threw just the 19th perfect game in the history of baseball. It was the second time in less than 10 months that Tampa Bay had been the victims of a perfect game - something that should be virtually impossible.

E - Elbow. You know a guy is a major star when an injured joint becomes the biggest of stories. Lebron's elbow isn't right, and it led to speculation that he couldn't perform his best, or even that he wasn't tough enough to be a megastar. He stepped up to this criticism in Game 3 with 38 points in dominating fashion to lead his team to the win. The elbow didn't seem to be the problem in Game 4 of the series, but Rajon Rondo certainly was - he scored 29 points, and added 18 rebounds and 13 assists in one of the best playoff performances in years to tie the series up.

F - Franzen, Johan. Hockey is very much a team sport, but it's possible for a guy to single-handedly win a game. Franzen did it in Game 4 of Detroit's series with San Jose. He scored four goals and added two assists to lead his team to a 7-1 win. He was originally given credit for a fifth goal as well, but the puck hit Todd Bertuzzi's leg on the way into the net, so Franzen was downgraded to an assist. Detroit's playoff run ended five games into the second round, but it wasn't Franzen's fault - he had at least one point in every playoff game Detroit played.

G - Grand slam. Andre Ethier is the master of the walk-off. On Thursday he hit a grand slam off of Jonathan Broxton in the bottom of the ninth to lead the Dodgers past the Brewers. It was his second game-winning hit of the season. He's won in a walk-off 11 times since the start of 2008 - the most of any player over that time. There's an even more incredible stat - Ethier has twice come to the plate in the ninth with the bases loaded, and he has hit a grand slam both times.

H - Habs. Montreal is a team that just won't die. They limped into the playoffs with the worst record of any team, but they knocked off the top seeded Capitals in the first round, and keep finding ways to stay competitive with the Penguins in Round 2 despite being badly outmatched in terms of talent. Pittsburgh dominated Game 1, but Jaroslav Halak was huge in Game 2 to tie the series. Pittsburgh was too strong again in Game 3, but Montreal scored two third period goals to take Game 4. Pittsburgh is on the verge of moving on after winning Game 5, but you can't count this team and their amazing goalie out.

I - Ivan Rodriguez. There is still life in Pudge. It looked like his career was winding down last year, but he has joined the Nationals and found new life. He's slowed down a bit recently, but he's still hitting .365 in 24 games. More significantly, Rodriguez has to be credited for his handling of Washington's pitching staff. Livan Hernandez has been brilliant, Scott Olsen is playing great, and the staff is a big reason why this team is 17-14. Stephen Strasburg will be in very good hands when he makes his debut.

J - JaMarcus Russell. The most painful era in Raiders' history has ended. Three years after he was picked first overall and handed a boatload of cash, Russell has been cut. He has natural ability galore and the ability to throw a ball a mile, but he never grasped an NFL offense, and he never showed the work ethic, desire, or commitment to fitness that it takes for success. I'm sure another team will pick him up, but I'm even more sure that he'll never live up to his potential. Never has a team improved more by ditching one first rounder.

K - Kimbo Slice. The ridiculous Kimbo Slice era appears to be over. Slice, the former Youtube sensation who tried to turn into a legitimate MMA fighter, will be cut from the UFC after losing his main card fight at UFC 113 in Montreal on Saturday. Slice lost by a second round TKO to Matt Mitrione, a fellow Ultimate Fighter contestant who used to play for the Vikings and the Giants. Slice is still popular despite his obvious talent issues, so it's a good bet that he'll land somewhere.

L - Los Suns. Phoenix made a real political statement when they wore Los Suns jerseys in the second game of their second round series to protest Arizona's new immigration policy. They made a statement on the court as well as they swept the Spurs - the first time they have beaten them in five tries - to become the first team to move to the conference finals. The story of the series was an incredible, unexpected fourth quarter outburst by Goran Dragic in Game 3. With Nash and Stoudemire on the bench, the backup point guard scored 23 points in the quarter to earn the win. He had scored just seven points in the previous 11 quarters combined.

M - Moyer, Jamie. In the dictionary under 'ageless' there is a picture of Moyer. Or at least there should be. When you are 47 years old you are not supposed to be throwing complete games or two-hit shutouts - especially when you can't throw 90 miles an hour - but that's just what Moyer did against the Braves. In doing so he became the oldest player, by almost a full year, to throw a shutout. Moyer moved to 4-2 on the season with the win, and notched his 262nd career win. At the rate he is going he might just win 300 - even if he needs to pitch for 12 more years to do so.

N - Neck. Tiger just can't catch a break in his attempt to return to golf excellence. Woods stood still on moving day on Saturday, so he was out of contention when Sunday dawned at the Players Championship. It seemed like things couldn't get worse, but they did. Woods withdrew on the seventh hole with a neck injury that he fears is a bulging disk. Tim Clark won the tournament and shed the dubious title of being the best player to have not won a tournament.

O - Orlando. The Magic are just toying with the Hawks in their second round playoff matchup. They won the first game of the series by 43. The second game looked like it was going to be closer - the Magic were up by just one after three quarters - but won the fourth quarter by 13 points to cruise to the win. The third game was a blowout again - Orlando won by 30. The Magic are firing on all cylinders - Dwight Howard is as good as always, and Jameer Nelson, Rashard Lewis, and Vince Carter have all been excellent.

P - Pacman. Pacman Jones has gotten another chance to salvage his career. We last saw him when he was cut by the Cowboys after the 2008 season. He signed to play with the Winnipeg Blue Bombers of the CFL, but was cut by that team before he played a game because of moronic comments he made in an online video. Now he has landed with the Bengals, and he has a two-year contract in his pocket. He's obviously talented, and the Bengals are used to dealing with bad attitudes, so it's probably a good gamble.

Q - Quite ridiculous. Lawrence Taylor is a serious joke. Instead of finding ways to positively be the hero that he should be, he has most recently been spending his time with at least one under-aged, drugged out, unwilling prostitute. So classy. Taylor originally denied any wrongdoing when he was caught, but that dissolved so quickly that there is almost no doubt that the once-great linebacker has done everything that he is accused of.

R - Rua, Mauricio. Last year Rua was robbed in his title fight with Lyoto Machida. He lost a unanimous decision that many figured he had won. He got a shot at a rematch, and he certainly made the most of the chance with a first round TKO win. Machida landed a few good shots early - especially with his knees - but Rua got in close and landed a devastating shot on the head, then jumped on Machida when he hit the ground and ended it. Rua is now the light heavyweight champ, and he has his eye on Anderson Silva. That's a fight I would love to see.

S - Starlin Castro. The Cubs debuted their youngest ever shortstop on Friday, and the 20-year-old Castro made one heck of a first impression. After only getting called up earlier in the day, Castro responded with a three-run homer in his first at-bat. He had six RBI in the game - with a three run triple to go with the homer - as the Cubs rolled past the Reds. Those six RBI are the most in a debut game in major league history.

T - Toronto. I have a crush on the Blue Jays. They are far from the most talented team in the league, and they are stuck in a hopeless division, but they are playing incredibly tough, feisty baseball right now. They have won eight of their last nine games. On Sunday they scored four runs in the ninth to beat the White Sox by two. Incredibly, it was the fourth time this season that they have won after trailing heading into the ninth. They just won't quit.

U - Ugly. The Mariners were supposed to win the AL West this year, and they still might, but they are just a mess right now. It was a particularly rough week. First, Milton Bradley lost his mind and then realized that he needed some help, so he'll be unavailable for a while. Then, after losing eight games - all at home - and hitting like a bunch of grannies they fired their hitting coach. The team responded well to the change by scoring eight runs - as many as they had in their five previous games combined - to beat the Angels and snap the streak.

V - Vancouver. The Canucks are a team that I just can't figure out. In their first game against Chicago they were brilliant in a 5-1 win. In the next three games they were terrible. They lost two games at home, got lousy goaltending from Robert Luongo, and just didn't look like they cared about winning. It seemed like they were thinking about golfing every day, but then they came out in the fifth game and played as well as they can again. Frustratingly unpredictable.

W - World championships. The world hockey championships don't get a whole lot of attention in North America, but Germany appears to love them. The Germans and the U.S. kicked off the tournament by playing in a soccer stadium in Gelsenkirchen, Germany, in front of 77,803 people - a world record crowd for a hockey game. The setting worked wonders for the hosts as they upset the Americans, 2-1, behind strong play from goalie Dennis Endras.

X - eXplosive. The Royals and the Rangers played a wild one on Thursday night. Texas was up by eight after three innings, but the Royals didn't give up. They scored at least one run in each of the next five innings and were up 12-11 in the middle of the eighth. That's when the comeback lost steam, though - Texas scored two in the bottom of the eighth and the Royals had no answer, so the Rangers came out on top of this 25-run shootout.

Y - Yawn. The second round seems to be cursed. There are second rounds series going on in two sports, but of the eight series being played six of them are pretty dull. Only the Cavs and the Celtics in the NBA and the Penguins and the Canadiens in the NHL are offering more than just a little intrigue. Here's hoping that things get better as we get closer to handing out a couple of championship trophies.

Z - Zito, Barry. I want Zito to succeed and recapture the Cy Young-winning form he had in Oakland, but I've been very hesitant to get my hopes up every time he throws a good game. It's getting easier and easier to believe he is for real this year, though. On Wednesday Zito allowed one run in seven innings against Florida to lower his ERA to 1.49 and improve to 5-0. What stands out when you watch him is that, for the first time in at least four years, his fastball is a pitch that is scaring batters again.