This Week in Betting, A-Z
by Trevor Whenham - 2/15/2010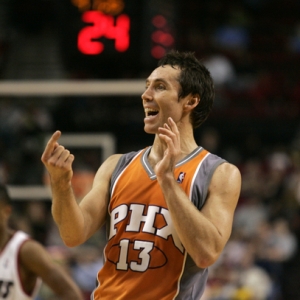 A - All-Star Game. 108,713. That's the number that will forever define the 2010 NBA All-Star Game. That's the number of people who were jammed into Cowboys' Stadium to watch the game - by far the largest basketball crowd in history. The game itself was pretty much exactly what you would expect - ridiculous amounts of offense, non-existent defense, and some lapses in decision making that you just wouldn't see in a normal game.

B - Backyard Brawl. Pitt and West Virginia met up again last weekend - this time on the court. As often happens when the teams play it was a thriller. It took three overtime periods to find a winner, but in the end it was the lower-ranked Panthers that earned the upset. West Virginia was ranked fourth going into the game, so Pitt improves to an impressive 6-0 against Top Five teams in the eight years they have been in their new building.

C - Caracortado. This early in the Triple Crown season every race produces a new potential star. The latest is Caracortado, the surprise winner of the Robert B. Lewis Stakes at Santa Anita. The undefeated horse beat two highly-regarded favorites in Tiz Chrome and American Lion, and he did it in impressive fashion - he made his move around the final turn, was ahead by a length with an eighth of a mile to go, and expanded the gap right up to the finish line.

D - Danica Patrick. After much talk and speculation, Patrick made her NASCAR debut in the Nationwide Series this weekend. It didn't last long. Patrick was knocked out of the race when she couldn't avoid a big crash in front of her. She wound up 35th in her debut - not great, but better than any other woman has done in her debut in the last decade.

E - Evans, Tyreke. Evans and DeJuan Blair both had huge games to lead the rookies, underdogs by 12 points or more depending on the source, to a surprising win over the sophomores to kick off the all-star festivities Friday night. The sophs had won seven in a row and eight of 10 since the game started. Russell Westbrook scored 40 points for the sophomores to lead all scorers, but it just wasn't enough.

F - Frank Thomas. After 19 years the "Big Hurt" has called it a career. He ends up ranked 18th overall in home runs with 521, 15th in OPS, and ninth in walks, and is arguably the best player the White Sox have ever had. Thomas was one of the true class acts in the league throughout his career, and is all but a lock for Cooperstown when his time comes. He'll be one of the first great DHs in the Hall.

G - Georgetown. I was just getting ready to jump on the Hoyas' bandwagon and then they went out and lost to Rutgers - a team that was just .500 heading into the contest and is hardly a Big East power. I wanted to believe that Georgetown was a legitimate contender, but contenders can't be losing games like that. It's the first time that Rutgers has beaten a Top 10 team since March of 2003. Jonathan Mitchell, a junior, led the way for Rutgers with 24 points. He has had two career 20 point games, and both have come against the Hoyas.

H - Huge raise. The last two years Tim Lincecum has been the biggest bargain in the history of baseball. Now he'll be making much, much more money, but you could still argue that he's a bargain if he plays like he can. Lincecum avoided arbitration by signing a two year, $23 million deal with the Giants. Lincecum broke Jonathan Papelbon's record for being the highest paid pitcher in his first year of arbitration eligibility, but with two Cy Young's under his belt already he certainly deserves it.

I - Idiots. It takes a pretty stupid person to think you can take performance enhancing drugs, go to the Olympics and not get caught. At every Olympics, though, it continues to be proven that there are stupid people out there. More than 30 athletes were told not to show up in Vancouver after failing pre-Games drug screenings, and two more athletes were given five-day bans from competition because of elevated hemoglobin levels.

J - JoePa. You know that it's a reasonably slow week in sports if a coach's eye surgery is news. Joe Paterno is no normal coach, though. The octogenarian had corrective eye surgery, and he no longer needs those coke bottle glasses that have defined him for so long. Don't worry, though - he wasn't comfortable without glasses, so he had new glasses without prescription lenses but the same frames made up.

K - Coach K. It was a big week for Duke's coach. First, he and his team humiliated their biggest rivals in North Carolina, and they made it look very easy. Then, he coached his 1000th game at Duke, and got a win in that one as well. He also had several high-profile NBA players agree to join him on the national team again this summer. Laughably, he has also been the subject of speculation about a potential move to the Nets. Surely he's not that dumb.

L - Louisville. It hasn't been a great year for Louisville compared to what they have done in recent years, but they certainly pulled off a signature win on Sunday. Not only did they beat third-ranked Syracuse, but they did it in the Carrier Dome. It's the first impressive win on the season for the Cards, and helps their tournament hopes immensely. It's also the fifth straight time that they have beaten Syracuse. Interestingly, Louisville won despite not getting more than 12 points from any player.

M - Mavericks. With the NBA trade deadline coming on Thursday we saw the first big deal of the deadline season. The Wizards started the process of starting over By sending Caron Butler, Brendan Haywood, and DeShawn Stevenson to Dallas for Josh Howard, Drew Gooden, Quinton Ross, and James Singleton. It's a risky move for the Mavs - they add $30 million in expenses over the course of the players' contracts, so they need a lot of return from the new additions.

N - Nodar Kumaritashvili. We don't expect tragedy at the Olympics, but that's what we got before the opening ceremonies had even happened. Kumaritashvili, a luger from the former Soviet republic of Georgia, was killed in a training run when he was thrown from his sled after coming out of a turn badly. The shocking death raised concerns about the track and caused some changes to be made, but the men's medals were still presented on schedule.

O - Oracle. It used to be that the America's Cup got all sorts of attention. Now, I barely knew it was on until it was over - and there was a dominant American team. BMW Oracle, the team led by computer billionaire Larry Ellison, won the oldest trophy in international sports in dominating fashion. It's the first time in 15 years that an American team won the trophy, and the result was somewhat marred by a long court battle between the winners and the boat they beat.

P - Paul Pierce. Pierce doesn't have the fastest release in the NBA, but it was fast enough to get all his shots off and win the three point shootout during the NBA skills contest. Pierce was all business in the final, and was too much for Stephen Curry. The rookie was still impressive, though, and it is certainly not hard to imagine him winning more than one of these contests before he's done.

Q - Quite scary. The entire nation of Canada took a panicked breath on Sunday afternoon. Sidney Crosby, the second best hockey player in the world for my money, blocked a slapshot with his shin, and was clearly hurt afterwards. Losing him for the Olympics would be a massive blow for Canada. Luckily, the injury wasn't as serious as it looked. Crosby returned in the game, and left for Vancouver after the game.

R - Renaissance. Dustin Johnson won for the second straight time this week at Pebble Beach, but the real story was David Duval. The hard luck former No. 1-ranked golfer was the leader when he signed his final score card, and only a birdie by Johnson on 18 dropped Duval out of first. This second-place performance comes after the second in the U.S. Open last year, and is only his second Top 10 finish in eight years.

S - Steve Nash. There aren't many guys out there who had a bigger weekend than Nash did. On Friday he secretly flew to Vancouver and was one of five famous Canadian athletes to light the Olympic torch. The next day he headed to Dallas and taught three youngsters a lesson as he easily one the Skills Challenge for point guards. On Sunday he started the NBA game and led all players with 13 assists in just 20 minutes.

T - Terrible. That slam dunk contest on Saturday was a total and utter abomination. Nate Robinson won his third slam title but he shouldn't be proud of it. He didn't do anything particularly impressive, and only won because the other competitors were even worse. After the contest had enjoyed a Dwight Howard-led rebirth the last couple of years this was a major step back. If it's going to be this bad again they would be better off not having it.

U - UConn. The good news is that Jim Calhoun returned to coaching his the Huskies after health issues kept him off the bench for seven games. The bad news is that it didn't make any difference to the struggling team. They embarrassed their coach with an inexplicably bad 12 point loss to Cincinnati. To make matters worse, the ugly loss was in front of their own fans in Hartford. The team has now dropped five of six since upsetting then-No. 1 Texas.

V - Very ugly. The Olympics are underway in Vancouver, but the weather hasn't been cooperating. A lack of snow, heavy rain, and strong wins have caused delays and problems in many events - most notably the downhill skiing which has been severely disrupted. This news can only be surprising to someone who has never been to Vancouver - it rains about 400 days a year in that place.

W - Washington. The last two versions of this column have seen me writing about how the Capitals have been unbeatable. It's amazing how quickly things can change. After winning 14 straight games, the Caps have gone on a mini-slide and dropped their last three heading into the Olympic break. The offense hasn't been the problem - they have scored 4.3 points per game over the stretch. That's not good enough when you allow 5.3 per game, though.

X - Xavier. The mascots of our column only had one game this week, but it couldn't have gone better for them. They traveled to Gainesville to play a Florida team that seemed to be on the rise, and they came out with a dominating 12-point win. Jason Love led the way with 20 points and 10 rebounds for Xavier. There is still some work to do, but the Musketeers are well on their way to a at-large bid whether they win the A-10 or not.

Y - Yikes. There are a few things that shouldn't happen in sports. Potholes during a race at Daytona is one of them. They did, though. twice. The Daytona 500 took absolutely forever on Sunday because it twice needed long breaks to fix the potholes. The thing that saved the race despite the ridiculousness was the exciting finish - Jamie McMurray took the checkered flag despite a spirited late charge from Dale Earnhardt Jr.

Z - Zydrunas Ilgauskas. If the rumors are accurate then Ilgauskas could be leaving the Cavs soon. It sounds like he and J.J. Hickson are about to head to Phoenix for Amare Stoudemire. If the deal happens then it is a risky one - Stoudemire didn't play well with Shaq last year, so this could really disrupt a great year if it doesn't work this time. That might not be an issue, though, because other teams are offering more to the Suns in an attempt to land Stoudemire.