This Week in Betting, A-Z
by Trevor Whenham - 4/13/2010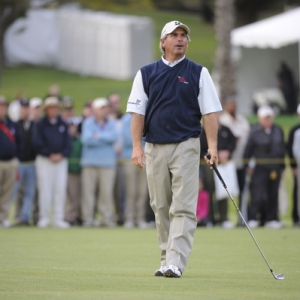 A - Anderson Silva. The guy is arguably the top MMA fighter in the world, but it seems like he has been hit in the head one too many times. He defended his UFC middleweight title against Demian Maia in Abu Dhabi on Saturday, but it was the strangest fight I have ever seen. Silva obviously could have beat Maia to a pulp at any time after breaking his nose early with a flying kick, but instead of fighting him he just taunted and mocked him for five rounds en route to the decision. Despite being ridiculously talented, Silva seems to have no killer instinct, and no desire to entertain.

B - Butler. Gordon Hayward twice had the chance to sink perhaps the biggest shot in college basketball history, and it just wouldn't go for him. First, he put up an off-balance shot as he was falling with seconds left to take the lead over Duke. Then he hefted a no-hoper from half court at the final buzzer that really looked like it was going in. In the end Butler just couldn't quite beat the evil empire of Duke, but they played a heck of a game and tournament, and they earned themselves respect that is going to stick around for a long, long time.

C - Crosby. Sid the Kid has an incredibly intense rivalry with Alex Ovechkin, and he wasn't going to let the Russian get the best of him. He went into his final game on Sunday one goal behind Ovechkin for the league lead, and five points behind him overall. Incredibly, Crosby scored two goals to best Ovie on that front, and added three assists to tie him in points. Here's hoping that we get to see these two titans play another epic playoff series - something that could happen in the second round if there are no upsets in the East in the first round.

D - Duke. I hate them, but I have to respect them. Duke wasn't the most talented team in the tournament, and they certainly weren't the most entertaining, but they took advantage of their draw like no other team, and they did everything they needed to do to win a national championship and secure Coach K's legacy forever. It was a strangely colorless team that I doubt anyone will remember a few years from now, but the scoreboard is all that matters, I guess.

E - Edgar, Frankie. In a wildly unexpected result, the crazy looking Edgar took B.J. Penn's UFC lightweight title in Abu Dhabi despite being the heavy underdog. Edgar got a decision that was probably more one-sided than it should have been, but there is little doubt that he deserved to win it. Penn unquestionably won the first round, and probably took the second one as well, but then Edgar got serious, was relentlessly energetic, and just wouldn't give up. The result shakes up a weight class that badly needed shaking up.

F - Freddy. How can you possibly not like Fred Couples? Playing in regular running shoes to save his back, Couples jumped out of the gate to take the first round lead at the Masters, and then despite a roller coaster ride the rest of the way wound up finishing sixth in the tournament. The sad thing is that it could even have been better - he dropped three strokes on 11 and 12 in the fourth round, but turned around and birdied the next two rounds to stop the bleeding. If that bogey and double bogey had been just pars then Mickelson would have faced the pressure he just didn't feel down the stretch. Not bad for an old guy.

G - Green Jacket. I have never been more wrong in a prediction than I was with Mickelson this week. He had been awful all year, and his wife's illness had to have impacted both his mindset and his practice time. I didn't think he had a chance. Instead, he was a stone cold killer. His shot out of the pine straw to the green on the 13th was one of the most impressive shots anyone has seen, and he didn't even hesitate before hitting it. If you don't believe in destiny then you might start after watching that tournament.

H - Halladay, Roy. It's been a long time since a pitcher has arrived in the National League with more hype. Two games in, Halladay is living up to it. He allowed one run in seven innings in his debut while striking out nine, then followed that up with a complete game, eight-strikeout, no-walk performance in which he didn't give up an earned run. It seems impossible to believe, but Tim Lincecum and his two straight Cy Young awards are playing from behind in the race this year.

I - IndyCar. When I think of Alabama I think NASCAR not IndyCar, but the first Grand Prix of Alabama was run this weekend with dancing superstar Helio Castroneves coming out on top. He only took over the lead from Marco Andretti with seven laps left when the leader hit the pit, and then a fuel gamble paid off when a caution with two lengths left allowed Castroneves to save enough fuel to make it to the finish.

J - Jimmy Clausen. Donovan McNabb may have cost Clausen millions. It seemed like Washington was Clausen's most likely destination, but the acquisition of McNabb makes that unlikely. Now Clausen needs to find a new suitor. A good-but-far-from-overwhelming Pro Day this week didn't help his case much, and now it seems like Clausen could be the guy in line for the awkward fall for all to see on draft day.

K - King LeBron. If there was any doubt that it's all about the playoffs for James before there is none now. The Cavs have nothing left to play for in the regular season, so James just isn't playing. He took his third straight game off on Sunday as the Cavs lost to the Magic in their regular season home finale. Rest is more important than anything for the star right now, because winning a championship is all that matters.

L - Line of David. This weekend featured the last of the major Kentucky Derby prep races. The picture is supposed to be clearer now than it was a couple of days ago, but thanks to two races it is even murkier than ever. Line of David won the Arkansas Derby to join past winners like the great Curlin, Lawyer Ron, and Smarty Jones. It's doubtful that this winner is of that caliber - he was a 17/1 winner, and his victory was tainted somewhat because the only top level runner in the race, Noble's Promise, was troubled from the start. Line of David, a front runner, is trained by John Sadler,the same guy who trains front-running Santa Anita Derby winner Sidney's Candy.

M - Mark Buehrle. Buehrle may have made the best play of the year in baseball in his first start. A ball was hit back at him, went off his left foot, and ricocheted across the first base line. Buehrle hustled to the ball, but didn't have time to pick it up, turn and throw the runner out. Desperate, Buehrle flipped the ball through his legs and into the outstretched bare hand of the waiting first baseman for the out. I wouldn't have believed it if I hadn't seen the replay a hundred times.

N - No contest. In the least surprising result in the history of sports, the UConn Huskies women's basketball team won their second straight NCAA Tournament. The game was close by their standards - they only beat Stanford by six points. It was the first time all year that an opponent had stayed with 12 points. The Huskies now haven't lost since Stanford beat them in the Final Four two years ago, and by all accounts a third straight title is not at all out of the question.

O - Ouch. Chris Bosh learned the hard way that elbows aren't edible. He came out on the losing end of a fight with Antawn Jamison's elbow, and his season ended with broken bones in his face that required surgery. The loss was probably the last straw in the Raptors' playoff hopes - they have lost five in a row and were passed by the Bulls for the eighth and final spot on Sunday. It has been an impossibly long time since something has gone right for Toronto.

P - Philadelphia. This is what a playoff race should be all about. Philadelphia and the Rangers were fighting for the last playoff spot in NHL's Eastern Conference, and they also happened to be playing their last two games against each other. The Rangers won the first one, so the second became sudden death, and it was epic. Henrik Lundqvist was brilliant in the nets for New York with 46 saves, and the game was tied at one after overtime. That meant that we had a shootout with a playoff spot for the winner. Philly scored on their first and third attempts, and Olli Jokinen was stopped by Brian Boucher in his final attempt for the Rangers, and Philadelphia earned a playoff date with New Jersey.

Q - Quit. The Lakers have first place in the West tied up, and they just don't care anymore. The Lakers have lost five of their last seven - all against playoff teams. There's no need to panic, though - Kobe has been out for two games getting healthy, and has mostly coasted through the games he has played. Like Cleveland, the Lakers are just letting everyone else wear themselves out while they get ready for what they hope is a long playoff run.

R - Ryan Newman. Newman won his first NASCAR race since the 2008 Daytona 500, but it wasn't because he had the fastest car. A caution with four laps left sent everyone into the pits. While many drivers chose to change all four tires, Newman went with just two. That allowed him to jump from fifth to second. Then Jeff Gordon spun his tires on the restart, and Newman cruised through to the finish. Kyle Busch was dominating before the caution, but four tires dropped him out of it, and Newman benefited. It wasn't pretty, but it still counts.

S - Steven Stamkos. The No. 1 overall pick in the NHL just two years ago is already exceeding expectations. Tampa Bay's sophomore jumped on an opportunity with 13 seconds left in his final game and scored an empty-netter to tie Sidney Crosby for the league lead in goals with 51. That means that the two young stars will share the Rocket Richard trophy - a piece of hardware that the two of them and Alex Ovechkin will be fighting for several times again.

T - Tiger. It was interesting to watch, and often surprising, but in the end everyone's favorite philander went out with a whimper. While Phil Mickelson was making history with an amazing final day run, Woods had five bogeys in his last 18 holes, including three in his first five, to essentially keep himself out of serious competition. It was an impressive effort for a guy who hasn't played for so long, but it wasn't good enough for Tiger.

U - Upset. Stately Victor was very lightly regarded in the Blue Grass Stakes - he was the biggest longshot on the board at 40/1. Nobody told him that he didn't have a chance, though. The horse had been off the board in his last five, and he had a rough trip out of the gate in this one. After trailing the field for three-quarters of a mile, though, the horse found his stride, and convincingly blew past the field to win by more than four lengths and collect the $450,000 first place share of the purse. Now he'll likely be the most perplexing entrant in the Kentucky Derby - and that's saying something in this year's field.

V - Vernon Wells. Toronto's slugger is one of those guys who often struggles to live up to his massive potential, but he has certainly jumped out the gate with a bang this year. He's tied for the major league lead with four home runs in six games, and he's a big part of the reason why the surprising Blue Jays have a league-best five wins and are atop the AL East. The Jays aren't a talented team, but they are playing very feisty, exciting ball for now. The question now is how long it will last.

W - World Cup. It was a rough week for the organizers of this summer's World Cup. First, they had to announce that as many as one million tickets - more than a quarter of all available - remain unsold. That's in part because sponsors have returned hundreds of thousands of unwanted tickets, and partly because local fans are unable to buy expensive seats and largely unwilling to buy online. On top of that ugly problem, Al Qaeda has threatened an attack during the game between England and the U.S. on June 12.

X - eXplosion. Heading into the fourth inning the Diamondbacks were trailing Pittsburgh, 4-2. After their at-bat in the bottom of the fourth Arizona was up, 15-4. Pitcher Edwin Jackson even got into the act during the 13-run inning with the first home run of his career, two hits, and two runs scored. Every Diamondback starter scored in the most productive inning in the history of the team. Needless to say, Arizona was able to hold on for the win.

Y - Youth. Two highly-touted young pitchers had pretty impressive days in their minor league debuts on Sunday. Stephen Strasburg threw five innings for Double-A Harrisburg, allowing four hits, one earned run, eight strikeouts and two walks. He even added an RBI double to secure the win. Meanwhile, in Toledo, Cuban defector Aroldis Chapman struck out nine in 4 2/3 innings for Triple-A Louisville. He threw five pitches better than 100 mph.

Z - Zenyatta. Racing has an undisputed queen - quite possibly the best female racehorse of all time. Zenyatta won the Apple Blossom at Oaklawn on Friday, and it was just at least as easy as the other 15 wins in her career. She has never lost, and is now tied with Cigar and Citation with 16 consecutive wins - the most ever against horses in open company. She's so incredibly dominant that she seems all but certain to shatter that record before this year and her career are over.