This Week in Sports Betting, A-Z
by Trevor Whenham - 5/17/2010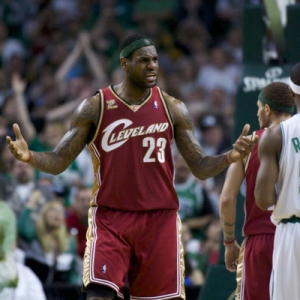 A - Atlanta. 'Pretty good' wasn't good enough for the Hawks. Head coach Mike Woodson is out of a job this week after six years at the helm of the team after his contract was not renewed. His time couldn't be called anything but a success - after winning just 13 games his first year he posted a better record each year and made the playoffs the last three years. The team looked totally hopeless in getting swept by the Magic, though, and management clearly wondered how much further Woodson could take the team. Needless to say, the next hire will be absolutely crucial.

B - Blackhawks. Chicago tried to do something different as they opened their conference championship series at San Jose - win the first game. They had lost their last four series openers, but they rode extremely strong goaltending to a 2-1 lead that took home ice advantage away from the Sharks. It was a nice return to action after they knocked the Vancouver Canucks out of the playoffs on May 11 - one year to the day from when they dispatched the same team last year.

C - Comeback. If you're a Tigers fan and your team falls way behind early on there is no need to panic because you'll probably win the game. On Saturday Detroit came back from a five-run deficit to beat the Red Sox in extra innings. It was the fourth time already this season that the Tigers have dug out of holes of five or more runs. No other team in the majors has done it more than once this year. Detroit only did it three times all of last year, so this is a newfound skill.

D - Donovan McNabb. I guess his heart was in the right place this time, but McNabb often makes me think he's an idiot when he opens his mouth, and this week was certainly no exception. McNabb used an interview on Philly sports radio as an excuse to apologize to the fans of Philadelphia for not bringing them a Super Bowl. What in the world made him think that doing that was necessary, or a good idea? Of course, he's probably egotistical enough to think it was singularly his fault that it didn't happen.

E - Ethier, Andre. The Dodgers' lefty slugger couldn't be hotter - he leads the National League in batting average, home runs, and RBI, and is tops in all of baseball in slugging percentage. All good things must come to an end, though, and this hot streak has come to at least a temporary end. Ethier broke the pinkie finger on his right hand in batting practice before Saturday's game, and could be headed to the DL. There is no treatment for the injury other than time, and the finger acts as a pivot point in his swing, so it's unlikely he can play through it.

F - FA Cup. Last week Chelsea won the Premier League title, and this week they made it a double by taking the FA Cup. It was their second straight FA Cup title, and their third in four years. The win wasn't easy, though. After winning 8-0 in a farce of a game last week, they squeaked by with a 1-0 win over Portsmouth this week. League scoring leader Didier Drogba scored the lone goal to further prove he is in epic form. Ivory Coast fans will be even more excited for the World Cup now.

G - Garrett Gomez. Gomez is snake-bit when it comes to Triple Crown races. He's the best jockey in North America, and he regularly dominates the national earnings rankings, but he just can't seem to perform in the three biggest races of the year - he still has never won one. After terrible rides on Lookin at Lucky in the Santa Anita Derby and the Kentucky Derby he was pulled off that horse, and Lucky went on to win the Preakness in a flawless performance. Gomez, meanwhile, was a non-threatening fifth in the race aboard Dublin.

H - Habs. The Montreal Canadiens are a crazy, bizarre fairytale of a story this year in the playoffs. They are also the NHL management's worst nightmare. In the first two series of the playoffs they have taken the two biggest and most marketable stars in the league - Alexander Ovechkin and Sidney Crosby - to seven games and then knocked them out of the playoffs. Worse, they were able to frustrate both megastars ad cause them both to play well below capabilities. After barely limping into the playoffs, the Canadiens are now four wins from the Stanley Cup Finals. This is improbable almost to the point of being impossible.

I - Indians. The Orioles just can't catch a break. On Saturday they were up 2-0 over Cleveland with one out in the top of the ninth, and looked like they were gong to roll to a nice win. Then the ceiling caved in. The Indians scored eight runs in the inning to take the game in historically epic fashion. There must have been some uncomfortable moments between pitchers in the Baltimore clubhouse after the game - starter Brian Matusz had been very strong in seven shutout innings before closer Alfredo Simon redefined the term blown save.

J - James. This was not the month of May that LeBron James was looking to have. He played perhaps the worst playoff game of his career in Game 5 against Boston - he was unproductive and seemed totally disinterested and lacking focus. He rebounded with a solid Game 6, but couldn't carry his team with him. Now, instead of playing towards a title, the King is facing the harshest criticism of his career to go with the rampant speculation about his future.

K - Khan, Amir. The WBA junior welterweight tile holder brought his show to the U.S. for the first time, and the fireworks started well before the fight. Khan and challenger Paulie Malignaggi turned the weigh-in into a brawl. The stare down turned into an argument, then their heads touched, they started shoving, and dozens of people rushed the stage. That brawl was a lot closer than the fight that took place at Madison Square Garden the next day. Khan was ruthlessly efficient en route to an 11th round knockout. Malignaggi had to lobby the doctor to let him answer the bell in the 11th because he'd been beaten to a pulp by then.

L - Lookin at Lucky. lookin at Lucky finally avoided the horrible luck that has plagued him in recent starts and that let him show his class and win the Preakness Stakes - the fifth Preakness title for trainer Bob Baffert. Martin Garcia took over for Garrett Gomez in the saddle, and the young jockey piloted his horse perfectly. He settled off the pace looking completely comfortable, made his move around the final turn, and slowly increased his lead in a very tough stretch duel with the surprising First Dude. It was a very impressive race. It was also his last of the Triple Crown season - he will skip the Belmont to prepare for the summer season.

M - Mat Latos. Just days after Dallas Braden's perfect game, this 22-year-old San Diego righty came darned close to posting another one. Latos allowed just one hit and no walks in a complete game shutout of the Giants. The one hit was a gutshot for Latos - it was a hard hit line drive that deflected off him and couldn't be handled in time. Latos made up for that bobble, though - he also drove in the only run in the 1-0 win. Giants' pitcher Jonathan Sanchez was the tough luck loser, but he must be used to it - it was his second 1-0 loss to the Padres this year.

N - Nadal. It was a familiar story - Rafael Nadal and Roger Federer met in the finals of the Madrid Masters - their 21st meeting. Because the tournament took place on the clay the outcome was familiar as well - Nadal came out on top. Nadal, who has been fighting knee injuries for at least a year, will return to No. 2 in the world thanks to the win, and seems to be in good form heading into the French Open, which opens on May 23.

O - Orlando. The Magic finally showed a sign that they are mortal. They had won 14 straight, and covered the spread in 13 of those games, heading into their opening conference finals game at home against the Celtics, but they couldn't keep the streak alive. The Magic looked very rusty out of the gate as they fell behind by as much as 20, and they were never quite able to catch up. They ultimately lost by four. Orlando can obviously win this series if they play their best ball, but they can't take their opponents lightly - something they have to adjust to after two incredibly simple series.

P - Philadelphia Flyers. The Flyers did something I had never seen in my life. The last time an NHL team came back from a 0-3 deficit to win a playoff series was in the spring of 1975 - just a few months before I was born. They pulled off the miracle comeback for just the third time in league history, and they did it in a fittingly ridiculous way - they scored the winning goal on a power play after the confused Bruins were called for having too many men on the ice. Philly was not only down 0-3 in the series, but was down 3-0 in the deciding game before mounting their comeback.

Q - Quit. Tiger Woods must be dying for just one piece of positive news these days. The latest hit to his reputation came this week when swing coach Hank Haney quit working with the golfer. Haney had made quite a career out of letting everyone who would listen know that he was the man behind Tiger, so things really must have been rough for him to take his hand out of the money bag. Haney hasn't yet decided what he is going to do next, though there is speculation that he will go solo for at least a while.

R - Rajon Rondo. Besides the struggles of LeBron James, the biggest story of these NBA playoffs so far has been the emergence of Rajon Rondo. Right before our eyes Rondo has gone from a pretty good point guard to one of the elites. The biggest compliment you can give him - and it's not an exaggeration - is that James was only the second best player in the Cavs-Celtics series. Boston wouldn't be anywhere near where they are if it weren't for this Kentucky alum.

S - Strasburg. Last year's No. 1 draft pick did nothing to quiet the hype with his second Triple-A start on Wednesday. Strasburg was all but flawless as he struck out seven while walking just one in six no-hit innings. The performance just intensified the speculation about when he will arrive in Washington. It seems likely that we will only have to wait until early June to see what he can do against major league hitters. Early indications are that he won't have too many issues.

T - Todd Pletcher. I don't want to kick a guy when he is down, but after a brief moment of victory two weeks ago in Kentucky Pletcher returned to what we are used to - underwhelming Triple Crown performances and weak excuses. Super Saver's quest for the Triple Crown fizzled with a weak eighth-place showing. Pletcher blamed the short layoff for the bad performance even though Lookin at Lucky and three others who finished ahead of his horse had faced the same rest. His second entry, Aikenite, was a badly outmatched 10th.

U - Ubaldo Jimenez. It's supposed to be Halladay v. Lincecum for the NL Cy Young, but the Colorado ace keeps serving notice that he isn't going down without a fight. Jimenez was again very strong as he pitched eight innings to beat the Nationals and move to 7-1. One fact tells you just how good he has been - he allowed just two earned runs in the outing, yet that was enough to raise his ERA on the season - it now sits at 1.12.

V - Very unlikely. The NHL playoffs just keep getting stranger the deeper we get into them. Only one higher seed - Pittsburgh - won their first round series in the Eastern Conference. Both higher seeds lost in the second round. That means that for the first time ever in either the NBA or the NHL a seventh seed - the Flyers - have home ice advantage in the conference final. The upsets aren't contagious - the Western Conference final features the top two seeds, and only one series all the way along has wound up as an upset - and Detroit over Phoenix barely counts as such.

W - WNBA. The WNBA got underway again this week. That means that the massive hordes who have been starved for the league's action can finally be satisfied. The most interesting story for the casual fan is that disgraced former Olympic sprinter Marion Jones is trying to make an impact for Tulsa after serving six months in jail and having three kids. The 34 year old reserve point guard saw just over three minutes of action in her team's opening game, and a foul was her only impact on the score sheet.

X - eXplosive. It's not often that we see two guys have a career day for the same team in the same game, but that's just what happened when the Pirates beat the Cubs on Friday. Andrew McCutcheon hit a home run and was 5-for-5 on the day. He drove in two runs and scored five times. Not to be outdone, Garrett Jones also had a homer and five hits. His other stats were the reverse of McCutcheon's - he scored twice and drove in five.

Y - Yost, Ned. The Royals have been as dismal this year as they almost always are, and it didn't take long for management to lose patience. Manager Trey Hillman was fired this week and replaced with former Milwaukee manager Ned Yost. Hillman had been successful managing in Japan, but that success didn't cross the ocean when he did. The early impact of the change was positive - they have won two of three under Yost.

Z - Zito, Barry. I am absolutely fascinated by Barry Zito this year. After years of struggles, Zito is back to looking like the Cy Young winner that he is. He had his first rough start of the season on Tuesday against the Padres - a team that the Giants just can't beat - when he walked seven in five innings en route to his first loss. He bounced back very nicely, though - something he hasn't done after bad starts in recent years - to walk just one in seven innings to beat the Astros on Sunday. A 6-1 record and a 2.15 ERA is what he's making the big bucks for.