2012 Euro Soccer Betting: Futures Odds and Predictions
by Trevor Whenham - 7/16/2010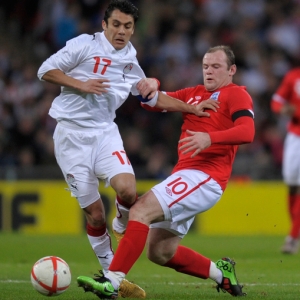 While we still have soccer on the brain it's more than a little tempting to look ahead to when we will be able to get our next fix of major tournament soccer. There are some smaller events we'll see next year, and lots of club action as well, but the next major international event is Euro 2012. That event will take place from June 8 to July 8, 2012 in Poland and Ukraine.
Looking forward to this event right now is really kind of a ridiculous thing to do because qualifying hasn't even started yet. There are futures odds available, though, and anything that has odds on it is worth at least a bit of a look. Here's a look at some of the more interesting teams (all odds are from Bodog):
Spain (4/1) - Spain obviously is favored to win the tournament - they are defending champions of both Euro and the World Cup. Given that recent success and their popularity at the World Cup, I'm frankly surprised that this price is as high as it is. It's still too low for the risk of betting on a team in a tournament that doesn't start for two years, but it's way better than it could be, and better than it will be if the team that enters that tournament is essentially the same as the one we just finished watching. There's a risk of a letdown, but there wasn't one after the last Euro win, and this team could really be looking to define their legacy. The most impressive thing about this team is that despite winning the World Cup, I don't ever feel like they played their best soccer in South Africa. They have lots of room for improvement, and that's really bad news for everyone else. They will obviously be a major factor.
Germany (11/2) - There is no team in the world that gained more respect at the World Cup than Germany. Their semifinal loss was disappointing, but the fact that they not only got there but were so incredibly dominant en route was extremely impressive. The most exciting part of this team was their depth. We knew that they had some good older players, but their younger stars - most obviously the incredible 20-year-old Thomas Muller, who won the Golden Boot - really stepped up and showed off a bright future. It's easy to be bullish on this team.
England (8/1) - Why would you bet on England in any major event at this point? They have depth issues that need to be resolved, but more significantly they just can't seem to come through and perform when they need to do so. I definitely wouldn't rule out the possibility that they will get their house in order in time for this tournament, but I'm sure not willing to bet that they will do so. I might be tempted at 80/1, but I wouldn't dream of it at this price.
Netherlands (8/1) - They are coming off a pretty impressive tournament - beating Brazil and being tied for the first 115 minutes of the final is nothing to scoff at. Unlike Germany or Spain, though, this doesn't really feel like a dominant team to me. They did everything they needed to do, but they also took advantage of their draw to go all the way to the final. I have no doubts that the Dutch have the possibility of winning this tournament, but I think that they would need almost everything to go right for them, and things to go wrong for the other elite teams as well. They just aren't quite a truly elite team in my eyes, so this price is a bit too low at this point.
Portugal (12/1) - Like Netherlands, Portugal is a team that strikes me as very good but not elite. they need everything to go their way to get through, and they need to prove that their best players can be the best players when they are most needed. Portugal absolutely could win this tournament, but I sure wouldn't bet that they will at this price. If the odds were 30/1 or higher I'd be fascinated, but now I'm looking elsewhere.
France (14/1) - The French were a pathetic mess at the World Cup, and I am not at all convinced that two years is long enough to fix everything that was wrong. I wouldn't touch them at any price.
Ukraine (40/1) - The co-hosts earned some respect with a strong quarterfinal showing in their first ever World Cup in 2006. They were looking to build on that this year, but even though they were a solid 6-3-1 in qualifying action they didn't quite make the field. That will hurt their momentum. The fact that they have never played in the Euro before, and that their country has never hosted an event of this magnitude before, means that they could be facing pressure that they aren't up for. Their best players are getting old, and their younger players will lack major international experience. I really want to like this team, but I just can't put any serious faith in them.