Fourth Down and Inches - Football Predictions Report
by Doc - 10/20/2010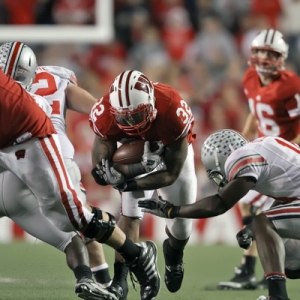 Our college football picks service continued to roll this past weekend, as we posted a 5-1 record with our six selections. Unfortunately, our only loss happened to be our top play, Ohio State over Wisconsin.
There's no question that the Badgers deserved to win the game, as they looked impressive on both sides of the football. A key in this game was the opening kickoff, as Wisconsin ran it back for a touchdown. The crowd was electrified after that play and the fans were on their feet for most of the game. As a witness at the game, I felt that Coach Jim Tressel and the Buckeyes panicked early. Their defense looked confused and much of the offense relied on QB Terrelle Pryor. Pryor seemed to press and not let the game come to him as many of his passes went astray. It will be interesting to see how both of these teams respond this week.
Ohio State is a large favorite this week as the Buckeyes host a surprising Purdue squad. The Boilermakers have been hit hard by injuries on the offensive side of the football, yet they are 2-0 in Big Ten play. Part of that is due to the fact that they have played a light schedule. As for Ohio State, can they bounce back?
In general, undefeated teams losing after 5-6 straight wins to open the season have a difficult time putting forth a big effort. That was certainly the case with Alabama, as two weeks ago they were beaten by South Carolina as the No. 1 team in the country. The Tide failed to cover last week as a 20-point favorite against Ole Miss. Ohio State is a 23-point favorite this week, but they could have extra incentive since they were beaten by Purdue last year, 26-18. That was Ohio State's only conference loss in 2009.
I expect Purdue will be ready to play, but I question whether they have enough talent to handle the Horseshoe atmosphere.
Moving onto the Badgers, they must travel to Iowa in a pivotal matchup with title hopes in the balance for both teams. The Badgers have not fared well in Iowa City over the years and they certainly will not have the home crowd to lean as they did last week. It's important for Wisconsin to play well early, as Iowa has a suffocating defense.
The Hawks also have one of the best quarterbacks in the Midwest in Ricky Stanzi and an excellent receiving corps to throw the football to. I am sure that Bucky has been coached hard this week to stop celebrating last week's accomplishment, but that may be easier said than done. If Wisconsin can win this game, it is certainly possible that they could run the table.
Moving down the Big Ten Conference, I would like to comment on one final matchup: Penn State traveling to the Twin Cities to take on the Gophers. I preached at the start of the season to fade Minnesota , but I have to reconsider here.
Minnesota is still bad, which is evident by the firing of Coach Tim Brewster this week. OC Jeff Horton will be in charge on an interim basis. I knew Jeff when he was an assistant at Wisconsin. He is a player's coach and I expect them to rally behind them this week as a 10-point home underdog against Penn State. I certainly could not lay that much with Penn State, as it has been a long season for them as well. It would not surprise me if Penn State lost this game straight-up.
Each year there are teams that are expected to have big years only to stumble out of the gate early. When this happens the fans and oddsmakers often write them off. Virginia Tech has fallen into that category, as they opened the season with a tough lost to Boise State then had an inexplicable loss to James Madison the following week. After this disastrous start, many believed this would not be the Hokies' year.
Virginia Tech has since won five straight games and currently sits atop the ACC standings. Notre Dame is another team in this category, losing three of their first four games, only to go on a three-game winning streak to get their record above .500. The last one to fall into this category is the Georgia Bulldogs. The Bulldogs had lost four straight, but have now won back-to-back SEC games, 41-14 and 43-0.
These three teams are all in action this week and as a college football handicapper these are the types of teams I like to play. They all have talent and getting them at a favorable number may be too good to pass up. When the line is right, I jump on the ship. That being said, it will be interesting to see if Georgia can keep winning as this may be needed to save Coach Mark Richt's job! Keep an eye out for these teams, as you will certainly see selections on them from me in the upcoming weeks.
In the NFL, all the talk this week was about violent hits to the head and the NFL seems poised to crack down on them in the upcoming weeks. Expect the fines to increase and possible suspensions to occur if defenders continue to launch and go to player's heads. Numerous former players have gone on TV and radio to complain about this new policy, but that may be to no avail.
Players are faster, stronger, and bigger than in the past, and with year-round training, something may have to be done to ensure safety for generations to come. If someone would ever die on the football field, the popularity of the league would decrease, especially at the youth level. It was a perfect storm this week with the Rutgers player being severely injured and all the hits to the head shown on TV Sunday.
Moving to the NFL matchups this week, the featured game is the return of Brett Favre to Green Bay for Round 3. Both teams are not where they thought they would be in the standings, but the division is still wide open and the winner will take a leg up against the competition. Favre won both games last year and will have entered this game as a sizeable underdog had the Packers not fallen off the cliff and become decimated by injuries. The line is now Green Bay -3 for this game and we will have a selection come Sunday night.
This week we look for our fourth-straight profitable week with our selections. We will turn our attention to the NFL and release our NFL Game of the Year (7-unit play) on Monday Night Football. This play can be purchased at our Web site for only $25, or you can save a bunch of money by signing up for a one-week package and receive all of our college and NFL picks.
That is it for this week