Fourth Down and Inches - Football Predictions Report
by Doc - 11/16/2010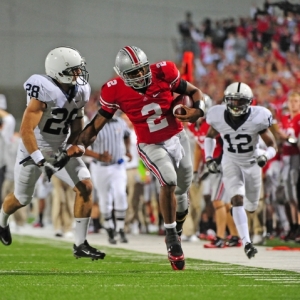 Our selection service continues to roll, as we went 9-1 this week picking up +38 units. This allowed $100 bettors to show a profit of $3,760. Our only loss on the weekend was with Georgia over Auburn. The Bulldogs had a big early lead, but just could not hang on against an explosive Auburn offense.
Whomever made the statement, "It's sometimes better to be lucky than good," had to be speaking about our Big Ten Game of the Year. We used Ohio State -18 over Penn State. I mentioned in my column last week that teams coming off a bye often find themselves flat in the first half of their next game. It became obvious early that the Buckeyes fit into that mold. Trailing 14-3 at half, I still felt the Buckeyes would come back and win but did not believe that they would cover. But once the snowball started rolling, it just continued to get bigger and bigger.
We have lost some games like this earlier in the year and another quote came to fruition, "What goes around, comes around." I must admit that it took a few hours after that game before it finally sunk it that we in fact did win the game. However it occurs, a win is a win and that is all that matters in this business.

The marquee matchup this week in the Big Ten is Ohio State at Iowa. This game has lost a little of its luster with the Hawkeyes struggling a bit as of late. Their defense was supposed to be the strength of this team. However, stopping an opponent through the air has been a major problem. I am not sure about my position of the game itself. However, I am sold on the 'under' 48. Iowa scored just 18 points against Indiana and 17 points against Northwestern. Look for Ohio State to focus on the run after they dominated Penn State in the second half. The Buckeyes also have a strong defense and I look for it to be a low scoring game and I am leaning toward the visitor.
This is the time of the year where one looks for a team that has packed it in on the 2010 season. Vanderbilt is one of those teams that fits the bill. Granted, the Commodores have been hit hard by the injury bug. However, they just do not have much talent overall. We went against them last week in Kentucky and came away with a 5-unit winner. This week they face off against their in-state rival, the Tennessee Volunteers. The Vols started off 2-6 on the season, but they played a brutal schedule, having faced Oregon, Florida, LSU, Georgia, Alabama, and South Carolina. Tennessee has faced some easier competition the last two weeks and they have been rolling. I just do not believe that the Commodores will provide any opposition on Saturday.
Our top game this week in college football is a 6-unit selection from the Big Ten Conference. We are on fire and I fully believe that this selection will also wind up in the winner's circle. I will not mention anything about this game in my column, but I personally will be loading up on this selection.
Moving on to the NFL, it appears that the pay-for-play league is becoming the Arena Football League with some of the scoring that has been taking place. We have been on this trend, releasing a lot of 'over' plays recently, including two last week. One of those plays was 'over' the posted total in the third quarter (Dallas/NYG) and the other play was 'over' the posted total in the second quarter (Philly/Wash). The oddsmakers are sure to adjust this trend soon, and it has happened this week with a couple of totals in the low 50s. We went 3-0 again last week with our NFL handicapping, picking up +12 units and you can expect another strong card this Thursday.
Just when things appear to be sorting themselves out in each conference with two teams rising to the top, all hell breaks loose with the New York Giants and the Pittsburgh Steelers getting blown out at home. Now both conferences are wide open and I expect the top seeds in each league to not be decided until the last week of the NFL regular season. This is exactly what the NFL wants, as the last couple of years the league office has been disappointed with the way some teams have laid down the last couple weeks in late December. As it stands right now, I can list 10 teams that still have a legitimate shot to win the Super Bowl.
As I am writing this column, I have ESPN on it in the background and I am watching 24 hours of live college basketball. That is right; teams in the East Coast started a game at 6 a.m. in the morning just to be on ESPN. It's amazing what teams will do and how much influence playing on ESPN has.
The weather is starting to get colder and Doc's Sports is set to open up the 2010-11 College Basketball season this Saturday, Nov. 20. The last four years we have put up monster numbers with our college basketball picks and I expect this season to be no different. During this span Doc's Sports has picked up +382 units and this has allowed $100 bettors to earn a profit of $14,971. Our college basketball packages are now posted and a full season package is just $725. This gives you every selection that we make through the Final Four in April of 2011. I have been reading my Blue Ribbon Yearbook and I am confident that we will have an outstanding season.
The Big Ten has two weeks left in conference football and I am confident that we will finish out the regular season strong. It will continue to roll this Saturday with our Big Ten Game of the Week, a 6-unit selection, along with a full card of college and NFL selections.


That's it for this week