Fourth Down and Inches - Football Predictions Report
by Doc - 10/27/2010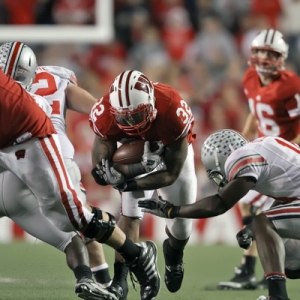 Our NFL Game of the Year ('over' for New York/Dallas) was never in doubt, as this game was close to being over by halftime on Monday Night Football. It's always refreshing to have a game that goes 'over' early with no possibility of losing. Gambling would be more fun and, of course, more profitable if all of the games would fall into this category, but that is not the case evident by our performance over the weekend.
We went 2-4 with our college football selections on Saturday. I can always accept a loss when the game was just poorly handicapped or our team got outplayed, but that was not the case with two of our selections.
I am writing about the 'under' in the Indiana/Illinois game and Northwestern +5 ½ over Michigan State. With less than four minutes to go, the 'under' appeared to be in good shape. At this point we could still give up 13 points and collect with our wager. Illinois would punch in a touchdown and then with 44 seconds left, QB Ben Chappell threw an interception that was returned 66 yards by Illinois for a touchdown. In the same time frame, Michigan State scored late in the game to go up by one point. The Spartans would then get the ball back but instead of taking a knee, RB Edwin Baker broke through and ran it in for a 25-yard touchdown with under a minute to go. Losses like these two are always hard to swallow. However, one has to believe that things will even out in the upcoming weeks.
I must admit that I was eating crow Saturday night, medium rare! Being from Wisconsin, I never expected that the Badgers would be able to beat Ohio State and Iowa in back-to-back games. The Badgers did not look very impressive in their nonconference portion of their schedule, but they have stepped up their play during the Big Ten season.
The Badgers offensive line has been playing outstanding and this front five may be the best in the entire country. I was not a Bret Bielema fan when he was given the keys by Barry Alvarez. However, he has done an outstanding job now in his fifth year. Offensive Coordinator Paul Chryst is one of the key components to his success, as he seems to find defensive weaknesses and baits opponents into making poor decisions. I have been very surprised that Chryst has not taken a head-coaching job, but with some openings likely in the Big Ten and across the country, I think this will be the year. I expect that you will hear his name a lot come December and for many years to come.
Every Sunday night I am always anxious to see the opening college football lines for next weekend, especially in the Big Ten Conference. Once again, it amazes me how sharp the oddsmakers are. Illinois is playing good football under the radar and, sure enough, the oddsmakers have caught up with them. This week the Illini host Purdue and I was hoping they would come in around a 12-point favorite, making it a strong play. Sure enough, the line came in at 16 and it now looks like I will be passing. The other line that surprised me was Iowa -6 ½ over Michigan State. Iowa now sits at 5-2 with their backs against the wall coming off a home loss to Wisconsin last week. It looks to me that the oddsmakers are daring you to take Michigan State +6 ½ as they are the only undefeated team in the Big Ten. I will not take the bait and will pass on this game as well.
I really thought that Minnesota would play better against a poor Penn State club. However, the real Gophers showed up and this is a hard team to believe in. The Buckeyes travel to the Twin Cities this week and are listed as a 25-point favorite. The Buckeyes have not fared well on the road this year, going 1-1 straight up and 0-2 against the spread. The Buckeyes already suffered their loss during the Big Ten and I look for a rout this week. Ohio State needs blowouts in most of their remaining games if they have visions of moving back to the top of the polls.
Last week I mentioned two teams that started the season off on a sour note but have been playing much better since. Those teams are Georgia and Virginia Tech. I also mentioned Notre Dame as one of these teams, but that strategy backfired on us last week against Navy. The Hokies have now won six straight games against the spread since they were embarrassed in Week 2 by James Madison. Georgia has won their last three games after they suffered a four-game losing streak and now will take on Florida this week in the World's Largest Cocktail Party in Jacksonville, FL. Georgia could certainly make it four in a row this week.
Could another No. 1 be knocked off this week in college football? Oregon travels to USC and the Trojans are coming off a bye after they pounded California two weeks ago. In order for an upset to occur USC would have to play much better on defense then their past performances would indicate. That being said, getting USC +7 does seem inviting.
In the NFL this week I think it is finally safe to say that the Dallas Cowboys and Minnesota Vikings are officially done. Both suffered quarterback injuries and have not found any of the magic that has allowed them to make the playoffs the last couple of years. I would definitely expect a new coach in 'Big D' come next season, but I do believe that Brad Childress will be able to hang onto his job for at least one more year. All of the top teams appear to be in the AFC, but I would not count out the New York Giants, as they sit at 5-2 having won four straight games. There are many attractive games on the NFL card this week and I think I have found a couple of winners.
I went to the movies this weekend and saw "Secretariat" and really enjoyed this emotional flick. I saw the horse run in person back in 1973 at Arlington Park. He had already won the Triple Crown, and when they brought him out to the paddock I have never seen a horse so cocky! It was almost like he was giving you the look and saying to everybody, "I am the best and don't you forget." Secretariat never could produce the offspring to match his success, but he was the best. If you have not already seen the movie, I would highly recommend that you go.
This week we will be going with our Big Three in college football looking to follow-up upon our top game success after our easy NFL Game of the Year winner last Monday night. This package will include two strong Big Ten plays and one SEC game. I really believe that we have a great chance to win all three of these games and I would encourage to sign up for our of our many football packages.
That is it for this week