NBA Free Picks: Thursday Doubleheader On TNT
by Matt Severance - 2/18/2010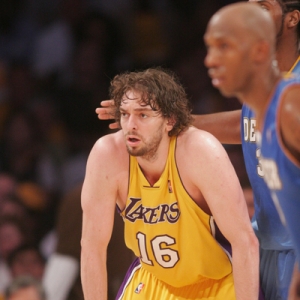 Interesting night on TNT on Thursday as the matchups feature the Cavs and Lakers, the huge favorites in the East and West, respectively, against an opponent that many believe to be the second-best in each opposite conference in Denver and Boston. It's certainly not out of the realm of possibility that both games tonight could be a preview of an NBA Finals matchup.
Denver Nuggets at Cleveland Cavaliers, 8 p.m.
The line: Cleveland -6 (206)
How they enter: The Cavs should be well-rested as this is their first game since beating the Magic on TNT last Thursday. Cleveland has tied a franchise record with 13 consecutive wins (8-5 ATS), the longest streak in the NBA this season and tied for the second longest in NBA history entering the All-Star Break. The Nuggets also have been off since last Thursday, when they were surprised at home by the Spurs. Denver is the only division leader with a below .500 record (12-13, 10-13-2 ATS) on the road.
Scouting report: The Nuggets learned Tuesday that Coach George Karl is battling throat cancer, but Karl will be on the bench tonight (he will miss some games). The team has said it will use that as motivation to win a championship. Denver didn't have power forward Kenyon Martin in the final two games before the break and is just 1-4 this season without him, but Martin should play tonight. Will Antawn Jamison play for the Cavs? That's up in the air if all the paperwork, etc., can be finished in time after Cleveland acquired Jamison from the Wizards in a three-way deal on Wednesday – meaning the Cavs won't be getting Amare Stoudemire. The only current asset of value Cleveland had to give up was Zyrdunas Ilgauskas, and he's likely to return in a month or so after being bought out by Washington. Cavs starting point guard Mo Williams has missed weeks with a sprained left shoulder but practiced Wednesday. However, he's probably still a few days away from game action. These two teams met Jan. 8 in Denver, a 99-97 Nugget win. Martin had 19 points and 12 boards in that one, while Denver star Carmelo Anthony missed the game with an injury. LeBron James had 35 points, six rebounds and seven assists in the loss. The Cavs swept the series last year, both by double digits.
Key trends: The Cavs have won 11 straight home games (7-4 ATS). They are 6-4 ATS this season as single-digit home favorites.
The Nuggets are 4-1-2 ATS in their last seven as a road underdog – all seven came without Anthony.
The 'over' is 6-1 in Denver's past seven vs. the East and 3-0-1 ATS in the Cavs' past four overall.
The pick: A very hard-to-read game because you don't know how the Nuggets will react in their first outing since the Karl news and who knows if Jamison plays or if so, how much. Take the Nuggets and the points, as well as the 'over'. Ilgauskas played 28 minutes in the first meeting with Denver, and if Jamison isn't allowed to play yet Big Z's absence could be felt.
Boston Celtics at Los Angeles Lakers, 10:30 p.m.
The line: Los Angeles –3.5 (189.5)
How they enter: The Celtics staggered into the All-Star Break having lost two in a row and eight of 13, but they managed to win in Sacramento on Tuesday night. That was only their third road win in the past seven, and they have come against the three dregs of the league: Kings, Wizards and Nets. The Lakers played their fourth game in a row Tuesday without Kobe Bryant but had little trouble at home against the Warriors. However, Los Angeles didn't cover despite improving to 4-0 without Kobe (it did in the previous three), with an average margin of victory of 13.5 points in those four (holding opponents to 86.5 points a night).
Scouting report: Bryant is listed as doubtful, and all reports are that he will miss yet another game with his ankle injury. It makes sense considering that the Lakers don't play again until Tuesday, meaning Bryant would have gone 18 days between games. Bryant hit the game-winning jumper in L.A.'s 90-89 win on Jan. 31 in Boston for the Lakers' third straight win in the series. There is no question that ball movement has improved in the four games without Kobe, as there have been four different leading scorers in those games. Shannon Brown, who takes Kobe's starting spot, led the way with a career-high 27 points and 10 rebounds against the Warriors. L.A. is unlikely to make a trade before today's deadline, so the Lakers shouldn't be short anyone else who isn't injured (Luke Walton is also out). Boston, meanwhile, is expected to be missing sharp-shooting reserve Eddie House tonight because he reportedly is going to be traded to New York for Knicks point guard Nate Robinson. No chance Robinson is ready to play tonight. There's a small chance that Ray Allen could be dealt today – obviously his absence would be big tonight. Boston is 5-4 on the road against West teams this season.
Key trends: The Celtics have gone over 100 points only once in their last 14 games, but only two of their opponents have in that stretch.
Boston has failed to cover in the past five and has done so just three times in the past 15 games.
The 'under' is 4-0 in the past four for both teams.
The pick: The Celtics seem to get up for the Lakers, having lost the past two by a point each. Boston led that Jan. 31 meeting by 11 points in the fourth quarter at one point. I'd certainly go with the 'under' with Kobe out and Boston struggling to score but still good defensively – as the Lakers have been without Kobe. Take the Lakers.