NBA Free Picks: Thursday NBA On TNT Doubleheader
by Matt Severance - 4/1/2010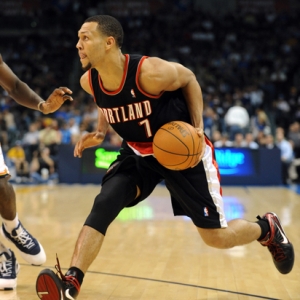 It's the second-to-last Thursday TNT doubleheader of the regular season, and tonight is an important night for Dallas and Denver as they both face other playoff teams with the Mavs and Nuggets still desperately trying to grab the No. 2 seed in the West and stay away from the Lakers as long as possible in the NBA Playoffs.
Orlando Magic at Dallas Mavericks, 8 p.m.
The line: Orlando -2 (197)
How they enter: The Magic have won two in a row and eight of 10 to all but wrap up the No. 2 seed in the East. They have been off since beating the visiting Nuggets by six on Sunday in a game that saw Vince Carter leave injured. Dallas is second in the West but fighting to hold off Utah, Phoenix and Denver. The Mavs have won three straight, including beating Memphis on Wednesday night, and six of 10.
Scouting report: Carter practiced on Wednesday after leaving Sunday with a sprained toe. Mickael Pietrus also practiced despite not playing in a game since March 24 when he suffered a sprained ankle. Both guys should play tonight. Still, one has to think the Magic backup guard J.J. Redick has earned more time after he had the best game of his pro career Sunday when Carter went out, with the former Duke star scoring 23 points to go with career-highs of 46 minutes, eight assists and seven rebounds. Redick would make a deep bench that much better. Orlando's Dwight Howard has been playing some of his best ball, averaging 21 points and just over 17 boards in the past four. The Mavs are bound to be tired after being extended to overtime in Memphis on Wednesday night – this will be their third game since Monday. Dallas hit 11 three-pointers against the Grizzlies and has at least eight three-pointers in each of the last six games. These two met in Orlando on Feb. 19, with the Mavs winning 95-85 despite trailing by as many as 11. Dallas is 22-7 against the East (failed to cover past four), while Orlando is 18-9 against the West.
Key trends: Dallas has won 10 of the past 11 in this series at home – but that one loss came last year. It has just nine home covers this season and just four since Nov. 20.
The Mavericks are 10-7 (8-9 ATS) in the second of back-to-backs this year.
The underdog has covered 10 of the past 11 meetings, and the Magic have covered five in a row in Big D.
The 'over' is 8-2 in the past 10 in this series.
The pick: I have to think Dallas is winded, and as much as I hate to pick against the Mavs at home, it's hard not to look at their horrible home ATS record. Assuming Carter plays, take Orlando and the 'over'.

Portland Trail Blazers at Denver Nuggets, 10:30 p.m.
The line: Nuggets -5.5 (198.5)
How they enter: Portland has won three in a row and nine of 10 and now is in position to potentially overtake both Denver and Oklahoma City in the Northwest Division. The Blazers crushed the Knicks by 28 on Wednesday night. The Nuggets are free-falling without Coach George Karl, having lost five of six (0-5-1 ATS). That has dropped Denver to fifth in the West and just 1.5 and 2 games ahead of Oklahoma City and Portland, respectively, in the division.
Scouting report: Karl, who is undergoing cancer treatment, likely won't return to the Nuggets' bench until the playoff start. The Nuggets also miss power forward Kenyon Martin in a big way as they have been getting pounded on the boards. Martin has missed 14 games with a knee injury and it's not even clear if he will play again this season. Portland's easy win Wednesday officially clinched a playoff spot; no starter played more than 28 minutes. Since trading for Marcus Camby, the Blazers have won 15 of 20 – the Nuggets also were trying to get Camby and sure could use him now with Martin out. Portland has won six in a row at home, tied for the longest streak this season. The Nuggets have won two of three meetings this season, including the previous one: 118-106 in the Mile High City. Camby didn't play in that one for Portland and Brandon Roy was just 3-for-14. Denver's Carmelo Anthony has averaged 34.3 points in the three games. The Nuggets have won 12 of the past 13 against Portland at home.
Key trends: The Blazers are an NBA-best 14-3 playing in the second game of a back-to-back.
Denver hasn't covered in its past nine games overall and just once in its past five at home.
The 'under' is 4-1 in Portland's last five overall and 7-1 in Denver's last eight overall.
The pick: Despite all the numbers pointing toward Portland, I like Denver to be recharged for a night returning home off that five-game trip. Take the Nuggets and the 'under'.