MMA Odds: UFC 119 Betting Picks and Predictions
by Trevor Whenham - 9/24/2010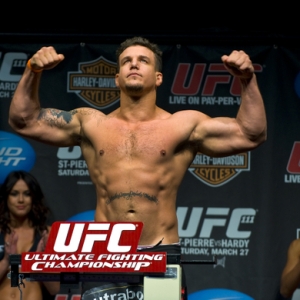 The UFC heads to a somewhat unlikely spot this week - Conseco Fieldhouse in Indianapolis. The fine folks of Indiana are regularly treated to great football, but this card isn't up to quite the same world-class caliber. The main event is a bit of a head-scratcher - there have certainly been stronger, more interesting, and more relevant matches recently. The rest of the main card in more interesting, but certainly not flashy. They aren't going to break any pay-per-view records with this one. Here's how the main card could play out wuth some UFC 119 betting picks and predictions (MMA odds are from Bodog):
Frank Mir (-280) vs. Mirko Filipovic (+220) - This is the main event that no one really wants to see. It isn't the main event that we were supposed to see, but Antonio Rodrigo Nogueira was injured and had to be replaced by Cro Cop. The original fight wouldn't have been great, but it would have been better. Both guys know that their best approach here is to get off to a fast start and catch their opponent off guard before the inevitable stamina issues slow down both fighters. The bigger question mark here is Cro Cop. He was once a truly great fighter, and it wasn't that long ago. He has fallen hard, though, so if you think of him like he was then you'll be in trouble. Still, he has the ability to really punish a fighter, and Mir isn't as good at standing up to a beating as he should be. Mir isn't in great shape right now, either. I think Mir is the better fighter, but I don't think these odds reflect his advantage at all. Purely for value I'll take the underdog.
Pick: Mirko Filipovic
Ryan Bader (-170) vs. Antonio Rogerio Nogueira (+140) - This is a battle of pleasing nicknames - Darth Bader vs. Minotoro. Both of these guys are trying to make a statement and get a chance in the very tough light heavyweight division. If it purely came down to a matter of raw talent then Minotoro would get my support. I have two issues, though - he's about as strategic as a rock, and he has a bad habit of checking out mentally during fights. Bader is far more strategic, and he's smart enough to realize if he can get inside on Minotoro he can set the tone, exploit the weaknesses, and come out on top. I like his chances of doing just that.
Pick: Ryan Bader
Chris Lytle (-150) vs. Matt Serra (+120) - These fighters met four years ago in the finale of "The Ultimate Fighter 4". Serra won in a decision that wasn't without controversy. The rematch finds the fighters older and a bit worse for wear, but it's still a good bet that this will win the Fight of the Night honors. In my eyes the wrong fighter is favored. Lytle is going to have to be aggressive and attack Serra from the outset. The problem there, though, is that Lytle has some real issues on defense, and those issues will only be accentuated when Lytle is on the attack. Serra has the luxury of sitting back and waiting for the fight to come to him. He has an absolutely ruthless knockout punch, and he has shown that he has developed the patience required to wait until the opportunity to land that shot arises. Sooner or later Lytle will be introduced to Serra's fist, and he won't like it.
Pick: Matt Serra
Evan Dunham (-250) vs. Sean Sherk (+190) - Sherk is returning to the octagon for the first time since May of 2009. there have been some strange times since then. He left the arena without doing a urine test after his last fight - a loss to Frankie Edgar - and was suspended for 45 days. Then he was scheduled to fight three different times but he pulled out each time with injuries. Now he's finally back, and he's a solid underdog - and deservedly so. Dunham is a much younger fighter, and he's on an upwards trajectory. Sherk is 37, and given the amount of fighting he has done and what he has been through recently it's hard to imagine that he is ready either physically or mentally for this one. Dunham is in good form, and that will continue here.
Pick: Evan Dunham
Melvin Guillard (-170) vs. Jeremy Stephens (+140) - I've taken more underdogs than normal so far, and I am going to continue that trend here. Both of these guys need a win here to take a step forward and try to break into the big(ger) time. Both guys are likely to try to get there with a big knockout punch. I like Stephens' chances of landing that punch better, and I think that his game is more diverse and his range of talents deeper, so he stands a better chance of controlling the fight and create his opportunity.
Pick: Jeremy Stephens
Doc's Sports went 3-1 for NFL picks last week including an easy 5-Unit winner behind Green Bay and we are very excited about this weekend's picks (another 5-Unit winner is on the board. Our picks against the NFL Point Spread for this coming weekend are looking very fruitful. Call us toll-free at 1-866-238-6696 to find out about a free one-week football package from Doc's Sports or any Advisory Board handicapper of your choice. Check our home page daily for NFL handicapping articles and up-to-the-minute updated odds.