This Week in Sports Betting, A-Z
by Nicholas Tolomeo - 7/7/2010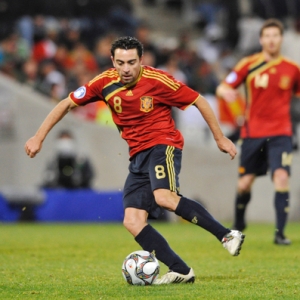 A –Amare. On Monday Stoudemire struck the opening salvo and got the NBA Free Agency frenzy underway by signing a five-year, $100 million contract with the New York Knicks. And with that the summer of spending in the NBA was underway.
B – Bobbi Eden. If you do not know who Bobbi Eden is yet you will if the Netherlands win the World Cup. Eden is a Dutch porn star who has promised oral sex to her 5,000 Twitter followers if the Dutch can win the World Cup. With a 3-2 win over Uruguay, Les Oranje are now just one game away from making Eden one of the world's most famous -- and busiest -- porn stars.
C – Cristie Kerr. There are no clear cut favorites in women's golf like there often is on the men's side, but Cristie Kerr enters Oakmont Country Club in Pittsburgh Thursday as the favorite to win the U.S. Women's Open. She is listed at 9/1 on Bodog with Ai Miyazato and Jiyai Shin right behind her at 10/1.
D – Dutch. For all the obscure nicknames of World Cup teams maybe no country is more confusing than the Netherlands, aka the Dutch, aka Holland. While Holland is the name often referred to describe the entire region of the country and the Netherlands is the official name of the team by rule of FIFA, there is a certain amount of excitement that comes with yelling "The Dutch!"
E – Elin Nordegren. With a divorce from Tiger Woods imminent, and a divorce settlement rumored to be more than $100 million, the former Mrs. Woods, looks to be the biggest female winner in golf this week even while the U.S. Women's Open crowns a champion on Sunday.
F – Forlan, Diego. His World Cup run with Uruguay ended in the semifinals, but three highlight reel strikes from outside the 18-yard box in this World Cup surely made this a tournament to remember for Forlan. He is the first player to score three goals from outside the box in one World Cup since 1990.
G – Germany. No team has been to more World Cup semifinals than the Germans. No team has scored four goals in three different games in one World Cup. No team has poured in eight goals between the Round of 16 and the quarterfinals. But even with all this, it was yet another German heartbreak in the semifinals with a 1-0 loss to Spain.
H – Home Run Derby. Miguel Cabrera, Vernon Wells, Corey Hart, Robinson Cano, David Ortiz and Matt Holliday were the first six sluggers to be named to the 10-person field for this year's Home Run Derby to be held at Angel Stadium on Monday. On Wednesday Cano dropped out of the field. It seems to be a lackluster field but David Ortiz could be considered the favorite. He has 54 all-time Home Run Derby home runs, fifth most all-time and most in the field.
I – Ian Darke. On paper you may not recognize this name, but if you YouTube Landon Donovan's goal against Algeria you will certainly recognize the British accent and genuine excitement from Darke, a play-by-play announcer for ESPN during the World Cup. Here is his exact call in case you forget, "Cross, and Dempsey is denied again, and…. Donovan has scored, oh can you believe this, go, go USA. It is incredible; you could not write a script like this."
J – Joey Chestnut. The competitive eating giant made all Americans proud by inhaling 54 hotdogs on the Fourth of July to win his fourth consecutive Nathan's Famous Fourth of July Hot Dog Eating Contest. The 26-year old from California inhaled the 54 dogs in 10 minutes to beat a field that Takeru Kobayashi was noticeably absent from. Kobayashi was banned from the event after a contract dispute, but he crashed the stage following the contest anyway and was arrested. If that is not a sport I do not know what is.
K –KingJames. The Twitter account launched by Lebron James to update followers leading up to his Thursday night announcement had only one tweet on Tuesday, "Hello World, the Real King James is in the Building "Finally". My Brother @oneandonlycp3 gas'd me up to jump on board so I'm here. Haaaa." Even with the one tweet, the James' twitter page had 180,000 followers within hours of being up.
L – Lifelock.com 400. The NASCAR Sprint Cup evening race Saturday at Chicagoland Speedway has Jimmie Johnson as a steady favorite at 7/2 on Bodog. Denny Hamlin at 6/1, 2008 champion Kyle Busch at 15/2 and Jeff Gordon at 8/1 are also top contenders. Defending champion Mark Martin is more of a long shot at 28/1. Since the race's inception in 2001 a Chevrolet car has won six of the eight races.
M – Miles Austin. The Dallas Cowboys wide receiver became the latest professional athlete to try his hand at dating Kim Kardashian. After ending her on-again off-again relationship with Reggie Bush and a brief stint with Portuguese soccer player Cristiano Ronaldo, Kardashian is now dating Austin. The 26-year old undrafted player out of Monmouth hopes having a Kardashian in tow will pay off with a championship like it did for Bush and Los Angeles Laker Lamar Odom, who is married to Khloe Kardashian.
N – Natalie Gulbis. The sex symbol of the LPGA is also the biggest long shot to win this weekend's U.S. Women's Open. Natalie Gulbis, the 27-year old vixen of the golf links, is listed at 150/1 on Bodog to win the U.S. Open. Gulbis gained fame with her relationship with Steelers' quarterback Ben Roethlisberger back in 2004 and her swimsuit calendar that was banned from the 2004 U.S. Open by the USGA.
O – Oliver Onion. This pierogi mascot races with three other pierogi mascots (Sauerkraut Saul, Cheese Chester and Jalapeno Hannah) at Pittsburgh Pirate games between innings. Recently Andrew Kurtz, a worker who dresses as Oliver Onion and other pierogies at PNC Park, the home of the Pirates, was fired for criticizing team management on his Facebook page. He was rehired just days later after the franchise realized it did not follow internal corporate procedures in firing employees. No pierogies were harmed during the process.
P – Purple Drank. A former underground beverage associated with the Houston rap scene is now popping up in newspaper headlines, Google searches and all over ESPN thanks to it apparently being JaMarcus Russell's latest drink of choice. The one-time first overall draft pick was charged with possession of codeine syrup in Alabama this week. Codeine syrup is an ingredient in a powerfully strong beverage known as "purple drank" that may also feature cough syrup, alcohol, soda and hard candy.
Q – Quicken Loans Arena. Thursday night at 9 p.m. when LeBron James finally makes his decision, we will find out just how empty or full Quicken Loans Arena will be for the 2010-11 season. If James bolts for Chicago, Miami or New York then the arena may have to take out a loan itself.
R – Ryan Franklin. The R could also stand for Rockies, or Rocky Mountain Meltdown or Dennys Reyes. All either played a part or could describe the bizarre nine-run ninth inning Tuesday night. Reyes started the inning and allowed one run. Cardinals closer Ryan Franklin entered the game and inherited two runners. He let both of them score along with six other Rockies. In between Colorado hit two home runs, one double and three singles. Franklin's ERA, one of the best in baseball at 2.16 entering the inning, was up to 3.74 by the time everything was said and done. He recorded one out and allowed six hits and six earned runs.
S – Strasburger. Once Stephen Strasburg mania hit Washington D.C. it was only a matter of time until Strasburger mania hit. Pittsburgh has the Roethlisberger and now our nation's capital has the Strasburger. The flame-thrower has forever been immortalized on the menu at the Burger Joint. Unlike the rookie pitching phenom's debut, the burger that bears his name is not exactly a thing of beauty. On top of the regular burger, creator Mark Bucher piled on a hot dog, cheese and 14 pickles (one for each strikeout in his debut). The burger sells for $10.99.
T – Tour de France. Allegations of blood doping, gruesome crashes and a spike in the sales of Livestrong bracelets can mean only one thing; the Tour de France is underway. Switzerland's Fabian Cancellara has a large lead after two stages but the main stories have focused on the crashes on cobblestoned courses and a Lance Arm flat-tire that could deflate any chance for the American to get back into the race.
U – Ubaldo Jimenez. The Colorado Rockies ace has won bettors a league leading $1152 this season. Wagering $100 on all of Jimenez's starts this season, the likely NL All-Star game starter has returned $1152, a surprising number even for him considering the high prices he often faces.
V – Votto, Joey. One of the biggest All-Star game snubs in recent memory, Votto likely will earn his way on to the team through the online voting portion where fans pick the final player. The fact remains, though, that Votto, a legitimate Triple Crown candidate, did not make the team initially.
W – Wade County. The work of government officials may have paid off in naming Miami Dade County, Miami, Wade County. On Wednesday Wade announced he would resign with the Heat and bring aboard Chris Bosh to boot. On July 7 the county goes back to being named Miami Dade County, but government officials may think about just keeping it Wade County. The municipal name change is believed to be the first in NBA history.
X – Xavi and Xabi. The X-Men pulled the strings in the central midfield for the World Cup Finals-bound Spaniards. Xavi Hernandez, the 30-year old midfielder from Barcelona and Xabi Alonso, the 28-year old from Real Madrid, were the creative minds behind the goal scorer David Villa and the rest of the Spanish team who bounced back from a World Cup opening loss to reach the finals for the first time ever.
Y – Young, Vince. The Titans quarterback breathed a huge sigh of relief when JaMarcus Russell was busted sipping the purple drank. It pushed his Dallas strip club incident back a page or two, but he still makes our A-Z countdown. On June 13 at 3:30 a.m. at Club Onyx, Young assaulted someone who was mocking the Texas Longhorns. The security camera footage was on ESPN and YouTube within minutes. It was the first time a Young highlight made ESPN since he was in college.
Z – Jay-Z. The efforts of perhaps the most famous living rapper and Russian billionaire Mikhail Prokhorov were not enough for the New Jersey Nets to lure any of the top free agents to town. Looks like the Nets will be stuck with a second-tier free agent to add to their 11-win team from a year ago to play basketball in Newark. Pretty sure this is not what Jay-Z signed up for when he invested in the team.