This Week in Sports Betting, A-Z
by Nicholas Tolomeo - 9/7/2010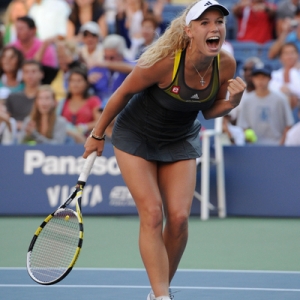 A – Aubrey Huff. The dog days of summer have turned to the thong days of summer for San Francisco slugger Aubrey Huff. Mired in a 3-for-32 slump, Huff turned to a red thong to help him bust out of the slump, ala Jason Giambi who pulled the same superstitious stunt a few years ago with a gold thong. Much to the chagrin of media, ballpark employees, the coaching staff and fellow teammates, Huff has taken it a step further and wears the revealing undergarment while walking around the clubhouse, conducting interviews and while eating from the clubhouse spread.
B – Boise State. The Broncos fourth-quarter rally against Virginia Tech Labor Day night ensured that we will have a college football season full of debate of where they should be ranked. Boise State conquered its toughest challenge by far this season with a 33-30 win over the Hokies in what basically amounted to a road game for Boise State. The win sent a few more first-place votes to Boise State in the AP Top 25 poll. Despite eight first-place votes (four more than Ohio State) the Broncos are still ranked No. 3 behind No. 1 Alabama and No. 2 Ohio State.
C – Captain. When Ben Roethlisberger returns from his four-game suspension, something else will remain noticeably absent, the C on his jersey. Roethlisberger will no longer be a captain after a player vote awarded the offensive captain honor to wide receiver Hines Ward and tight end Heath Miller.
D – "Dancing With the Stars". The reality show returns Sept. 21 for Season 11 with another cast of athletes, controversial figures, has-beens and B-list celebrities. Singer and Actress Brandy is the favorite on Bodog at 3/1, "Dirty Dancing" actress Jennifer Grey is 7/2, former Laker Rick Fox is 11/2 and "Jersey Shore" star Mike "The Situation" Sorrentino is listed at 7/1. The longshot this season appears to be Sarah Palin's daughter, Bristol Palin, who is 20/1, and Florence Henderson, aka Carol Brady, who is 25/1. A potential dark horse is David Hasselhoff (10/1).
E–Evancho, Jackie. The 10-year old soprano with a killer voice and millions of YouTube hits has taken "America's Got Talent" by storm. With 10 finalists remaining Evancho is the favorite to win the reality competition with odds at 2/1. Evancho, a Pittsburgh native, has received two standing ovations and critical praise from around the world. Something feels so right -- but at the same time so wrong -- in wagering on a 10-year old singing sensation. Her closest competitors are opera singer Prince Poppycock (3/1) and blacklight performers Fighting Gravity (5/1).
F – Frank Ribery. How do you get in trouble with prostitution when it is legal in your country? Just ask Ribery, the French striker who is being questioned in regards to a probe of a prostitution ring he allegedly took part in that ran out of a Paris nightclub. The prostitution is legal, the age of the girl is not. The accuser was 17 at the time. On top of that Ribery is married with two children.
G- Gameday. The return of "ESPN College Gameday" also marked the return of some of the wittiest and well-thought up signs you will find anywhere. Some signs spotted at Gameday in Atlanta for the North Carolina/LSU clash included "Butch, I'm eligible," "Free Tutoring," "My sign was ineligible," "Put me in coach!" and the best sign of the day, "Masoli for Heistman."
H – Hail Mary. East Carolina's prayers were answered when a Dominique Davis Hail Mary was answered by 6-foot-6 tight end Justin Jones, who hauled in the pass as time expired to give the Pirates a wild 51-49 win over Tulsa in coach Ruffin McNeill's debut.
I – I-AA. The latest Division I-AA school to pull off a stunner was Jacksonville State and this one was perhaps the most unlikely. On the road at Ole Miss, an SEC West contender with Jeremiah Masoli at quarterback, Jacksonville State freshman quarterback Coty Blanchard converted a fourth-and-15 by tossing a 30-yard touchdown pass and then converted the ensuring two-point conversion to lift the Gamecocks to a double-overtime stunner in Mississippi. The repercussions are being felt in Jacksonville where the school sold a single-day record 1,500 tickets on Monday for its upcoming home game.
J – Joe Theismann. The six people out there clamoring for Theismann's return to the air waves will get their wish when the former "Monday Night Football" announcer landed a gig with the NFL Network calling Thursday night games. He will be joined in the booth with Bob Papa (who?) and former Detroit Lions General Manager Matt Millen.
K – Katrina. Bringing up Hurricane Katrina in relation to sports is still not okay; it just seems nobody told Dan "Danimal" Hampton of Pro Football Weekly when he dropped this bomb in analyzing the Vikings and Saints game, "The Vikings need to go down there and hit that town like Katrina."
L – Leinart, Matt. The Houston Texans cut one former USC quarterback in John David Booty to sign a first-round USC quarterback bust this week when they brought Leinart aboard. Leinart is only the fourth quarterback in the last 20 years to be taken in the Top 10 and throw for less than 4,000 yards and more than 20 interceptions. The other three were Ryan Leaf, Heath Shuler and Dave Klingler, elite company indeed. Leinart fits in No. 3 on the depth chart behind Matt Schaub and Dan Orlovsky. So after looking at a bigger contract and a starting job in the offseason, Leinart is now the No. 3 quarterback commanding a base salary of $630,000 in Houston.
M – Mayweather, Floyd. He won't hop in the ring with Manny Pacquiao, but Mayweather is more than willing to swap verbal jabs. In a recent racist rant Mayweather went off on Pacquiao calling him a "yellow chump" a "midget" and said he was going to force him to "make some sushi rolls and cook some rice" and that he was going to "cook him with some cats and dogs."

N – Nnamdi Asomugha. The month long soap opera that was the Darrell Revis contract holdout has finally come to an end and once again the Oakland Raiders are blamed for what is wrong with football. The root of the contract holdout was so Revis, the best cornerback in the NFL, could be paid like the best. But that was simply not possible with Oakland throwing around ridiculous amounts of money to Asomugha, who is making $15.1 million a year. Revis' deal ends up being $11.5 million and that is after the holdout. Revis must have finally figured out that the Asomugha deal has nothing to do with him being the best corner but rather Oakland having the worst front office.
O – Oregon State. It looks like a one-game season is the only thing standing between Boise State and a date in the BCS National Championship Game. That Week 3 game is against Oregon State, in Boise. The Beavers lost their opener on the road at TCU but looked like a Pac-10 contender and potential Bronco BCS buster. They hung with the No. 6-ranked Horned Frogs before losing 30-21 as two-touchdown underdogs. The Beavers are the biggest obstacle on the Boise State football schedule that also features games against Fresno State and a road trip to Nevada.
P – Padres. It was only a matter of time until money started to talk and the Padres, owners of the second-lowest payroll in the majors, started getting what they paid for. They finally snapped a ten-game losing streak on Monday but during the skid, the Giants (one game back) and the Rockies (4.5 games back) have crept within striking distance. With an upcoming schedule that features seven games against the Giants, three at Colorado, four at St. Louis, three at Los Angeles and three against division-leading Cincinnati, it only seems like a matter of time until the clock strikes midnight on baseball's version of a Cinderella.
Q – Quack, Quack. The Oregon Ducks quacked up and down the Autzen Stadium turf in their opener Saturday, hanging 72 points on an overwhelmed New Mexico side in a shutout win. The No. 8-ranked Ducks now prepare to face a real challenge when they travel to Knoxville for a huge primetime game in Neyland Stadium against Tennessee. Oregon is an early 12-point favorite in that game.
R – Rooney, Wayne. Another English soccer star embroiled in a sex scandal has the London tabloids a buzz. Rooney allegedly cheated on his pregnant wife with a high-priced 21-year old prostitute, Jenny Thompson, according to the News of the World, a credible London tabloid. The affair lasted for several months beginning in June of 2009. With a pregnant girlfriend this does not seem like the best timing for these allegations to surface against Rooney, but maybe the timing was not that bad considering Thompson was of age, unlike another European soccer star's side piece (see F).
S – Szymanski, Matt. In a play that would rank amongst the best of the NFL season, Szymanski, the kicker for SMU, launched a successful 61-yard field goal Sunday at Texas Tech. It was a school record and of particular note to Mike Sherman at Texas A&M who is launching a campus-wide search for a kicker. Turns out that Szymanski used to play at Texas A&M. The former No. 1 high school kicker in the country was at the school in 2006 and 2007 as a kickoff specialist before transferring when Sherman came to town.
T – Taylor Swift. Most fans are jumping off the Notre Dame football bandwagon after repeated losing seasons and a coaching carousel, but country teen sensation Taylor Swift is jumping on the bandwagon. She was spotted in South Bend on Saturday during a win against Purdue on the Irish sideline. Turns out her younger brother, Austin, is a freshman at the school.
U – US Open. We have the most watched match of the US Open already and we aren't even at the finals. During a match between No. 3 seed Novak Djokovic and Phillip Petzschner, another match broke out, a three-way battle royal in the cheap seats at Arthur Ashe Stadium. A young 20-something male was dropping F-Bombs during the match, probably because he wagered on Petzschner, who would lose in straight sets. He was chastised by an older women and more F-Bombs went flying, including this gem from the younger guy, "I don't give a fuck what anyone wants, I got a lot of money on this game, Sit the fuck down!" The women eventually sat down, but her octogenarian father stepped in, bull rushed the younger guy out of nowhere and started throwing haymakers. Eventually both guys went tumbling down three rows and had the attention of the entire Stadium. All three were eventually led away in handcuffs to a standing ovation.
V – VMA's. MTV's "Video Music Awards" are this Sunday and Bodog has rolled out betting odds for most of the categories. Lady Gaga is a heavy favorite for a number of awards, including Video of the Year where "Bad Romance" is the favorite at 1/1 and her other hit "Telephone" is right behind at 5/2. "Bad Romance" is the favorite to win Best Female Video (-250) and Best Pop Video (-200)

W- Wozniacki, Caroline. Already the top-ranked tennis player in the world, Wozniacki, the Danish blonde beauty is starting to hit the mainstream in the United States with her performance in the U.S. Open. She knocked off Maria Sharapova to reach the quarterfinals and has emerged as a fan favorite around New York and a betting favorite at 3/2.
X – X, Eater. Tim "Eater X" Janus ate three pounds, 11.25 ounces of Rocky Mountain oysters in 10 minutes in a competitive eating contest last week in Las Vegas. The only thing worse than what Eater X had to stuff down his face was the fact that his performance was only good enough for second as Pat "Deep Dish" Bertoletti managed to scarf down three pounds, 11.75 ounces of the oysters in the same time. Bertoletti's performance was a world record.
Y – Yates, T.J. All the talk surrounding the North Carolina/LSU clash in the Georgia Dome centered on the 16 Tar Heel players suspended and how they did not have a chance. Nobody told Yates, who quarterbacked UNC to a near upset with a 28-for-46, 412 yard performance with three touchdowns. He may have had four, but two potential touchdown passes hit the hands of his receivers with less than six seconds to play in the end zone. It was statistically the best passing performance of the opening weekend.
Z- Zvonareva, Vera. There is a Russian in the quarterfinals of the US Open, but it is not Maria Sharapova or Svetlana Kuznetsova. Seventh-seeded Zvonareva has reached the quarterfinals after a dominating performance over Andrea Petkovic where she dropped only three games during the match in a 6-1, 6-2 victory. With eight players left the Russian has decent odds at 10/1 behind favorites Wozniacki (3/2) and Kim Clijsters (15/8).