This Week in Sports Betting, A-Z
by Nicholas Tolomeo - 8/4/2010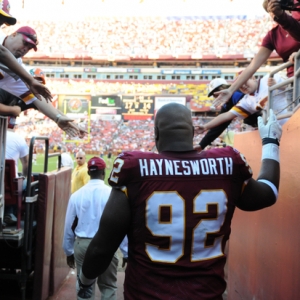 A – Albert Haynesworth. The 100 million dollar man now has failed three conditioning tests at Redskins training camp. At least his latest failure had an excuse when a small amount of swelling was detected in his left knee Haynesworth was allowed to abort the test. To pass the test Haynesworth has to run 300 yards in less than 74 seconds. No other Redskin player is required to do this because no other Redskin player refused to attend offseason conditioning and because no other Redskin is as grossly out of shape. Washington wrote the book of awful free agent signings and Haynesworth is just the latest chapter. Through six days of camp Haynesworth has yet to participate.
B – Brett Favre. For the fourth time in his NFL career, Favre has announced he will retire. Could this be it? Is Favre finally telling the truth and did his NFL career start the same way it ended, with an interception? We probably will not know for sure until Vikings training camp breaks. Favre detests training camp and announced his retirement last year only to announce his signing with Minnesota immediately after their training camp ended.
C – Chicago. The Windy City appears to be the front-runner in landing the future Big Ten Championship Game for college football. Conference commissioner Jim Delany is expecting the championship game to be held next season when Nebraska will join the 11-team conference as the 12th member. Delany has been in contact with representatives from Chicago who would like to stage the game in Soldier Field. Other venues rumored to be in the running include Green Bay's Lambeau Field, Detroit's Ford Field, Cleveland Brown Stadium and Indianapolis' Lucas Oil Stadium, although there has been a strong push for the game to be played outdoors.
D – Devon James. What did tabloids and reality television do before Tiger Woods' mistresses started coming out of the woodwork (pun intended). The latest mistress, Devon James, was set to fight Susan Finkelstein in a Celebrity Boxing bout. We use the word 'celebrity' loosely. After failing a pre-fight physical, James was denied the right to fight Finkelstein, the woman who offered sexual favors for Phillies tickets.
E – Emmys. The Emmy Awards are scheduled for Aug. 29 and the oddsmakers wasted no time in getting lines out. Early favorites include "Lost" at 5/2 for Best Drama Series, "Modern Family" at 11/10 for best Comedy Series, Michael C. Hall from "Dexter" as a 2/1 favorite to win Best Drama Actor and Edie Falco as "Nurse Jackie" at 3/2 to win Best Comedy Actress.
F – Facebook. The social networking site is in the center of betting props on Bodog. With pending lawsuits, rumors of an initial public offering and the Web site approaching 1 billion users, oddsmakers lined up a set of props available on Bodog. One of the props asks if Facebook.com will reach 1 Billion users by January 1, 2010. The 'yes' is even with 'no' listed at -138.
G – Georgia. The University of Georgia landed No. 1 on the Princeton Review rankings of top party schools announced on Monday. This is Georgia's first time topping the party school list and it is an especially dubious distinction for the school that just watched its athletic director, Damon Evans, resign in early July after being arrested on a DUI charge. Ohio University was second, Penn State was third and former No. 1 party school West Virginia University was fourth.
H – "Hard Knocks". The popular HBO reality series that gives viewers a behind-the-scenes look at a team's training camp is following the New York Jets this season. It could be excellent theatre considering everything going on with the team. In addition to the high-profile additions of Santonio Holmes, LaDainian Tomlinson, Antonio Cromartie and Jason Taylor, the Jets also have outspoken Rex Ryan at the helm and the ongoing training camp holdout of Darrelle Revis. The series debuts Aug. 11. The ratings record set last season by the Cincinnati Bengals (3.4 million viewers per episode) is in jeopardy this year with the Jets.
I – Instant Replay. The seemingly never-ending expansion of instant replay into the world of sports just stooped to its lowest age-level yet. Little League Baseball has plans to expand the use of instant replay to now allow coaches to challenge a call during the Little League World Series. The curious thing about this replay situation is that the umpires are volunteers who work their way up through the system to be able to umpire the World Series between 11 and 12 year olds.
J – Jong-hun, Kim. Sometimes in sports we get carried away and say a game could be 'life or death'. When it comes to North Korean soccer, life or death is not just a saying, but rather your options. Upon arriving home from a three-game World Cup beat down, North Korea coach Kim Jong-hun and his team have been publicly humiliated. The team got off easy, coach Jong-hun has been sentenced to hard labor and now reports are out saying Jong-hun fears for his life. When World Cup pundits called the group featuring Brazil, Portugal, the Ivory Coast and North Korea as the 'Group of Death,' they weren't kidding.
K – Kendra Andrews. Yes. Erin Andrews has a sister. This little known fact about the busty ESPN sideline reporter became public to just about everyone when Erin and her sister Kendra made an appearance together on the red carpet for the premier of "Step Up 3D." Kendra, the younger of the two sisters, appeared as a dancer in the movie. While Erin graduated from University of Florida, Kendra is a Florida State graduate.
L – LeBron James. LeBron has become a regular fixture at the letter 'L'. James fired back to his former city when he took out a full-page ad in the Akron Beacon Journal thanking his hometown of Akron. He made no mention of Cleveland and his silence about the city where he played his entire NBA career spoke the loudest. Zydrunas Ilgauskas, who had also played his entire career in Cleveland, followed James to South Beach. Ilgauskas took out a full-page ad of his own in the Cleveland Plain Dealer thanking the city.
M- Matthew Clemmens. The 21-year old Clemmens, dubbed by the media "Pukemon" after purposely forcing himself to puke on an off-duty police officer and his 11 and 15-year old daughters, has been jailed for 30-90 days. Clemmens' famous mugshot complete with a swollen shut black eye is known across the country. The off-duty police officer was being heckled during the Phillies second home game of the year back in April when the officer requested that one of Clemmens' friends be ejected from Citizens Bank Park. After he was ejected Clemmens stuck his finger down his throat and vomited on the officer and his daughters.
N – NBA Opening Night. When Pat Riley orchestrated the moves that landed the Miami Heat the trio of Dwyane Wade, Chris Bosh and LeBron James, he was hoping to have his team play in the last NBA game of the season. For now the NBA has guaranteed the Heat that they will be playing in at least the first game of the season. The Heat will travel to Boston to take on the Celtics Oct. 26, opening night in the NBA. The defending champion Los Angeles Lakers will host the Houston Rockets as part of the opening-night doubleheader.
O – Ozzie Guillen. To the surprise of no one, the outspoken Chicago White Sox manager once again ran his mouth to the media about a sensitive subject. And to the surprise of no one Guillen was out the very next day saying how his quotes were taken out of context. His original statements compared the privileges Asian players receive in the United States in baseball compared to Latinos. The White Sox did not endorse the comments.
P – Philadelphia. According to health inspections, the Philadelphia sports venues live up to the cities less-than-flattering nickname of Philthadephia. Citizens Bank Park (Phillies), Lincoln Financial Field (Eagles) and Wells Fargo Center (76ers and Flyers) were cited for critical violations of health requirements at its concession stands. Philadelphia was not alone in having violations, but the city's venues proved to be the most consistent across the board in repeat violations found by health inspectors. Perhaps the most alarming was proof of mouse infestation at Wells Fargo Center. If Matthew Clemmens, the 21-year old accused of forcing himself to vomit on an off-duty police officer and his two daughters, would have told authorities it was just a case of eating concession food at the ballpark, he may have got off the hook.
Q – Quinn, Brady. There are plenty of examples of NFL players who made costly career moves by holding out and not attending training camp because of a contract disputes. But one of those costly mistakes is on display firsthand in Denver with Quinn. Once a first-round pick of the Cleveland Browns in 2007, the former Notre Dame quarterback initially held out and missed 10 days of training camp. It cost him a chance to be the starter and he never recovered. He was traded for a sixth-round draft pick and now he is stuck on a depth chart behind rookie Tim Tebow and Broncos' incumbent quarterback Kyle Orton.
R- Rodman, Dennis. One of the hardest autographs in all of sports to snag is from this former defensive specialist. Apparently saving his life is not even enough to land an autograph. Rodman was a passenger in a green Range Rover that flipped three times after blowing a tire. A couple bystanders who saw the accident came to his rescue and pulled him out of the car. The people later asked for an autograph but 'The Worm' denied them.
S – Shaquille O'Neal. The NBA's most famous big man is still without a team, but O'Neal remains confident he will suit up next season in the NBA. He does have some requirements for a prospective team, though, including playing time and enough money. He has ruled out playing internationally, playing on a non-contender or joining LeBron James in South Beach, although those last two things could be the same. Shaq has not ruled out a retirement but the 38-year old is confident he has at least one more season left in him.
T – Tennessee Volunteers. First-year coach Derek Dooley reinstated two of his players, sophomore linebacker Greg King and sophomore defensive tackle Marlon Walls, who were suspended after a bar brawl in July that resulted in serious injury to an off-duty police officer. Perhaps this is actually further punishment for the two as Dooley and the team conveniently start fall practice the day after the players were reinstated.
U – UFC 117. The next MMA pay-per-view event is this Saturday at Oracle Arena in Oakland. It will be headlined by Anderson Silva and the most-hated man in the UFC, Chael Sonnen. Silva is a -450 favorite on BetUS with Sonnen listed at +325 in the middleweight five-round title bout. Other matches of note at the event include Thiago Alves (-120) vs. Jon Fitch (-110) in a three-round welterweight bout and Clay Guida (-120) vs. Rafael dos Anjos (-110) in a three-round lightweight bout.
V – Vernon Davis. Not only is Davis a charitable football player, but he has a unique way of going about it. He hosted a charity event in San Jose that involved sports, but it was not football, or basketball or any other sport that Americans known how to play. Rather his event was called "Curling with the Stars." Davis, who fell in love with the sport after first trying it, says the event was a success and he hopes to make it an annual event.
W – Wladimir Klitschko. The three-belt heavyweight champion will defend his IBF, WBO and IBO belts against Nigerian Samuel Peter in a rematch of a memorable fight five years ago in Atlantic City. This fight is scheduled for Sept. 11 in an open-air soccer stadium in Frankfurt, Germany. Klitschko is 54-3 in his career but Peter (34-3) managed to knock the big Ukrainian down three times in the previous meeting although Klitschko would win on points. The champion is a decided favorite in the match listed at -900 at most sportsbooks with the odds for a Peter upset at +550.
X – X Games. The annual extreme games staged by ESPN were dominated by a group dubbed the 'Nitro Circus'. Headlined by Travis Pastrana, this group evolved from a television series and at X-Games 16 in Los Angeles the Nitro Circus dominated the medals. X-game winners from the Nitro Circus included Chad Kagy in BMX Big Air, Australian skateboarder Jake Brown in skateboard Big Air and rookie Cam Sinclair in the Moto X Best Trick.
Y – Youkilis, Kevin. The Boston Red Sox first baseman was placed on the 15-day disabled list before Tuesday's game against the Indians. It is a move that comes at a bad time for Boston who is in danger of slipping out of the AL East race. Entering Tuesday the Red Sox trailed New York and Tampa Bay by 6.5 games each. The injury forces Mike Lowell into the lineup at first base.
Z – Zimmerman, Ryan. All the baseball talk around the Washington Nationals has been about phenom Stephen Strasburg and slugger Adam Dunn, who was placed on waivers on Tuesday as the Nationals hope to pull off a trade or contract extension. Meanwhile Zimmerman is making an MVP case at the plate. Through 97 games Zimmerman is batting .293 with 23 doubles, 18 homeruns and 58 RBI. Those numbers are all comparable to Dunn except that Zimmerman has struck out less than half as many times as Dunn (131 strikeouts) has. Bodog has Zimmerman listed at +1800 to win National League MVP behind favorites Albert Pujols (+165), Joey Votto (+175), Adrian Gonzalez (+550) and David Wright (+1000).