This Week in Sports Betting, A-Z
by Nicholas Tolomeo - 12/16/2010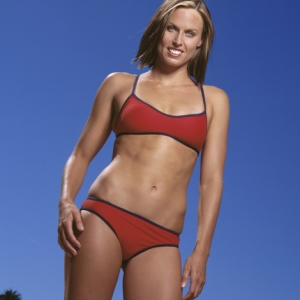 A – Amanda Beard. The former Olympic gold medal swimmer revealed all in Playboy a few years ago, and now she is ready to reveal all again in an upcoming tell-all book. Beard says it will reveal her struggle with drugs, alcohol and eating disorders. Beard competed in the Atlanta games at the age of 14 when she famously walked around the pool clutching a teddy bear. She won gold and two silvers that year and captured the hearts of most Americans. She captured the hearts of American men when she shocked the swimming world and decided to pose for Playboy in 2007 and later FHM and Maxim (the breaststroke never looked so good). Her book "In the Water They Can't See You Cry," is scheduled for an April 2012 release.
B – BYU. Talk about planning ahead. BYU has already agreed to play in the 2012 Poinsettia Bowl in San Diego and in the 2013 Fight Hunger Bowl in San Francisco. World Cup locations are not even announced this far in advance. And what is the rush? I just do not see teams lining up to get into those extremely random bowl games.
C – Cincinnati Bearcat. The most entertaining mascot performance of all time belongs to the Cincinnati Bearcat after his epic meltdown in the season finale against Pitt. During the game that was being played in a near blizzard, the Bearcat, the reigning 2009 Capital One Mascot of the Year, started chucking snow balls at fans. Moments later he was caught by a couple fans on cell phone cameras being wrestled to the floor by a half dozen officers. You couldn't see the mascot head, but you could see his oversized fluffy claw boots struggling on the ground as onlookers chanted his name.
D – Detroit Lions. Not sure what is more unbelievable, the fact that Detroit lost 19 consecutive NFC North games or the fact that they broke the streak by stunning the Green Bay Packers, 7-3, in a snooze fest. Needless to say, the 'over/under' of 45.5 was never in doubt.
E – Eliminated. While only one team has clinched a playoff spot thus far (New England), nine teams can set their tee times for the offseason. The NFL teams already eliminated with three games left to play are Washington (see H), Minnesota, Detroit, Dallas, Carolina, Buffalo, Cincinnati, Cleveland and Denver.
F- Ford Field. With the stunning collapse of the Metrodome Roof, Minnesota's game against the New York Giants was moved to Ford Field on Monday night. Most of the tickets were given out free and those 40,000+ who showed up to watch a free game, well they got what they paid for. The Giants won a 21-3, error-filled game that must have reminded the locals of their team.
G – Georges St. Pierre. It was not so much an MMA fight, but rather destruction, specifically a destruction of Josh Koscheck's right orbital bone. St. Pierre retained his UFC Welterweight title at UFC 124 with a five-round clinic against rival Koscheck in a raucous Bell Centre filled to the brim with 23,152. . The fight proved that the Welterweight division is no longer even competitive with St. Pierre's dominance and that St. Pierre may be the best of the best, but it also proved that Koscheck is one tough SOB. Many thought he would throw in the towel, but he lasted all five rounds even with his right eye swollen shut after only one round.
H – Hunter Smith. After botching the hold on an extra-point snap in a 17-16 loss to Tampa Bay, Washington punter-holder Hunter Smith said, "If anybody needs to lose their job, it's me." The Redskins agreed. Smith was cut two days after his horrific special team's gaffe with just nine seconds to play in the game.
I – Implication Sunday. If the NFL decided to have unnecessary cat names to call their weekends like ESPN does for college football and college basketball, this Sunday would be called something stupid like Implication Sunday or Show Me What You Got Sunday or Judgment Day. It is easy to see why. At 1 p.m. you have the defacto AFC South championship game, Jacksonville at Indianapolis -4.5 and the defacto NFC East championship game, Philadelphia at New York Giants (-2.5). Another early game is a wildly interesting interconference showdown with New Orleans at Baltimore (-1). At 4 p.m. we have the Jets at Steelers (-5.5) and cap it off with Sunday Night Football, Green Bay at New England where the line is off pending Aaron Rodger's health.
J – Jets Special Teams. Apparently the Jets punt coverage is an entire team effort. After strength and conditioning coach Sal Alosi admitted to tripping Miami Dolphin gunner Nolan Carrol, the news got worse for the Jets. After accusations from the Dolphins and video evidence it now looks like it was a team effort as Jets assistant coaches and inactive players formed a wall on the sideline to impede the progress of the oppositions special teams players. By admitting to tripping Carrol it appears Alosi was taking one for the team in keeping heat off of Head Coach Rex Ryan.
K – Kyle Boller. Former Baltimore first-round draft pick Kyle Boller is now a backup quarterback in Oakland (who knew?) and a soon-to-be father as his beauty queen wife Carrie Prejean is pregnant with a baby boy. You may remember Boller as a major bust with Baltimore and you may remember Prejean as a contestant in the 2009 Miss USA pageant who took the mic and stunned the crowd by going on a rant about same-sex marriage and telling everyone how she opposes it.
L – Last Place Love. If these teams were relevant this would probably be bigger news, but the Bills and Cowboys have not both been relevant since Super Bowl XXVI. Anyways, Bills undrafted rookie wide receiver David Nelson was spotted out with Dallas Cowboys cheerleader Kelsi Reich at a Tim McGraw concert, of all places, and the two are now reportedly dating.
M – Mark Cuban. The Dallas Mavericks owner could be on the verge of becoming the most popular sports figure in America. Cuban has proposed a college football playoff system and the billionaire is ready to put his money where his mouth is. Cuban is picturing a 12- or 16-team playoff field while keeping the bowl system intact for lesser teams. Cuban has been in discussion with college presidents and says he is in the exploratory process.
N – Nuptials. Legendary professional wrestler Hulk Hogan is married once again after he tied the knot with Jennifer McDaniel (who is a near clone to his daughter Brooke Hogan, creepily enough) this past weekend. Of course, the wedding did not get off without a hitch as a wedding crasher photographer got into a scuffle and then exclaimed that he was packing heat. Cops were eventually called, but nobody pressed chargers although Hogan may have given him an atomic leg drop at some point (we think).
O – Oakland. Carrying over the six degrees of Kevin Bacon to college basketball, Oakland could make a legitimate case for being a Top 3 basketball program. On Saturday No. 19 Tennessee went into Pittsburgh and spanked the third-ranked Panthers, 89-82. Three days later Oakland went into Tennessee, who was ranked No. 7, and stunned the Vols, 89-82. You might as well pencil Oakland into your Final Four right now.
P – Pearl, Bruce. Speaking of Tennessee Basketball….Bruce Pearl may lie to the NCAA, but when it comes to answering the media, Pearl is honest. When asked his embattled stance since receiving an eight-game suspension from the SEC, Pearl responded, "What I was hoping for was some other dumbass would get on the front page and take me off the hook. I miss Lane Kiffin." And just like that any Volunteer fan that may have been on the fence about Pearl instantly joined his side.
Q – Qatar. If you were mad about the United States being snubbed for the 2022 World Cup to Qatar, just imagine if you were a homosexual. Apparently it's illegal in Qatar to engage in homosexual behavior. FIFA president Sepp Blatter went as far as to telling gay fans to refrain from sexual activities while in Qatar.
R – Rocky. Nevermind the fact that he was a fictitious character, Rocky has been enshrined in the International Boxing Hall of Fame Museum. He joins the other Rocky (Rocky Marciano) as the only members in the Hall of Fame that are undefeated. The fictitious Rocky is undefeated, of course, because he never fought a real fight. But why stop there. Why don't we put Gordon Bombay in the Hockey Hall of Fame or Al the Boss Angel in the Baseball Hall of Fame or Happy Gilmore in the Golf Hall of Fame or Beck 'Icebox' O'Shea in the Football Hall of Fame or… well you get the point.
S – Slupex. In an epic high school basketball meltdown, a DeSoto County (Fla.) high school basketball player pushed a referee, chased him down, grabbed him and tried some belly the back suplex on the official all because he received a technical foul. The game was immediately called and DeSoto County forfeited to Port Charlotte. The player, Mason Holland, is facing expulsion and has been barred from ever playing at the school again.
T – Thrash. In a marketing promotion that screams desperation louder than anything, the Atlanta Thrashers put on a fake police chase involving their mascot "Thrash" driving an allegedly stolen Zamboni down a Georgia Highway. And now the team says their beloved mascot will not be released from fake prison until 5,000 additional tickets are sold for the remaining five home games in December. If I were Thrash I would get comfortable.
U – Urban Meyer. The unexpected exit of Urban Meyer left a void at Florida and betting sites hurried up and posted odds, with Dan Mullen of Mississippi State the clear favorite at –200 at some sites. Other favorites included Utah's Kyle Whittingham (+200), Louisville's Charlie Strong (+300), Boise State's Chris Peterson (+400) and Oklahoma's Bob Stoops (+500). Florida eventually hired Texas defensive coordinator Will Muschamp, who paid out a pleasant +1300.
V – Vikings. The Metrodome is unplayable, we know that. Now comes the real fun part. Minnesota has decided to move its game Monday night to the University of Minnesota's outdoor TCF Bank Stadium. Now the problems. The stadium is covered in snow, so the school is asking for paid volunteers willing to make $10 an hour to shovel snow for six hours. The capacity of TCF Bank Stadium is 12,000 less than the Metrodome, so they have to find something to do with the extra 12,000 ticket holders. And, lastly, attorneys are getting involved over whether alcohol can be sold during the game since it is outlawed for University of Minnesota games in the stadium. Come to think of it, if they just keep alcohol outlawed they won't have to worry about 12,000 extra fans or maybe even any fans at all.
W – Waffles. In Detroit they throw octopi on the ice and most hockey fans throw hats on the ice after three goals, Florida Panther fans used to throw stuffed rats on the ice, in Wrigley Field they throw homerun balls back and now in Toronto a new tradition may take shape: throwing waffles. Following a recent loss to the Flyers an angry Maple Leaf fan chucked a waffle onto the ice. No word on how in the world or why in the world a fan brought a waffle into a hockey game.
X – Tiger's eX-wife. Reports out of the UK indicate that Elin Nordegren, Tiger Wood's ex-wife, wasted no time in getting back on the market. Nordegren, a former Swedish model who banked $100 million after her divorce from Woods, has been linked to a 35-year old South African. Coincidentally enough, most of the world's top golfers head to South African this week for the 100th South African Open.
Y – Yahoo. Yahoo Sports tracked down the best names in college basketball, and there are some real treats, including Prairie View A&M's Beloved Rogers and Delaware State's Alibaba Odd. Receiving an honorable mention on the list was a forward from California simply named Bak Bak.
Z – Zeitgeist. Google unveiled Zeitgeist 2010 this week, a set of charts that ranks the most searched for terms on Google, broken down by category. World Cup was the fourth most searched term behind ipad, chatroullette and iphone 4. Among sports figures, somehow Apolo Ohno was No. 1, just ahead of Vincent Jackson, George Steinbrenner, David Villa, Shaun White, Randy Moss and Miles Austin. Seems the public took an interest in underperforming NFL wide receivers.