Week 17 NFL Picks and Odds
by Trevor Whenham - 12/30/2010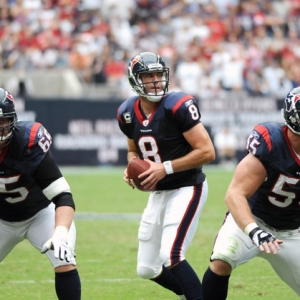 Santa came a day late last week, but he delivered two very nice NFL picks for us -- Baltimore beat up on Cleveland, and the Bears came out on top of the Jets in a crazy game. We're going to end the season the right way by continuing the momentum with these Week 17 NFL picks and odds.
Jacksonville (-1.5) at Houston (Sunday, January 2, 4:15 pm ET)
Jacksonville doesn't control their own destiny, but they still have a shot at making the playoffs and knocking their hated rivals, the Colts, out. To do so they need to win this game and have the Titans upset the Colts.
Both games are played at the same time, so there is a pretty good chance that the Jags are going to be playing at full speed in this one. The same certainly can't be said of Houston. The season has been a total disaster for them, and their coaching staff isn't likely to last long after the final whistle in this one.
Not much has gone right for the Texans this year, and their pass defense in particular has been astoundingly bad. Even without David Garrard I am reasonably confident the Jags will be able to exploit that, and they will be able to run the ball as well.
Sometimes football games come down to something as simple as who wants the game more. This is one of those cases, and it certainly isn't hard to figure out who it is here.
I expect a solid performance from Jacksonville and an embarrassing one from Houston. The Jags have won the last three in this rivalry, and I expect them to comfortably chalk up a fourth here.
Pittsburgh (-6) at Cleveland (Sunday, January 2, 1 pm ET)
Pittsburgh is in charge of its own destiny. If they win this one then they get the second seed in the AFC and the first round bye. A loss means they drop to fifth or even sixth seed and have to start out on the road. That's high stakes here, and for a team as professional and well coached as this one that will be more than enough motivation to have them ready for a big performance.
Pittsburgh is a very solid 6-1 on the road, so the setting won't be a concern for them. The Steelers are 9-4-1 ATS in the last 14 between these teams, and have won nine of the last 10 meetings -- including a very easy win earlier this year.
Cleveland is outmatched at the best of times in this one, but when you add in the motivation for Pittsburgh it is probably too much for them to overcome. On top of that, there will be a lot of uncertainty around the Cleveland organization as the future of Coach Eric Mangini -- and by extension a good number of the players -- is far from clear.
Cleveland is at their best when they can run the ball effectively, but the twin challenges of a banged up Peyton Hillis and a very potent Pittsburgh run defense will make that challenging. As long as this game stays below the key number of seven I think it is packed with value.
Four of six winning weeks for football picks for Allen Eastman and the "Michigan Money Man" is set to tackle the NFL this weekend with his expert pro football handicapping. His football clients have earned tons of dough lately and he expects to pull another winning week with his NFL betting system, the 99 System.