NFL Odds for Coach of the Year from Bodog
by Richard Gardner | Bodog Sportsbook Manager - 1/7/2011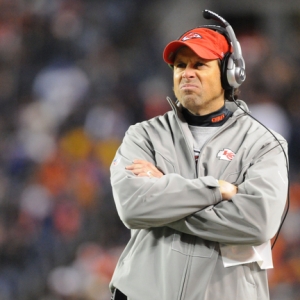 Bill Belichick has been named the NFL's coach of the year twice in his career, in 2003 and 2007. But there's a feeling among many in the media that he's never deserved the award more than he does this year.
The New England Patriots finished the regular season with a 14-2 record, tops in the league. But they sure weren't supposed to. Not with that defense. It was too young. Too inexperienced. It was a rebuilding year. Belichick made it work.
At Bodog's online sportsbook, Belichick is getting 2/3 odds to win coach of the year, followed by Kansas City's Todd Haley (7/2) and Tampa Bay's Raheem Morris (5/1), the latter two of which turned teams that were supposed to be terrible into teams that finished with 10-6 records.
Instant $250 Free Bonus Bet from Bovada -
CLICK HERE
Last year, Marvin Lewis was named coach of the year after he led the Cincinnati Bengals, who were coming off a 4-11-1 season, to the playoffs.
The year before, Atlanta's Mike Smith won the award after his turnaround of the Falcons.
So voters have loved comeback stories in the past. But most of our bettors are betting on Belichick, even at less-than-even odds.
Bodog's NFL coaching props don't stop at coach of the year. The Cleveland Browns are looking for a new sideline leader after Eric Mangini was fired by team president Mike Holmgren following a second straight 5–11 season.
According to our odds makers, the favorite to replace Mangini is Marty Mornhinweg at 5/2, followed by Holmgren himself (7/2), Jon Gruden (9/2) and John Fox (11/2).
Mornhinweg is currently the offensive coordinator with the Philadelphia Eagles. He also used to be on the same staff as Holmgren, when Holmgren was the head coach of the Green Bay Packers. So there's a previous relationship there. Of course, there's also Mornhinweg's previous experience as head coach to consider. In 2001 and 2002, he led the Detroit Lions to a combined 5-27 record.
We've booked quite a few bets on Holmgren, who had a few interesting things to say when asked if he was a candidate for the position.
"I'll always be a coach. Heck, people in the building call me coach. To tell you right now that I would never coach again, whether it's here or any place, that probably wouldn't be honest. As of right now, I am the president of the Cleveland Browns and my job is to find the best coach available, the right coach for this job. That's what I am trying to do and that does not include me right now.
"I probably won't coach again, but I don't want to lie to you—ever."
I will be posting weekly articles including betting previews, matchups and the inside scoop from a bookmakers point of view right here at Doc's Sports. Read my past articles - Click Here, and learn more about Bodog sportsbook - click here. If you're ready to set up an account and start playing I'd like to offer you a Sign up Bonus - Click Here. Enjoy the Bodog Experience.