PGA Tour Odds and Predictions: The Presidents Cup
by Alan Matthews - 11/15/2011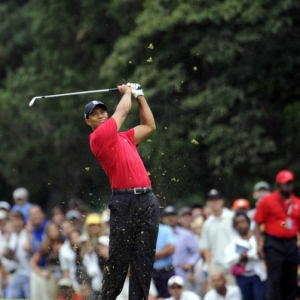 The Presidents Cup, which tees off Thursday morning (Wednesday night U.S. time) at Royal Melbourne Golf Club in Melbourne, Australia, is in many ways like the Ryder Cup: the Presidents Cup is also a team event pitting the United States against an international contingent, the scoring and competitive setup are much the same and it is staged every other year.
However, in reality the Presidents Cup is more like the calorie-free Ryder Cup in that the latter has become the most heated competition in golf. Plus, it's the USA vs. Europe in the Ryder Cup. And if you look at the current world rankings, the Europeans would be big-time favorites should that event be staged this weekend (and Europe has dominated that competition in recent years).
YouWager.eu is the Top sportsbook of choice when it comes to customer service and fast payouts. Make your first deposit and receive an additional 100% welcome bonus worth up to $1000 courtesy of YouWager.eu online sportsbook! Use PROMO CODE DOCSPORTS
In the Presidents Cup, the USA goes against an International Team that doesn't include Europe. And the Americans have dominated this event in going 6-1-1 all time. The USA has won the last three, and the international side's only victory came back in 1998, coincidentally the last time the event was held at Royal Melbourne.
In addition, there hasn't been much acrimony in the Presidents Cup, although that may be changing. International Team captain Greg Norman and a few others have criticized USA captain Fred Couples for choosing a struggling Tiger Woods as one of his two wild-card picks over a more deserving player like PGA Championship winner Keegan Bradley.
Here are the rosters – USA: Matt Kuchar, Steve Stricker, Dustin Johnson, Webb Simpson, Nick Watney, Phil Mickelson, Bubba Watson, David Toms, Hunter Mahan, Jim Furyk, Woods and Bill Haas (both captain's picks); International: Jason Day, Adam Scott, Charl Schwartzel, K.J. Choi, Kyung-tae Kim, Retief Goosen, Geoff Ogilvy, Ernie Els, Y.E. Yang, Ryo Ishikawa, Robert Allenby and Aaron Baddeley (the latter two captain's picks by Norman).
Those making their first appearance in this event are Kuchar, Johnson, Simpson, Watney, Watson, Haas, Day, Schwartzel, Kim and Baddeley.
The scoring system of the event is match play and consists of 34 matches -- 11 foursomes (alternate shot), 11 four-ball (better ball) matches and 12 singles matches involving all players on the final Sunday. All matches are worth one point each, for a total of 34 points. Foursome and Four-ball matches all square at the end of 18 holes are halved, with each side receiving a half point.
Essentially the Presidents Cup setup assures that all 24 players will see the course each day of the event (unlike the Ryder Cup). Singles matches all square after 18 holes will to go extra holes until a match winner is determined. The winning team will have to accumulate no less than 17.5 points to win.
PGA Tour Odds: The Presidents Cup Team Odds
Team USA is a -125 favorite at Bodog with the Internationals at -110. This makes sense considering that 10 of the 12 American players are among the Top 22 in the world rankings and only four of the International players are. Plus, the Americans have won the past three Cups all pretty easily. Really only one of these events, minus the tie, has been close: In 1996 when the USA won 16.5-15.5.
I expect a very motivated Tiger Woods thanks to those comments from Norman and the fact Tiger looked almost back to pre-scandal form last week at the Australian Open, at least for all but one round. Tiger's third-place finish was his best in an official event since he won the Australian Masters two years ago.
Look for Woods to be paired with Steve Stricker in the team events. Those two were unbeaten in the last Presidents Cup -- they've gone 6-1 as teammates at the 2009 Presidents Cup (overall Tiger was 5-0 at the '09 event) and 2010 Ryder Cup. The first-day pairings will be announced on Wednesday.
Unlike the rest of the U.S. team, Stricker has not played a competitive round since Sept. 25 at the Tour Championship because of disc injury in his neck. He says he is close to 100 percent now, but what about his game?
And some International team members do come in playing well. For example, four International team members finished in the Top 10 in Sydney last week -- Ogilvy, Scott, Day and Baddeley -- only Woods and Watney were that high at the Australian Open among Americans. Kuchar missed the cut and Mahan withdrew with an injury that isn't thought to be serious.
One other advantage that the International Team should have is familiarity with the course. There are five Aussies on the squad – Norman no doubt purposefully chose two Melbourne natives, Baddeley and Allenby, as his wild-card selections.
PGA Tour Odds: The Presidents Cup Picks
Tiger is the favorite to be the top American in terms of points (11/2) and top overall player (9/1). The Aussie Scott is the favorite among most points on the International Team (12/5) and tied with Watney and Mickelson behind Tiger for most overall points at 12/1. Scott was just 1-4 at the 2009 Presidents Cup, while Lefty hasn't played well for a while.
I like Ogilvy as the top International Team (11/4) and overall player (14/1). He closed with a 7-under 65 to finish tied for fourth last week and is 4-5 all-time in this event (2-0 in singles). And he will know the course as well as anyone.
I am going to take Tiger at +120 to win the most points of the four captain's picks. And I have to go with Team USA to retain the Cup.