This Week in Sports Betting, A-Z
by Nicholas Tolomeo - 7/3/2011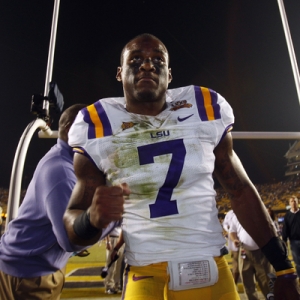 A – Arianny Celeste. The female face of the UFC, octagon girl Arianny Celeste, recently filmed a Bud Light Lime commercial in which she was wearing nothing but some panties and strategically placed limes. The commercial was supposed to serve as a promo for UFC 132, but after watching it, MMA fans are more likely to go buy the November 2010 issue of Playboy featuring a butt-naked Celeste, rather than go and buy an expensive pay-per-view.

B – Brett "The Grim" Rogers. Mixed Martial Arts fighter Brett "The Grim" Rogers has been arrested for allegedly showcasing his MMA striking skills on his wife's face and head. Grim was arrested at his Minnesota home and charged with three felonies after his wife blacked out from being choked, lost a tooth and suffering a golf ball-sized wound on her face, among other wounds.
C- Cuervo, Jose. The world's most famous hot dog guzzler, Takeru Kobayashi, has not been able to reach a deal with MLE (Major League Eating). Instead of sitting back on the Fourth of July and watching Joey Chesnut clobber the field for a second time like he did last year when Kobayashi was banned, Jose Cuervo has stepped in and upped the stakes. They will host a party on a rooftop deck of a Manhattan bar featuring Kobayashi racing against the other contestants in real time. The live Nathan's Hot Dog Eating Contest will be airing live on a giant projection TV at the bar. If Kobayashi, a six-time official champion, is able to beat the field and unofficially win, Cuervo has promised him an expenses paid trip to Cuervo's Tequila distillery in Mexico where they will immortalize him with a special tequila that bears his image on the bottle.
D – Defensive Rookie of the Year. The NFL Defensive Rookie of the Year award is a wide open field according to the oddsmakers. Patrick Peterson, the No. 5 overall pick out of LSU by Arizona, is the favorite at +400, but the field is tightly packed around him with Nick Fairley (+500), Von Miller (+500), Marcell Dareus (+600), Jimmy Smith (+800) and Prince Amukamara (+800) all receiving decent odds.
E – ESPN. The self-promotion machine that is ESPN is treating this year's Nathan's Famous Fourth of July Hot Dog Eating Contest as the biggest event since LeBron James fateful decision. The Hot Dog Eating Contest will emanate live from Coney Island, New York, on the Fourth of July at Noon. Commentary will be provided by Rich and George Shea, and there is even a sideline reporter, bombshell Renee Herlocker, who probably knows plenty about wieners. Aerial shots will be provided by the Hangar One Blimp and viewers can keep track of Pat "Deep Dish" Bertoletti's heart rate thanks to a heart monitor that will provide real-time updates to viewers. The odds of seeing it flat line while Bertoletti inhales hot dogs is 4/1. And in true ESPN fashion, they will make this a one-hour telecast even though the competition is only 10 minutes.
F – France. If the oddsmakers are to be believed, this year's Tour de France is a two-horse race between Alberto Contador and Andy Schleck, two guys who are probably taking some kind of illegal substances. Contador is listed at 2/3 to win it all on Bodog while Schleck is 2/1. The next best odds belong to Italian Ivan Basso, who is 25/1. There are no odds listed on the eventual winner having his title stripped, but I would guess they're somewhere in the ballpark of 1/1.
G – Grand Slams. It had been 299 games over two seasons since the New York Mets hit a grand slam. After Jason Bay belted a fourth-inning grand salami, they only had to wait seven more at-bats for their next one. In an event that not even Las Vegas would put odds on, Carlos Beltran followed Bay's bomb with a grand salami of his own. Before Tuesday night, the last Mets grand slam was on August 1, 2009. Since then Mets pitchers have somehow yielded an unbelievable 18 grand slams. Needless to say, the Mets were due.
H – Hines Ward. When it comes to their Steelers and winning trophies, Pittsburgh does not mess around. "Dancing With the Stars" champion Hines Ward was welcomed home with a rally that was better attended than some team's championship parades. Ward and his dance partner, the smoking hot Kym Johnson, won the Mirror Ball Trophy together in May and in June the city and its Terrible Towel-waving fans greeted them in droves at a downtown rally in a show of support and a sign of just how desperate we miss football.
I – Ivey, Phil. After Phil Ivey's sponsor Full Tilt Poker locked US customers out of their deposited money, Ivey threatened to boycott the upcoming World Series of Poker and file a multimillion dollar lawsuit against Full Tilt. Almost immediately Full Tilt promised to refund all the money owed to customers and Ivey said he will no longer file the lawsuit (which he probably was never going to file in the first place). I believe that is what they call a bluff in the poker world.
J – Jagrwatch. The whereabouts and future plans of a one Jaromir Jagr captivated the hockey world for the better part of the week. No one, not even his agent, knew exactly where the former five-time Art Ross Trophy winner was this week or where he was going. On Friday Jagr stunned everyone when he spurned the Penguins, his former team, for their cross-state rival, the Philadelphia Flyers. Pennsylvanians can still take solace that Jagr landed in the state as he will surely be a boon to the state's new casino industry. Jagr admitted in 2003 to settling gambling debts of $950,000.
K – Kimbo Slice. Internet underground superstar Kevin "Kimbo Slice" Ferguson will make his pro boxing debut on Aug. 13. The former backyard brawler and MMA fighter is taking his show inside the ring at a four-round main event at Buffalo Run Casino in Miami, Oklahoma. The most shocking detail about this development is that there is another Miami other than the city in Florida.
L – LeBron's Hairline. Americans new favorite past time is taking shots at LeBron James whenever possible. The LeBron bashing did not stop after the NBA season ended, it actually intensified. The latest digs at James involve his receding hairline. One basketball blog put together a timeline of his hairline migrating further and further back over the years. And then on Twitter Dwight Howard tweeted, "lol he took his talents to south beach and left his hairline in Cleveland."
M – Mets. For every 50 bankrupt and broke athletes out there, there is one smart one like Bobby Bonilla. Thanks to horrific decisions in 1999 by the Mets front office (Steve Phillips and Fred Wilpon), as of July 1 Bobby Bonilla will start receiving a $1,193.248 check each year for the next 25 years by doing nothing. The Mets owed him $5.9 million in 1999, but didn't want to pay him that so they deferred it until 2011, and with the 8-percent interest, the payout amount is now $29,831,205. The 48-year old Bonilla will be on the Mets payroll until he is 73 years old.
N – Nike. Four years after cutting ties with disgraced NFL quarterback Michael Vick, Nike has resigned him to an endorsement contract. No hard feelings, right?
O - Offensive Rookie of the Year. The odds for AP Offensive Rookie of the Year are posted on Bodog and a pair of receivers have surfaced as potential favorites. Atlanta's No. 6 overall pick, Julio Jones is the odds on favorite at (+500) and Cincinnati's No. 4 overall pick AJ Green (+600) is not far behind. Other contenders include Mark Ingram (+550) and Cam Newton (+650). Newton was the top overall selection by the Carolina Panthers, while Ingram plummeted to New Orleans at No. 28.
Q – Quito Hotel. Hiring Ecuadorian prostitutes to swing by the team hotel sounded like a good idea at the time for eight members of the Mexican under-22 team. That was until the prostitutes stole iPads and iPhones from the footballers and landed on security cameras, which were quickly viewed by everybody with a computer. Paying for sex from the local prostitutes cost the eight players a chance to play in Copa America as they were sent home, ashamed and embarrassed. Prostitutes are apparently very popular among Mexican soccer players. Less than a year ago Mexican players were fined when they celebrated a win over Columbia with, you guessed it, more prostitutes.
R – Rankings. Regardless of the fact that the calendar just turned to July or that there is still an ongoing lockout, it's NEVER too early to start ranking your fantasy football players. This year there may be a new consensus No. 1 draft pick: most publications appear ready to annoit Kansas City Chiefs running back Jamal Charles as the top-ranked player.
S – Sportsnation. In a sign of just how much Americans love hot dogs and just how much we are starting to detest baseball, a recent ESPN sportsnation poll showed voters were split on which holiday tradition is best. Voters were asked what was the best Fourth of July weekend sports tradition. About 10 percent chose either Breakfast at Wimbledon or NASCAR at Daytona while about 40 percent chose MLB games and Nathan's Famous Hot Dog Eating Contest.
T – Troy Tulowitzki. They say the Rockies slugger can do everything, and he proved that this week when he somehow defied logic and hit a pitch twice with a single swing. That alone is worth a trip over to YouTube. It happened on Monday in a game against the Yankees. His bat came around so fast that he actually hit the ball a second time and changed its trajectory. There is no rule against that because it probably has never happened before.
U – Upgrade from Eva. Tony Parker has one-upped himself somehow. After being married to 36-year old Eva Longoria for three years, Parker has landed himself French beauty queen Barbara Morel, a smoking hot Miss Nationale in France who is 16 years younger than Longoria. Lets hope she surfaces courtside at future Spurs games.
V – Vance Worley. Phillies pitcher Vance Worley asked Boston Red Sox second baseman Dustin Pedroia for his autograph before a recent game. Pedroia said no. So Worley went out and tossed seven innings of one-run baseball in a 2-1 Phillies win. Worley even brushed Pedroia off the plate with a high and inside fastball, so his odds of getting that autograph are probably worse now.
W – World Series of Poker. It's getting increasingly difficult to play poker online, but you still can bet on other people playing poker online, and isn't that basically the same thing? Bodog has listed a number of prop bets on the 2011 WSOP Main Event. Which past champion will last the longest? The choices are Greg Raymer, Joe Cada, Joe Hachem and Jonathan Duhamel and the odds for all four are +250. You can wager on the last female standing, Vanessa Selbst is the favorite at 3/1 ahead of Annie Duke (9/2). The total of US-born players reaching the final table (aka the November Nine) is 5.5.
X – Tim "Eater X" Janus. With Kobayashi ruled out of the official 2011 Hot Dog Eating Contest (see letter "C"), Tim "Eater X" Janus looks to be Joey Chestnut's biggest competition. Chesnut is listed as a –500 favorite on Bodog against the field and the online sportsbook has set a spread of 9.5 hot dogs as the 'over/under' between Chestnut and the second highest finisher. Last year with no Kobayashi, Eater X finished second with 45 hot dogs behind the champion Chesnut, who inhaled 54. The field can be had on Bodog at +300 while Janus is listed at +1200 individually.
Y – Yahoo! Sports. It's never a good thing when Yahoo! Sports starts snooping around your college football program, but that is exactly what is happening at Oregon. Yahoo is reporting that street agent Will Lyles was paid $25,000 by Oregon to influence top recruits. Lyles' biggest contribution was helping LaMichael James become academically eligible at Oregon. Did he do that by tutoring the young man? Nope. He helped him transfer to a high school in Arkansas where James would not have to pass a standardized test to graduate because, apparently, James never had a prayer of passing that test. Oregon and Pac-12 rival USC should play each in January in the Probation Bowl, where the loser goes on probation or in USC's case, stays on probation.
Z- Zillow Real Estate. Now that he is unemployed, former No. 1 overall draft pick JaMarcus Russell has listed his mansion for sale with Zillow real estate. Russell somehow managed to blow the $32 million in guaranteed money he received from Oakland for going 7-18 in three seasons. The specs on the mansion are 5,884 square feet, four garages (probably one for every touchdown pass he threw in his career), six beds and five baths all for $1.6 million. There are pictures available of the inside of the house, including a shot of his living room that reveals a JaMarcus Russell jersey actually framed and hanging above a fire place. That is certainly not helping the value of the place.