This Week in Sports Betting, A-Z
by Nicholas Tolomeo - 11/11/2011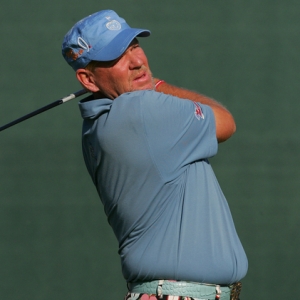 A – Australian Open. John Daly walked off the course of the Australian Open on hole 10 after running out of balls. I didn't even know it was possible, but after Daly lost seven balls in the water off the tee, he shook hands with other golfers in his foursome, met up with his son, who watched the meltdown from the gallery, and just walked off the course.
B – Blacked out Buccaneers. Florida produces more NFL players than any state, and it also produces more blacked out NFL games as well. The Tampa Bay Buccaneers are the latest team from the Sunshine state to run out of fans. The Buccaneers have confirmed their game against Houston on Sunday (Texans -3.5) will be blacked out on local television this week, the second occurrence this season, because not enough tickets were sold. Fans are used to not seeing Tampa Bay on TV, last season every single home game was blacked out.
C – Cars.com. Saturday's showdown in not-so-Happy Valley between Nebraska and Penn State might be the most watched college football noon game of all time, and it will be for all the wrong reasons. But you can count Cars.com as one company who wants nothing to do with the circus. They have announced they were withdrawing their sponsorship on ESPN during the game, probably because of all the overturned cars on campus this week.
D – Dolphins. Most teams would notice a spike in ticket sales after a win the previous week. The Miami Dolphins are not most teams. With Miami winning last week to fall to 1-7 and second place in the Suck for Luck sweepstakes, fans are jumping off the Miami bandwagon. With thousands of tickets remaining for the Miami/Washington showdown on Sunday (Miami -4), the Dolphins and TV station WSVN are buying up all the unsold tickets at 34 cents on the dollar and giving them away to pretty much whoever wants them. It's the second time this year Miami pulled this stunt so the game can be televised locally. I'm not sure why the Dolphins feel the need to subject their fans to this.
E – ESPN. ESPN might explode on Saturday at noon. After broadcasting Penn State news on a 24/7 cycle all week, the worldwide leader in Penn State news will broadcast the Saturday showdown between No. 19 Nebraska and No. 12 Penn State at noon. The P in ESPN stands for Paterno, I think. For everything Joe Paterno has been through this week, things might get worse on Saturday when for the first time in 61 years he will have watch his team play on television and be subjected to ESPN announcers.
F – Fred Jackson. Buffalo Bills running back Fred Jackson should have some extra motivation on Sunday when he plays at Cowboys Stadium. Jackson's childhood home was one of many houses torn down to build Jerry's World, the massive $1.3 billion stadium. The Bills are 5.5-point underdogs.
G – Ginger. Red is not a welcome color at Penn State's Beaver Stadium on Saturday. First, noted sideline ginger, Penn State assistant coach Mike McQueary, will not be on the Penn State sideline for Saturday's game because of threats against him. (Not sure how the cops found out, because McQueary doesn't report things to the cops). And now Nebraska athletic director Tom Osborne is warning fans not to wear Red to the game out of fear for their own safety because maybe a drunken Penn State fan will confuse a red shirt for McQueary's hair.
H – H-O-R-S-E. What's better than college basketball being played on a boat? Busty Brooklyn Decker playing a game of H-O-R-S-E at halftime of a basketball game on a boat. Decker will challenge Magic Johnson & James Worthy during halftime of the UNC-Michigan State game on the USS Vinson.
I – Interim head coach. Tom Bradley, long-time Joe Paterno assistant, takes over as Penn State interim head coach. He has been an assistant at Penn State for 33 seasons. Bradley has wanted to be a head coach in the worst way, and now he literally becomes a head coach in the worst way.
J – Joe Paterno. In hindsight bookmakers wish they would have put out a prop bet on what would ultimately bring an end to Joe Paterno's coaching tenure at Penn State. A sex scandal would have likely had odds of +200,000 behind favorites such as death (-500), loss of eyesight (+250), other health failure (+500), fired because of win-loss record (+750) and leaving to become head coach of the Cincinnati Bengals (+1200).
K – Keenum, Case. The Houston/Tulane game on Thursday night had a posted total of 77.5. 'Under' bettors were sitting pretty after a scoreless first quarter, but they were moosed after the Tulane defense quit, and Houston scored 59 points in the next two quarters and 73 on the game in a 73-17 game that saw 90 points in three quarters. The game was at the Superdome, so fans may have thought they were watching the New Orleans Saints defense.
L – Leonard Tyrell Young. After being kicked off the Fresno Pacific University basketball team, former player Leonard Tyrell Young pulled off a police blotter cycle when he went on a naked rampage around campus. The 21-year old Young ran through a parking lot, tried to steal a police cruiser, beat an officer and a dog and was unfazed by three shots from a Taser. A Philadelphia, native, Young transferred to the school from Coppin State and he might want to think about going back.
M – Miami Heat. There is still no NBA, so Miami Heat guard Mike Miller has a house he needs to unload. Miller put up his three-story oceanfront home in Miami for $9 million. The house features six bedrooms, 10 bathrooms, a four-car garage, a hair salon (WTF?), a swim-up bar and not one, but two master bedrooms.
N – Nelson and Kelsi. If you're looking for a reason to watch the Bills/Cowboys this Sunday you can bet on it. If you need another reason how about this sub-plot: Bills wide receiver David Nelson is banging Dallas Cowboys cheerleader Kelsi Reich. This is kind of like the time when Boise State running back was dating a Boise State cheerleader and he proposed to her after a touchdown, except Nelson and Reich are on different teams and Nelson rarely scores, so expect no proposals.
O – Oscar De La Hoya. Two women are alleging that Oscar De La Hoya has a cross-dressing fetish. Maxim and Playboy model Angelica Marie Cecora alleges that an intoxicated De La Hoya danced around a hotel room in her skimpy underwear, snorted cocaine, impersonated Charlie Sheen, repeatedly yelling, "Winning!," and performed unmentionable sex acts on herself and a friend. The best part of the allegations is that De La Hoya shadily dipped in the morning, leaving a $1,500 hotel tab for the girls to settle.
P – Pirates wives. VH1's latest reality train wreck, "VH1 Baseball Wives," will feature the wives or ex-wives of three former Pittsburgh Pirates. Anything involving the Pirates is sure to lose, so I expect this series that debuts on Nov. 30 to be canceled before December. "Baseball Wives," set in Scottsdale, Arizona, features Anna Benson (wife of Arizona pitcher Kris Benson), Tanya Grace (ex-wife of retired Cub Mark Grace), Chantel Kendall (smoking hot ex-wife of journeyman catcher Jason Kendall) and Brooke Villone (wife of mop-up pitcher Ron Villone). Benson, Kendall and Villone were all Pirates in their careers.
Q – Quicken Loans. Sports fans are familiar with Quicken Loans because of its sponsorship of the Cleveland Cavaliers home court. With no NBA, Quicken Loans wants to remind fans that it still exists, so it is sponsoring the Carrier Classic, the basketball game between No. 1 North Carolina and Michigan State being played on the deck of the USS Carl Vinson, a 1,092 foot long nuclear-powered aircraft carrier on Veterans Day. The boat can accommodate about 7,000 fans, including Barack Obama. Organizers say the court is surrounded by stadium-style seating, so no balls will likely end up in the San Diego Bay.
R – Roddy White. The Atlanta Falcons wide receiver was following the Penn State scandal, well, sort of. On Wednesday night he tweeted that it was wrong for Penn State to fire Joe Paterno. He then said if JoePa goes down, the Penn State AD and President must also go down. Nobody told White, but that already happened.
S – Silence. Derek Fisher took to the podium to address the media about the NBA labor negotiations on Wednesday. It turns out the microphone was on strike, too, as it didn't work. Either way, there is still no NBA, but at least we have mid-week MAC football to get us through the week.
T – Tom Coughlin. In a survey of 111 NFL players, Tom Coughlin was voted the coach players would least want to play for. He received 22 votes. Coughlin is a notorious old school disciplinarian. Miami Dolphins Coach Tony Sparano was right behind him with 21 votes, although that probably has less to do with being a disciplinarian as it has to do with losing a lot.
U – UCF. Central Florida Athletic Director Keith Tribble picked a good time to resign under NCAA pressure. With all the cameras in the world focused on Happy Valley, Tribble slipped out the back door pretty much unnoticed mostly because his name is Tribble not Paterno. With the NCAA alleging that UCF's football and basketball program had committed severe recruiting violations, Tribble resigned. Fortunately for the university, there were no riots on the UCF campus or students rallying in Tribble's front yard.
V – Virginia Tech. Frank Beamer is the leader among active college football coaches with 249 wins. He picked up his 249th win on Thursday night at Georgia Tech, but he actually became the leader sometime Wednesday night when Joe Paterno was canned by Penn State.
W – West. If you have $10,000 lying around you can make the easiest $100 of your life by wagering on the 49ers to win the NFC West. Bodog has San Francisco (7-1) listed at -10,000 to win the division ahead of Seattle (2-6), Arizona (2-6) and St. Louis (1-7). Not even the Mets could blow a lead this big. The Cardinals (+2000), Seahawks (+4000) and Rams (+5000) are not being given much hope in the division race, if you even want to call it a race.
X– eX-Coach and eX-press manager. The Penn State mess made everybody look bad, but maybe no one looked worse than Scott Paterno, Joe Paterno's overweight son who may be living in JoePa's basement. The guy looks less athletic than his dad. At some point on Tuesday Scott Paterno decided to name himself his dad's press manager. He went on to his front yard and pimped out his Twitter account, making the ill-fated statement to the assembled media, "Follow me on Twitter!" On Wednesday he tweeted for everyone to stop following him. By Thursday he was being openly mocked by everybody with a computer.
Y – You Knuckleheads. Pennsylvania Governor Tom Corbett called Penn State rioters knuckleheads twice while addressing the media. He was speaking for the entire state.
Z – Zero. There were zero people in the world who went on the record saying they would rather have Matt Barkley than Andrew Luck. Then Washington Huskies Head Coach Steve Sarkisian opened his mouth. Sarkisian said he would draft USC quarterback Matt Barkley over Stanford quarterback Andrew Luck. I doubt USC Coach Lane Kiffin would even want Barkley over Luck. Barkley wouldn't even want Barkley over Luck.