This Week in Sports Betting, A-Z
by Nicholas Tolomeo - 8/11/2011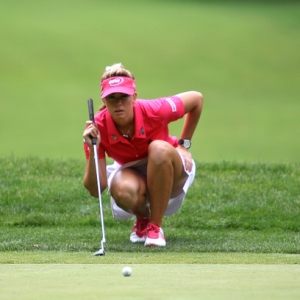 A- Arena Football League. How can you tell if you are watching the AFL and not the NFL? If an inebriated fan sitting in the front row tackles a kick returner and gets high-fived by the home team, you're probably not watching the NFL. In a semifinal game between the Jacksonville Sharks and Georgia Force, a Sharks fan reached over the barrier in the endzone and attempted to tackle the kick returner for the Force while face masking him. New slogan for the league, "The AFL: Where WTF Happens".
B – Banana Hammock. To the disgust of everyone at UFC 133, Dennis Hallman entered his fight in what basically amounted to a Speedo. During the fight against Brian Ebersole, Hallman's junk hung out a few times and the crowd even chanted "put some clothes on." UFC President immediately banned Speedos and after Ebersole knocked Hallman out, White awarded Ebersole a $70,000 "getting-those-horrifying-shorts-off-TV-as-soon-as-possible" bonus.
C – Cream Machine. Paula "The Cream Machine" Creamer turned 25 on Aug. 5, and I'm sure she received plenty of presents, but she also gave male women's golf fans everywhere a present too by wearing a ridiculously short mini skirt and posing for plenty of pictures, too, that she posted on Twitter for her 60,000 followers to ogle at.
D – Detroit Lions. In a sign that every professional team in North America has spandex-clad fans, two Blue Men showed up to Detroit Lions training camp in the full body all-revealing spandex suits. I don't know what's worse, the fact that it was training camp or that it was the Lions.
E – Erin Andrews. The ultimate cougar, Erin Andrews was spotted at Lollapalooza in Chicago with "Cougar Town" actor Josh Hopkins. The two are reportedly dating now. Hopkins must have a thing for cougars, before latching on with the 33-year old Andrews, Hopkins was plowing the 47-year old Courtney Cox.
F – Falcons. Last time we saw the dirty birds they were getting run out of their own building in the playoffs. Next time we see them they'll be two-point favorites at Soldier Field when they open the season against the Chicago Bears.
G – Green Bay and New England. The oddsmakers have set the bar pretty high for the Green Bay Packers and New England Patriots. Both Green Bay and New England, NFC and AFC Conference favorites, have listed season win total 'over/unders' of 11 ½ on Bodog.
H – Hip. In not-so-surprising news, an 84-year old man broke his hip on Monday in Pennsylvania. What is surprising is that the octogenarian just happens to be the head football coach at Penn State. Joe Paterno was blindsided at practice by wide receiver Devon Smith, who has probably since either been executed or cut. But you can't blame Smith, even if he came at JoePa head on, with those bifocals everybody blindsides JoePa.
I – Irvin, Michael. The Hall of Fame wide receiver is off his rocker and he must be hitting his crack pipe again. In two separate interviews Michael Irvin has urged boxer Floyd Mayweather to stop avoiding Manny Pacquiao because its "making brothers (aka black guys) look bad." I can't remember the last time Pacquiao, or Irvin for that matter, made brothers look good.
J – Jose Bautista. A recent ESPN investigation reveals a likely source behind the home run power of former singles hitter Jose Bautista and it is NOT steroids. Numerous opposing players have reported seeing a man dressed in white sitting in the outfield at Rogers Centre stealing signs and signaling to Toronto batters. So it's still cheating, but at least he's probably not on the juice like everyone used to think.
K – Klinsmann, Jurgen. The most German name in the world is coaching the US national soccer team, and they wonder why soccer doesn't catch on over here. Jurgen Klinsmann took the reins of the US national team and his coaching debut the US drew with Mexico 1-1.
L – Louisville. While the NFL regular season opens with a giant spectacle that features the defending Super Bowl champions, a national TV audience and a concert, the college football season will open when Division I-AA Murray State visits Louisville as a 30-point underdog on Thursday Sept. 1 at 6 p.m.
M – Metta World Peace. The soon to be renamed Metta World Peace, Ron Artest is taking his talents to England. Artest claims he will play for the Cheshire Jets of the British Basketball League. Artest even posted a picture of a fan holding up his future jersey with his future last name on the back, World Peace. The mentally unstable Artest appeared excited for his new team when he tweeted, "Go Jets!!!!!UK, here we come!!!!. Jets are the best!!!Jets are the best!!! New chant!!!!!!"
N – No More Hazing. The worst market in the NFL, Jacksonville, just became much more of a destination for rookies. Jaguars head coach Jack Del Rio has banned rookie hazing at training camp this summer. Del Rio is believed to be the first NFL coach to do this. Any disgruntled veterans on the team just got that much more upset. It will be really awkward when Del Rio gets canned eventually and his replacement has to make an announcement that rookie hazing is being reinstated.
O – Ohio University. The Princeton Review ranked Ohio University as the No. 1 party school in the country. The school, located in Athens, Ohio, beat out No. 2 Georgia, No. 3 Ole Miss, No. 4 Iowa, No. 5 California-Santa Barbara and No. 6 West Virginia. The Bobcats may have even more reason to party this season. Bodog has pegged them as the co favorites to win the Mid-American Conference East Division along with Temple (2/1).
P – Prostitute. Marisa Ruckel was a volleyball player at Lindsey Wilson College in Indiana and by night she was turning tricks at an Indiana "spa." Ruckel and her fellow prostitutes were arrested at My Studio 1501 after a police sting. The local police department set up a sting at Studio 501, setting up appointments for a massage and the cops were later offered happy endings and more.
Q – Quarterback wanted. The West Virginia Mountaineers, the Big East favorites, are looking for quarterbacks and new Head Coach Dana Holgorsen has turned to the student body that is better known for throwing keggers than footballs. The Mountaineers have a pair of studs in junior Geno Smith and freshman Paul Millard, but after that there is no one. Students only need to bring proof of insurance, a completed physical, proof of registration at WVU, a decent arm and a hatred of Pitt.
R – Reds Writers. Being a sports writer is a dangerous job. Two MLB.com writers were robbed at gunpoint outside Great American Ballpark early Tuesday morning after a Reds/Rockies game. A young man wielding a Glock dressed in red, possibly the Reds mascot, robbed Barry Bloom of $500 cash and Thomas Harding of $100. No word on why on earth a sports writer was carrying around half a G.
S – Shaquille O'Neal. Shaq's new girlfriend is the size of one of his legs. Nicole "Hoopz" Alexander parlayed a win in "Flavor of Love" to a relationship with Shaq. The 5-foot-2 Alexander is smoking hot and nearly two feet shorter than Shaq, which raises some obvious logistical problems.
T – Totals. Setting the bar incredibly low, Bodog has set the season win total 'over/under' for the Carolina Panthers are 4 ½. The only other teams anywhere near as low are the Buffalo Bills, Cincinnati Bengals and Denver Broncos, who all have listed totals of 5 ½ wins.
U – Uggla, Dan. Dan Uggla's 31-game hitting streak has been downright "Uggle". The Atlanta Braves second baseman was the last person you would have thought would go on a season-long hitting streak. He was below the Mendoza line when the streak started (.173). Even after 30 consecutive games with a hit he is still only hitting .220. Maybe Joe DiMaggio's 56-game hitting streak is not that impressive, all you need is to get one hit a game. In Uggla's 30th game he only went 1-for-6.
V – Villanova basketball. Villanova basketball Coach Jay Wright banned Twitter back in September, 2010. He has since joined Twitter himself, but the ban remains in place for his players. And now some football programs have followed suit, including Boise State, Kansas, Mississippi State and South Carolina. Boise State is the only program who has somehow managed to combat the Twitter ban and host a respectable football team.

W- West Virginia. It was a good week to be a Mountaineer. West Virginia University once again was ranked as one of the Top 10 party schools in the country, clocking in at No. 6 on The Princeton Review's annual list. The Mountaineers were then picked to win the Big East at the conference media day and now the oddsmakers have the Eers pegged as the favorite to win the conference at 2/1.
X – Xbox. Chad Ochocinco wants to live with a fan for the first few weeks of his first season with the New England Patriots. Ochocinco is not picky. He only says his new roommate needs to have the Internet and an Xbox. Someone warned the eccentric wide receiver that there are some crazy fans out there, and Ochocinco simply replied, "I rode a bull."
Y – Yank your clothes off. Last week we predicted US women's soccer goalie Hope Solo would pose nude in the immediate future. Well, we were basically spot on. A recent tweet from Solo stated that, "Being naked outside is very liberating…at least I hope it will be @ESPN and @ESPNMAG!!!GAMETIME BABY! Ball up!" By ball up she probably means exactly what you're thinking, balls up!
Z – Zara Dampney and Shauna Mullin. The British gambling site Betfair has purchased ad space on the rear ends of British Olympic bound beach volleyball players, Zara Dampney and Shauna Mullin. Betfair is dishing out five figures to affix a QR smartphone code on the back of their bikinis. Dampney and Mullin are ranked No. 26 in the world and the top ranked British team heading to the 2012 Olympic games in London. Taking a picture of the WR smartphone code will lead you to the Betfair website, so in a change of pace, fans will now be encouraged to snap pictures of Dampney and Mullin's wedgies.