This Week in Sports Betting, A-Z
by Nicholas Tolomeo - 3/4/2011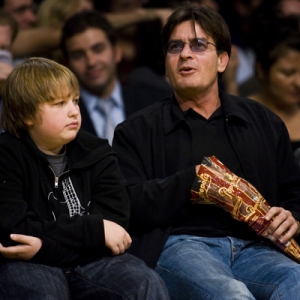 A – Adonis DNA. Charlie Sheen, the man with the tiger blood and the Adonis DNA, has captivated the country with his bi-winning ways, his coast-to-coast talk show tour, his must-read Twitter account and his incoherent ingenious rants. And now he has captivated the Chicago Cubs clubhouse. Outfielder Reed Johnson said everything stops when Charlie speaks and the volume on the clubhouse TV gets turned way up. No word on if this had anything to do with the brawl (see letter C).

B – Bench Press. The bar has been raised at the NFL Combine when it comes to raising the bar. Oregon State defensive tackle Stephen Paea bench pressed 225 pounds a record 49 times at the NFL combine. The good news for Paea is that his 49 reps broke the previous record of 45. The bad news is that by benching that much weight that many times he joins the company of such no-namers as Mitch Petrus, Mike Kudla and Leif Larsen.

C – Cubs Brawl. Spring Training is just underway and already the Chicago Cubs cannot stand each other. Carlos Silva, apparently upset for shoddy defense that allowed three errors behind him, began brawling with Aramis Ramirez in the dugout during a Spring Training game. Somebody tell these guys they have 20 Spring Training games and 162 regular season games left.

D – Doug Gottlieb. The ESPN commentator and former Oklahoma State player got out of a speeding ticket when the Oklahoma state trooper who pulled him over recognized him. Little did the trooper know but Gottlieb was in the middle of a radio interview with 810 WHB at the time through a blue tooth device he was wearing. The conversation was captured and broadcast over the airwaves as the officer let Gottlieb go without even a warning. The arresting officer can only hope nobody at the station recognizes his voice.

E – Eric Perez. Not sure what it was that tipped off police, the smell of alcohol on his breath, the fact he was driving with no headlights, the fact that he was driving a golf cart, or the fact that it was after midnight or the fact that he was going the wrong way on state road 50, but police arrested 36-year old Eric Perez for DUI in his golf cart. Perez blew an impressive 0.251. If he is that bad at driving imagine what his putting is like.

F– Fernando Diaz. Talk about perfect timing. On the same day that Sports Illustrated names the University of Pittsburgh's football team as the most arrested team in the college football with 22 players in trouble with the law in 2010, Pitt redshirt freshman offensive lineman Fernando Diaz goes and gets himself tasered four times. A belligerent Diaz stumbled into a middle of the street on the Pitt campus, proceeded to block the street and then resisted arrest and fought with police officers who eventually began to tase all 6-2, 280 pounds of Diaz repeatedly.

G – Guillen, Ozzie. Chicago White Sox catcher AJ Pierzynski was issued a ticket by Arizona police while in uniform on his way to the White Sox Spring Training complex. The only reason we all know this is because his manager Ozzie Guillen went ahead and immediately tweeted about it, saying, "AJ Pierzynski got a ticket coming to play the reds lol."

H – Howard Bryant. Another ESPN on-air talent is being accused of domestic violence. ESPN baseball writer, Howard Bryant, the bald black guy with his ears pierced, was seen outside a pizza parlor choking his wife and pushing her into a car. Things went from bad to worse when
Bryant then argued and eventually struck a responding officer.

I – Ivy League bid. Last year Cornell took the NCAA Tournament by storm with a run to the Sweet 16. This year the Big Red are 3-8 in conference play. But the Ivy League does have hope for another NCAA Tournament run with Harvard (21-4, 10-1) and Princeton (21-5, 9-1), both in the running to land the league's automatic bid. The biggest game in recent Ivy League history will go down Saturday at Harvard when the two teams face off in a defacto NCAA play-in game. The Ivy League is the only NCAA Division I conference without a conference tournament.

J – Jimmy Smith. Instead of betting on sports, Virginia native Jimmy Smith plays the lottery using sports figures jersey numbers. And unlike sports betting, this actually paid off to the tune of $100,000 when Smith hit the Virginia Lottery's Cash 5. He winning numbers were
8-19-21-22-28 or, in terms of a diehard Washington Capitals fan like Smith, the jersey numbers of Alexander Ovechkin (8), Nicklas Backstrom (19), Brooks Laich (21), Mike Knuble (22) and Alexander Semin (28).

K – Kearns, Austin. When Austin Kearns was picked up for a DUI this offseason he was specific and honest. Kearns explained that he had drunk "a couple bourbon and cokes at Harry's Bar in Lexington." Considering that Kearns was weaving and driving in an emergency lane
with no head lights on, you have to wonder if he meant a couple dozen bourbon and cokes at Harry's Bar in Lexington.

L – Leonard, Sugar Ray. The cast for the 12th season of "Dancing with the Stars" has been announced and Sugar Ray Leonard, the 52-year old boxer, is the token washed up athlete in the cast. Leonard is among one of the favorites with listed odds of 6/1 on Bodog. Other contestants include WWE wrestler Chris Jericho (10/1), Pittsburgh Steeler Hines Ward (11/2), the "Karate Kid" Ralph Macchio (7/2) and the favorite, former Playboy playmate Kendra Wilkinson (3/1).
M – Mansion for sale. JaMarcus Russell continues to state his case as the biggest draft bust in the history of drafts. The former No. 1 overall pick in the 2007 NFL Draft is now on the brink of losing his Oakland mansion. Foreclosure proceedings are underway on Russell's Oakland $2.4 million mansion. Russell signed a contract worth somewhere in the ballpark of $60 million but since then he packed on more pounds than wins (seven wins in three years). Russell has three months to pay a late mortgage payment of over $195,000, so considering Russell is unemployed and overweight the mansion is as good as gone.
N – Natalie Portman. The second biggest favorite of the night, Natalie Portman, walked away from the Academy Awards with an Oscar for Best Actress as many expected. Portman was the odds-on favorite at 1 to 6. Colin Firth was the biggest favorite of the night at 1 to 66 to win Best Actor, which he did. Favorites held serve for the most part including "The King's Speech," winning Best Picture at 1 to 6. The only real upset of the night was Melissa Leo dropping the f-bomb while accepting her award for Best Supporting Actress. It was the first time someone dropped the bomb in the history of the Oscars. This obviously will lead to future prop bet asking if someone will swear on the air.

O – Owl. Columbian professional soccer player Luis Moreno kicked an owl that was on the soccer field so hard he killed the animal. Moreno has now been suspended two matches and fined $560 for booting to death the lucky owl of the Atletico Junior squad. The owl lives in the stadium but he fell to the grass after being hit by a ball. When Moreno saw what happened he went ahead and delivered a crushing right foot to the owls head, effectively killing it and sending it a few dozen feet into the air. The moment was, of course, captured on camera and is now available on most Internet sites.

P – Press Box. The first lesson most sports journalists learn is that there is no cheering in the press box. Sports Illustrated free lancer Thomas Bowles either did not learn this or got too caught in up the moment that a driver with his same initials (Trevor Bayne) won the Daytona 500 that he started to clap uncontrollably. In a working press box if you clap, you might as well have the Clap. People want nothing to do with you.

Q – Quenneville, Joel. It's been over nine months since they won the Stanley Cup but the Chicago Blackhawks are finally going to the White House. President Obama will host his home town team on March 11, but, unfortunately, nearly the entire team who won the Stanley Cup last year for Chicago is now playing in Atlanta.
R – Rutgers. Athletic teams at Rutgers got a big boost in recruiting this week when the university announced that male and female students will now be allowed to share rooms in three dorms. They claim the move makes the campus more inclusive for gay students, but it definitely can't hurt in trying to land a 5-star running back. It is believed to be one of only a handful of programs in the entire country that allows guys and girls to shack up in the same dorm room.

S– Sex. On the complete other end of the collegiate sex spectrum…BYU forward Brandon Davies has been dismissed from the basketball team for having sex. BYU was on track to receive a No. 1 seed in the NCAA Tournament, but losing Davies, the team's leading rebounder and third-leading scorer, is a devastating blow. BYU states that Davies violated something called the Honor Code. The Honor Code at BYU prohibits BYU students from acting like college students. They cannot have intercourse, drink alcohol or even coffee. All of this simply begs the question, how did the school find out?

T – Trevor Bayne. Twenty-year old Trevor Bayne became the seventh NASCAR driver to win their first race at the Daytona 500. He's also become the first NASCAR driver to win the Daytona 500 and not be able to get any sponsors. Bayne and his team are still aggressively looking to find sponsors. Winning the Daytona 500 doesn't mean what it used to.

U – Under 2.4 million. If you think Charlie Sheen can't get to 2.4 million Twitter followers in six days you can wager on it on Bodog. After Sheen gained 1 million Twitter followers in 24 hours since starting his account on Tuesday, Bodog posted an 'over/under' on how many followers Sheen will have by Monday at 9 p.m., with the total posted at 2.4 million.
V – Valuable. A front runner has emerged in the wide-open NBA Most Valuable Player race. Sportsbook.com has Chicago Bulls point guard Derrick Rose listed as the favorite at -130. LeBron James is not far behind at +120 and then there is a backlog of players listed at +600 including Chris Paul, Amare Stoudemire, Dirk Nowitzki and Dwight Howard.

W – Wonderlic. The one test most NFL prospects do not look forward to at the NFL Combine is the Wonderlic Test. The only good thing most can say about the test is that they made it there on time. Former Alabama quarterback Greg McElroy nearly aced the test, scoring a 48 out of a 50, unprecedented numbers for a quarterback. The only player ever believed to score higher was Pat McInally, a punter from Harvard who scored a perfect 50.

X – Xavier Harris. The Philadelphia Public School league used to be a pipeline for the local Penn Quakers. That was decades ago and since then anybody from Philly who is good enough to play Division I basketball is usually not disciplined enough to make the cut at the Ivy League school. This year along comes Xavier Harris, a 6-5 senior forward from Constitution High. He turned a lot of heads when he decided to commit to Penn. The deal is not sealed yet, Harris needs to boost his SAT score by 30 more points to be able to enroll at Penn.

Y – Yankee Props. Derek Jeter is approaching 3,000 career hits and BetUS has rolled out all kinds of prop bets to commemorate the event. You can wager on what kind of hit the 3,000th will be, a single -300, double +250, triple +1200 or home run +750. The 'over/under' on the date is June 21 with the 'under' +300 and the 'over' -500. You can also bet on the pitch count when Jeter gets his 3000th hit, the favorites are 1 ball 1 strike and 3 balls 2 strikes which are both listed as +500.

Z – Zack Spears. Hours before the Salt Lake Tribune reported that it was sex that led to the dismissal of BYU forward Brandon Davies, an unlikely source had a scoop on Twitter. Completely out of left field, Iowa State offensive lineman Zack Spears tweeted that Davies was suspended for getting an Arizona State volleyball player pregnant. Where Spears, an offensive lineman about 1,000 miles away from Provo, Utah, got his information, nobody knows. The pregnancy has not been confirmed yet but Spears' Twitter account received a huge boost to 536 followers and now he is calling himself Zacklopedia.