This Week in Sports Betting, A-Z
by Nicholas Tolomeo - 9/8/2011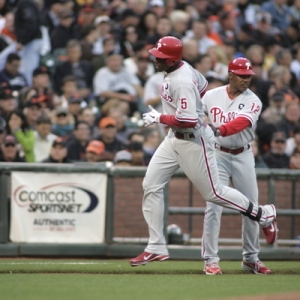 A – Antoinette Nikprelaj. That is the real life name for the mermaid in the latest Pirates of the Caribbean movie. Phillies bench player John Mayberry Jr. must have just watched that because he had his agent creep on Nikprelaj's agent and try to ask the mermaid out. The agent of Mayberry Jr. began writing the e-mail by name dropping baseball players she may have actually heard of like Ryan Howard, Roy Halladay, Andre Either…etc, basically anybody besides John Mayberry Jr. Turns out this won't work out, probably because nobody knows who John Mayberry is, let alone John Mayberry Jr., but also because Nikprelaj is married and has a kid.
B – Black Widow. Sonya "the Black Widow" Thomas stunned the competitive eating world when she knocked off Joey Chesnut in the United States Chicken Wing Eating Championship in Buffalo, New York. Thomas inhaled 181 wings in 12 minutes to best Chesnut (174). We're guessing Thomas got her nickname because she married a black guy, and if she keeps eating like this he'll be a black widow(er).
C – Cowboys at Jets. On the secondary market, the most popular NFL Week 1 ticket is Cowboys at New York Jets on 9/11 on Sunday Night Football. Steelers at Ravens on Sunday at 1 p.m. ranks second ahead of the NFL opener, Saints at Packers, Thursday night. The rankings only list the most popular tickets, but we're going to go out on a limb and say Carolina at Arizona did not crack the top 15.
D – Divisions. In one of the more intriguing NFL prop bets on Bodog, you can wager on which division will have the highest win percentage during the 2011-12 regular season. The NFC East (3/1), NFC North (7/2) and AFC East (4/1) are front-runners. The NFC West is obviously the long shot at 20/1. Despite having two of the top teams in the NFL in the Steelers and Ravens, the AFC North is 11/2, just another indication of how bad the Browns and Bengals are.
E – Emmy. The Emmy Awards are this Saturday night and BetUS has given us plenty of reasons to not watch the Notre Dame/Michigan match up by posting odds for most of the awards. The favorites are, Actor in a Drama, Jon Hamm, "Mad Men" (-275); Actress in a Drama, Julianna Margulies, "The Good Wife," -125; Actor in a Comedy, Steve Carell, "the Office," -400; Actress in a Comedy, Laura Linney, "The Big C," -150.
F – Fewest wins. Next time somebody says there is parity in the NFL, show them the 'over/under' for what team will have the least wins in the 2011 NFL regular season. Bodog has the total down to 2.5. That tells you the oddsmakers are once again full expecting one team to likely finish 2-14 or worse.
G – Garrard, David. In an apparent attempt to draft Andrew Luck with the No. 1 overall pick in 2012, the Jacksonville Jaguars cut loose quarterback David Garrard five days before the season opener. In his place is Luke McCown, who will not be drafted in ANY fantasy football draft in the world. Not sure what is more surprising, Garrard getting let go or five other teams actually interested in him, including the San Francisco 49ers.
H – Hand vs. Dickey. Florida Marlins starter Brad Hand faced off against New York Mets starter R.A. Dickey on Wednesday, and in the most boring meeting ever between a Hand and a Dickey, the Mets won 1-0.
I – In the Big House. Never mind that Notre Dame is mediocre once again and 0-1 and that Michigan is not much better despite the fact that they are 1-0, but the Notre Dame/Michigan ticket this Saturday is the hottest in sports because it's under the lights. Apparently this primetime phenomenon that has been sweeping the nation since the 1970s is just catching hold in Ann Arbor. This will be the first night game at The Big House although things had looked pretty dark at Michigan home games the last three years under Rich Rodriguez. A college football attendance record is expected to be broken (possibly as high as 115,000) and the average resale price for this game is $451.
J – Jaguars. It's no secret the Jacksonville Jaguars cannot sellout their home games. Now it really is no secret. In an unprecedented move the Jags went ahead and posted meters for all home games showing fans how many tickets have been sold and how many more are needed to avoid a local television blackout. There is hope. Only 6,751 tickets need to be sold for their second home game against the Saints to avoid a blackout. And then there is no hope, like the 12,222 tickets needed to be sold by the third game, an epic clash with the Cincinnati Bengals.
K – Karabell, Eric. ESPN fantasy geek Eric Karabell was answering your pressing fantasy questions on Twitter. One writer posed this question, "I somehow ended up with Vick and Rapelisberger. Who should I start week 1?" Not only did Karabell respond to this (Go with Vick. Keep both owned, said Karabell) but he answered by retweeting the question, so the "Rapelisberger" comment appeared on his Twitter feed, which just so happens to be broadcast on ESPN.com. I like how the tweeter had a cutesy nickname for Roethlisberger, but nothing for Vick, a convicted felon.
L – Leyland. How can baseball fans possibly believe that their games still matter during football season? The Detroit Tigers manager has managed to snag a ticket to the Notre Dame/Michigan showdown Saturday night at 8 p.m. at the Big House. The only problem is the Tigers have a game at home against the Twins at 4:10 p.m. that same day. Apparently Leyland's nephew plays lineman for the Wolverines, or maybe he is just sick of watching baseball.
M – Maryland Uniforms. The Under Armour-sponsored regurgitated state flag of Maryland the Terrapins dressed themselves in before their game against the University of Miami should cost someone their job. If it wasn't Randy Edsall's first game as head coach, I would say he was on the hot seat. In a game featuring the Hurricanes, who would think The U would be the ones with the subtle uniforms. Maryland's uniforms were so bad you couldn't pay Miami players to wear them.
N – Nebraska. TiqIQ tracks selling prices of collegiate football tickets on the secondary market. After one week of football Nebraska ($252 per ticket) remains on top ahead of Oregon (+$237), who actually climbed three spots despite losing to LSU. Notre Dame ($235) falls from second to third. The Top 5 is rounded out by Michigan ($199) and Georgia ($197).
O – Old Style Beer. The Cubs and Pabst Brewing Company announced a two-year deal to keep Old Style Beer on tap at Wrigley Field through the 2013 season. It's probably the only good free agent signing Cubs fans can expect this year. The beer has been sold at the park since 1950 and the Cubs have won exactly zero World Series in that time, so maybe the beer is to blame.
P – Peyton Manning. The Colts went from a 'pick 'em' Sunday at Houston to a nine-point underdog when Manning was scratched from the game. So according to the bookmakers, either Peyton Manning is worth nine points or Kerry Collins is worth negative nine points.
Q – Quarterly, Gentlemen's. Green Bay quarterback Aaron Rodgers and every beer-drinking, tax-paying, bratwurst-eating, American-born NFL fan took offense to Mark Sanchez's douchebag worthy performance in the latest issue of GQ. Rodgers went on to publicly call the GQ cover shoot and five-page inside love fest of Sanchez "embarrassing".
R – Republican nomination. The race for the republican nominee for the 2012 US presidential election looks to be a two-man race between Rick Perry (11/10) and Mitt Romey (2/1). There are a slew of contenders at 12/1 on Bodog, including Michele Bachman, Ron Paul and Sarah Palin.
S – Super Bowl advertisers. All but five 30-second commercial spots have been gobbled up by companies for the upcoming Super Bowl. There are the stalwarts like GoDaddy.com and Pepsi and then there are the companies you didn't know still existed like Skechers and Teleflora.
T – Tie. Ties in the NFL are rare, just ask Donovan McNabb, he didn't even know they existed. Bodog has listed the odds of a tie this year at +650, with the odds of no ties (-1200).
U – Undefeated. BetUS has posted odds on every NFL team to go 16-0 during the regular season. And when I say 'every,' I mean every. They event listed the Bengals, Redskins, Broncos and Bills, who are all +100,000. But it gets worse. The Carolina Panthers are +150,000. I'm guessing their odds to go 0-16 are slightly better.
V – Venezuela and Vietnam. The Miss Universe competition is Sept. 12 and a Miss USA is an early favorite at +400. Miss Venezuela (+1200) and Miss Vietnam (+2200) are two dark horses. Miss China (+500) has better odds than her Asian counterpart in Vietnam. Miss Australia (+600) is another favorite while the host, Miss Brazil, has +2000 odds.
W – Walk around naked. Like every other guy in the world, Tiki Barber likes to get drunk and walk around naked. Unlike most guys, he gets to do this with a Maxim model. In an interview, Tiki's new torch, Traci Lynn Johnson, said to date her you have to be able to pound tequila. She went on to say how Barber likes to walk around the house naked while intoxicated, and she joins him in these naked jaunts. Barber dumped his wife of 11 years in 2010 for the tequila-guzzling Johnson despite the fact that Barber's wife had given birth to two kids already and was pregnant with twins. Well, that divorce and Barber's early retirement all make sense now.
X – XLVI, Super Bowl. On Bookmaker the Patriots remain slight favorites to win Super Bowl XLVI, just ahead of the Green Bay Packers (+355) by the slightest of margins. The Philadelphia Eagles (+580), New Orleans Saints (+600), Pittsburgh Steelers (+725) and San Diego Chargers (+725) are other contenders.
Y – Yankees vs. Orioles. Someone thought it was a good idea to delay the barnburner between the Orioles and Yankees until a little past 11 p.m. on Tuesday and then start the game. The game finally ended around 2:15 a.m. local time in New York. According to Major League Baseball, the Yankees won, 5-3, but no one was awake so we may never know the truth.
Z – Zero. Zero losses (not wins) are what Buffalo Bills Coach Chan Gailey envisions this season. The 59-year old appears to be off his rocker once again. In a recent interview Gailey said he expected to win every game this season and go undefeated. A 16-0 Bills record would of course be a drastic improvement from their 4-12 season last year. The oddsmakers in Las Vegas are slightly less optimistic about Buffalo's fortunes this year. They have pegged the 'over/under' for Bills wins at 5.5. If Gailey wanted to put his money where his mouth is, he could on BetUS. You can wager on the Bills to go undefeated at +100,000.