This Week in Sports Betting, A-Z
by Nicholas Tolomeo - 4/29/2011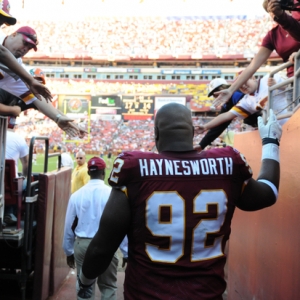 A – Albert Haynesworth. As an overweight, overpaid, $100 million Washington Redskin disaster, Albert Haynesworth does not like a lot of things. He does not like to practice, he does not like to stay in shape and apparently he does not even like black girls. On trial for sexual abuse allegations that he fondled a waitresses' breast while swiping his credit card through her cleavage, a security guard revealed what Haynesworth told him, "I didn't touch her. I don't even like black girls."
B- British bookmakers. The Royal wedding could generate more than $1.6 billion in wagering, according to British bookmakers. Some of the most popular bets were whether or not Prince Harry will be too drunk to finish his speech (41/1), will Kate Middleton's father cry as he walks down the aisle (16/1) and will Middleton jilt Prince William at the altar (+50,000).
C – Christian Ponder. Somehow Christian Ponder ended up being taken No. 12 in this year's draft when Minnesota drafted him and a giant "What the fuck" gasp of air let out of Radio City Music Hall. Ponder was taken ahead of Auburn DT Nick Fairley, North Carolina DE Robert Quinn and Florida guard Mike Pouncey. One thing that Ponder does have going for him is that he is dating Kacie McDonnell, a leggy 34C bombshell from Villanova University.
D – Draft Busts. It is always entertaining to look back at the NFL Draft and just laugh at the tremendous amount of first-round busts. There are the obvious ones like JaMarcus Russell, 2007 No. 1 overall, and Ryan Leaf, 1998, No. 1 overall. But there are also ones people forget like Dimitrius Underwood, the No. 29 pick by the Minnesota Vikings in 1999. First he held out then he walked out of Vikings camp after one practice and never played a game in the NFL. Then there were the first round picks that spent more time in jail than on a roster like Lawrence Phillips, Adam "Pacman" Jones and Rae Carruth.
E – Engel Beltre. This is why minor league games are so much more entertaining. A Texas Rangers Double-A prospect responded to fans pelting him with water bottles by chucking an entire garbage can into the stands. Beltre, who plays for the appropriately named Frisco RoughRiders, has been suspended by the Texas Rangers organization for hurling the receptacle into the bleachers.
F – Future odds. March Madness seems about 10 years away, but it's always interesting to look at NCAA Tournament futures odds. The bookmakers are in love with North Carolina early on as the Tar Heels are pegged as +350 favorites already. Other favorites include Ohio State (+600), Kentucky (+600), Louisville (+1200), Syracuse (+1200) and Texas (+1500).
G – God's Gift. There will be basketball player in the Big East next year with the first name God's Gift. St. John's signed Nigerian JUCO All-American God's Gift Achiuwa. The 6-foot-9, 240-pounder with the craziest name in sports history is the son of a minister, hence the crazy "name".
H – Hines Ward. He may not have got his third Super Bowl ring this year, but Pittsburgh Steelers wide receiver is getting closer and closer every day to the Mirror Ball Trophy which is awarded to the winner of "Dancing with the Stars". Ward is an overwhelming favorite on Bodog at 5/4 to win the event, ahead of Chelsea Kane (11/4) and Lil' Romeo (5/1).
I – Ingram, Mark. The 2009 Heisman Trophy winner was selected No. 28 overall by the New Orleans Saints, or 27 spots behind the 2010 Heisman trophy winner Cam Newton. Ingram was the only player selected in the first round who was not at least six-foot tall.
J – Jay Cutler. Chicago Bears quarterback Jay Cutler popped the question to Kristin Cavallari on a recent trip to Mexico and the 24-year old star of "The Hills" said yes. Cutler was famously spotted with Cavallari walking up steps to a restaurant with no limp moments after the NFC Championship Game that Cutler was too injured to finish.
K – Keith Smart. Former Golden State Warriors Coach Keith Smart joined a select group of former coaches when he was canned after just one season with Golden State. Every coach is hired to be fired, but it takes some pretty bad luck to be shown the door after just one season and maybe he didn't deserve it. The Warriors did not make the playoffs this season, but they've only done that once in the last 17 years so give the guy a break.
L – Lakers fan. World's hottest human Megan Fox is aboard the Lakers playoff bandwagon and Laker fans could not be more pleased. Fox is now the second most famous fan in Staples Centers (behind Jack of course). She was spotted recently donning her Lakers gear and stumbling around with Brian Austin Green on their way into the arena for Game 5 against the Hornets.
M – Michael P. Ditka. Who knew there was another Mike Ditka out there? Turns out the former coach and current ESPN analyst has a son and turns out that son is quite the piece of work. Michael P. Ditka, the 49-year old son of Mike Ditka the former Bears coach, was arrested this week for DUI. The younger Ditka contends that he is innocent and that the car was parked with no keys in the ignition. So he must have been really drunk to not even be able to turn the car on.
N – No more Mel Kiper Jr. The best part about the announcement of Mr. Irrelevant on Saturday will be that the NFL 2011 draft is over and ESPN can return Mel Kiper Jr. into storage. Unfortunately, there is only about a 25 second gap between analyzing the 2011 draft and Mel Kiper Jr. producing his 2012 mock draft.
O – Ozzie Guillen. This is why a manager of a baseball team is the best job in sports. In the top of the first inning of a game at Yankee Stadium, White Sox skipper Ozzie Guillen decided that he had enough and got himself ejected after only four at-bats. While most fans were not even in their seats yet, Guillen was in the shower. Just another day at the office. After being ejected Guillen somehow found time to tweet the following almost immediately, "This one going to cost me a lot money this is patetic (sp)."
P – Peyton Hillis. A white fullback-looking running back from the Cleveland Browns will grace the cover of Madden 12, EA Sports announced. Odds of that happening two years ago were around 5 million to one but Hillis won the online voting, edging Michael Vick, for the honor of appearing on the cover and being cast with the Madden curse.
Q – Quinn, Justin. San Francisco Giants fan Justin Quinn and his family were verbally abused by Atlanta Braves pitching Coach Roger McDowell while watching batting practice. McDowell went on his tirade at AT&T Park while Quinn and his wife and nine-year-old twin daughters watched batting practice. McDowell started on his rampage by asking three guys in the bleachers, "Are you guys a homo couple or a threesome?" He then went on to simulate a sex act using a baseball bat and thrusting his hips (your welcome for the visual) asking, "Are you three giving it to each other up the ass?" When Quinn stepped in to say there were kids there, McDowell came back with this classic, "Kids don't fucking belong at the baseball park." He then grabbed a bat and walked over to Quinn threatening to knock his teeth out. Maybe this could be expected, while playing in the majors for 12 years McDowell was famous for setting off firecrackers in a dugout once and lighting teammates' cleats on fire.
R – Roger Goodell. The highlight of the NFL Draft was Roger Goodell taking the podium and getting booed out of the building by all the fans in attendance. Radio City Music Hall had not heard boos that loud since the Philadelphia Eagles drafted Donovan McNabb.
S – Stadium names. As far as stadium names go, we may have the worst one and it appropriately enough is home to the Oakland Raiders. The former Oakland Coliseum, home of the Raiders and the Oakland A's, will now be referred to as 'Overstock.com Coliseum.' If that is not bad enough, the $7.2 million dollar deal over six years allows Overstock to change the name of the coliseum to 'O.co Coliseum' if it chooses. After six years when the company is belly up, I can't wait to see what they're going to name it then.
T – Twitter Bio. Perhaps the best Twitter bio going on in sports belongs to Arizona Cardinal Darnell Dockett. His Twitter bio reads, @ddockett Somewhere Stealing Cable! CEO of I don't give a f*ck records. I have a midget addiction. Charlie Sheen's my homeboy. I eat ants. I got a sex tape called Oprah on the Nine-Oh coming soon! http://www.HUNGLIKEAHORSE.com
U – UFC 129. The Rogers Centre in Toronto will host a dual headline UFC 129 fight that is begging for action on the favorites. The first main event features UFC Featherweight champion Jose "Scarface" Aldo (-550) against Mark "The Machine" Hominick (+350). The second main event is a showdown between UFC welterweight champion Georges "Rush" St. Pierre (-360) and +280 underdog Jake Shields (who is too cool for a nickname). The sports books are prepared for an onslaught of Pierre/Aldo parlays. It could be a long night in Vegas if the two champs retain their belts.
V – Vick, Michael. The Philadelphia Eagles quarterback does not find a new Dog Wars Android app to be amusing. The former dog-fighting ringleader spoke out about it so eloquently when he said, "Now, I am on the right side of the issue, and I think it's important to send the smart message to kids, and not glorify this form of animal cruelty, even in an Android app."
W – Williams, Adrienne Nicole. Miami Heat forward Chris Bosh is done denying that he is married. Bosh admitted that he married Adrienne Nicole Williams earlier this month in Miami Beach.
X – XXXVI ring. A New England Patriots Super Bowl Bowl XXXVI ring is for sale on eBay for $63,000. We are only left to wonder which former Pat is somehow already broke.
Y – YouTube. Our rowdy fan YouTube clip of the week is brought to you by drunken Bruin fans in the line at the bathroom. While attempting to take a leak at a urinal at Boston during Game 7, a Montreal Canadian fan was heckled by just about every single fan in TD Bank Garden. The poor fan was heckled and even pushed around while trying to pee and of course someone whipped out (no pun intended) a camera phone and started documenting Boston sports fans at their best.

Z – Zobrist, Ben. Tampa Bay infielder Ben Zobrist made a lot of fantasy baseball owners happy on Thursday with a ridiculous 10 RBI day. Zobrist hit two home runs and three doubles while going 7-for-10 in the doubleheader. His eight RBI in the first game of the doubleheader was a franchise record.