This Week in Sports Betting, A-Z
by Nicholas Tolomeo - 10/12/2011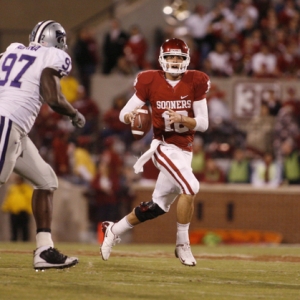 A – Amy. The Cougar with the low cut shirt sitting behind home plate at Miller Park during the NLCS has generated an online following. Amy Williams aka Front Row Amy is a married MILF from Oshkosh, Wisconsin who loves the Brew Crew and somehow lands front row seats behind home plate. Her facebook page and Twitter account has been crept on by thousands of baseball fans since TBS camera men started zooming in on her.
B – BCS National Championship. Since college football has no playoff, Bodog has gone ahead and slashed the possible wagers on the 2011-2012 BCS National Champion. There are only 13 teams you can wager on and not a 'field' option. The favorites are Alabama (7/4), Oklahoma (3/1), LSU (9/2) and Wisconsin (7/1). The long shots are Georgia Tech (50/1), West Virginia (50/1) and Texas (125/1). This is obviously different than the NFL where you can still wager on the Rams to win the Super Bowl.
C – Cleveland vs. St. Louis. For those three fans clamoring for a Browns/Rams Super Bowl, there is bad news. The odds of that happening according to 5Dimes are 10,000 to 1. Of course, that Toilet Bowl matchup is not the only impossible scenario with those odds, but there are also games like Cincinnati/Arizona, Denver/Carolina, Indianapolis/Tampa Bay and Kansas City/Chicago that have the same odds. There is actually a better chance of the Patriots playing the Chargers in the Super Bowl (both teams reside in the AFC) than any of those matchups happening.
D – Don Cherry. A possibly inebriated Don Cherry took the airwaves on Hockey Night in Canada and started name-calling. Unlike in the United States, people apparently watch hockey in Canada and these comments were a big deal. Cherry, the guy who wears the flamboyant suits, called Chris Nilan, Jim Thomson and Stu Grimson "pukes," "hypocrites" and "turncoats." In a funny turn of events Cherry is now being sued by the players.
E – Epstein, Theo. The general manager who led the Boston Red Sox to a World Series title for the first time since 1918 will now try to lead the Chicago Cubs to a World Series title for the first time since 1907. The 37-year-old Epstein headed to Chicago in an exchange for prospects. So the Red Sox lose manager Terry Francona and Epstein, but keep Carl Crawford. It hasn't been a good month for Boston fans.
F – Feb. 2, 2014. The NFL announced that Super Bowl XLVIII will be on Feb. 2, 2014. The game has already been announced to take place in the New Jersey Meadowlands. The game will also be the longest name of a Super Bowl (XLVIII is a mouthful) and also the coldest. The date of the game was set as to not conflict with the Winter Olympics in Sochi, Russia, although the weather will likely be exactly the same.
G – Green Bay Packers. The Green Bay Packers (5-0) are 16-point favorites on Sunday against the St. Louis Rams (0-4). The Rams are coming off a bye week. Why is this significant? Because any winless team of at least 0-4 that is coming off a bye and getting double digit points is 21-2 ATS over the last 20 years.
H – Hokies. Every college football team has covered at least one spread this season. But there are some teams that are just awful against the number despite being pretty good overall. The Virginia Tech Hokies are one of them; they are 5-1 SU but 1-5 ATS. Other teams in the same boat are Nebraska (5-1 SU, 1-5 ATS) and Penn State (5-1 SU, 1-5 ATS). Then you have the teams who can't cover or win like Boston College (1-5 SU, 1-5 ATS) and Kent State (1-5 SU, 1-5 ATS).
I – Indiana. Indiana is a slight 39.5-point underdog Saturday in Madison, Wisconsin. On Pinnacle, a $100 moneyline bet returns a bettor $21,000. Conversely it would take $42,000 to win $100 on Wisconsin moneyline. The only person likely to risk that kind of money is the Indiana head coach.
J – Jayhawks. Usually when the No. 1 team in the country rolls to town, ticket prices are through the roof. Kansas is taking a different strategy when it hosts the top-ranked Sooners on Saturday night. They are giving away free tickets to fans. Kansas sent out a letter to fans to saying "we will need you there more than ever." Kansas is a 35.5-point underdog, so they may need more than just freeloading fans.
K – Kid Rock. Lyrical genius Kid Rock, of "Bawitdaba" fame, made an appearance in the Detroit Lions' locker room after their 24-13 win over the Bears on "Monday Night Football" this week. The Detroit native is a supporter of all Detroit teams (except the Detroit Shock of the WNBA, I'm guessing). The shirt he decided to wear in the NFL locker room turned some heads. The shirt had the words "If you don't like HANK JR. You can kiss my" right above a picture of a donkey which likely stands for 'ass'. As everyone knows Hank Williams Jr. and his song "All My Rowdy Friends Are Coming Over Tonight" has been removed from Monday Night Football after a run of 20 years after Hank Jr. made some disparaging remarks about President Barack Obama. Hank Jr. lost his cushy gig, but at least he has Kid Rock's support.
L – LCS. Not only could baseball's League Championship Series not compete with "Monday Night Football," they couldn't even compete with daytime soap operas. Game 2 of the NLCS drew 3.0 million viewers. It was the lowest-rated LCS telecast in TBS history dating back to 2007. That game aired opposite of Bears/Lions on ESPN. Game 2 of the ALCS drew 6.6 million viewers after being moved to Monday afternoon. It was the second worst rating for a LCS game in Fox History. That game ran opposite of shows like "Dr. Phil" and "The Simpsons" reruns. Those numbers compare to the 16.4 million people who watched NFL on Monday.
M – Madam Tussauds. A wax statue of Troy Polamalu was unveiled this weekend at Hollywood's Madam Tussauds Wax Museum. Polamalu decided to take things a step further and pose as a wax version as himself. As unsuspecting guests would approach to take photos, Polamalu would come to life and scare the shit out of the guests.
N - NBA. David Stern has canceled the first two weeks of the NBA season. With the record ratings the NFL has been getting this season, I'm pretty sure nobody would have noticed the NBA was not around until about February.
O – Ole Ball Coach. Steve Spurrier berated columnist Ron Morris and demanded he leave his press conference before he resumed. This is the second time in 26 years Spurrier has kicked a reporter out of a press conference. The latest denial came after Morris wrote the following after Auburn's win over South Carolina two weeks ago, "Using Saturday's game as a gauge, Auburn was a well-coached team. USC was not." After a 54-3 blowout win that week, Morris wrote, "The Steve Spurrier of old was back, for one afternoon at least. Leading 40-3 with nine minutes remaining, Shaw attempted a pass to the end zone." After kicking the reporter out, Spurrier went on and kicked his quarterback off his team. (See S).
P – Parade. In the most bizarre sports story you will ever hear, a Minnesota Lynx WNBA title victory parade somehow drew 15,000 fans. I guess when the Golden Gophers are 1-5, the Vikings are 1-4, the Twins season is over and the Wild play hockey, sports fans need something to do.
Q – Quinn, Brady. While Kyle Orton was being replaced by Tim Tebow in Denver, third-string quarterback Brady Quinn was planning a red eye flight to Charlotte to be with his girlfriend, US Olympic Gymnast Alicia Sacramone. If anybody got a load of a naked Sacramone in the ESPN Body Issue, I'm sure they would have done the same thing. Quinn probably was hoping this flight would go undetected, but that went out the window when Sacramone blew him up on Twitter saying, "Best boyfriend award goes to @BQ9 for taking the red eye from Denver to be here for my surgery today…just another reason why I love him." Awwww.
R – Ripping Ass. A week after exposing her breast to a disgusted national television audience, Nancy Grace farted on "Dancing With the Stars" in a post-dance interview. She claims innocence, but the thousands of video replays online do not lie. Since she passed gas on national television, no new odds have been posted but I'm sure that "the fart heard round the dance floor" cannot help her chances.
S – Stephen Garcia. Beleaguered South Carolina quarterback Stephen Garcia tested positive for alcohol and marijuana this week and has been kicked off the team by Steve Spurrier. In completely unrelated news, Garcia went 9-for-23 for 160 yards and two interceptions in a home loss as 11-point favorites to Auburn two weeks ago. Also in completely unrelated news, Garcia had more picks this season (nine) than touchdowns (four). Also in completely unrelated news, his backup in the Kentucky game threw for 311 yards, four touchdowns and no picks. No. 13 South Carolina is a three-point favorite, according to college football odds, Saturday at Mississippi State. This may be the first occasion in football history of a point spread moving in favor of a team who dismisses their quarterback.
T – Tim Tebow. The loud chants of "Tebow! Tebow!" reverberating around Invesco Field and the expensive billboards clamoring for the former Florida Gator to start has paid off. Denver Broncos Head Coach John Fox has announced that Tm Tebow will start at quarterback against Miami after the bye week. It'd be nice to say Tebow won the job, but the obvious truth of the matter is that Kyle Orton is awful. His first start will coincide with a bizarre halftime tribute by the Miami Dolphins of the Florida Gators 2009 National Championship team.
U – UConn. Time is ticking on the Big East basketball conference as we know it. With everybody wanting off the sinking ship that is the Big East Conference, we may lose some epic basketball. This season UConn and Syracuse are the co-favorites to win the regular-season championship (+275) according to 5Dimes. Pitt is next in line at +450. It just so happens, Syracuse and Pitt are the teams that have already announced their departure to the ACC and UConn is doing everything it can to get out, but apparently this ACC Conference expansion was a football move.
V – Vegas Priest. A Roman Catholic priest from Las Vegas admitted to siphoning $650,000 from the bank accounts of his Las Vegas parish to gamble. All the money appears to be gone, so he was likely betting on his hometown UNLV Rebels (1-4 SU, 1-3-1 ATS).
W – West Virginia. The Mountaineers are the anti-Minnesota Vikings. Last week against Connecticut as three-touchdown favorites, West Virginia led only 10-9 at halftime. They still easily covered the point spread with 33-7 halftime advantage against the Huskies. They had an even more improbable cover earlier this year. As a 42-point favorite against FCS Norfolk State, West Virginia TRAILED 12-10 at halftime. The Mountaineers then outscored the Spartans 45-0 in the second half to cover the line by one.
X – XLIX. Super Bowl XLIX (aka Super Bowl 49 for you non-Romans) has been awarded to Phoenix, Arizona. Phoenix beat out Tampa for the game. This will be the third Super Bowl played in Arizona with the 2009 game in Phoenix and the 1996 game in Tempe, Arizona. The game will be played at the home of the Arizona Cardinals, University of Phoenix Stadium. This will also help continue a tradition of a host team never playing reaching the Super Bowl.
Y – Yeah, Fuck. T-Plush aka "Nyjer Morgan" dropped three or four "Fuck bombs" on live TV in a post-game interview after clinching their NLDS series. Good thing the game was on TBS, so only a few people actually heard it.
Z – Zelazny, Liz. The nose-picking Texas Rangers fan has been outed, her name is Liz Zelazny. She was caught on live television during Saturday's Rangers/Tigers ALCS game first deep in her nostril scratching her brain. Considering she was half-decent looking, Internet hounds and Texas broadcaster Gordon Keith did not take long tracking her down. Her Twitter account @LizZelazny now has 110 followers. We assume it had a lot less before her nostril excursion.