This Week in Sports Betting, A-Z
by Nicholas Tolomeo - 1/5/2011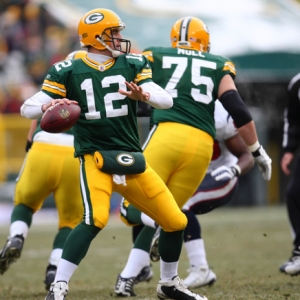 A – Aaron Rodgers. The NFC North is now home to two celebrity girlfriends, and we are not counting Jen Sterger as one of them. Chicago Bears quarterback Jay Cutler and reality television star Kristin Cavallari have been an item for more than a month, and now the Green Bay Packers quarterback is reportedly dating Gossip Girl actress Jessica Szohr. No word yet if Szohr will be in attendance Sunday at Philadelphia when 2.5-point underdog Green Bay plays the Eagles in a Wild Card game.
B – Boo-Ray. If you don't know what Boo-Ray is or how to play it, then you're probably not in the NBA. The card game played by many NBA players on flights and while on the road has now caused a second fracas in as many seasons. Last year a dispute over a Boo-Ray debt led to a confrontation involving firearms between Gilbert Arenas and Javaris Crittenton. This year it led to Tony Allen punching out O.J. Mayo on a Memphis Grizzlies flight. Mayo owed Allen more than $1,000, and when Mayo mouthed off and refused to pay Allen struck Mayo in the face and the two teammates had to be separated on the flight. Gambling has since been outlawed on Memphis team flights.
C – Christian Laettner. Three years ago Christian Laettner, ex-NBA star/Olympic Hero/Final Four hero at Kentucky, went to Shawne Merriman, of all people, to borrow $3 million to fund a number of real estate investments. If that was not weird enough, how about the fact that he had no intentions of repaying it? Well Merriman took him to court and won a $3.8 million settlement that covers the interest and gives Merriman a 10 percent stake in the ownership of the real estate ventures, meaning they are sure to fail now.
D – Dunk Contest. Three contestants have been announced to compete for second place in the 2011 NBA Dunk Contest. Javale "The JaValevator" McGee of the Wizards, Serge Ibaka of the Thunder and Brandon Jennings of the Bucks have all been named as contestants in this year's NBA Dunk Contest along with overwhelming favorite Blake Griffin of the Clippers. How about that, someone from the Clippers favored to win something?
E – Engaged. Perhaps the unlikeliest of NFL players to get engaged at the end of 2010 was Pittsburgh Steelers quarterback Ben Roethlisberger. But just months after sexual assault rumors in Georgia, Roethlisberger apparently proposed to Ashley Harlan, a graduate of Laurel High School right outside of Pittsburgh and a former softball player at St. Francis College. So if Roethlisberger is allowed to be engaged to a female why isn't Michael Vick allowed to own a dog?
F – Franklin, Ron. The veteran ESPN announcer, who had been with the company since 1987, was fired this week after another a second incident of making sexist comments and belittling a female sideline reporter. Five years ago he insulted Holly Rowe, but his undoing finally came this week when he referred to sideline reporter Jeannine Edwards as "sweet baby" and when she told him she did not want to be called that name he chose another name, only this time it was "asshole" and this time Franklin was fired.
G – GoDaddy.com Bowl. The most random of all the January bowl games takes place Thursday, Jan. 6, when Middle Tennessee State faces Miami-Ohio in Mobile, Alabama. The Blue Raiders (that's Middle Tennessee State for the 99-percent of you who don't know) are favored by two-points according to college bowl game odds. Despite being hired by Pitt, former Miami-Ohio coach Mike Haywood was supposed to coach in this game. But after domestic battery charges against Haywood, he was fired from Pitt and will not be permitted to coach this game. It is a shame that Haywood, after beating the mother of one of his children, will not be permitted to coach in the inappropriately named GoDaddy.com Bowl.
H – High-Fiving Hannah. Breaking news of Eric Mangini's firing led to an immediate on-air celebration by ESPN reporters Hannah Storm and Adam Schefter. As soon as the news broke, Schefter immediately yelled "50 bonus points for Josh" and Storm and Schefter high-fived. It was an incredibly embarrassing scene for ESPN executives and the two reporters desperately tried to salvage things by offering half-assed apologies. ESPN came out with an apology later that day.
I – Injured Reserve. No player outside of Carolina or Cleveland wants to be placed on injured reserve, but hitting the IR list must really hurt after Week 17 when your team qualifies for the playoffs. The Saints have placed their top-two leading rushers, Chris Ivory (716 yards) and Pierre Thomas (269 yards), on the season-ending IR list. Yet somehow New Orleans remains a 10.5-point favorite at Seattle. In place of Thomas (left ankle) and Ivory (left foot), New Orleans signed some guy named Joique Bell from the Philadelphia practice squad.
J –Journal. A recent Wall Street Journal study revealed that an average NFL game features very little actual action. The average amount of time the ball is actually in play on the field during an NFL game is on average around 11 minutes. That seems like very little considering an NFL game is 60 minutes, but it seems like even less considering an NFL telecast is more than three hours.
K – Shaun, King. It's not just current NFL players getting picked up for DUI's at a rapid pace, but former players are joining in too. Shaun King, who played six forgettable NFL seasons from 1999-2004, was picked up a little past 2:12 a.m. EST for driving under the influence in Hillsborough County, Florida. That will definitely impact his Hall of Fame credentials.
L – Laid off. Pink Slip Monday became Pink Slip Week as coaches and universities could not make up their mind and when they finally did, well most people were left scratching their head. Eric Mangini was fired in Cleveland after two years and a 5-11 record this season, but Marvin Lewis was given an extension in Cincinnati after a second 4-12 season in three years. Oakland fired Tom Cable after an 8-8 season, the best season for the Raiders since 2002. And then there were the teams that did not even bother waiting until January to fire their coaches like Denver, San Francisco and Carolina.
M – Matt Millen. It took almost two years since he was fired as general manager of Detroit Lions, but Matt Millen finally admitted what everyone else knew about Millen's tenure in Detroit from 2001 to 2008. When asked about John Elway's recent hiring in Denver's front office, Millen said, "I hope John (Elway) does better than I did, because I stunk at it."
N – Napping. Just how boring was the second half of Stanford's 40-12 blowout of Virginia Tech in the Orange Bowl? ESPN cameras caught Virginia Tech quarterback Tyrod Taylor's parents Rodney and Trina Taylor both sleeping during the game. Not one parent, but both parents with eyes completely shut at the same time watching their son's last college football game.
O – Odds. Somebody needs to tell Las Vegas that the Seattle Seahawks are only four wins away from a Super Bowl. Despite winning the NFC West the Seahawks are listed at 100/1 to win the Super Bowl on Bodog. The next worst odds belong to the Kansas City Chiefs at 40/1. No surprise who the favorite is (New England at 9/5) or the top contenders Pittsburgh (11/2), Atlanta (6/1) and New Orleans (10/1). Curiously New Orleans has better odds than Chicago (12/1), who has a home game and a first-round bye. The Saints have neither.
P – Phillips, Wade. Former Cowboys Head Coach Wade Phillips oversaw a defense that ranked 23rd in total yards allowed, 26th in passing yards allowed and 31st in points allowed. Those numbers somehow helped him land the defensive coordinator position with the Houston Texans.
Q – Quack, Quack. One of the most anticipated National Championship games in BCS history is nearly upon us. The Ducks of Oregon enter Glendale, Arizona, Monday as slight two-point underdogs to the Auburn Tigers. But the number most intriguing is the total at 74. Expect a shootout in the desert. Auburn is led by the one-man show Cam Newton and the Quack Attack from Oregon is led by running back LaMichael James and quarterback Darron Thomas. Store this in the clever department, one of Oregon's most popular fan sites is called, "Addicted to Quack."
R – Ronnie Brown. One player who missed out on his Christmas bonus this year was Dolphins running back Ronnie Brown. All Brown needed to land a $500,000 year-end bonus was to top 750 yards this season. And all he needed to reach 750 yards was 30 yards in Week 17. Brown only gained 14 yards on six carries and was denied the half a million dollar bonus. So the Dolphins gave him a chance to get the bonus, but not much of one with only six carries and with that offensive line.
S – Snoop Dogg. Apparently Snoop Dogg and UFC president Dana White are gambling buddies. Last season during the NBA Finals Snoop and White wagered $20,000 on the NBA Finals with Snoop taking the Lakers and White taking the Celtics. White did not even get odds on underdog Boston, he took them straight up. Eventually the Lakers won the series and this week White paid Snoop 20 large in Las Vegas. Just another reason why the UFC kicks ass; can you imagine Roger Goodell and Bud Selig betting on the NBA Finals, or anything for that matter?
T – Ted Williams. The Cavaliers have turned to the streets to help out the organization. Instead of searching the rundown Cleveland streets for another power forward, they found a homeless man to serve as an announcer. Ted Williams, not the former Boston Red Sox (we think), became an Youtube phenomenon when he was filmed standing near Interstate 71 speaking in his golden, smooth, baritone voice with a sign asking for help and describing himself as an ex-radio announcer. So looks like the Cavs have landed Williams, take that Miami!
U – University of Pittsburgh. The disaster that is the Pitt football head coaching position continues to go from worse to so bad it is entertaining to watch. First there was the firing of Dave Wannstedt, most notably because of his player's off the field conduct. Then there was the hiring of a man of high morals, Mike Haywood. Then there was Haywood getting arrested for beating the mother of one of his children and subsequent domestic battery chargers. Then there was the firing of Haywood after 13 days on the job, three of which he spent in the can. And now the school is ready for their second coaching search in two weeks; stay tuned to see how they botch this.
V – Voting. The Hall of Fame votes were cast on Wednesday, and finally Bert Blyleven gets in after receiving 79.7 percent of the vote. You need 75 percent of the vote and the only other player elected on Wednesday was Robert Alomar, who easily got in with 90 percent. Steroid allegations continue to haunt Jeff Bagwell (41.7 percent), Mark McGwire (19.8 percent) and Rafael Palmeiro (11 percent).
W – Wolverines. Rich Rodriguez was reported to be fired on Tuesday. The University denied that on the same day only to announce 12 hours later that Rodriguez was in fact fired. I guess Michigan officials needed another day to decide if an 0-6 record against Ohio State and Michigan State, a 15-22 overall record; an 11-11 home record; a 6-18 Big Ten record; the worst season in Michigan history (2008); one bowl appearance, which was a 28-point loss, and a 110th ranked defense was enough to warrant a firing.
X – Xzavier Dickson. The college decision for Griffin (Ga.) High School standout Xzavier Dickson is a coin flip, literally. Dickson said he would decide between Alabama and Georgia by flipping a coin five times. Dickson is ranked the fifth-best defensive end in the country and the 22nd best player overall by ESPN.com. He will compete in the Under Armour All-American game when he is expected to make his decision, AKA announce the results of his coin flips.
Y – Young, Vince. The NFL offseason is over a month away, but Tennessee has already made the best move of the offseason. Tennessee owner Bud Adams has said it's time to let go of Vince Young, their one-time franchise quarterback. The move signifies a number of things, one that ownership backs Coach Jeff Fisher and that ownership has admitted the massive mistake it made when drafting Young. The former Texas standout cannot be released until Feb. 7, but Tennessee wanted everyone to know Young was no longer in their plans.
Z – Zen. Phil Jackson, the so-called Zen Master, and his star player Kobe Bryant are starting to not see eye to eye. First Jackson popped off on Bryant after a 19-point loss to the Grizzlies saying "Kobe has to screw up the game by going one-on-one." Then Bryant snapped back referring to Jackson's quirky coaching practices as "Zen bullshit."