UFC 128 Odds and Betting Predictions
by Trevor Whenham - 3/18/2011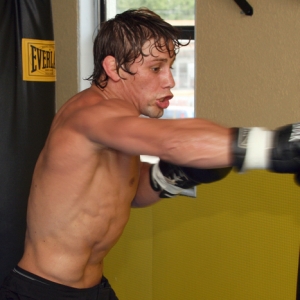 For most sports bettors this weekend is all about the NCAA Tournament. The world is still turning outside of that bubble of joy, though -- and the fact that there is another UFC event this weekend is proof of that. UFC 128 comes to us from the Prudential Center in Newark, New Jersey on Saturday night, March 19.
The event was originally supposed to be in Abu Dhabi, but New Jersey became a much colder replacement venue when a suitable venue couldn't be found in the desert. The card isn't the best we have ever seen, but it features a title fight and a UFC debut that comes far too late. Here's how the main card breaks down with some betting predictions for a $500 bankroll (all UFC 128 odds are from Sports Interaction):
Light heavyweight championship - Jon Jones (-189) vs. Mauricio Rua (+137) - It's not too often that you see a title holder go into a fight as this much of an underdog -- especially one as good as Rua is. That's a testament to how excited people are about Jones.
Rua hasn't fought since he brutalized Lyoto Machida in May, and he has had knee surgery since. Rua is the class of the light heavyweights -- and has been for a long time -- but Jones may be the one fighter that can beat him.
Jones has two things going for him that are going to be tough for Rua. His reach is epic -- almost unbelievable -- and his wrestling is very strong. Jones can use that reach to keep fighters distant, so Rua is going to have to use his kicks to shorten the distance and put Jones on edge. Jones' weakness is that he has never gone longer than three rounds, so it's unknown whether he is up to the kind of brawl that Rua is capable of unleashing.
This fight has the chance to be a real classic because either guy has the ability to come out on top. Jones has never lost a fight -- with the exception of a ridiculous disqualification -- and his athleticism and strength are impressive. I don't feel highly confident about it, but I have to take the favorite.
Pick: Jon Jones
Urijah Faber (-500) vs. Eddie Wineland (+305) - If I had made a list the last few years of guys I wish were in the UFC then Faber would have been No. 1 with a bullet. The guy is a human highlight reel. He's tough, he's fast, and he never stops.
The odds in this one suggest that Faber is the clear favorite. I think that that's the case. However, Wineland does deserve some credit. He's a former WEC bantamweight champ, and after a period of decline he's fighting well again. This is a tough fight to pick -- Faber is going to punish Wineland like he does every fighter, but Wineland is capable of holding his own.
Faber is the clear pick as the winner, but given the prices there is some value in Wineland. Make your choice accordingly.
Pick: Urijah Faber
Jim Miller (-263) vs. Kamal Shalorus (+180) - Miller is a beast -- he has won six straight and is 19-2 overall. His only losses came against Frankie Edgar and Gray Maynard, so he is at least on the fringes of being an elite fighter.
Shalorus is a very solid wrestler, but for some reason he doesn't seem to resort to that as soon as he should, and insists on striking instead. Given that, and given that Shalorus struggles to go deep in fights -- and that Miller is more talented overall -- this fight seems to be fairly clear overall.
Pick: Jim Miller
Nate Marquardt (-357) vs. Dan Miller (+235) - This is a last-minute matchup -- Miller stepped up from the undercard after Yoshihiro Akiyama withdrew last weekend after the tragedy in Japan.
Miller won't be unprepared because he was supposed to fight anyway, and he's a borderline main card talent so he can give a good fight. Marquardt is a top-level middleweight, though, and his class advantage will be the edge here.
Pick: Nate Marquardt
Brendan Schaub (-312) vs. Mirko Filipovic (+250) - I'm not going to waste many words on this one. Schaub is a rising talent with a bright future and some good wins under his belt already. Cro Cop either needs to find a way to time travel back to 2005, or he needs to go away.
Pick: Brendan Schaub
Recommended bets - As always I will invest a mythical $500 bankroll on this card. It wasn't a great day last time, so hopefully it will go better this time. Since the favorites are so strong this time we'll look for value with parlays:
$250 parlay on Schaub, Marquardt and Faber - potential profit of $257.50
$250 parlay on Schaub, Marquardt, and Jones - potential profit of $396.27