Weekly Sports Betting Hot/Cold List
by Nolan Sinclair - Strike Point Sports - 12/29/2011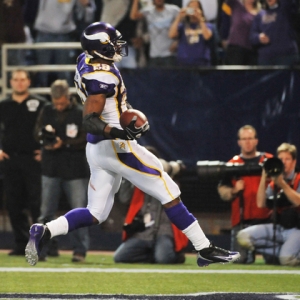 I can honestly say I wasn't that excited for the NBA to start. But after watching the "Live Forever" promo that TNT featured before the Knicks/Celtics tip, I was hooked.
The opening week games themselves haven't disappointed, either. Carmelo Anthony and Rajon Rondo put on an outstanding display in front of a capacity crowd (A Walt Clyde Frazier reference for all you Knicks fans) in the Garden. Then LeBron and company destroyed the Mavs and Celtics, in two games that were much more one-sided than the final scores suggest. And from the struggles of the Lakers and Suns to the early success of the Clippers we have some interesting storylines to carry us through to the New Year.
This 66-game season should prove to be quite entertaining, and I apologize to the NBA for not being more excited about your season tipping off. Stay hot!
And now, I give you this week's Hot/Cold List:
Cold List:
10. Adrian Peterson – Oh, man, does that hurt. Everyone questioned the Vikings playing Peterson again this season coming off his ankle injury, but, alas, they decided to suit him up. In a completely unrelated injury Peterson tore his knee all up versus the Redskins and now he may miss the start of next season. This is a tough, tough situation for the Vikings. Should they have played him this late in a lost season? Who knows? What I do know is that these types of injuries have sidetracked other Hall of Fame careers long before AP came along.
9. L.A. Lakers – What in the world were they doing during the last 55 seconds of the game versus the Bulls? How do you blow a six-point lead with 55 seconds to play? And then how do you get run by Sacramento – SACRAMENTO? Fortunately the Lakers bounced back with a win over Utah, but things are not looking good in Laker Land.
8. Texas A&M Basketball – The Aggies are off to a good start this year at 8-3 SU, but are just 1-5 ATS. A&M has lost three straight ATS to Rice, Florida, and Louisiana-Monroe, and they have looked pathetic while doing it. This team, along with Vanderbilt, might be one of the most disappointing teams in college basketball to this point.
7. Newcastle – For all of you EPL fans, you would know of the fast start by Newcastle going undefeated between the dates of Aug. 13 – Nov. 5. Since that date in November, Newcastle has won just once in seven matches.
6. Detroit Pistons – Detroit just put up 79 points in their opening game loss to the Indiana Pacers and then just 89 in their next loss to Cleveland. They were blown out by double digits in both games and they don't look like they even care. And it is the first week of the season! Just when Detroit got things going with the Lions, it looks like they are in for a lot of lean years with the Pistons.
5. Hating On Syracuse Basketball – This is now three weeks in a row that my beloved Syracuse Orange are the No. 1 team in the land. But still, when I watch the ESPN clowns talk college basketball I swear all people want to talk about are Kentucky, North Carolina, Kansas and Ohio State. Wake up, people! The 'Cuse is in the house, oh, my god, oh, my god!
4. Columbus Blue Jackets – Wow, is this team retched. They are just 9-22-1 on the season and they have only won three of their last 15 road games. This team is easily the worst in the league and I see it getting worse before it gets better. Think any Thrashers fans are hoping this franchise can't hold up?
3. Dallas Cowboys – The Cowboys have failed to cover the line in five of their last six games, and yet they continue to be favored. Many times teams can win the game and not cover the line, which would explain the Vegas love for the Cowboys. However, Dallas is also 1-3 SU in their its four. Someone tell Joe Public that the Cowboys are not someone you want to back at the window. Ever. That fun stopped in 1995.
2. Yorvit Torrealba – Do yourself a favor and watch the video on why this clown got suspended for 66-games in the Venezuelan League. I remember when I threw a temper tantrum after striking out like Torrealba. But I didn't hit anyone, and I was nine years old.
1. Raheem Morris – The Tampa Bay Bucs were the darlings of the NFL last season, going 10-6 with good times ahead. But people quickly forget about that when you are as bad as they are this season. What many of us forget is just how easy their schedule was last year. Will Morris be the scapegoat for the Bucs inconsistencies? As far as he is concerned the answer is "no". According to Morris, "I will never fire myself." Well said, Mr. Morris.
Hot List:
10. Sunday Night Football – The Giants/Cowboys game is going to be a great game to watch. If it weren't for the Kansas City Chiefs losing last weekend we wouldn't have the opportunity to see this great NFC East rivalry in primetime. The G-Men came through in Dallas with a miraculous comeback and they have the home crowd. But anyone that has watched the NFC East much this year can tell you that when something looks easy in this division things usually go the other way.
9. The 'Under' in Week 16 – The 'under' was a cool 9-5 in week 16 in the NFL. Even better was the fact that a game went to overtime and still fell well short of the total. With many teams resting starters and dealing with injuries, Week 17 could follow suit. And all of this is bizarre considering the incredible scoring binge we saw to start the season.
8. Derrick Rose – Last years MVP started the year off right with a game-winning floater versus Kobe and the Lakers, and on the road no less. I don't know how it is possible but he looks even faster this year. And he is definitely going to enjoy playing next to Rip Hamilton.
7. San Francisco and anti-St. Louis – What has been a better NFL wager: betting on the 49ers or betting against the Rams? Whichever side of the coin you are on, these have been the best two bets in the NFL this year. San Francisco is 12-2-1 ATS so far this season while the Rams are 2-12-1 ATS. And both teams look as good and as bad as those numbers suggest.
6. New York Rangers – The Rangers are an impressive 22-9-1 this year and ran off an nice five-game winning streak that included victories over hated rivals in New Jersey, Philadelphia and the Islanders.
5. Boise State Football – That was an outstanding SU and ATS win for the Broncos in the Las Vegas Bowl, and also a solid ending to a great career for the seniors. If the bowl selection process had been as professional as the Boise State Broncos we would have had the opportunity to see them in a much better game. Instead, I'm surprised we didn't have Boise play Oklahoma State in the 'Screw You' Bowl.
4. Carlos Beltran – I am not 100 percent positive, but I don't think Beltran has been worth more than $1,000 per year since his days in a Houston uniform. Now, following his stint in San Francisco, the Cardinals have given Carlos two years and $26 million. Best of luck St. Louis; he should be solid for two or three weeks in 2012. But hey, happy holidays to the Beltran family!
3. Rajon Rondo – Rondo, the little engine that could, worked tirelessly on his jumper this off-season, and it has showed so far this season. Rondo's jumper looked fluid as he lit the Knicks up with an array of jumpers and fast-break-where-in-the-hell-is-the-defense-layups. He was just as fearless and as potent against Miami's massive defensive pressure and was able to keep Boston in the game. I think he's taking the preseason trade rumors personally.
2. NBA Basketball – How soon people forget how much we disliked all of these players and owners just a couple months ago. Man, Americans have a short memory. But I, for one, am glad that they are back because it has opened up a whole new profit stream for people who enjoy betting on the NBA.
1. Strike Point Sports Hot/Cold List – Check back next week for more and enjoy the end of 2011.
Strike Point Sports is one of the top college basketball handicappers in the country and is red hot right now. They have picked up nearly $7,000 in college basketball profit over the last six weeks and are a perfect 7-0-1 with their top hoops picks. SPS has also gone 12-5-1 with their last 18 NFL selections and they have a 7-Unit Bowl Game of the Year this week. Mix in three straight winning NBA nights and right now Strike Point Sports is a cash machine. Click here for more information and to sign up.