Weekly Sports Betting Hot/Cold List
by Nolan Sinclair - Strike Point Sports - 11/23/2011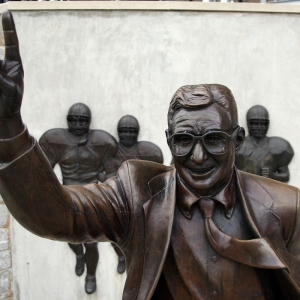 Ah, Turkey Day is upon us and we all know that means: food and football. With a solid slate of games on the "day of giving thanks," we are in for a treat.
The day starts with a Green Bay-Detroit NFL matchup that should provide plenty of fireworks and ends with a battle between upstart San Francisco and Baltimore. Sandwiched in between we have an intriguing Dolphins-Cowboys matchup that has the smell of an upset, maybe some seconds of turkey and gravy, and a Texas-Texas A&M rivalry game for desert. Sounds like a gambling feast to me!
And with that, I give you our Hot/Cold List…
Cold List:
10. Buffalo Bills –I firmly believe this team won't win another game. Once the Amish Rifle signed his big contract the Bills decided to pack it in. What was worse: Fitzy's extension or Michael Vick's?
9. Earl Bennett's Orange Cleats – Bennett's cleats cost him $15,000. Not a funny thing when you are still on your rookie contract of $550,000.
8. St. Louis and San Diego – These two teams, which had high expectations coming into the season, are a combined 4-16 against the spread. The Chargers do have a shot to improve over the next few weeks with games at home versus Denver and Buffalo, and then at Jacksonville. But this one looks like a vintage Norv Turner crash-and-burn.
7. Detroit Lions Defense – Following their mocking of Tim Tebow, the Lions defense has been atrocious. That is karma for mocking The Chosen One. Detroit has given up 37 and 35 points, respectively, since their matchup with Denver. They will be looking for November to end as they only gave up more than 25 points once in September and October.
6. People that aren't backing the Orange – The Syracuse Orange college hoops team is going to the Final Four. Bank on it. Boom! They are neck-and-neck with North Carolina but not getting anywhere near the love.
5. People that drafted a NY Jets running back in fantasy football – They just plain suck. I drafted Shonn Greene in both my leagues. Good lord.
4. NBA Basketball – They may never recover from this. But I have to ask you – does anyone you know really care that this sport isn't being played right now? I only moderately do, but that is for betting purposes. I think the NBA has overplayed its hand in terms of its popularity on the national sports scene.
3. The New York Giants at home – The G-Men are an ATS bust in their new stadium, sitting at 1-3-1 ATS. They have failed to cover versus Seattle, Miami, and Philly (with Vince Young as the QB). That last one is inexcusable.
2. Creepy Old Men – What in the world are these guys thinking? What is the deal with all of these accusations/situations of child molestation? (And for the record, I think that ESPN should be ashamed of itself for its wild and journalistically flimsy "evidence" in launching the Bernie Fine story.) They are not a legitimate news outlet, as much as they want to pretend to be.
1. Anyone not betting on the 49ers – This team is 9-0-1 ATS. Maybe I should have made this "anyone not betting on Jim Harbaugh". Going back to his last season at Stanford, Harbaugh's teams are 14-0-2 ATS in his last 16 games.
Hot List:
10. Michael Bush – D-Mac who? Since Week 7, Bush has run for 99, 96, 157, and 109 yards, respectively. He also has 150 yards receiving and two touchdowns. Oakland has not missed a beat.
9. Andy Dalton – Lost in the Cam Newton Hype is just how well Andy Dalton is playing. This ginger has done considerably better than anyone imagined and he has Cincy sitting one game out in the AFC North. Even better, the Bengals are 7-2-1 ATS on the year.
8. Oddsmakers – They just seem to get better with each passing week. Favorites in the NFL are currently one game over .500 ATS. If this keeps up, the PGA tour won't be the only thing with the tagline "These guys are good."
7. Tony Romo to Laurent Robinson – Over the last four weeks these two have hooked up 17 times for 242 yards and five touchdowns. The Cowboys are 3-1 SU over that span (but only 1-3 ATS). I don't think Romo misses Roy "Butterfingers" Williams.
6. Chicago Bears – Chicago is 7-3 SU, 6-4 ATS and has covered its last five games. They are also 6-4 versus the total on the season. Now comes the bad news…Jay Cutler may be lost for the season.
5. Maurice Jones-Drew – MJD has been like the little engine that could. Jones-Drew has been doing everything he possibly can to keep the Jags afloat. He is currently second in the NFL with 941 rushing yards. What I want to know is why the hell is Jacksonville not going to MJD with first-and-goal from the two with the game on the line versus Cleveland? Screw the clock, just hand him the ball and let him do his "thang."
4. San Francisco 49ers linebackers – The 49ers are on the fast track to the NFC Championship Game. This defense is a lot better than people think. This week's matchup at Baltimore on Thanksgiving Night will be a huge test.
3. Thanksgiving Football – There's nothing better than watching some football and eating some turkey. Just like the Pilgrims and Indians intended it. Even better is the fact that the Green Bay-Detroit matchup will actually be worth watching. They are a combined 17-3 SU and the best game of the day could be the first of the day.
2. Oakland Raiders – The boys in silver and black are putting together a nice ATS season. They are currently in fourth in the ATS standings at 7-3 after nearly a decade of being one of the worst bets in sports. A matchup against our sixth hottest trend, the Bears, awaits and this should be an interesting game this week.
1. The Hot/Cold List – Check back next week for more.
Strike Point Sports has been tearing up the NFL so far this season, earning over $2,500 in profit with their NFL picks. They are a near-perfect 12-6 with their football predictions rated 5.0 or higher and will have a 7-Unit College Game of the Year this week to go with a 6-Unit NFL Game of the Month. This is one pro handicapper that you don't want to miss!