Back to the Futures: Here's Johnny!
by Ricky Dimon - 12/4/2012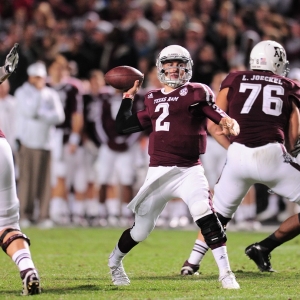 Heisman Trophy odds fluctuated wildly throughout college football's regular season, with Geno Smith achieving borderline lock status after just a few games before Collin Klein assumed a similar mantle midway through the 2012 campaign. Now it's Johnny Manziel out in front, as he has been since turning the Tide last month. Saturday's proceedings in New York are expected to be a coronation of the freshman phenom, but stranger things have happened….
A look at distant and not-so-distant future odds at which bettors should be sneaking a peek (all odds provided by Sportsbook.ag).


Heisman Trophy
Johnny Manziel (-500) – As the regular season wrapped with no other Heisman contender going wild, both Johnny Football (-450 to -500) and Manti Te'o (+250 to +200) saw their odds improve while sitting on their couch (or in the case of Te'o, at a Notre Dame basketball game). Manziel is a big favorite to take the hardware back to College Station, and if he does, it will be mainly thanks to his incredible performance that pinned a lone loss on SEC champ Alabama.
Manti Te'o (+200) – Charles Woodson (in 1997) is still the only primarily defensive player to win the Heisman Trophy. Unfortunately for Te'o, he did not have the benefit (a necessary one, most likely) of padding his stats with special teams returns. The anchor of Notre Dame's defense was outstanding, and the Golden Domers' undefeated campaign will give him a remote chance. However, it's a safe bet that it won't be quite enough.
Collin Klein (+700) – Opitmus Klein needed to go off against Texas in order to have any chance of seriously getting back into the Heisman discussion. Instead, he had a modest — albeit winning — performance by his standards. Klein rushed for 103 yards and added 184 through the air while accounting for three total touchdowns in K-State's 42-24 win. Too little too late.

NFC Championship

Atlanta Falcons (+225) – Atlanta is finally starting to get some respect among bettors and oddsmakers when it comes to their postseason chances. Of course, a lot of that has to do with the competition. The 49ers and Bears are basically handing the Falcons home-field advantage on a silver platter.

San Francisco 49ers (+225) – The St. Louis Rams are by no means terrible. However, when you go to overtime with them twice in the same season, it sure isn't good. When you come away with zero wins in those two overtimes, it's even worse. Once thinking about home-field advantage, San Fran suddenly has to worry about simply winning the NFC West.
Green Bay Packers (+400) – The Packers have been chipping away and chipping away at Chicago's NFC North lead. Now they've matched the Bears at 8-4 and would be the champs if it ended now due to the head-to-head tiebreaker. One week removed from getting manhandled by the Giants, Green Bay is not exactly on fire.... But Chicago is cooperating.
NCAA Championship


Indiana (+350) – The two most impressive teams—by far—at the beginning of the season have been Indiana and Duke. They are the only teams receiving votes in either the AP or Coaches polls. The Hoosiers were not dominant against Georgia or Georgetown, but they looked downright scary last week at their own fieldhouse in Bloomington. After being tied 31-31 with four minutes left in the half, North Carolina trailed 80-49 with four minutes left in the game. You can do the math.

Duke (+800) – Most years, Duke's nonconference schedule includes a steady diet of cupcakes and few — if any — ventures outside Cameron Indoor Stadium. Less than two months into this season, however, the Blue Devils may boast the best resume in the business. They are 8-0 with wins over Kentucky (then No. 3), Louisville (then No. 2), and Ohio State (then No. 4).

Louisville (+800) – Louisville is separated from the trio above in the standings by Syracuse in the AP poll and by both Syracuse and Florida in the Coaches. That's because of their loss to Duke, but it's a loss that isn't frowned upon by oddsmakers nor will it be met with scorn by the NCAA Tournament committee on Selection Sunday. The Cardinals are an experienced bunch, and last season's trip to the Final Four will only help.

Michigan (+800) – Michigan is third in both polls behind Indiana and Duke, and why not? The Wolverines are 7-0 with wins over Pittsburgh, Kansas State, and N.C. State, and only one of their games (vs. Pitt) has been particularly competitive. A trio consisting of Trey Burke along with Tim Hardaway Jr., and Glenn Robinson III (both of NBA lineage) is tough to stop.


NBA Championship

Miami Heat (+160) – The defending champions were favorites going in, and their NBA-best 12-3 record has done nothing to change anything. Miami's three losses have come at the Knicks, at the Grizzlies, and at the Clippers. A rematch with New York on Thursday is must-see television, if there is such a thing in the NBA regular season.

Oklahoma City Thunder (+400) – OKC's 14-4 record trails only Miami and Memphis in the entire league. It has won five in a row and Kevin Durant scored 37 points in two of those five contests. Get your popcorn ready for a Tuesday showdown at 11-5 Brooklyn. The Thunder are -3.5 favorites.
Los Angeles Lakers (+400) – Based on the odds, the consensus is that L.A. will somehow get it together in time for the playoffs. Right now, though, the Lakers are showing no signs of keeping pace with Miami and Oklahoma City. What is worse: their 8-9 record or Dwight Howard's 100 missed free throws through 17 games?