2012 Euro Soccer Picks
by Doc's Sports - 6/7/2012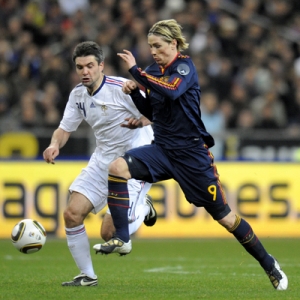 The NBA Finals and Stanley Cup Finals are coming to a close. Baseball is entering the dog days of summer and football is still a few months away. This can be a tricky time for sports bettors and investors, but fortunately Doc's Sports Services has you covered for one of the most exciting, most watched, and most potentially profitable sporting events of the summer: the 2012 European Soccer Championships.
Euro 2012 begins at noon on Friday, June 8 and runs until Sunday, July 1. This soccer tournament is set up similar to the World Cup, with 16 teams in four groups playing some of the best, most competitive soccer on the planet. This tournament features the national teams of 16 European countries and it will be an intense – and lucrative – situation for sharp bettors. Our expert handicappers are ready to dominate the bookies with our 2012 Euro soccer picks.
And this year we will provide free Euro soccer picks – no credit card, no obligation. Click here for a free offer for $60 in member's picks for the 2012 Euro Cup. These are not free picks or opinions, but instead the same expert soccer picks that our handicappers release to paying clients. We want to give you an opportunity to try our service with no obligation.
Every single match will be broadcast on ESPN and there will be constant daily coverage through all major media outlets. The matches are at noon and 2:45 p.m. EST each day so it will add a little excitement to the daily grind.
Robert Ferringo, the Vegas Sports Informer, and Strike Point Sports have you covered with everything you need to follow, enjoy and profit on this once-every-four-year opportunity. This trio has produced some of the best soccer numbers of any handicappers in the nation over the last six years, both during the domestic club leagues and the major world tournaments. They each release their own individual selections every day and all three turned a profit in the 2010 World Cup in South Africa, combining to earn over $10,000 in total profit during that month-long event! Here are some of their highlights:
VEGAS SPORTS INFORMER
- 2012 MLS: $100 bettor up $2,540
- 2011 Soccer Season: $100 bettor up $6,705
- 2011 Gold Cup: $100 bettor up $1,110
- 2011 Women's World Cup: $100 bettor up $530
- 2010 Men's World Cup: $100 bettor up $5,060
- 2008 Euro Cup: $100 bettor up $2,475
ROBERT FERRINGO
- 2010 World Cup: $1,980 in total profit
- Nailed his 2010 World Cup Game of the Year (Uruguay over South Korea)
- Hit five of seven futures wagers on Group Winners
- Has earned over $38,000 in profit in all sports for $100 bettors since June 2010
STRIKE POINT SPORTS
- 2010 World Cup: $3,300 in total profit
- 2008 Euro Cup: $2,220 in total profit
- 2006 World Cup: $1,820 in total profit and 71 percent winners
- Hit winning futures bets on Spain to win both Euro 2008 and 2010 World Cup
Whether you are a soccer fan or not, 2012 Euro soccer picks provide a great chance to build your bankroll during the summer months. This is going to be THE sports betting event of the summer and you do not want to miss out. Sign up for a daily, weekly or monthly package for the handicapper of your choice and enjoy another profitable sport from some of the best handicappers in the world.
WHAT IS EURO 2012?
This is the European Soccer Championships. Next to the World Cup this is the biggest soccer event in the world. It is held every four years and this summer it will take place in a joint hosting effort by Poland and Ukraine.
IS EURO 2012 LIKE THE WORLD CUP?
They have similar setups. In Euro 2012 there are 16 teams in four groups. Like the World Cup these teams play a round-robin in the Group Stage before the top eight teams advance to a single-elimination Knockout Stage later in the tournament.
HOW LONG IS EURO 2012?
Euro 2012 starts on Friday, June 8 and will run for four weeks until Sunday, July 1.
WHEN AND WHERE CAN I WATCH THE GAMES?
All of the games will be broadcast on the ESPN networks. The matches kick off at Noon EST and at 2:45 p.m. EST.
HOW CAN I BET THESE EURO 2012 GAMES?
All major online sportsbooks and Las Vegas sportsbooks will have odds available for every Euro 2012 soccer match. It is one of the biggest sporting events in the world.
WHAT TIME WILL THE HANDICAPPERS HAVE THEIR PICKS POSTED?
Each handicapper will have his selections available at 8 a.m. EST every day. That should give you plenty of time to get your action down.
HOW CAN I SIGN UP FOR PICKS FOR EURO 2012?
You can sign up for a daily, weekly or monthly package from the handicapper of your choice on their individual Insider's Pages or you can go to our "Soccer Picks" page here and sign up. The cost is $30 for daily picks, $75 for weekly packages and $195 will get your picks for the entire tournament.
I'M NOT SURE HOW TO BET SOCCER. CAN YOU HELP ME?
We have a full tutorial on soccer betting. Just click on this link and go to our "How to Bet on Soccer" page.