2012 Euro Soccer Predictions
by Robert Ferringo - 6/7/2012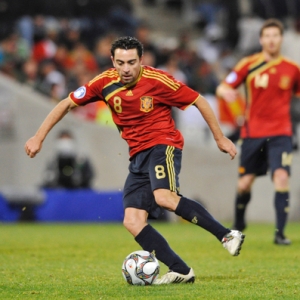 The world is watching. Even if America isn't.
Soccer is never going to be as popular as football in the United States. And it will never replace baseball as part of the fabric of our nation's summer psyche. But Friday, June 8, marks the start of the 2012 European Soccer Championships. And while we here in the states can generally take or leave the most beautiful game, the rest of the world will be fixated on the four-week tournament and it will be THE most watched sporting event on the planet this month. (Take that, NBA Finals!)
I relish the challenge of making 2012 Euro soccer predictions. But I'm not getting in on the action this summer out of boredom or pride. I feel like European soccer is an excellent place to find value and these marquee tournaments provide another exciting, enjoyable way to turn a trick and add to a bettor's bankroll.
One of the best things that the 2012 Euro Soccer Championships has going for it is that all of the games will be televised in the afternoon on ESPN and its bevy of channels. It is crucial to watch the teams perform their symphony on the field to determine who is in tune. And being on ESPN – the Mother of Hype and Bombast – means more coverage, more analysis, and more access to film on the teams during this four-week event.
So gear up for a frantic few weeks of futbol action. And to get you going here are some 2012 Euro soccer predictions:
1. Neither of the host nations will pass the Group Stage.
I know that Poland and Ukraine are not international powerhouses. But it is almost a given that host nations in world tournaments advance out of the group stage. The effect of playing on home soil is a bit akin to a home-court edge in college basketball; the rush of emotion and pride has been known to carry a team to dramatic heights. And with the exception of 2008, which was hosted by Austria and Switzerland, the host nation of the Euro Cup has made the semifinals 12 straight times. That encompasses every European Championship, ever.
But I don't think that either Poland or Ukraine has the goods this year. Ukraine has the most explosive of the two sides and they have some favorable results over the past eight months, including a 3-3 tie with Germany back in November. But their draw – with England, France and Sweden – is significantly more difficult than Poland's. The Poles are in a more favorable group (A). But their roster is kind of a mess and they enter the competition ranked just No. 62 in the world.
I think one of them will give it a go, but when we reach the Knockout Stage I think both of the hosts will be watching from their nearby couches.
2. Someone from Group B is going to have a very unhappy fan base.
Group B is this year's "Group of Death," with three of the top seven teams in the world matched up against one another and then a very dangerous Danish team lying in wait. Germany, Holland and Portugal all come to this tournament with intentions to win it. However, in the round-robin format four men enter, two men leave. I think that Portugal is the team that gets left out in the cold.
3. Scandinavia is going to have its say.
All the attention in the Group of Death is on the three heavyweights. But I think that Denmark is actually going to be the team that decides who advances out of that group. They have their best team in a decade, and if any of the other clubs have a letdown then the Danes could steal a win or force a draw that determines who goes where.
Also, Sweden is a team that can could do some damage out of Group D. France and England are paper tigers in that group. The French are still smarting from their pathetic performance in the 2010 World Cup and they haven't really restocked the roster. England will be without bulldog Wayne Rooney for its first two matches (including the game against Sweden). If Sweden can defend they could be a real nice sleeper team to buy in early on.
4. Spain WON'T make it three straight championships.
I don't want to give away too much with my 2012 Euro soccer predictions. But I will call for an "upset" winner of this championship.
I know that the Spanish side is the strongest in the world. There is no doubt about that. But there is a reason that no European nation has ever won three straight world tournaments (Euro-World Cup-Euro, or WC-Euro-WC). Spain enters this tournament after a grueling club season. And the majority of the national team plays on either Barcelona or Real Madrid, two heated rivals in Spanish soccer.
But the bottom line is that there are several long-term historical trends that can't be ignored. We already mentioned the first. The second is that Spain has always been known as a side that disappoints in world competition. And after back-to-back titles does this group still have the drive to be the world's top team?
5. There will be more scoring in this tournament than in the last two.
The 2010 World Cup was the lowest-scoring in the last four that have been held, dating back to 1998. The same could be said for Euro 2008, which saw fewer goals than either of the previous three dating back to 1996. However, I have a hunch that things are going to open up a bit and that we're going to see more scoring in Euro 2012
Total goals are too simple of a scoring measurement, because games like Portugal hammering North Korea 7-0 skew those numbers. Instead, I measured how many matches in the Group Stage of each of the eight major tournaments had over two goals. Over the last four World Cups 43.2 percent of Group Stage matches went 'over' 2.0 goals. But in the Euro Championships nearly 50 percent of all group matches have had over 2.0 goals.
However, both the 2010 World Cup (35.4 percent) and 2008 Euro (37.5 percent) were lower-scoring than the previous tournaments. Maybe that's just the way that soccer is trending. But I think we are going to see a little more action in this tournament and that could leave 'under' bettors in the tank.
Doc's Sports is offering $60 worth of member's picks for Euro 212 absolutely free – no obligation, no sales people – you don't even have to enter credit card information. You can use this $60 credit any way you please for any handicapper and any sport on Doc's Sports Advisory Board list of expert soccer handicappers. Click here for more details and take advantage of this free $60 picks credit today.