Fourth Down and Inches: Doc's Weekly Football Betting Report
by Doc - 11/6/2012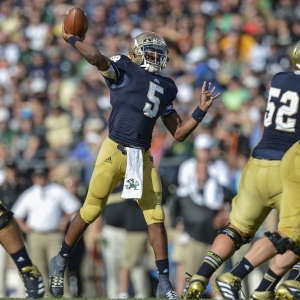 It is a sure sign that November has arrived when it seems like, overnight, October turns into December-like weather with cold winds and snow flurries in the air. Over the years this has always been my favorite month of the year to handicap, and if last week's results are a sign of things to come, then we are in for a monster month. It was a slump-buster to say the least with a 7-3 record that left us up 20 units for the weekend. This simply means that our $100 bettors walked away with a profit of $1,880. We also nailed our top three plays, including a blowout winner on a 6-Unit selection as Chicago crushed Tennessee, 51-20. That was our 10th victory in our 12 Top Plays in the NFL this season. You can rest assured that we will back at it this week with another 6-Unit NFL selection that has the potential to be our third-straight win!
Starting first with the college side of the picture, the Big Ten is finally starting to shake itself out with two teams in each division battling it out for a spot in the conference title game. On the Legends side, both Michigan and Nebraska are deadlocked at 4-1 with the Cornhuskers having a much easier path to the division title, especially since they hold the tie-breaker over the Wolverines. The main obstacle in Michigan's path is a season-ending showdown against Ohio State, which is clearly the best team in the conference. Nebraska has three winnable games to close out its season with the only real test being on the road against Iowa on Nov 23.
The Leaders Division should come down to this Saturday's Wisconsin vs. Indiana game in Bloomington, in light of the fact that both the Buckeyes and Penn State are ineligible for the postseason. The Badgers come into this showdown as seven-point favorites but with major question marks at the quarterback position. Starter Joel Stave was lost for the season with a broken collarbone, so either Danny O'Brien or Curt Phillips will get the call. O'Brien was already replaced earlier this season be being ineffective, and Phillips has been known to be injury prone. Neither choice is all that appealing, and for that reason alone I would hold off on betting Wisconsin until the Badgers can stabilize this position. Anything could happen in this game, but if I had to make a pick I would lean towards taking the points.
The top matchup in the Big Ten this week is Penn State on the road against Nebraska. Penn State is also 4-1 in conference play, but its victories are not nearly as impressive as Nebraska's four conference wins. The Nittany Lions rebounded nicely last week by blowing out Purdue, 34-9, but all that did was make me question why Ohio State had such a hard time with the Boilermakers at home. These kinds of results just rub salt in the wound of our decision to make the Buckeyes our Big Ten Game of the Year pick earlier this season against a Purdue team that has now lost four other conference games by double-digits. Give credit to Penn State for doing more with its limited talent than any other team in the Big Ten this season, but its lack of depth is going to catch up with them in this game. On paper, Nebraska has a major edge on both sides of the ball, and as long as quarterback Taylor Martinez does not give this game away (which is always a possibility) the Big Red should roll. I have no problem laying the 7.5 points in this one.
Nationally, after last week's fireworks, not much jumps out this week in terms of Top-25 matchups as most of the ranked teams are heavy favorites. The one game that will grab my attention is Texas A&M on the road against Alabama. The Aggies come into this SEC showdown with a high-powered offense that is averaging 44.7 points per game. This could be an early test for the Crimson Tide should they go on to face an even more explosive Oregon offense in the BCS Championship Game. Texas A&M is a watered-down version of the Ducks' offensive machine, but it will be interesting to see if the Aggies can move the ball and get into the end zone against Alabama's vaunted defense. If this game was being played in College Station, Texas A&M might have a shot at pulling off the upset. However, that is not going to happen in Tuscaloosa. Nick Saban has done an excellent job of preparing the Tide to approach these games much like a NFL team. They never get too high or too low, and by treating this like their job it allows them to play to their ability.
There were a couple of nail-bitters last week but none better than the Pittsburgh vs. Notre Dame game. The Panthers found themselves in great shape to pull off the upset, but a questionable pass interference call got Notre Dame back into the game. From that point on Pitt's offense was shut down for the entire fourth quarter and in overtime as well. Pittsburgh was one of our selections and the game was never in doubt with the 17-point spread. I found myself rooting for the Panthers to win this game straight up because of their coaching ties to Wisconsin, but I have to question some of the play calling down the stretch. Nonetheless, Pitt still had a 33-yard field goal to win the game in overtime. The "Luck of the Irish" prevailed, but the tight victory proved costly as Notre Dame dropped to fourth in the BCS standings as a result of this close call. The Irish will have little chance to move back up unless some of the teams above them start losing games.
The playoff picture in the NFL is far from set, but it is starting to take shape with 10 of the 12 playoff spots already accounted for. The NFC remains the stronger league by a wide margin, and there is a good chance that a few teams may miss the postseason at 10-6 while 9-7 should be enough for a playoff spot in the watered-down AFC. Last Sunday's Game of the Week between Pittsburgh and New York went right down the wire with the Steelers emerging victorious and solidifying their spot as a playoff team. We were very close to going with the Giants as our top play, but because of the hurricane we switched off that game and onto Chicago. This obviously proved to be a very profitable decision! Big Ben continues to get the job done, and the Steelers always seem to find someone to step up and effectively run the ball. Pittsburgh's defense also rose to the occasion at crunch time to shut down Eli Manning and the Giants' passing attack. Catching Baltimore in the AFC North is not out of the question with Joe Flacco looking his usual shaky self and a Ravens' defense that is fighting through numerous injuries to key personnel.
Like I mentioned earlier, we love handicapping games during the month of November and as the early results have shown, you cannot afford to miss any of the action. For just $399 you will receive every college and NFL selection that we make through this February's Super Bowl. This weekend will feature another 6-unit selection in the NFL, so be sure to give us a call at 1-800-356-9182 for all the details.
That's it for this week