NCAA Tournament Field Predictions and Projections, Jan. 13
by Robert Ferringo - 1/13/2012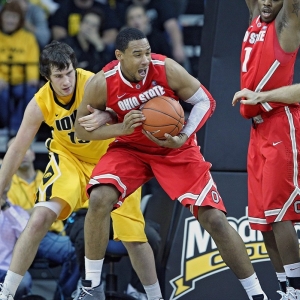 The nonconference portion of the college basketball season is getting further and further away with each passing day. What teams did and how they were playing back in late November and early December is starting to matter less and less, both in terms of making NCAA Tournament field projections and in terms of teams playing well enough to build their resumes now that we are full-bore into league play.
The most important thing for any team in the country right now is the game they play today and the game they are going to play tomorrow. There is still way too much basketball to be played for teams to start counting their cash on the table. I have seen teams that were "locks" for the NCAA Tournament in January get 86ed by an injury or a cold streak, and I have seen teams left for dead at the start of conference play go on killer runs to find their way into the NCAA Tournament Field.
Nothing is certain. Not in college basketball. And certainly not in mid-January.
Below are my NCAA Tournament field projections and predictions, based on what I have seen this season:
Atlantic-10 (Projected Teams: 3)
In: Xavier, Temple
Bubble:St. Joseph's, Dayton, St. Louis
Skinny:There has actually been a decent shakeup in my projections here. St. Louis has played its way from "In" onto the bubble. They have lost three of their last four games and are yet to record an impressive A-10 win. Their nonconference resume isn't impressive enough to overcome a .500 league record. Also, Dayton has played its way into the conversation with wins over the Bills and at Temple. They have shots at St. Joe's and Xavier coming up and a win over the X-Men would go a long way.
ACC (Projected Teams: 4)
In: Duke, North Carolina, Virginia
Bubble: Miami,Florida State, N.C. State, Virginia Tech
Skinny: I actually took a bid away from the ACC. I don't see how they get more than four unless someone goes on a huge run. The teams at the top are still solid. And right now I would say that Florida State has the best shot of the bubble teams. Miami has the talent to make a run. But they are 9-6 and 0-2 in the ACC and they need something good to happen in a hurry. The rest of the teams are extremely shaky.
Big 12 (Projected Teams: 6)
In: Kansas, Missouri, Baylor, Kansas State
Bubble: Oklahoma State, Texas, Iowa State
Skinny: I can't believe I did it, but I actually left Kansas State off my last projection altogether! That team is squarely in the field and their romp of Missouri was a perfect example of why. The other big mover in this group is Iowa State, which is now in the conversation with its strong play of late. A home win against Missouri this past week would have been huge. But I think this team is good enough to spring an upset on one of the top-tier teams. They will be interesting to watch.
Big East (Projected Teams: 8)
In: Syracuse, Louisville, Marquette, Connecticut, Georgetown, West Virginia
Bubble:Pittsburgh, Cincinnati, Villanova, Seton Hall
Skinny:This league is going to be in flux all season long. I said at the beginning of the year that this conference wasn't nearly as good as it had been and that it was going to be kind of a mess. That's exactly what is going on and any one of these teams – even clubs like Georgetown and West Virginia – aren't immune to a free fall. Seton Hall has been one of the biggest surprises in the country (amazing what a coaching change can do) and they are definitely in the conversation right now. Also, I think that if the Tournament started tomorrow that Villanova and Pittsburgh would be in the NIT. Those teams are a wreck and they are playing terrible basketball. I don't think either one will turn it around.
Big Ten (Projected Teams: 8)
In: Ohio State, Purdue, Wisconsin, Michigan, Indiana, Michigan State
Bubble: Illinois, Northwestern
Skinny:Indiana punched its ticket with wins over Ohio State and Kentucky and a trip into the Top 10. I would not want to play that team in the first round. Illinois got a huge win over Ohio State and I think that they will find their way into the field. But they haven't done enough just yet to warrant moving up a line. Northwestern still stinks. But they may get the sympathy vote. And as you look at all of my projections you can see that they are going to be right there with teams like Pitt, LSU and Iowa State fighting for those last spots.
Conference USA (Projected Teams: 1)
In: None
Bubble: Marshall, Central Florida, Tulsa, Memphis
Skinny:Central Florida got point guard A.J. Rompza back from suspension two weeks ago and they have gotten extraordinarily hot. We will see if they can keep the momentum going, but they definitely have the talent to win this league. I am still not a full believer in Memphis. They don't have any good nonconference wins and they have been just mediocre through the start of league play. Marshall is exceptional at home but their poor shooting will come back to haunt them in a tournament setting. This league should be disappointed that while the A-10, Missouri Valley, Mountain West and even the WCC have become mutli-bid leagues the CUSA schools are still stuck fighting for one.
Missouri Valley (Projected Teams: 2)
In:Creighton
Bubble:Wichita State, Northern Iowa, Indiana State
Skinny: The only real change here is that I think Indiana State is almost off the bubble. The do have a win over Vanderbilt on the road and that will keep them in the discussion. But unless they start playing better basketball they don't have a prayer.
Mountain West (Projected Teams: 3)
In: UNLV
Bubble:San Diego State, New Mexico
Skinny:Right now I have this league picking up the one bid I took away from the ACC. SDSU and New Mexico aren't locks but they have good, strong resumes and they should finish as the top three teams in the league. SDSU has a chance to make a statement right off the bat when league play starts. They host UNLV Saturday in the MWC opener for both teams. The Aztecs have wins over Arizona, Long Beach and Cal already and they are always ridiculously tough at home.
Pac-10 (Projected Teams: 4)
In:California
Bubble: Washington, Stanford, Arizona, Oregon State, Oregon, Colorado
Skinny:One big change here is that Colorado has played its way onto the bubble. Do I think they have a chance in hell of following through with that? No way. But they are 11-4 and started 3-1 in league play, so I'll give some love. I have no idea how this league will get four bids. And I actually took one of theirs away and passed it on to the WCC.Some people may think that even four teams from this mess it too many. But, again, when I look at their teams compared to the bottom bubble teams from the ACC, Big East and Big Ten I just don't know that I would eliminate any of these teams just yet.
SEC (Projected Teams: 5)
In:Alabama, Kentucky, Vanderbilt, Florida, Mississippi State
Bubble:LSU
Skinny:Keep an eye on Tennessee. They blew out Florida at home last week and that will get them in the discussion. They don't have nearly the resume to warrant bubble status. But they finally have a good coach and there is still enough raw talent there for them to get hot and make a move in the standings.
WAC (Projected Teams: 1)
In:None
Bubble:New Mexico State, Utah State, Nevada
Skinny: Utah State was manhandled by NMSU and Nevada in the last week and that team is a disaster right now. None of these teams have the nonconference resume to be considered for an at-large berth. But this is still going to be a great battle to see who earns the league's one bid.
WCC (Projected Teams: 3)
In: Gonzaga
Bubble: BYU, St. Mary's
Skinny:St. Mary's should be a lock right now after not just beating BYU and Gonzaga but by running both of those teams off the court. They are 15-2 right now and should be in the Top 25 next week. But their best nonconference wins came against Northern Iowa and Missouri State. That's not nearly good enough for them to be a lock. And the WCC is good enough where I can see this team losing a game to a team like Loyola Marymount or San Francisco. BYU has an absolutely critical stretch of games at the end of the month, the most important of which is a Jan. 25 road trip to Virginia Tech. They desperately need to make a statement there and get a "marquee" nonconference win. Right now their best wins are over Oregon and Nevada, and that won't cut it. Getting a road win over an ACC team will be great. And, as much as it doesn't make sense, getting that win this late in the season will carry a lot more weight than if they had picked it up some time in early Dec. when no one but me and some other hoop-heads were paying attention.
Big West (Projected Teams: 2)
In:Long Beach State
Bubble: None
Skinny: There is no doubt in my mind that Long Beach State has done enough to warrant an at-large bid. But they are going to lose some games in a very top-heavy and competitive Big West this year. But they've played a great schedule and have wins over Pittsburgh and Xavier this year. And as you can see here, I am projecting that they do not win their conference tournament but that they still make the field.
Automatic Bid Leagues (Projected Teams: 18):
America East – Boston University
Atlantic Sun – Belmont
Big Sky – Weber State
Big South – UNC-Asheville
Colonial – VCU
Horizon – Cleveland State
Ivy League – Harvard
Metro – Iona
Mid-American – Ohio
MEAC – Morgan State
Northeast – Central Connecticut
Ohio Valley – Murray State
Patriot League – Bucknell
Southern – Davidson
Southland – UT-Arlington
SWAC – Mississippi Valley State
Summit – Oral Roberts
Sun Belt – Denver
Robert Ferringo is the premier college basketball handicapper in the country right now. He has already banked over $9,500 in profit for his clients and dating back to last year his clients have earned $14,000. He has posted three straight winning years and will have another strong card this weekend. You can sign up for his college basketball picks and get more information here.