NCAA Tournament Field Projections and Predictions, Feb. 27
by Robert Ferringo - 2/27/2012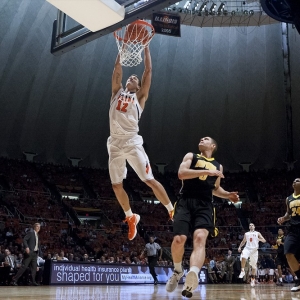 We are on the verge.
We are on the verge of the month-long free-for-all that is March Madness. This month is an orgy of college basketball betting, buzzer beaters, and broken dreams. It is, in my opinion, the single-greatest event on the sports betting calendar and it is a five-week endurance trial that will test the nerve and daring of gamblers throughout the country.
Below are my current NCAA Tournament field projections and predictions. And while the field of teams with a realistic opportunity to earn an at-large berth into the NCAA Tournament is shrinking that doesn't mean that it is getting easier to project which teams will be dancing.
First, the conference tournaments always create some surprises. There will be at least two teams – be it from a major conference or one of the mid-major leagues where there are already some teams with secure bids – that will surprise everyone and win their conference tournament. This type of "bid stealing" happens every year and has to be factored into any type of NCAA tournament predictions.
Second, so many of the bubble teams just keep losing. Remember: these bubble teams and teams that are in "must-win" situations are in this predicament precisely because they aren't that good to begin with. These teams are shaky and flaky and you can't expect teams like West Virginia or Texas or Northwestern to suddenly become a juggernaut just because they really, really want to earn a bid.
If they were really that good they would have already earned one and wouldn't be in this situation.
Anyway, by the time that I release my next NCAA Tournament projections and predictions article there will already be some teams with their tickets punched. So that means that this week's predictions are the final ones I will make this year toward the clean slate that presently is the Field of 68:
Atlantic-10 (Projected Teams: 3)
In: Xavier, Temple, St. Louis
Bubble: Dayton
Skinny: Xavier certainly isn't making things easy. But they have a chance for a big road win at St. Louis this Tuesday and their final home game against Charlotte on Saturday. These guys need at least a split and then at least one win in the Atlantic 10 Tournament. St. Louis didn't do itself any favors by taking a bad loss at Rhode Island. And they wouldn't want to lose their last two regular season games and then flame out in the conference tourney (giving them four straight losses). But I have to think that they and Temple are locks at this point. Dayton will make a case. But barring a sweep to close the year and then a deep tournament run I think they will come up short. I have felt supremely confident that this league was going to get three bids this year. They may be cutting it close.
ACC (Projected Teams: 5)
In: Duke, North Carolina, Virginia, Florida State
Bubble: Miami,N.C. State
Skinny:While Joe Lunardi has been predicting N.C. State in the field for the last several weeks – which was absolutely ridiculous and further proof that the guy is a hack – I have held firm all year that they haven't done anything to warrant an at-large berth. Even if they were to win out the regular season against Miami and Virginia Tech I think they would still need to make a run to the ACC Finals to even be considered. Miami scored another marquee win, without Reggie Johnson, by beating Florida State on Sunday. But they are still just 17-10 and could trip up at N.C. State this Wednesday. They have no nonconference resume and I think they need to get to 20 wins to really start to feel good about a slot. Regardless, it looks like the ACC is going to max out at five bids and they could end up with just four.
Big 12 (Projected Teams: 6)
In: Kansas, Missouri, Baylor, Kansas State
Bubble:Texas, Iowa State
Skinny:The only thing keeping me from punching Iowa State's ticket is their pathetic nonconference resume. But they beat Kansas, they swept Kansas State and they split with Texas. They also have two more shots to get marquee wins with a road game at Missouri and a home tilt with Baylor to close the year. I think they are in regardless. But a 'W' in either of those games locks it up. I don't think Texas has done enough to deserve a bid but I think they will make it into the field. Their best nonconference win was over Temple and their only notable league wins came over Iowa State and K-State, whom they split with. I think name recognition will earn them a bid over a more deserving team from another league.
Big East (Projected Teams:8)
In: Syracuse, Louisville, Marquette, Georgetown, Notre Dame
Bubble: Cincinnati, Seton Hall, West Virginia, Connecticut, South Florida
Skinny: I will admit that I don't have a clue how the selection committee is going to sift through this debacle. I have moved Notre Dame off the bubble and on to the "In" line. Beyond that I'm still really unsure which of the next three teams will make the cut. But if I had to guess I think that Cincinnati, West Virginia and Connecticut will find their way into the field even though Seton Hall may be more deserving than WVU or UConn. Again, I can't say which three teams will join the locks but I feel comfortable projecting eight teams from the Big East right now.
Big Ten (Projected Teams: 7)
In: Ohio State, Wisconsin, Michigan, Indiana, Michigan State
Bubble: Illinois, Minnesota, Purdue, Northwestern
Skinny:The more the Big Ten bubble teams play the worse their resumes look. Purdue isn't the slam-dunk choice that you would think (their nonconference resume is pathetic) but they will get in simply because the No. 1 rated league in the land isn't going to get just five bids. Everyone is pulling for Northwestern but I don't think they are close to having a tournament-worthy body of work. The same goes for Minnesota, who is terrible and was embarrassed by Indiana on Sunday for their fifth straight loss. Illinois is the team that I think will weasel its way into the field because they have wins over Ohio State and Michigan State. But they are also a horrifying 2-9 straight up in their last 11 games and they are a bad basketball team. Again, I don't know that the Big Ten will deserve seven bids. But I think they will get there.
Conference USA (Projected Teams: 2)
In: None
Bubble: Marshall, Central Florida, Tulsa, Southern Miss, Memphis
Skinny: Memphis controls its own destiny in Conference USA and could win the regular-season title with wins in its last two games. But they are against UCF and at Tulsa so they are not layups. An outright regular season title and their nonconference resume should be enough to get them an at-large bid if they don't win the league tournament. I have predicted that all season long and I am sticking to it. I think the Tigers get an at-large bid and one of the other teams I have listed will win the CUSA Tournament and steal a bid.
Missouri Valley (Projected Teams: 2)
In:Creighton, Wichita State
Bubble:None
Skinny:The two powerhouse teams from The Valley are in. And it would have to be considered a huge upset if one of the other teams won Arch Madness, which tips off this Thursday in St. Louis.
Mountain West (Projected Teams: 3)
In: UNLV, San Diego State, New Mexico
Bubble:None
Skinny:Somehow ESPN bobbleheads are talking about Colorado State and TCU as bubble teams. In fact, Fraud Lunardi's most recent projections actually had CSU in the field over teams like Miami and Oregon. That's ridiculous. Like the Missouri Valley, the top teams in this league are essentially set in stone. It would be a pretty sizeable upset if one of the other Mountain teams won the league tournament.
Pac-12 (Projected Teams: 3)
In:California
Bubble: Washington, Arizona, Oregon, Colorado
Skinny: As I have said all year – and I was the ONLY college basketball analyst in the nation that was yelling about this back in January – the Pac-12 should end up with three or four teams in The Big Dance. Cal is a lock. I think Washington is in and I think that it is a joke that they are even in the bubble discussion. With Cal losing Sunday the Huskies are now in the driver's seat for the regular season league title with games at USC and UCLA remaining. They are in. And I don't see any reason why you would keep Arizona out. I also think that Oregon is one of the best 68 teams in the country, but I don't know that they have the resume to make it into the field. It is the same with Colorado, who just boosted its resume with a monster win over Cal on Sunday. Those two – Oregon and Colorado – play a huge game on Thursday in Eugene. And in the end, not only do I think that the Pac-12 will get three but I think that they should definitely get four.
SEC (Projected Teams: 5)
In: Kentucky, Vanderbilt, Florida
Bubble:Alabama,Mississippi State
Skinny:It is incredibly rare for me to move a team form the "In" line back to the "Bubble". But for the third time this year I had to do just that. This time it is Mississippi State, which has lost five straight games and is trying to play its way out of the field. They had Kentucky on the ropes but choked away a big second-half lead in that one and then came back and were blown out by Alabama. The Bulldogs play at South Carolina and then host Arkansas before the SEC Tournament. I think that right now they need at least two more wins to even be considered and they need three more wins (including the postseason) to start to feel somewhat secure. Alabama has reinstated Jamychal Green and they have essentially punched their own ticket. They close with Auburn and Ole Miss and they should be able to sweep that pair. Even a split and a win in the SEC Tournament should be enough. Remember: this team is sitting on nonconference wins over Purdue and Wichita State right now, which is a lot better than most bubble teams have.
WAC (Projected Teams: 1)
In:None
Bubble:New Mexico State, Nevada
Skinny: Neither Nevada nor New Mexico State has done enough to earn an at-large bid, even though I think either one of them could win a game or two in the NCAA Tournament. Instead, they should meet in what could be a battle in the WAC Championship Game. The WAC Tournament will be held on semi-neutral ground in Las Vegas this year.
WCC (Projected Teams: 3)
In: Gonzaga, St. Mary's
Bubble: BYU
Skinny:St. Mary's and Gonzaga are in. That leaves all eyes on BYU. What is interesting is that BYU leading scorer Noah Hartsock was injured a couple games ago. BYU is being cagey about the severity of the injury. But I, personally and speculatively, think there is a chance that he won't come back at all this year. And if that is the case BYU is trying to soft-sell the injury because they don't want the selection committee to penalize them for not being at full strength (which they have done to bubble teams before). BYU has some numbers working against their bid. But they also have some decent wins and if they can make it to the WCC Championship Game (they will have to beat Gonzaga to do that) then they should be all set. But the Hartsock situation is definitely one worth monitoring.
Big West (Projected Teams: 2)
In:Long Beach State
Bubble:UC-Santa Barbara
Skinny:Long Beach State is not a lock. I have them "In" in my projections because I have had them in since December. And you are an idiot if you don't think that this is one of the 68 best teams in the country. They are 14-0 in conference play and they have gone toe-to-toe in true road games with the best teams in the country. They deserve a bid. And I think they will get it. However, I still think that either Cal-Fullerton or UC-Santa Barbara can – and will – beat them in the conference tournament. I still think that they will "steal" a bid from a major conference.
Automatic Bid Leagues (Projected Teams: 18):
America East – Boston University
Atlantic Sun – Belmont
Big Sky – Weber State
Big South – UNC-Asheville
Colonial – Drexel
Horizon – Cleveland State
Ivy League – Harvard
Metro – Iona
Mid-American – Akron
MEAC – Morgan State
Northeast – Wagner
Ohio Valley – Murray State
Patriot League – Lehigh
Southern – Davidson
Southland – UT-Arlington
SWAC – Mississippi Valley State
Summit – Oral Roberts
Sun Belt – Middle Tennessee State
Robert Ferringo is the premier college basketball handicapper in the country right now. He has already banked $10,000 in profit for his clients and dating back to last year his clients have earned $16,000. He has posted three straight winning years and will have more winning picks this week. You can sign up for his college basketball picks and get more information here.